One of the reasons I love hiking in Spain so much is because of the diversity. There's truly something for everyone. You'll find everything from gorgeous coastal hikes that lead to medieval fishing villages to mountain hikes, to ancient pilgrim routes like the Camino de Santiago.
Before we dive into my recommended hikes in Spain, let's cover the basics.
How long are the hikes in Spain?
You'll find everything from easy day hikes to stunning views in Spain. Beginners and experienced hikers can hike to a lighthouse in half a day and enjoy lunch overlooking the Mediterranean Sea to a 45-day hike through the wild Pyrenees Mountain Range and everything in between.
If you have the time, I highly recommend doing a longer hike since you'll want to spend as much time in Spain as possible. To date, I've done three long-distance hikes in Spain and have several others planned. But even if you just have half a day, you'll find thousands of gorgeous easy to challenging hikes in Spain.
Recommended Reading: Trekking: How to Choose a Trek That You´ll Love
Culture + Food + Hiking in Spain
Spain honestly for me has one of the most breathtaking views. It is one of the best countries in the world if you want to combine hiking with cultural sites. Many incredible hikes lead to UNESCO World Heritage sites, centuries-old monasteries and many other types of sights of cultural or historical significance.
Each region offers something unique and it's incredible to see how much the regional food changes along the way – a nice reward after a day of hiking. I love seeing the changes in cuisine which is why I'm a big fan of long-distance hikes that go through different regions.
Hiking in Spain = Hiking in Comfort
Another reason I'm a big fan of hikes in Spain, especially in the summer months is that it's extremely comfortable. Almost no matter where you're hiking in Spain, you'll find a village offering accommodation to hikers with the most beautiful views. I love being outdoors surrounded by the natural beauty around and panoramic views.
However, at the end of the day, I also want to enjoy a delicious regional dinner cooked by someone else. I'm not much for cooking beans and weenies over a campfire stove. I also enjoy a shower and a comfy bed to sleep in and you can easily find that in Spain.
There are also over 60,000 km of signposted paths, making navigation relatively easy on many popular trails. Note: I still recommend using a GPS, app, and bringing a paper map as a backup.
Many Hikes Support Rural Tourism in Spain
Another reason to hike in Spain for several days or more is that by doing so, you're supporting rural tourism and local communities while enjoying spectacular views. This cause is very close to my heart. At a time (not counting the pandemic) when so many places are suffering from over-tourism and so many more could benefit by having a few more tourists.
By staying in a remote village you're contributing to the local economy and supporting locals. Plus, these villages that I've often never heard of, have the most beautiful hikes and end up being some of my favorite places. Places like Besalu in Catalonia or the medieval villages in Northern Spain.
Related Reading: 10 Reasons Hikers Should Travel to Spain.
So, where do I recommend hiking in Spain? Read on to see my recommendations for specific hikes. You'll find something for all levels of hikers.
Hiking Along the Costa Brava Coast
With 200 km of coastline, you have a wide range of hikes to choose from. My favourite is a 5-day hike that starts in Cadaqués and finishes in Collioure, France. There are SO many highlights on this coastal hike.
From visiting Salvador Dali's House to the Cap de Creus Lighthouse, where you can enjoy lunch and views of the vast Mediterranean Sea, to sheltered coves where you can go for a swim, to hiking through vineyards, to visiting the Sant Pere de Rodes Cloister, one of the most important Monasteries in Spain.
You'll also get gorgeous views of the Pyrenees along the way. I loved this hike so much that I now offer it as a 7-day self-guided hiking tour, Costa Brava to France. Click to find more details about this tour which we offer in partnership with a locally owned Catalan company.

The rolling elevation and distances ensure that you have lots of time for leisurely lunches and to explore each village after hiking each day.

If you only have one day for hiking in Costa Brava, then I'd recommend one of these two hikes:


Related Reading: Best Hiking Underwear: Top Picks for Wool, Moisture-Wicking and Antichafing
Hiking from Cadaques to the Cap de Creus Lighthouse with a stop at Salvador Dali's House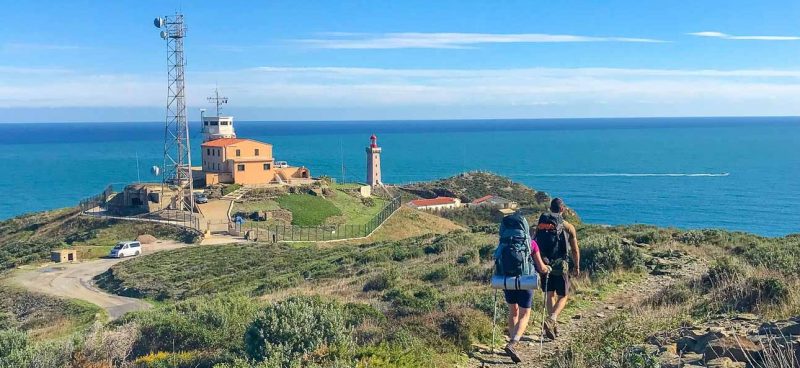 This 16km loop with 447m of elevation takes around 6 hours and you get almost non-stop views of the stunning coast. Further info: https://www.outdooractive.com/en/route/hiking-route/loop-walk-to-cap-de-creus-lighthouse/33601882/.



Related Reading: The Best Hiking Tents For Every Backpacker
Hiking from El Porta de la Selva to the Sant Pere de Rodes Monastery
Situated in the Serra de Rodes Mountain Range, Sant Pere de Rodes Monastery was the most important one in the country of Empúries from the 11th to the 14th century.

It also offers fantastic views of the Cap de Creus and the Meditarean Sea. Do either a self-guided or guided tour and have lunch at the upscale restaurant or pack a picnic lunch.

This is a steep hike that follows the GR 11 trail from El Porta de la Selva. so bring plenty of water. It's a long hike if you're hiking there and back. Another option is to take a taxi back.
Related Reading: Day Hiking Packing List: The Essentials to Bring on Every Hike
Walking the Camino de Santiago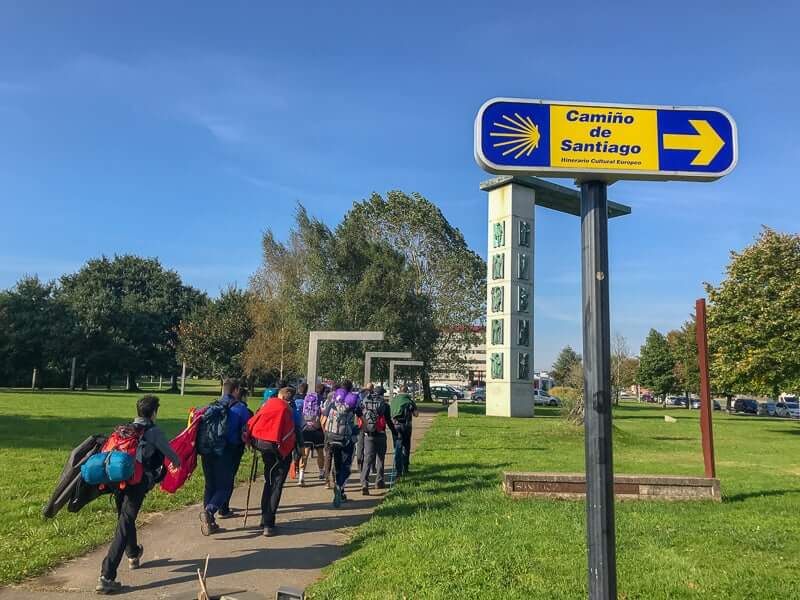 This 1000-year old pilgrimage, sometimes known as the Way of Saint James in English is arguably Spain's most famous hike. While it's possible to do the entire 825 km route, you can also just do the last 100 km of the Camino as I did.

No matter where you start the Camino, you'll finish in Santiago de Compostela in northwestern Spain. The cathedral here is where according to legend, Saint James, Jesus's apostle, is buried here – although no one really knows for sure.

During medieval times up to 1 million pilgrims would walk the route. Now, approximately 200,000 pilgrims walk it each year. It's a great choice if you want to roll to relatively flat terrain – at least the last 100 km. The beginning is mountainous terrain.

The Camino is also a good choice if you're hiking by yourself and want to meet other people due to its popularity. The thing I liked about meeting other pilgrims from around the world is that the conversations tended to get deep and fast.
You'd find yourself spilling your guts to complete strangers and vice versa. There's something about the Camino that helps you connect more deeply with yourself and with others.

See my post The Camino De Santiago: What the Last 100 km is Really Like.
Recommended Reading: Where to Taste Wine in Europe: The Best Wine Tours in the Continent
Camino Lebaniego or the Lebaniego Way
This Camino is often referred to as the hidden Camino since it's not well known. It's located in one of my favorite spots in all of Spain, the stunning Picos de Europa National Park.

It starts in San Vincente de la Barquera and finishes in the Santo Toribio Monastery (site only in Spanish so use Google translate if needed) where pilgrims come to see the Lígnum Crucis, reportedly the single largest piece of Christ's cross.

I've hiked part of the Camino Lebaniego and LOVED it. The entire Camino is just 73 km long and can be completed in three to four days.

Alternative starting points to San Vincente de la Barquera are Santander, Comillas, or Liébana. These extend your Camino and include part of the Camino Norte, or the Northern Camino.

Another option to extend it once you've reached the Santo Toribio Monastery is to continue on the Ruta Vadiniese, which connects to the Camino de Santiago and to the French Way.


Recommended Reading: 22 Best Hydration Packs for Every Adventurer in 2021
Hiking on La Gomera in the Canary Islands
Related Reading: Best Lightweight Sleeping Bags, Pads and Liners for Every Hiker

The second smallest of the Canary Islands, I was amazed at how quickly the landscape changes on La Gomera. I did a 7-day hiking tour of the island.
Some of the highlights included; hiking in the best-preserved Laurel Forest in the world (there's nothing like hiking in your namesake forest), hiking along the coast and going for a dip in the Atlantic Ocean, and in a volcanic landscape where the red earth made me feel like I was hiking on Mars.
It's a unique way to see the most beautiful places on the island. It also supports rural tourism since you stay in tiny out-of-the-way villages.

If you're seeking solace, La Gomera is the place to be. It doesn't come close to receiving the same number of visitors that nearby Tenerife does. BTW: Tenerife also has great hiking.

Check out Hiking in La Gomera: Why You'll Want to Do a 7-Day Self-Guided Hike. If you only had a day, then you could choose one of the days mentioned in the itinerary.

It's hard to recommend just one since each day was so different. It really depends on what you're looking for.
Related Reading: Average Hiking Speed: Why it's Important and How to Calculate it
The Ultimate Hiking Adventure in Spain: The GR11 Sendero Pirenaico
Recommended Reading: 42 Gifts for Outdoorsy People: Outdoor Gift Ideas for Every Adventurer
I've only hiked small parts of the GR 11 along the Costa Brava coastline and in the Vall de Núria in the Pyrenees. However, it's at the TOP of my hiking bucket list not only in Spain but in all of Europe.

Note: GR stands for the large network of long-distance hiking trails found in Spain, France, Germany, The Netherlands, and Belgium. GR trails are waymarked and maintained in each country.

The GR11 Sendero Pienaico is the ultimate hike in Spain. It extends from the coastal town of Cape Higuer in the Basque Country in the north, runs through Navarre and Aragon and finishes in Cap de Creus, in Catalonia.

You're hiking the entire Spanish Pyrenees from west to east. From the Atlantic Ocean to the Mediterranean Sea (or vice versa).

Plus, you'll get to experience incredibly diverse cultures and landscapes, where even different languages are spoken (Basque in Basque Country and Catalan in Catalonia, but Spanish is understood everywhere). 
This 840 km long hike is strenuous with significant climbs totaling 39,000 m, so this trek is definitely for the more serious hikers. Due to the substantial elevation changes, it takes around 45 days or so to complete.  

If the GR11 Sendero Pienaico sounds incredible but a bit too much, then I'd recommend heading to the Vall de Núria in the Pyrenees, which has lots of great day hikes in the area. Alternatively, you could just also start at one of the small villages along the way and just do a day hike. You'll find more info here. 
Related Reading: Ostend: Belgium's Best-Kept Secret Destination for Beach Lovers
Now you can see why I love hiking in Spain so much. There are so many choices and my hiking bucket list keeps getting longer. Happy Trails!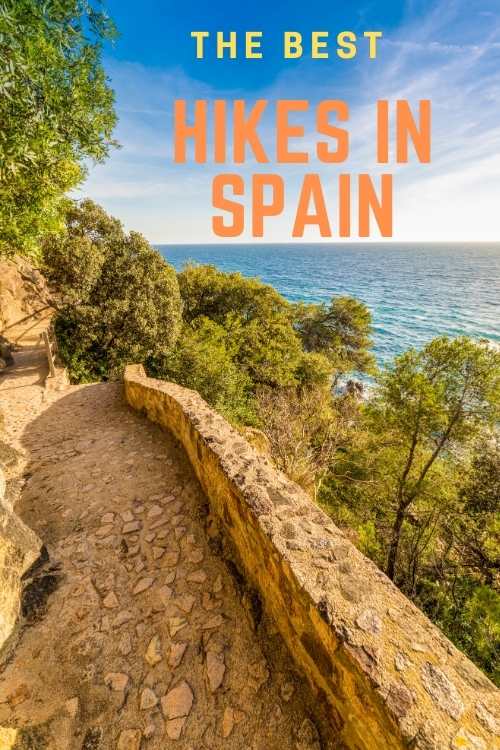 This post was brought to you as a result of the #SpainOnMyMind campaign, created and managed by iambassador in partnership with the Spain Tourist Office. Monkeys and Mountains Adventure Travel maintains full editorial control of this content.