This post is also available in: German
Trekking is a fantastic way to experience a destination. All that fresh mountain air can do wonders for clearing your head at the same time – if you choose the right one for you.
If you choose the wrong trek, however, you will be miserable. Your trekking adventure will be memorable but not in the way you want.
Follow these 6 tips to make sure that your trek is one of the highlights of your travels:
What Difficulty of Trek is Right for You?
When choosing a trek, besides the total number of kilometers hiked each day, you also need to consider the elevation gain. You'll want to be in good physical condition if you're doing trekking upwards of 20 km a day. But if that's with 1000 m (~3280 feet) of elevation gain, you'll require a higher level of fitness than if it's relatively flat.
The best way to see what's within your limits is to experiment on day trips. Do this before you book your trek. You want something that's challenging, yet something that you can complete. It's good to feel like a superhero at the end, a tired one, but a superhero. Most adventure tour companies like World Expeditions, have a ranking system that helps you choose a hike for your ability. It takes the guess-work out of How difficult is this trek?
How Long Do You Want to Trek?
If you've never done more than day hikes, seriously consider how much you like hiking and how many days you want to do it for. If you like, but don't love hiking, consider a trekking tour of 7 days or less, like hiking on the Italian Riviera, where you have a good level of comfort and can easily choose between shorter or longer days. Believe me, if you've never done a multi-day hike, hiking multiple days in a row is still a challenge.
On the other hand, if you're really looking for a trek that will challenge you both physically and mentally or one that is remote and takes more time to get to, consider a longer one. The Tanzania Twin Peaks Charity Challenge is the ultimate trekking challenge in Africa. You'll climb Mount Meru, the second-highest mountain in Tanzania, before ascending to Kilimanjaro.
What Kind of Accommodation Do You Want to Sleep In?
If you need a roof over your head and camping just isn't going to cut it, you'll be limiting your trekking options, but I get it. When given the choice, I'd prefer a hot shower and dry roof over my head too! You'll find mountain huts in the Alps in Europe, on treks like the Tour du Mont Blanc, where basic, but warm accommodations are available every night.
In other parts of the world, it's much more difficult, if not impossible to find. But don't let the idea of camping put you off too much. It means that you're seeing a part of the world that most travelers will never see. In addition, it's probably not a tourist destination and you may even have the place to yourself. I experienced wilderness camping during my Dana to Petra trek in Jordan and loved it!
How Sensitive Are You to Weather and Temperature?
Mountain weather can be unpredictable in any trek, but especially at certain times of the year. Some months are known to be colder/warmer, snowier, wetter/drier. If you are always cold, the thought of sleeping night after night in a tent is probably less than appealing.
You should factor that into when you plan on trekking, and try to find an alternative, i.e. warmer or drier time of year. On the other hand, if you relish hiking in snow, go for it! As a bonus, it will probably be less crowded. Remember, just because it's cold where you are, doesn't mean that it's cold where your trek is taking place. Check before you book.
Are You Seeking a Nature Escape, a Cultural Experience or Both?
Some trekkers love to get away from it all, while others see a trek as reaching cultural spots they wouldn't be able to otherwise. Other trekkers want a mix, where they're immersed in nature with interesting cultural spots along the way. Each has its benefits although I do have to say I have my eye on the Great Wall Trek from World Expeditions. It sounds epic and I love the cultural elements it includes!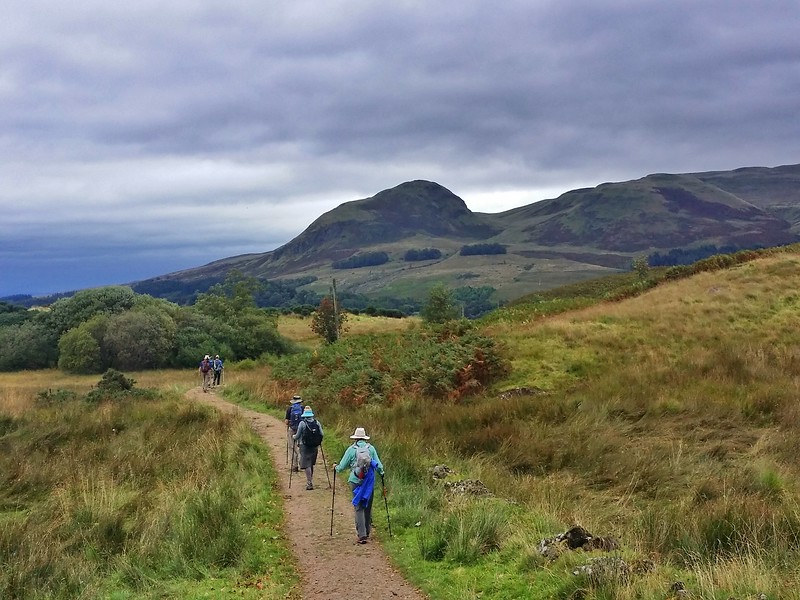 Do You Want to Hike Alone or in a Group?
This is a personal choice, but a few treks that I would only recommend doing with a guided group tour, or private guide. 1) Any hikes in really remote areas. If something goes wrong, it goes really wrong quickly. By being in a group and with a trained guide, you have a better chance of survival.
2) High altitude hikes. When I hiked to Everest Base Camp, I got altitude sickness, but thanks to the watchful eye of my guide, it was manageable and I was able to complete the trek. On my trek, I saw a private group of three trekking and the girl had to be helicoptered out for medical treatment. Five days later she was still in critical condition in the hospital in Katmandu. They didn't know if she would survive and I don't know what happened to her. My guide saw her and encouraged her to return to a lower elevation, but she didn't listen. Had she been on a guided tour, our guide said he would have forced her to go down to a lower elevation, potentially saving her life.
3) Hikes where there's wildlife. I grew up in the Canadian Rocky Mountains and despite having done hundreds of hikes, I always go with someone else, sometimes several other people. I would never hike alone. There's never been a bear attack with a group of four or more hikers and the several cougar attacks in the Rockies each year are almost always on someone hiking or skiing solo. There's safety in numbers, especially when it comes to wildlife.
Note: You want to make sure that you have the right gear too. Check out my post on great gifts for hikers to get an idea of some of the great gear that's out there.
Related Reading: Hiking, Trekking and Mountaineering: What's The Difference? And Why You Should Care
Follow these six tips and your trekking will be an epic one that's memorable for years to come – for all the right reasons!
Trekking is an excellent way to enjoy the outdoors and get a unique perspective on new places. So make sure to see what trek suits you.
Disclosure: Thank you to World Expeditions for making this post possible as part of their #bestmountaintrek. As always, all opinions are my own.