Many people tend to use the words hiking, trekking, and mountaineering as if they were all the same thing. While they're similar, there are important distinctions as well.
So why is it important to know the difference between hiking vs trekking vs mountaineering?
The most important reason is safety. Knowing the difference allows you to choose the right outdoor activity for you that's suitable for both your physical abilities and skill level.
The easiest way to explain how these three activities are different is to distinguish each term and to categorize them by difficulty.
Hiking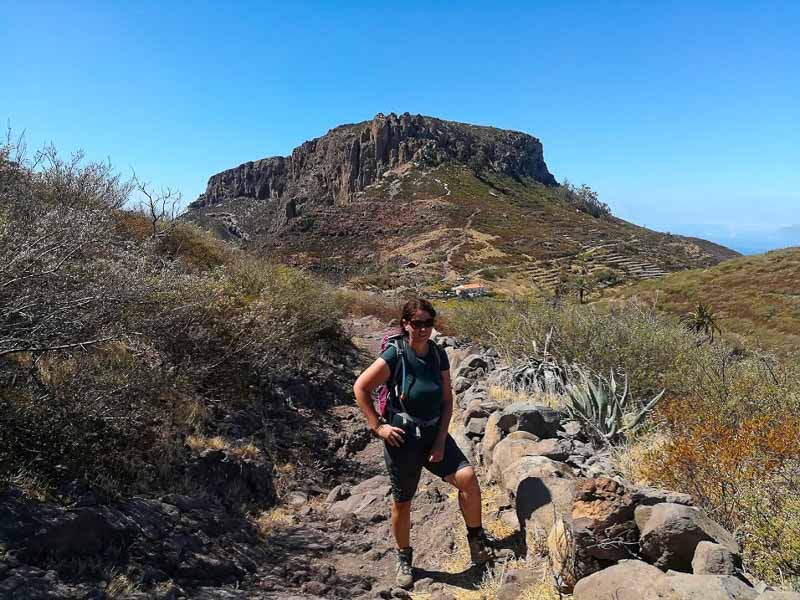 The easiest of the three outdoor activities is hiking. Hiking is characterized by:
✔️ easiest of the three
✔️ walking on well-marked hiking trails (but not always)
✔️ short, lasting anywhere from a couple of hours to a full day
✔️ trails may be flat to steep
✔️ usually of easy to moderate difficulty, although you can definitely do tougher day hikes on uneven terrain
✔️ doesn't usually require any technical skill but can still be physically challenging
✔️ in Europe, hikes are classified according to the Swiss Alpine Scale (SAS) – proof that hikes can be very difficult
✔️ requires minimal equipment (compared to trekking or mountaineering) – see our Day Hiking Packing List for what to bring
An example of a hike is the hike to Krimml Falls in Austria.
You may also hear the term "multi-day hike" or "long-distance hikes".
These terms refer to walking on trails that meet the above conditions for more than one day.
Examples of multi-day hikes are:
Related Reading: Best Trekking and Hiking Backpacks.
How to Start Hiking
If you don't have much hiking experience, check out our Hiking for Beginners article. Or sign up for my online course  How to Start Hiking and feel Amazing From Your First Hike which also includes 2 personal 1:1 online sessions with me to ensure you're success and that you'll keep hiking as a new habit.
You'll want to start with shorter, flatter hikes and work your way up from there. Also, if you've never hiked before it may seem difficult the first few hikes that you do. But stick with it. It gets easier as your physical condition improves.
And you'll be surprised at how quickly you progress, especially if you're doing additional cardio workouts between hiking. It's important to find a balance between challenging yourself and not overdoing it.
When hiking in Europe use the above-mentioned Swiss Alpine Scale to find a hike appropriate for you –  a T1 when you're just starting.
Related Reading: Our Top Hiking Gear Recommendations.
Trekking
Trekking is more difficult than hiking but much easier than mountaineering in terms of difficulty. It's characterized by:
✔️ multi-day trip, some are several weeks or longer
✔️ usually on rough or uneven terrain, ie. could involve walking over boulders
✔️ pack weight is usually heavier as you're carrying more stuff, including food
✔️requires sturdier hiking boots due to a heavier pack weight and rougher terrain
✔️ requires a higher fitness level due to the heavier pack, terrain and length of the trip
✔️ usually stay at mountain huts or guesthouses (when it involves camping, that's called backpacking)
✔️ treks usually start in one place and end in a different one
✔️ the distance can vary anywhere from ~40 km to several hundred kilometres
Examples of multi-day treks include:
The Tour du Mount Blanc gets called both a multi-day hike and a trek. I'd personally call it a multi-day hike since the terrain isn't technical and you can make it easier by doing it as a self-guided tour and arranging to have your luggage transferred.
How to Start Trekking
You'll want to start by doing some hiking trips first. Gradually build your way up to longer and more challenging day hikes on uneven terrain.
It's also a good idea to add extra gear to your backpack. This is in preparation for trekking when your pack will be heavier and it's important to build up strength.
Then consider doing a multi-day hike first. For your first trek, you may want to consider just doing a 2-day trip.
Related Reading: Best Trekking Poles.
Mountaineering
Mountaineering is by far the most challenging vs hiking and trekking. It's characterized by:
✔️  technical variation of trekking that takes you to higher peaks. Often to ones that are over 5000 meters above sea level
✔️  may include glacier crossings
✔️ may include rock climbing up sections that are impassible any other way
✔️ involves much more equipment, i.e. crampons, ice axe, ropes, climbing harness
✔️ in some places, you need to be strong enough to be able to endure long hours of ascending with low levels of oxygen
Examples of mountaineering are:
summiting Mount Blanc (not the Tour du Mont Blanc) but the actual summit,
summitting or attempting to summit Mount Everest.
How to Get Started in Mountaineering
If you're interested in getting into mountaineering, you should take some classes first. Your local alpine association is a good place to start. You'll also need to be in excellent physical condition.
Related Reading: 64 of the Best Adventure Books Ever Written.
Hiking vs Trekking: My Journey
I definitely do far more hikes than treks, simply due to time. I do a day hike almost every weekend in the Alps. But even when hiking, I  try to include some challenging ones – like choosing a T4 or T5 (the most difficult of hikes in Europe).
I also LOVE boulder fields. This is much easier since I moved to Bansko and have Pirin National Park at my doorstep.
I'm also a huge fan of trekking and have trekked all over the world. I do a multi-day hike or trek every year since I think there are so many benefits to being on the trail for days at a time vs being a weekend warrior as I usually am.
While I love doing via ferratas, I've only dipped my toe into mountaineering having tried ice-climbing and climbing with crampons with an instructor. This is something I'd like to explore more.
Now that you know the difference between hiking vs trekking vs mountaineering you can choose the outdoor activity most suitable for you.