This post may include affiliate links, including Amazon Associate links. I may earn money if you click on one at no extra cost to you.
The best hiking backpacks that we've found. Here's what you to look for whether you're planning a multi-day trek or heading out for a day hike.
We'll introduce you to our favourite backpacking brands and tell you exactly what to look for in a backpack whether you're doing a multi-day trek like the Tour du Mont Blanc or the Dolomites where you will carry everything you need with you, or a hiking tour like the Cinque Terre or our Coastal Hike: Costa Brava, Spain to France where all you need is a day pack.
But first,
How to Choose the Best Hiking Backpack for You
A backpack is one of your core pieces of gear when hiking or backpacking. A good one, you'll hardly notice. A poor fitting or a heavy one without load balancing features will leave you with blisters and sore muscles. Among the vast array of shapes, styles, and sizes here's how to choose the best one for you:
Pick the Right Size For Your Hike
You'll find a wide range of backpack sizes. Use this guideline to find the right one for the hike that you're doing:
Day hike: 25 – 40 L
1 – 3 nights: 30 – 50 L
3 – 5 nights: 50 – 80 L
5+ nights: 70 L+
Find the Right Fit
Hiking for lengthy periods makes it important to find a backpack that fits your torso. Make sure that it's long enough but not too long.
If you have a small frame, a women's backpack may be a good choice since they're usually shorter and narrower.
You should also consider the waist and look for one in which around 80% of your backpack's weight is supported by your hips. This will significantly reduce shoulder strain. I once made the mistake of choosing a lightweight backpack that only offered a flimsy hipbelt and my shoulders ached even after day hikes.
Choose the Right Backback Frame
For most hikers, I'd recommend an internal-frame backpack. They keep you stable on uneven terrain and many include load-supporting technology that transfers the weight to your hips.
If you're carrying an irregular load like an inflatable kayak, an external-frame backpack could be a good choice.
Frameless backpacks are a good choice if the most important thing to you is keeping your load light. But these are best if you're not carrying a heavy load.
Decide Which Backpack Features Are Essential
The more gadgets on your backpack the heavier it will be. Decide what's essential for you depending on the type of hiking that you'll be doing and if you don't need certain features, you're better to choose a pack that doesn't have the unneeded features since they add extra weight:
Pockets. I think side pockets are essential, but all others aren't necessary but it will depend on how you hike.
Padding. It makes your backpack more comfortable especially for longer trips but adds weight so you have to find a balance.
Attachment points. I.e. loops for hiking poles, etc.. Consider how many you need. I personally just use the ones for hiking poles and don't need anymore.
Integrated hydration reservoir. This is essential if you hike with a Camelback or similar water reservoir. If not, you don't need it.
Removable daypack/top lid. It may be nice on larger packs but not necessary on smaller ones.
Sleeping bag compartment. Perhaps a nice to have, but not a must-have in my opinion.
Rain cover. Definitely a must-have for any type of backpack.
What are our favourite backpack brands?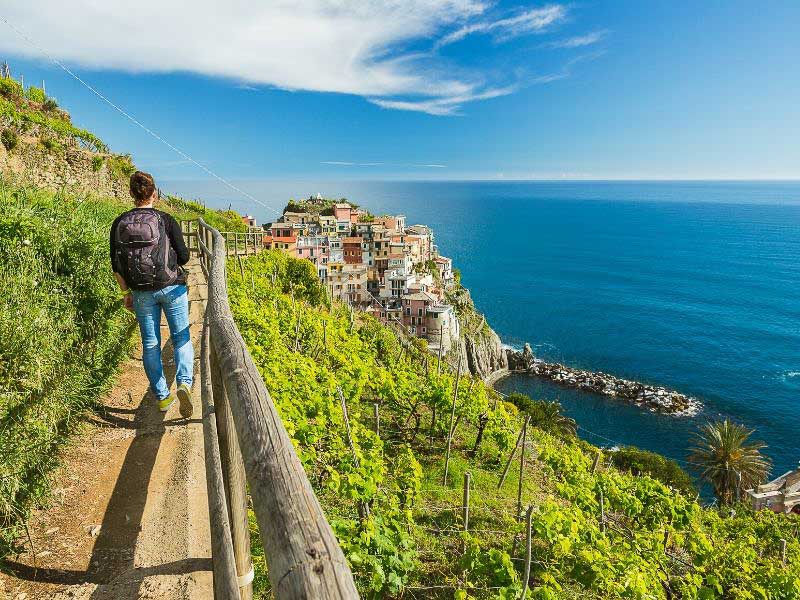 Osprey was founded in 1974 and the headquarters are located in California, USA
They offer a life long guarantee so you'll be eligible for repairs or a replacement. Plus, Osprey backpacks are very comfortable. This is a top choice of many avid hikers that I know.
Gregory Packs was founded in 1977 and the headquarters are located in California, USA
This brand is well known for the quality and sturdiness of their backpacks. Gregory has a zero policy for modern slavery in its supply chain which we love.
Arcteryx was founded in 1991 and the headquarters are located in North Vancouver, Canada
Arcteryx builds products to last to minimize the negative environmental impact. They do this through responsible manufacturing, and community engagement.
Deuter was founded in 1898 and the headquarters are located in Germany
Their backpacks are award-winning due to the strong materials that they use. They are also a member of Bluesign. The world's strictest standard for environmental protection. I'm a big fan of Deuter but perhaps I'm biased since I live in Germany.
Kelty was founded in 1952 and the headquarters are located in Colorado, USA
This is the go-to brand when you're looking for a sturdy backpack that isn't as expensive as Osprey or Gregory. They don't tend to get the same reviews but they are good quality for the money.
Marmot was founded in 1974 and the headquarters are located in California, USA
This is another backpack that a lot of hikers love due to how comfortable they are, they actually mould to your back. They also introduced EnviroFree, an initiative to reduce chemical applications in the manufacturing process while still maintaining or improving the quality and performance of the raw materials.
The North Face was founded in 1974 and the headquarters are located in California, USA
The North Face is, among the better quality backpacks out there. They also offer the North Face Renewed, a collection of refurbished clothing that reduces the environmental impact of textile manufacturing.
TETON was founded in 2005 and the headquarters are located in Utah, USA
Out of the budget brands out there, Teton offers a lot for your money. Their products are a good choice if you're just getting into backpacking or hiking and aren't sure you want to invest in an expensive pack.
High Sierra was founded in 1978 and the headquarters are located in Illinois, USA
They're known for strong yet light backpacks. They're good for hiking but not as comfortable as the ones at the top of this list based on Amazon reviews. They have all of the basic features and work perfectly well. I would definitely recommend these to first-time hikers.
Granite Gear was founded in 1996 and the headquarters can be found in Minnesota, USA
This relatively recent company is known for creating backpacks that are affordable and have a great design. One of the highlights of their backpacks is that you can adjust the waist belt in two different places, giving it a better fit for most people. They might not be as popular as some of the larger brands but they are certainly worth checking out.
Best Day Hiking Backpacks
You'll find our recommendations for day hikes below. Also, be sure to check out our Day Hiking Packing List for other gear you need.
3. Gregory Inertia 20 Hydration
It might be a little heavier than the previous options, but it is still great for those hikes when you need to be light and fast. It comes with a 3-liter water bladder reservoir, easy-access pockets, and an adjustable harness. The backpack also has a designated system to carry your trekking poles. The Gregory Inertia 20 Hydration has great online reviews for its comfort and a great hiking day pack.
TYPE OF HIKING: day hiking
WEIGHT: 0.75 Kg
VOLUME: 20 L
GENDER: Unisex
Best Unisex Backpacks
3. Kelty Coyote 65
This is a sturdy backpack that comes with the PerfectFIT suspension which offers one-size-fits-all versatility and comfort with an on-body adjustment system. This backpack has great reviews for its waterproof ability, which makes it great for river crossings and wet hiking conditions. Their Dual LightBeamTM aluminum stays give this pack outstanding support for heavy loads – it can hold up to 60 lbs. If you are looking for a larger option check out the Coyote 80.
TYPES OF HIKING: 3-5 days of hiking
WEIGH: 2.18 Kg
VOLUME: 65L
GENDER: Unisex
Best Women's Backpacks
3. Arcíteryx Bora Ar 61
With its ventilated back panels, and its RotoGlide hip-belt you will stay dry and be comfortable all day. This backpack moves with you but at the same time manages to keep your load stable. It is meant for technical hiking or trekking. The Bora is one of the most expensive backpacks out there but in this case, price equals quality and comfort.
TYPES OF HIKING: 3-5 days of hiking
WEIGHT: 2.20 Kg
VOLUME: 60L
GENDER: Women
Best Men's Backpacks
The Best Lightweight Backpacks
Whether you are planning an extreme weekend in the mountains or just relaxing in nature, weight matters. And typically the less weight the better – while still retaining comfort and function.
3. TETON Sports Ultralight Backpack
This 70L backpack is quite light considering its size. Plus it comes with the features that all of us hikers love like the adjustable torso, breathable padding, and pockets on the waist belt for easy access to essentials. The TETON Ultralight line also offers Hiker 60 and Outfitter 65. This is a great purchase that offers value for money.
TYPE OF HIKING: 5+ days of hiking, thru-hikes, alpine expeditions
WEIGHT: 2 Kg
VOLUME: 70 L
GENDER: Unisex
Backpacks make great gifts any hiker. If you are looking for the perfect gift for the hiker in your life make sure to check my list of top gifts for hikers. There's something for everyone and every budget.
Tell us your favourite backpacks for hiking. And be sure to check our recommendations for travel backpacks.