This post is also available in: German
Looking for a hiking buddy or hiking group near you? There are many various ways to find one and different types of hiking groups.
Which is best for you? Read on to find out more about how to find your dream hiking partner or local hiking group.
But first,
Going Hiking? Here's Why You Should Bring a Hiking Buddy
While I love hiking both alone and with other people, I do hike more conservatively when hiking alone and tend to choose more popular trails.
When you go hiking with someone else, it gives you an opportunity to build meaningful relationships outside of work or home life – whether they're friends or family members.
Spending hours in nature together often results in deeper conversations than you'd have over a cup of coffee. Plus, you're more focused and less distracted, so you often feel more connected with someone.
And if you're looking for love, hiking with someone can actually make them fall in love with you more easily since exercise and falling in love share similar symptoms. Find out more in our How to Plan an Amazing Hiking Date: Plus 5 Tips for Avoiding Disaster post.
Not to mention the great memories you'll create together with your hiking buddy. Plus, it's always nice to have someone to snap photos for your perfect Instagram shot!
Besides the social element, hiking with a buddy is much safer than going by yourself. If you encounter an emergency situation while on your hike, such as getting lost or injured, having another person with you can mean the difference between life and death. You may also feel safer having someone else around which can provide a sense of security.
And you're less likely to run into wildlife. The human voice is the best bear deterrent on the planet and if you're hiking solo you're likely not making much noise, but with a hiking buddy, your voice will naturally warn the bear of your presence.
7 Ways to Find a Hiking Buddy
1) Ranger-Led Hikes
A good source for hiking opportunities are naturalist/ranger-led hikes offered at national, state/provincial and local parks or nature centers. Check with individual parks for schedules and guided hikes.
These hikes are great if you're a brand-new hiker. They're a great way to learn about the flora and fauna of the area while meeting potential hiking friends.
And if you do connect with someone don't be afraid to make the first move and ask if they want to go on a hike with you.
2) Join a Guided Hike Offered by a Local Adventure Company or Outdoor Recreation Center
Many local companies and outdoor recreation centers, like the University of Calgary Outdoor Center offer hikes of varying difficulty levels ranging from easy day hikes to advanced trails to backpacking trips.
Similar to joining a ranger-led hike, joining a group hike with a guide is a great way to start hiking when you're new to hiking.
It's also a good option if you want to build your skills, such as your first multi-day backpacking trip. It's a great way to meet a bunch of hikers who are at a similar level as you are.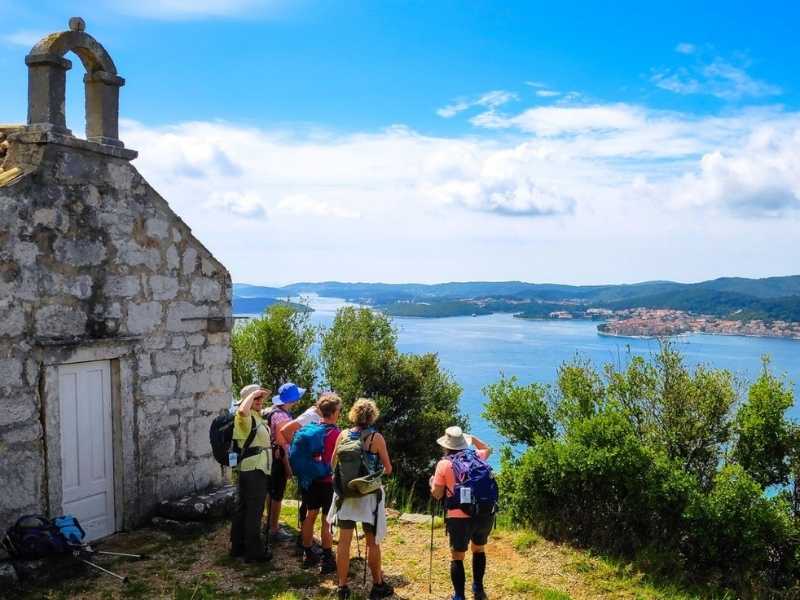 3) Crowd Source On Your Private Social Media Platforms
You never know who you already know that's also looking for a hiking buddy. One of my favourite ways of finding out is to post an announcement to my friends on Facebook.
I'll post something that reads like "I want to hike to Vihren Peak in Pirin National Park on Saturday. Who wants to join me?" or " I want to do an easy hike in Banff this weekend. Who's in?", depending on what you're looking for.
I've reconnected with friends I haven't talked to in ages and I find that when you're hiking, the conversations often go much deeper than we would over a cup of coffee.
Sometimes when I make a post like one of the above, people are interested, but no one is available, so don't take it personally.
You'll have the advantage of being top of mind when someone else is planning a hike. I've been invited on quite a few hikes this way, where someone will contact me a couple of weeks later and say something like "I saw your post but was out of town that weekend but I'm planning on hiking this weekend. Wanna join?"
Note: for these types of posts looking for a hiking buddy, I only post to my friends. I wouldn't post it publicly for safety reasons, but that's a matter of personal preference.
4) See if Your Local Outdoor Store Organizes Hikes or Hiking Related Events
Many REI stores organize hiking trips and other outdoor adventures. If you sign up for an Introduction to Backpacking, you're going to meet other outdoor enthusiasts with similar interests and fitness levels.
Also, look for book readings or talks related to hiking or outdoor activities. I've attended quite a few of these from MEC (Mountain Equipment Coop) in Calgary and almost always met interesting people and sometimes even a hiking buddy.
5) Search Online for Local Hiking Clubs
Many communities have local hiking clubs. You; 'll 'find them by doing a google search, looking on Meetup.com or searching on Facebook. Each club may be hosted on a different platform so look in a few different places.
Search for "hiking clubs in xxx", or "hiking events in xxx" or for something specific like the "Appalachian Mountain Club".
You can also search by your skill level, or interest, i.e "hiking club for experienced hikers", or "hiking with dogs", or "hiking club for over 50". I would first start more generally as indicated above, and then you can do a more detailed search.
Many also organize social activities outside of hiking so it can be great for your social life as well as meeting new hiking buddies.
6) Join an Online Community
Online communities are great when you want to connect with hikers of a specific interest or age group. For example, I'm a member of a few hiking groups on Facebook for women, women over 40, and hiking in Europe.
While it may be possible to find a hiking buddy from these groups, they tend to be more about encouraging, supporting each other and providing information.
However, if you find one for a specific trail or region, like the Appalachian then you have a better chance of finding a hiking buddy. But again, please ensure your safety.
7) Sign Up to Volunteer for Trail Maintenance or Other Hiking Related Activity
Some years ago, I volunteered in Banff National Park to collect grizzly bear hair for a DNA research project. It involved a day of training in which I met the other volunteers and then bi-weekly checks on specific trails with another volunteer. I met really interesting people that I likely wouldn't have met otherwise.
Here's a list of volunteer opportunities in Yosemite to give you an idea of the type of opportunities available. Check with your local park to see what they're looking for. Besides doing good, you may just meet your perfect hiking buddy.
so now you know how to find a hiking buddy….
5 Things to Look for in a Hiking Buddy
When you're looking for someone to hike with it's important to find the right person to enhance your time outdoors. Hiking with someone who's unprepared, not bringing enough water or the right hiking gear, or who's always complaining is not fun. It's for this reason, I'm very picky about my hiking buddies.
However, hiking with the right person or people can be an amazing experience and incredibly bonding. Here's what I look for in a hiking buddy:
1) Ensure that your hiking buddy has an adequate level of physical fitness for the trail you're planning on doing.
They don't have to be in amazing shape, but they should have some kind of base level of aerobic fitness. The best way to determine this is by asking what other hikes they'd done or what other types of exercise they do.
2) Choose someone with a similar level of fitness to you
Ideally, you want a hiking buddy who's in similar shape to you. If you're new to hiking and are slow, it's better if your fellow hiker is also slow, or at least doesn't mind going slow.
If they're a speed demon and get annoyed by having to hike at a slower pace, it's not going to be a pleasurable experience for either of you.
The exception is if they don't mind going slower. I'll often take good friends hiking and know it will be a much easier hike at a slower pace than what I'd normally do.
Occasionally I'm happy to do this since I love getting people into hiking since hiking has changed my life and I know it can do the same for others. However, it's important to establish this beforehand.
3) Look for a hiking buddy with shared interests
For many people hiking is a chance to combine interests, whether that be photography, identifying wildflowers, or birdwatching.
If you love doing photography as you hike and taking 10 minutes to set up the shot, ensure that your potential hiking companion is also ok with that. Otherwise, it's annoying for someone who just wants to keep on hiking.
There's no right or wrong, just a matter of personal preference. Plus, if you do share a common interest, it can make the hike so much more enjoyable.
It can also be a great way to combine your knowledge since your hiking buddy may be able to identify wildflowers that you can't and vice versa.
If you're both into food, you could also agree in advance to bring something to share. I love doing this and having a gourmet picnic at the top of the peak. It's motivating knowing that I'll have something good to eat and it's a great way to reward your efforts.
4) Hike with someone who's knowledgeable and who will come prepared
You want to ensure that your hiking companion will bring enough water, warm enough clothes, a sufficient amount of nourishing food, etc.
I always recommend for safety reasons that each person on the hike have a copy of the route whether it be on GPS or a paper map and know where they're going, even if you're the one who planned the hike.
Some people, expect the person planning it to take care of everything, while others are willing to share the responsibility. Choose the latter.
5) Choose someone who you enjoy spending time with
Hiking, like anything else, is more pleasurable when you enjoy the other person's company. Someone who is generally positive and looking on the bright side of things is more enjoyable than someone who's negative or complaining constantly.
During a challenging hike, you want a hiking buddy with whom you can be each other's champions, encouraging each other 'We're almost there!", or "You're doing great!" It's a great way to bond and make something difficult, seem easier.
But in addition, if things go wrong – you get lost, or one of you gets injured, or you get caught in a storm, you want to be with someone who can remain calm, think clearly and think positive. This can be a matter of life and death.
If you're stranded on a mountain overnight, you want someone who also has their own emergency thermal blanket, who you can cuddle with for warmth and then make a calm plan of how to proceed. That's preferable over someone who only has their t-shirt and keeps screaming "We're going to die!"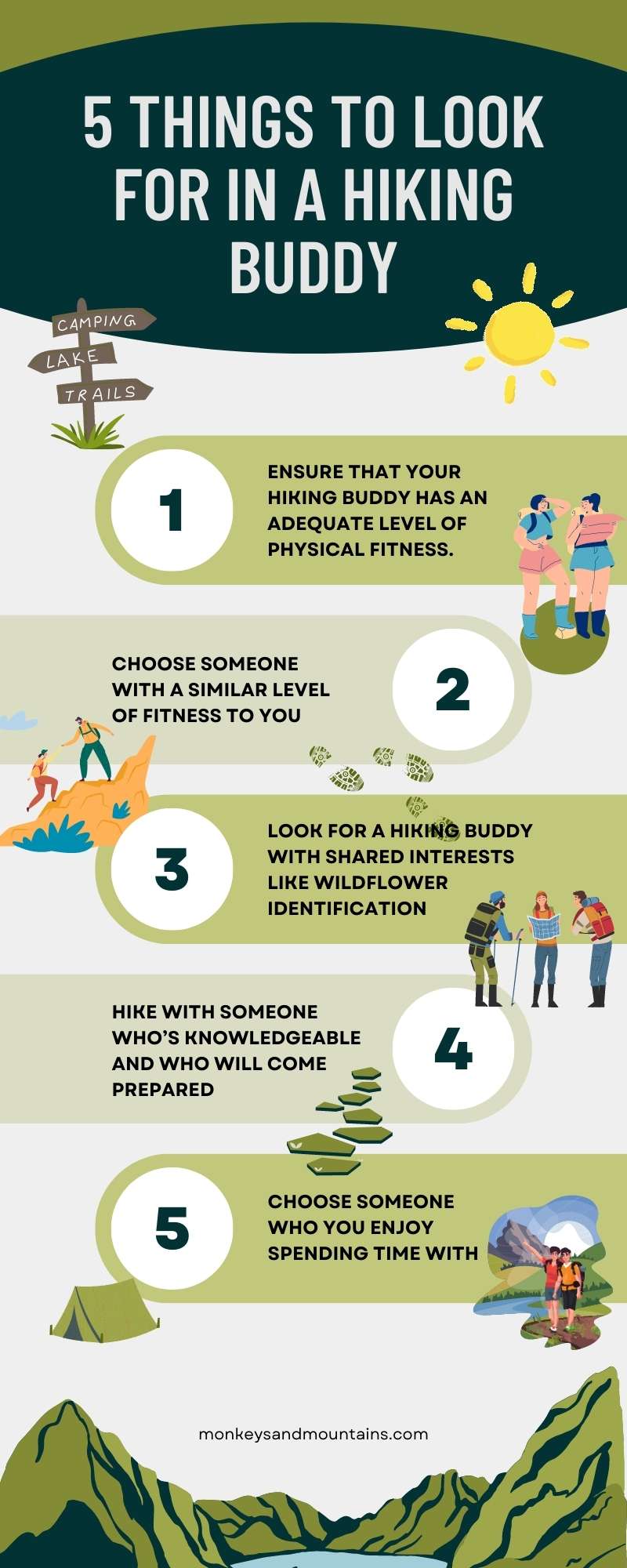 Conclusion
Ultimately, finding a compatible hiking buddy requires effort and patience and you may not get it right the first time, but it pays once you find someone who fits these criteria. And you'll create many unforgettable moments while on the trail.
Check out our Hiking Gear page and If you're new to hiking, check out our Hiking for Beginners Guide.