A good quality, child carrier backpack is your most important piece of hiking gear when hiking with infants or toddlers.
There's no need to leave your young kids at home. Family hikes are a great option and can be a great way to be active together. Plus, you'll also be teaching your kids the value of nature from a young age.
You love exploring the great outdoors. There's nothing like getting in tune with nature and creating awesome family memories. But it's so much more difficult to do. Not to mention stressful – without the peace of mind that a good quality, safe and comfortable backpack can bring.
That's even more true when you're looking for a child carrier backpack. Investing in one will allow you to continue your hiking adventures.
In this gear guide, we'll help you decide on the best one for you by showcasing what we consider to be the best child carrier backpacks.
Related Reading: Hiking for Beginners: The New Hiker's Guide to Having an Amazing Day
Deuter Hiking Carriers
When the New York Times calls a particular model 'the best hiking baby carrier' available you need to take note.
Widely considered to be the most comfortable carrier around, on account of its easily adjustable waist belt and shoulder straps, this backpack can securely fit all parental body types.
It also has two side harness straps that can tighten to ensure your child is safely in place. It comes with a removable sunshade.
It also features two side pockets, perfect for easy access to essentials like diapers or wet wipes.
Best of all, the backpack is designed in such a way that you can easily remove your child from the side, or top of the carrier, without putting your back or shoulders out.
Suitable for children of about 8 months and older, weighing up to 40 pounds. The carrier weighs 7 pounds and 1 ounce for a total 48-pound weight limit.
Another good option in this range is the Deuter Kid Comfort Pro Child.
What is really good about this backpack is that it has a separate, yet integrated day-pack in the bottom storage compartment which is brilliant for when you need to go and change a diaper.
It also has a very cool built-in sunshade to provide bubs with shade, while a convenient mirror gives you an easy view of your child, without having to strain your neck.
You'll also find that the child carrier has a very snug fit, while it's also fully ventilated around the back.
It was designed for comfort for your child and comes with its own pillow so that your child can nap comfortably while you hike.
For your own peace of mind, the safety of both the side entry and the harness system is guaranteed by the TÜV GS safety seal of approval. In addition, the kickstand is locking and tip-resistant, keeping your child safe.
The backpack is suitable for children aged about 8 months and over. It has a carrier weight of 7 pounds 8 ounces and a weight limit of 48 pounds.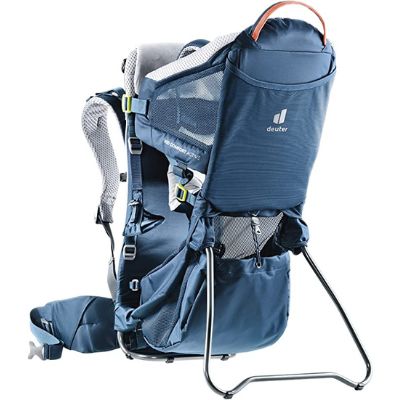 If you are looking for a very light carrier, with lots of ventilation, then the Deuter Kid Comfort Active SL is the backpack for you.
It's a really good choice for those with a small torso of between 14 to 18 inches. The shoulder strap system is designed specifically for that body shape.
This backpack has the same features as the Deuter Kid Comfort, other than the fact it doesn't come with a sunshade and has less storage capacity.
With a carrier weight of 5 pounds 13 ounces, you will notice a distinct difference over the Deuter Kid Comfort when you strap it on. The best thing though is despite its lightweight, the age and weight limits are the same.
Related Reading: 16 Best Hiking Backpacks of 2022: Our Top Picks For Every Budget
Osprey Hiking Carriers
Established in California in 1974, Osprey is a major player in hiking backpacks and the child carrier backpacks market.
The Osprey Poco Child Carrier Backpack is very versatile that can be used for hiking in the woods or simply walking around town.
With arms loops that are front-facing, it's very easy to put on, while its double halo harness enables you to buckle your child in securely.
It also features a back panel made of breathable mesh, which means it won't stick to your back in hot temperatures. It also has open mesh pockets on the hip belt. The padded cockpit for your child also has ventilated side panels.
The Osprey Poco also has a child's drool pad which can be conveniently removed and washed, as well as built-in sun protection.
There are also several attachment loops to hold toys or a pacifier, removable foot stirrups and lower zippered compartments which are handy for storing snacks.
There's even an external hydration sleeve that can hold a 1.5 L reservoir, perfect for drinking water on the go.
Designed to hold children between the ages of 6 months to 3 and a half years, it has a carrier weight of 7 pounds 7 ounces and a weight limit of 40 lbs.
If the Osprey Poco Child Carrier Backpack is too heavy for you, or you just plan on doing shorter hikers, then the LT Lightweight version may be a better choice for you.
Boasting a carrier weight of just 5.09 lbs and with a weight limit of 40 lbs, it's ideal for shorter hikes and along crowded sidewalks. It's designed to hold children between the age of 6 months to 3 and a half years.
Brilliantly, the Osprey Poco LT folds flat and small, so it's very easy to store when you're not using it.
While wearing it there's plenty of ventilation and a sunshade. It also has adjustable straps to fit any body shape.
Best of all, for those who are eco-conscious, the backpack is made with PFC-free DWR, and sustainable bluesign-approved materials.
Related Reading: Hiking for Beginners: The New Hikers; Guide to Having an Amazing Day
Kelty Carrier Backpacks
Based in Boulder, Colorado, Kelty is a manufacturer of high-end backpacks, tents, and sleeping bags.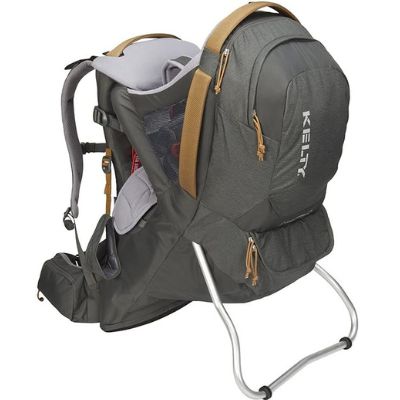 This is a safe and very comfortable carrier that comes with an integrated sunshade.
Not only is it easily adjustable to fit any adult, but it also has a five-point harness for safety, as well as a padded aluminum roll cage which means your little one is very secure. The adjustable foot stirrups mean you can continue to use it as your child grows.
The carrier also has a large zippered lower compartment and a large zippered pocket for extra storage of toys, diapers and other essential items.
Designed for children over the age of 6 months, the carrier weight is 6 lbs 6 oz and the child weight maximum is 40 lbs.
The Kelty Journey PerfectFIT Elite Child Carrier is essentially the same design as the Signature Series, with a couple of differences.
For a start, it boasts no less than 9 pockets including a large zipper compartment that contains internal stretch pockets.
In addition, it has a 26-litre storage capacity.
At a carrier weight of 7 lb 4 oz, it is a slightly heavier backpack to wear, though it can accommodate children from 6 months of age upwards who are under 50 lbs in weight.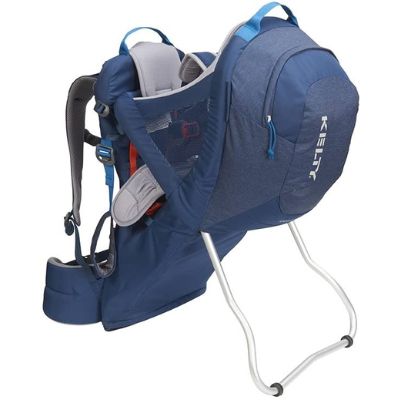 Another similar option in this range is the Kelty Journey Perfectfit Child Carrier.
It doesn't come with a sunshade, but it does have dual grab handles, making it much easier to pick up or put down the child carrier.
Meant for children aged 6 months and over it also has the same carrier weight as the Signature and the same child weight as the Elite version.
Related Reading: 10 Best Easy Hikes in Zion National Park
Ergobaby Backpacks
Ergobaby was originally founded in Maui, Hawaii by Karin Frost in 2003.
As you can wear this product on your back, hip, front-inward or front-outward, this is arguably one of the most versatile baby carrier products out there.
It also has longevity as a backpack because you can adjust and extend the back panel to accommodate your growing child.
Plus the soft carrier is machine-washable
Boasting breathable 3D air mesh, which ensures you don't sweat in the warmer months, the carrier is suitable for children up to 3 years old who weigh 45 lbs. This carrier is incredibly lightweight at just 1.5 lbs.
This version designed for newborns (but check with your doctor to see when it's appropriate for your baby), and can also be worn in 4 different ways. It features extra padded shoulder straps and padded lumbar back support.
In addition to a large removable storage compartment, it also has a sunshade to protect your little one from the sun. The should straps are adjustable and there's a handy privacy section that allows you to easily breastfeed as you walk.
Made of 100% cotton, this soft-structured carrier is machine-washable.
Suitable for children up to 2 years old, who weigh a maximum of 45 lbs, the baby carrier is also machine washable. It also weighs 1.7 lbs.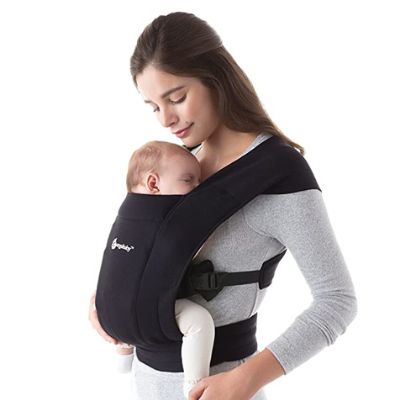 Another excellent product in this range is the Ergobaby Embrace Cozy Newborn Baby Wrap Carrier.
Designed for children up to one year old, who weigh less than 25 lbs, one of the first things you will notice when wearing it, is that it has a supportive waist belt and cross straps that are spreadable, which makes for a very comfortable fit.
A nice feature of this lightweight and compact carrier is that it easily folds up and can be carried in a diaper bag.
Like all the Ergobaby products, this soft-structured carrier is machine-washable.
With a carrier weight of just 1 lb, it has the soft feel of a baby wrap, which nestles the child close to the parent's bosom, giving them both a very comfortable feeling of security.
Related Reading: Hiking Logbook and Journal Welcome
Chicco Hiking Carrier
Chicco is an Italian baby care brand that was launched in 1958.
When it comes to comfort and security, the Chicco SmartSupport Backpack Carrier ticks a lot of boxes.
Not only does it have a multi-position seat that gives your child adjustable support, but it also has a padded backrest. Another nice feature is the 5-point safety harness and a lightweight aluminum frame. All of which means it's easy to carry and will keep your child safe and secure.
This baby carrier backpack also has a fabulous flat fold design making it easy to store away and very travel-friendly.
Meant for children between the ages of 6 months and 36 months, the carrier weight is 6.5 lbs, while the maximum child weight is 40 lbs.
Related Reading: The Best Hiking Journal and 7 Reasons You Should Keep One
Other Top Performing Affordable Child Carriers
While many hikers prefer name-brand carrier backpacks if you're searching for other top-performing but affordable child carriers you may wish to consider.
This is a very good option for those who want a baby backpack carrier that is built to last with premium quality materials.
Featuring multiple pockets for ample storage, a sunshade and comfortable padding, this child carrier is robust, yet easy to wear.
Designed for children who weigh 40 lbs and are up to 3 years old, this backpack weighs 6 lbs 4 oz.
Despite only having a carrier weight of 5.5 lbs, this backpack is very sturdy.
It features an adjustable waistband that can extend for about 60 inches, making it suitable for most body types.
There is also an adjustable seat which can be changed to fit your child's height so this baby carrier backpack can be used for children between the ages of 9 and 48 months, who weigh a maximum of 33 lbs.
The additional feature of this backpack includes a hood which protects your child from rain or shine, as well as plenty of padding and storage space.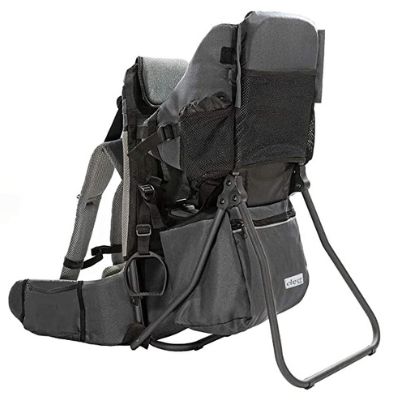 A very similar product to the Outdoor Light Hiking option ClevrPlus offer, this baby carrier backpack has the same carrier and child weight dimensions.
The child carrier also comes with foot stirrups and safety belts which will keep your child in a comfortable and secure position whilst you walk.
It also has a washable drool pad, which allows your child to rest their face on a clean and soft surface.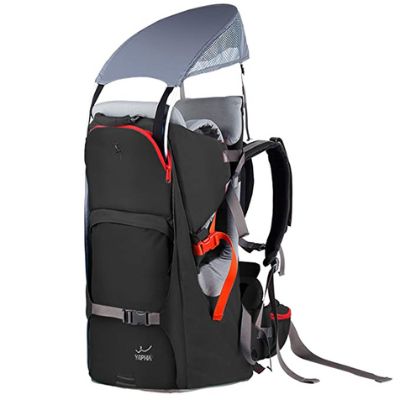 The WIPHA Baby Backpack Carrier has been designed to ensure your hiking adventures or day trips with your baby are much easier.
It's been thoughtfully designed, with its 3-point weight distribution system that helps to evenly spread your child's weight across your shoulders, belly and waist.
There is also a padded waist strap and a strong back support structure. These take a lot of the weight off your shoulders, thus making it feel less heavy and more comfortable.
The backpack has a carrier weight of 8.08 lbs and a maximum child weight of 50 lbs, for children up to about 3.5 years old.
The company is so confident in its baby backpack carrier that they offer a full money-back guarantee for 90 days. Plus, you'll get a year-long warranty.
Related Reading: Winter Hiking Gear: How to Stay Warm and Dress For Cold Weather
FAQs About Child Carrier Backpacks
At what age can babies go in a backpack carrier?
The short answer is about 6 months old.

As hiking carriers are typically carried on your back, children need to have good head control to sit in them unassisted.
It's important to ensure that your child is well-supported while in the harness and isn't being put under any undue strain or pressure.
To assist your child with their head control in their formative years, be sure to give them plenty of floor and tummy time!
If you're using a front baby carrier, you can likely go hiking with your baby when their younger, but check with your doctor.
What to look for when buying hiking baby carriers?
When buying a hiking baby carrier there are several factors you need to take into account.

Cost. How much you'll want to invest in a carrier backpack depends on 1)your budget 2) how long your hikes will be 3) how often you will go hiking. If you're only going to do easy short hikes a few times a year you don't need to invest in as a good a carrier as if you're going more frequently or doing longer hikes.
Metal Frame or Soft Carrier. A metal frame will add more weight, making it less comfortable for you, but more comfortable for your child. These are suitable when hiking with toddlers or when you're planning a longer hike.
A soft carrier is lighter making it more comfortable for you. It's best suited for babies up to 36 months weighing no more than 25 lbs. But you may find that it's not comfortable for them once they start getting close to that limit.
Adjustable Straps. This is a must as it means that your child carrier backpack will have longer longevity and be more versatile if more than one person will be carrying it. Look for adjustable torso straps, adjustable hip straps, adjustable shoulder straps and adjustable foot stirrups so that you can continue using your carrier as your child grows.
Storage Capacity. You'll also want to consider the size and storage space of the backpack you purchase. How much storage capacity you need will depend on how long your hikes are and how much stuff you bring.
Additional Features. Consider whether you'll use the 'extras' you are paying for. Not only are they more expensive, but they also add extra weight. Some child backpack carriers come with spaces for canopies, built-in sunshades, add-on packs, detachable pouches and lots of storage. All of these features increase the weight of your backpack so carefully consider which ones you'll actually use.
Customer Reviews. A further thing to look at is reviews of the carrier you intend to buy. This provides valuable insight into its worthiness as a purchase from other parents who were looking for the same thing as you.
So now you know the best child carrier backpacks and what to look for. We hope this guide has helped you decide on the right backpack for you so that you'll be out hiking and enjoying nature as a family, in no time at all!