This post may include affiliate links, including Amazon Associate links. I may earn money if you click on one at no extra cost to you.
Which is the best travel backpack to take on your next trip?
It really depends on what you need from your backpack.
Consider the following when choosing the best backpack for you:
How long will you be away? You'll need a smaller backpack for a weekend getaway than you will for a longer trip.
Will you be using it as carry-on luggage? If so, you need to consider the size and weight restrictions of the airline.
Are you carrying expensive camera gear? If so you'll need a backpack with added security features.
How often will you be using it? If you only plan to use it once or twice a year, consider a budget backpack.
Does it need to serve more than one function? I.e. Will you also be using it for day trips? Or for hiking?
Read on for our top picks of the best travel backpacks for every type of trip.
The Best Backpack for Carry-On and Flexibility
If you're looking for flexibility you can't beat Standard Luggage's Carry-On 35L Backpack
You can bring it as carry-on luggage. Yet it can expand to 45 L when you need more space.
My favourite thing about this backpack is how flexible it is. You can use it as a backpack, carry it as a shoulder bag or as luggage. It's three in one.
It's also been designed for comfort. It features ergonomic shoulder straps, a ventilated back panel and an adjustable hip belt.
I also appreciate the lockable zippers to keep your stuff safe.
The exterior is water-resistant and it comes with a rain cover to protect all your belongings.
I tested it out on a week-long trip to Spain and was very happy with it. I can also attest to it being water-resistant. Despite walking in the rain for 10 minutes, my stuff inside remained dry.
Related Reading: Adventure Awaits: How to Feel Like You're on Vacation Even When You're Not.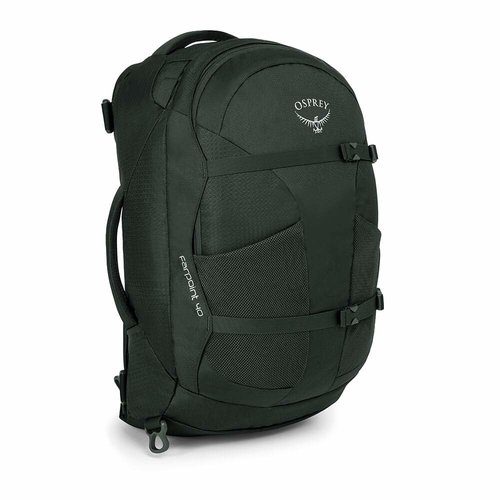 The Best Lightweight Backpacks for Carry-On
Choose a backpack that has a volume between 30 and 40 L for weekend trips or even week-long trips if you pack light enough. This size will give you the space to take all your necessary items. It will also be light enough to be comfortable to carry.
A popular choice is Osprey Packs Farpoint 40 Travel Backpack. It's a backpack that weighs just 1.36 kg (3 lbs). It has a lockable compartment for a laptop or tablet. It also meets the size requirements for carry-on luggage.
.
.
.
If you're just looking for a day travel backpack, consider the Gonex Ultralight Handy Travel Backpack.
It's super lightweight at just 185 grams. It's only 20 L though so it's most suitable for day trips. It folds into a smaller pouch making it ideal to bring with you on longer trips. Then you could use it when venturing out for the day. It comes in 8 colours.
Related Reading: 9 Travel Hacks That You Need to Know.
.
.
.
THE BEST TRAVEL BACKPACK THAT ALSO FUNCTIONS AS A HIKING BACKPACK
The Kelty Redwing 50 Backpack is a good mid-budget option. The 50 L backpack is a good choice when you need more space AND want a backpack that can be used for both travel and hiking.
As a hiker, I appreciate it's following features: a removable hip stabilizer and a lumbar pad to keep you cool in hot temperatures. It's also load-balanced so that all the weight isn't on your shoulders, something that's very important when doing a hiking tour.
It isn't waterproof though so you should also buy the midsize Kelty rain cover to go with it.
Note: it's also 3 inches too big to be classified as a carryon. You MAY be able to get away with it but it could cause problems, especially for domestic flight travel. Some international travellers have said they were able to bring it as carryon. However, if you want to be 100% certain that it's carryon compatible, consider a smaller backpack.
Related Reading: What to Pack for a Day Hike.
THE BEST TRAVEL BACKPACKS TO KEEP YOUR CONTENTS SAFE
Are you going to a place noted for pickpockets or theft? For some destinations, unfortunately, it's a reality. Or perhaps you're carrying expensive camera gear. Or a top-secret business idea.
If anti-theft features are one of your main concerns, consider a backpack that offers significantly increased levels of protection against thieves and pick-pockets.
Pacsafe Venturesafe EXP45 provides one of the best solutions. It features puncture-resistant zippers and cut-resistant fabric.
It can also be adjusted so that it's suitable as carryon luggage. While it's admittedly not the most stylish option, it is functional. And it does come with a 5-year warranty.
.
.
If you travel for business and your main concern is someone stealing your laptop, consider the Inateck 30L. Its dual zipper design makes it more difficult for someone to get into your bag. It's a cheaper option than the aforementioned Pacsafe Venturesafe EXP45 but it also doesn't have the same cut-resistance fabric. It's small enough to qualify as carry-on luggage.
.
.
.
.
THE BEST BUDGET TRAVEL BACKPACKS FOR CARRY-ON
CAN YOU HAVE A DECENT CARRY-ON BACKPACK FOR LESS THAN $80 USD?
Definitely. You can pay as low as the $22.99 USD for the Venture Pal 35L Lightweight Backpack. In addition to being very reasonably priced, it's also super lightweight at just .31 kg (.7 lbs), and can also be used for hiking.
It also has cool features like a compartment for dirty (or extra shoes) at the bottom of the bag. You'll have plenty of space for clothes and your laptop for a weekend getaway. It's also water-resistant. Overall, it's excellent value for money.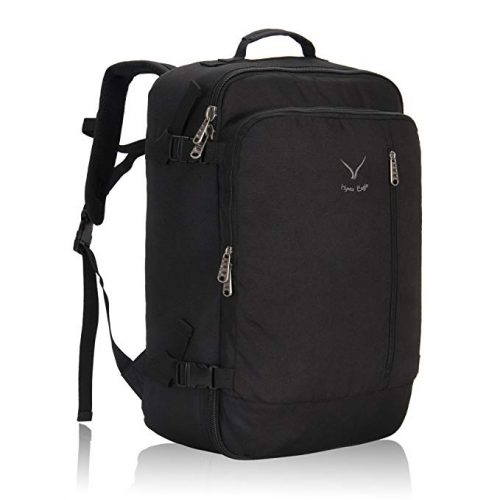 The Hynes Eagle 38L Flight Approved Weekender Carry on Backpack is slightly more expensive, yet still very affordable. It's approved for carry-on. It has versatile carrying options and lots of pockets for different purposes.
.
By considering what you need from your backpack and whether you need it to meet the size requirements for carry-on luggage, you'll be able to choose the best travel backpack for you.