The Vall de Núria is stunning! And this is coming from a girl who grew up near the Rocky Mountains in Canada, so believe me, I know my mountains!
I knew I would like The Vall de Núria (Valley of Núria in English) as soon as I heard that the only way to get there was by rack railway or by foot. No roads=bliss/joy/nature (take your pick of adjectives). What I didn't realize was how much I would like it.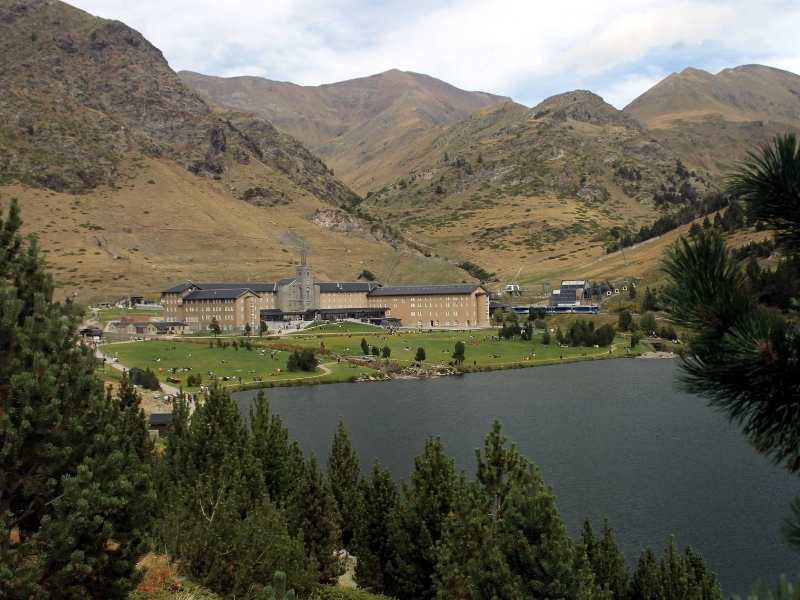 Related Reading: Catalonia Spain: Why You Need To Experience Adventure Here
Where is The Vall de Nuria?
It is located on the southern slope of the Pyrenees. This beautiful valley has so much to offer from hiking to canyoneering or just having a relaxing weekend away from the busy city.
This beautiful area is located in Catalonia and can be visited from Barcelona by train. You can either choose to hike in the area or you can enjoy a trip on the mountain train. I must recommend the hike though as the views are terrific.
Hiking in the Vall de Nuria
There are so many hiking trails to choose from but when Simon, also an avid hiker from Wild About Travel, suggested that we hike the Old Road (Pel Pont de Cremal) back down instead of taking the train, I didn't hesitate.
Related Reading: Self-Guided Coastal Hiking from Costa Brava, Spain to France.
The scenery is gorgeous but in my opinion, is experienced much better while hiking than by train. Isabelle of Diaro de a bordo soon joined us. She had done it before but was eager to do it again. We grabbed a quick bite at the self-service restaurant (I would recommend bringing your own lunch) and were off.
Related Reading: Via Ferratas in Spain: What They're Really Like and What You Need to Know.
As we did the descent from Vall de Núria to Queralbs it was easy hiking and took us about 2:30 hours, faster than the 3:20 hours recommended hiking time.
Related Reading: Best Wine Tours in Europe
There are three variations to the Old Road, but we choose the classic version. It follows the valley for 7.7 km to the town of Queralbs where we were to catch the train and meet up with the rest of our group.
Related Reading: Rafting the Noguera Pallaresa in Catalonia
The ascent (which we didn't do) would have been more challenging. It's over 900m of elevation gain. The official recommended hiking time for the ascent is 3:45, but it could be done faster if you were hiking at a steady pace.
Know Before You Go
Vall de Núria is a ski resort in winter (I'm sure it would be even more beautiful when blanketed in snow)
You can catch the rack railway to Vall de Núria from one of 3 places: Ribes-Enlaac, Ribes-Vila or Queralbs
There are numerous hiking trails starting at Vall de Núria (I could have easily spent several days here)
A 1-day package including a return trip on the rack railway, a cable car ride to a peak and a self-service lunch is available for 41.35€.
One way train tickets are also available.
Check the Vall de Núria official website for train times and hiking maps.
See Vall de Núria on Google Maps.
Related Reading: Besalu Catalonia: Girona's Hidden Beauty
Where to Stay Near the Vall de Nuria
The best place to stay if you want to enjoy the Vall de Nuria is Queralbs. Masia Can Constans are small stone holiday homes with real Catalonian charm. They are perfect for families, small groups and couples. The property is only a 10-minute walk from town center where you will find bars, restaurants and a convenience store. This is also perfect if you visiting during winter as it is not far from the ski lifts.
Hotel Vall de Núria is located a little way out of Queralbs. This beautiful hotel is located right next to a small lake and has access to rack rails. The hotel is perfect for a couples getaway. The best part is that during winter you can access most of the ski lifts in the area. During the summer enjoy the beautiful views of the Pyrenees on your doorstep
I LOVED hiking the Old Road from Vall de Núria to Queralbs! There were views the ENTIRE way. Everything you could want in a hike, except that now I want to experience it in winter…
Thank you to the Costa Brava Tourism Board for their hospitality. As always all opinions expressed are my own. I fell in love with Vall de Núria completely on my own.