Catalonia, Spain is great, not only because of its beaches and mountain ranges but the area has an amazing selection of thrilling adventure activities for everyone.
When you think of Catalonia you probably think of resorts in Costa Brava and spending time at the beach (some of the best beaches in Europe I might add).
But Catalonia has so much more to offer, especially in the way of adventure. Here are some of the best outdoor activities that I got to do while in Catalonia.
Coastal Hiking Tour From Spain to France 
Check out our amazing self-guided tour. You'll hike along the coast with spectacular views, secluded coves with hidden beaches and picturesque fishing towns; make sure to have your route notes with you!
The area was popular with famous artists like Picasso, Dali, and Matisse. You can even visit Dali's house en route while hiking. An ideal trip for adrenaline seekers or artists out for an amazing experience.
Despite the area's beauty, once you're out of the villages, you'll see few other hikers. Experience a unique mix of solitude with dramatic windswept seaside cliffs.
You'll arrive at mid-afternoon each day to a fishing village and will have time to relax or explore. You'll definitely want to reward yourself with the freshly caught fish of the day. 
Related Reading: Besalu Catalonia: Girona's Hidden Beauty
Rafting the Noguera Pallaresa
This was one of the most exciting adventures I took part in when I visited Catalonia, Spain. I went with the intention of just having a little fun.
I wasn't planning on anything too exciting, and definitely with no intention of ending up in the water rather than on. When we started out the waters of the Noguera Pallaresa were calm.
It was near this tranquil spot our guide told us we could get out and go for a swim if we were so inclined. Although, two of my rafting companions took up the offer.
I was really not prepared to take on the frigid water, in September no less. Little did I know that I was going to end up in the water anyway. A memorable experience in my Catalonia adventure for sure!
As we continued down the scenic river, the rapids slowly changed from tranquil waters to class 3 rapids, which were still pretty easy to navigate through. I was firmly planted in the boat sitting in between 2 fellow rafters.
Things got real when we hit the class 4 rapids and I realized that I could actually get thrown out. Not surprising, that's exactly what happened. What I thought was going to be an easy day in Catalonia, Spain ended up a lot more thrilling than I intended.
I somersaulted into the water which wasn't deep but was rough. After a struggle with the water, I eventually made it back in. It only took a minute to catch my breath and before I knew it I was smiling and enjoying the experience.
To be fair what is an adventure without a few bumps and bruises along the way. I would definitely go back for the rafting but would try my best to stay in the boat this time.
Related Reading: Best Wine Tours in Europe
Know Before You Go Rafting in Catalonia, Spain
Despite getting drenched and thrown out of the raft, I loved every minute of it!
Our rafting was booked through Rubber River in Sort.
Rafting costs between €41 – €96 a person depending on the length of the trip you choose.
You will be accompanied by a professional guide.
In addition to rafting, Rubber River also offers kayaking, canoeing, canyoning, bungee jumping, horseback riding and more.
Accommodation is available in the area. Check out Hotel Florido or Hotel Restaurant Pessets & SPA which are both in Sort.
Related Reading: Calcots and What You Need to Know About Going to a Calcotada in Catalonia Spain
Doing a via Ferrata in Spain
First, let me explain what a via Ferrata is a steel cable fixed to the rock.  You attach your harness to the cable and make your way up a rock face.
Depending on the route, there may be climbing aids including iron rungs or steps carved into the rock.  At other times, your only climbing aid is your own agility and strength.  
Via Ferratas in Spain, as elsewhere in the Alps are graded from A to E. A is the easiest. You will find all the different grades in Spain but don't be fooled that they aren't as tough as the ones in the Alps.
Related Reading: Self-Guided Coastal Hiking Tour from Catalonia, Spain to France.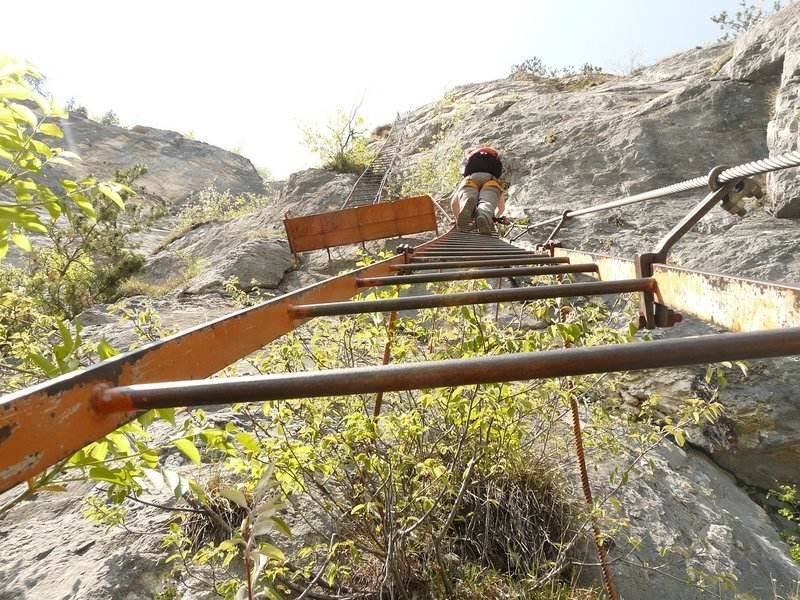 When I had the chance to do a via Ferrata in Vallcebre, Catalonia, Spain I jumped at the chance.  This is my element. The most challenging part of the climb was the first few steps.  
That might not sound like a lot, but when your feet are slipping up the rock bringing your body down, it's damn hard work. 
It took me a few tries but I finally managed to reach the first rung of the 90° ladder built into the wall. 
While doing the via Ferrata in Catalonia Spain I was lucky enough to meet Miquel, a local who lives near Barcelona who gave me insider tips.
He reminded me to take it easy on the climb and remember to enjoy the views, even if I was moving slower than the rest. And those views were truly something that needed to be enjoyed.
Related Reading: Gaudi's Barcelona: Architectural Marvels That You Must See.
Check out my friend Tony's video of the via Ferrata we did together in Vallcebre, Catalonia. 
Know Before you go: Via Ferrata Catalonia, Spain
Know your limits. If you haven't done 1 before then start with a beginner via ferrata and see how it goes. It doesn't hurt to strengthen your upper body a bit before attempting the via ferrata.
Wear hiking boots. I wore trainers and it was not easy with them.
Do the via ferrata with a guide, especially if you're a first-timer
Tours are available from Barcelona and Granada, click here to find out more.
Hot Air Ballooning over Costa Brava 
It's not every day that I travel by hot air balloon over Costa Brava, Catalonia, Spain, and go…well wherever the wind takes me!
Quite literally in this case!  You never know exactly where you will end up! And aren't those usually the most entertaining adventures anyway?
Thankfully, the pilots from Globus Emporda know exactly what they're doing.
There's a good section of patchwork fields between the Pyrenees in the north and the rugged cliffs and coastline in the south.  
Their plan is to land somewhere in one of the fields. No one knows exactly where, but they've got a wide berth to make it happen.
Related Reading: Hiking in La Gomera Why You'll Want to Do a 7-Day Self-Guided Hike
Know Before You Go Hot Air Ballooning in Costa Brava, Catalunya:
Prices start at €160 per person.
Flights leave early in the morning or later in the day when it's likely to not be as windy.
Hot air balloon flights are always subject to weather conditions, which can change quickly.
The landing is a bit bumpy, so if you have any health concerns, check with Globus Emporda beforehand.
We celebrated with a huge breakfast and Cava (a sparkling Spanish wine, mostly produced in Catalunya)
Lastly, I highly recommend it!  It's exciting and the views are incredible!
Hiking the Val de Nuria, Catalonia Spain
The Vall de Núria is stunning! And this is coming from a girl who grew up near the Rocky Mountains in Canada, so believe me, I know my mountains! I knew I would like The Vall de Núria (Valley of Núria in English) as soon as I heard that the only way to get there was by rack railway or by foot. 
It is located on the southern slope of the Pyrenees. This beautiful valley has so much to offer from hiking to canyoneering or just having a relaxing weekend away from the busy city.
This beautiful area is located in Catalonia and can be visited from Barcelona by train. You can either choose to hike in the area or you can enjoy a trip on the mountain train. It all depends on your choice of trip style.
I must recommend the hike though as the views are terrific. Be prepared for challenging routes on your way to see these spectacular views.
There are so many hiking trails to choose from. We hiked the Old Road (Pel Pont de Cremal) down instead of taking the train.
Recommended Reading: Where to Taste Wine in Europe: The Best Wine Tours in the Continent
The scenery is gorgeous but in my opinion, is experienced much better while hiking than by train. We grabbed a quick bite at the self-service restaurant and were off. I would recommend bringing your own lunch to avoid additional costs.
As we did the descent from Vall de Núria to Queralbs it was easy hiking and took us about 2:30 hours, faster than the 3:20 hours recommended hiking time.
From the 3 routes you can choose on the Old Route we did the classic route. It follows the valley for 7.7 km to the town of Queralbs.
The ascent (which we didn't do) would have been more challenging. It's over 900m of elevation gain. The official recommended hiking time for the ascent is 3:45, but it could be done faster if you were hiking at a steady pace. Find out more about hiking the Vall de Núria.
Know Before You Go 
Vall de Núria is a ski resort in winter (I'm sure it would be even more beautiful when blanketed in snow)
You can catch the rack railway to Vall de Núria from one of 3 places: Ribes-Enlaac, Ribes-Vila or Queralbs
A 1-day package including a return trip on the rack railway, a cable car ride to a peak and a self-service lunch is available for 41.35€.
Check the Vall de Núria official website for train times and hiking maps.
See Vall de Núria on Google Maps.
You can stay in the area and accommodation is available at Masia Can Constans or Hotel Vall de Núria.
Cycling Costa Brava
Cycling is a great way to explore Costa Brava and discover some of its hidden gems that most tourists don't know about. So make sure you rent quality bikes.
There are 125km of cycling paths for all levels, each with its own theme. Lovers of nature will enjoy this.
I biked the Rail Trail over 3 days which follows the old railroad that has been converted to bike paths. The route was leisurely cycling on mostly flat terrain. I will take an active holiday any day rather than lying on a beach at a Costa Brava resort.
So if you get a kick out of "discovering" all the "hidden" places as I do like, there's no better way to find them than by cycling in Costa Brava. You get to experience cultural diversity better this way too. We passed by the Gorge of Cogolls.
In three days we visited or passed through: Olot, Les Planes, Bescanó, Tamariu, Palafrugell, Palamós, Cassà de la Selva and Quart!
We had the opportunity to visit some quirky museums such as an old mill and a cork museum. There are 69 museums.
Plus many more cultural attractions in Costa Brava! Centuries of history can be discovered, so it's up to you to pace yourself when visiting these museums.
You can plan your route around the sights that you want to take in future travels. As I cycled the "Rail Trail" I passed many old rail houses that had been converted to cafes, restaurants or retail office space.
Recommended Reading: The Best Bikepacking Panniers of 2021: What you Need to Know
Know Before You Go Cycling in Costa Brava
You can plan and customize your own bike route depending on how much (or little) of a challenge you are looking for and what sights you want to take in. Our group used Vies Verdes to plan our route.
Bikes can be rented bikes from Cicloturisme and Outdoor Empordà provided support vans for us which was very much appreciated.
There are a wide variety of cycling paths to choose from ranging from a couple of hours to longer routes lasting up to 8 days.
Many of Costa Brava's cycling paths are appropriate for children. Check with Vies Verdes if you are looking for a family-friendly cycling route.
Sailing the Costa Brava
Boasting over 200km of pristine coastline, it stretches from the French border down to Blanes, a beach town just north of Barcelona.
The first thing that immediately caught my attention was the jellyfish hanging out less than a meter from the boat.  It's also possible to see dolphins, and even whales in season. And the one fish, I'm dying to see – a moonfish!
You will also see, rugged cliffs that plunge into the sea, castle ruins, sandy beaches, and pristine turquoise waters.
There are also secret hideaways for the rich and famous tucked out of sight for ultimate privacy among Costa Brava's numerous nature reserves.
There are opportunities to brave the crystal blue but chilly Mediterranean waters in sheltered coves. I chilled out instead some might say chickened out. But here, it was September after all! 
There would be medieval coastal towns and former white-washed fishing villages serving the catch of the day.
And perhaps most importantly, after a few chilled-out hours of smooth sailing, I knew there would be a seaside lunch at Hotel Restaurant Terramar in Llafranc, waiting for me.
Nothing beats a fresh seafood paella. And although I learned the secret to making a perfect paella in a previous visit to Catalunya, it tastes so much better when you don't have to make it yourself.
Know Before You Go Sailing in Costa Brava
Our route took us from Palamós to Llafranc and took a couple of hours. A longer trip could easily be arranged. It's worth going to Port Lligat, home to Salvador Dali's house.
Trust me, you've never seen a house like his. Fortunately, it's now a house museum so you can go inside.
The fascinating history here is that Port Llogat was where Picasso used to spend his summer vacations.
Also near Port Lligat, there's also the white village of Cadaques.  Sailing classes are also plentiful in Costa Brava including in Palamós which has one of the best marinas along the coast.
Catalonia, Spain has so much adventure to offer its unbelievable. Any vacation here is an adventurer's dream.
This post has been updated and republished.