If you haven't been to Northern Spain, you don't know what you're missing. While I loved the endless beaches and coastlines, the medieval villages and historic centers in towns and cities were also a highlight of my visit.
Unlike the famous villages of Cinque Terre in Italy, I had never heard of any of these villages in northern Spain. That's in part what makes them so special.
And while I love Barcelona and its stunning beaches, there's something so appealing about visiting a place that I've never heard of. Go now, and discover them before everyone else does.
Related Reading: How to Get to Cinque Terre
Keep reading to check out my favorite villages and historic centers in Basque Country, Cantabria, Asturias, and Galicia, also known as Green Spain.
Related Reading: What It's Really Like to Do a Via Ferrata in Spain.
Hondarribia:
This lovely town is known as the most beautiful in Basque Country. Within minutes, I could see why. While wandering through the Old Town, surrounded by a still-standing fortified wall, it's easy to think you have slipped back in time. Historic buildings and cobbled streets just hit differently.
Besides the Old Town, Hondarribia also has a flourishing culinary scene. Make sure to get your taste buds ready for Michelin-starred restaurants in Hondarribia!
Basque City is so good that it's attracting chefs from around Spain. There's a wide choice of restaurants making it one of the best places to experience Basque gastronomy.
Related Reading: Rafting the Noguera Pallaresa in Catalonia
Recommended Accommodations in Hondarribia
Villa Magalean Hotel & Spa – A luxury boutique hotel with a spa, located in a charming villa on the edge of the historic district of Hondarribia.
Hotel Jaizkibel – This property is only 7 minute walk from the beach. It is an elegant and modern hotel in an exclusive residential area of Hondarribia. You'll get views of Jaizkibel Mountain.
Hotel Obispo – This property is 11 minutes' walk from the beach. This former palace dates back to the 14th-15th centuries. It's located in historic Hondarribia. You'll enjoy views over the Bidasoa River.
See more accommodation options in Hondarribia.
Related Reading: Best Wine Tours in Europe
Pasai Donibane and Pasai San Pedro:
The Old Town of Pasai Donibane is a single cobblestone street that starts in the Bizkaia District. Make sure to visit the Bay of Biscay while you're here.
Continuing on to Alabortza Cove. You'll pass houses dating back to the 16th century and find a cozy cafe with sweeping views of the cove.
From the medieval streets to the sea, you can also take a really short boat ride to Pasai San Pedro to reach Albaola, a sea factory of the Basques. Here, you can learn all about whaling in Basque Country.
Basque sailors were famous for their whaling skills going as far as Canada (my home country). It's worth a side trip if you're in the northern region.
Travel tip: Albaola is closed on Mondays.
t's also a good place to just enjoy the stunning scenery around. Watch how locals revel in the simple pleasures. Cool off with a swim on a hot day, nothing is more refreshing than a cool dip on a beautiful beach!
See more accommodation options in Pasai San Pedro.
Related Reading: Coastal Hike: Costa Brava, Spain to France
Getaria
This fishing village on the Urola Coast has sandy beaches on either side. I really enjoyed my visit to this beautiful village. I would definitely have spent longer here. From the fantastic beaches to the stunning landscapes who wouldn't want to stay, right?
Fashionistas will want to visit the Cristóbal Balenciaga Museum. Getaria is the birthplace of the famed designer.
See more accommodation options in Getaria.
Mutriku
Dating back to the 13th century, Mutrkiku is an interesting place to wander through the narrow streets and beautiful buildings. The architecture of this coastal town is simply one of the most picturesque in the Basque region.
Of special note is the Galdona Palace, located in the middle of the town's old quarter, by the magnificent cathedral of Nuestra Señora de la Asunción and opposite the Town Hall.
Also, keep your eye open for stunning views of houses with their own unique coats of arms. Don't worry, they don't bite.
Recommended Accommodations in Mutriku
Hotel Arbe – This is an Adults Only hotel. It's modern and well-equipped. It has an unbeatable location overlooking the Bay of Arbe on the Guipuzcoana coast. You'll enjoy the impressive outdoor pool.
Hotel Zumalabe – This is a small boutique hotel with only 6 rooms. Each room has either a terrace or large windows. It only takes 6 minutes on foot to get to the beach.
See more accommodation options in Mutriku.
Historic Towns in Cantabria
Castro Urdiales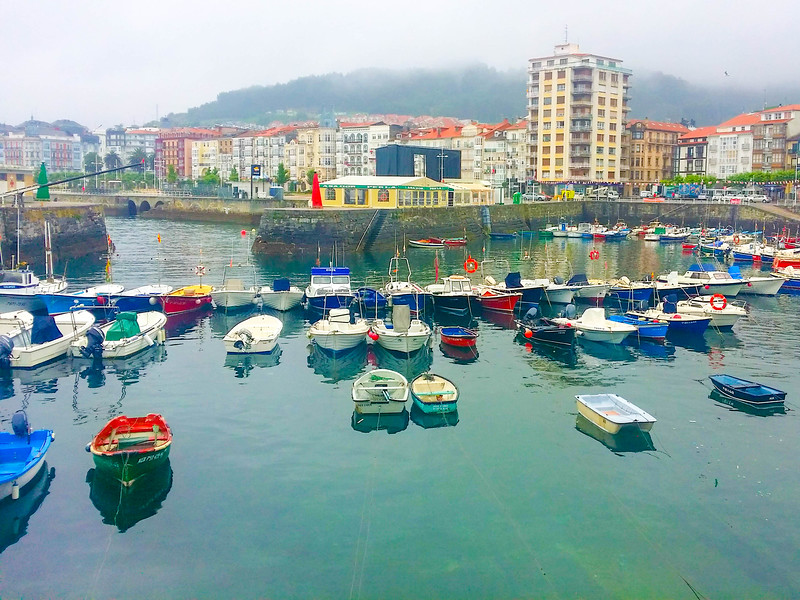 Recommended Reading: Where to Taste Wine in Europe: The Best Wine Tours in the Continent
At first glance, you'll notice how modern Castro Urdiales is. Upon closer glance, you'll find that it still has a medieval historic center and a Gothic church.
Both are worth exploring. When the weather is nice, watch, or join, local daredevils jumping off a bridge into a sheltered enclave. It is the perfect place in Northern Spain for adventurers.
Recommended Accommodations in Castro Urdiales
Sercotel Las Rocas – It provides ideal accommodation for those visiting the Green Coast. The hotel blends a tranquil location and traditional service with modern technology. One of its most impressive features is the restaurant.
Hotel La Ronda – The hotel is located in Castro Urdiales main shopping street. It's only a 10-minute walk from the beach. The hotel has a modern decoration with both a minimalist and traditional touch. It combines perfectly with the pebbled streets surrounding it.
See more accommodation options in Castro Urdiales.
Santillana del Mar
Santillana del Mar is one of the best-preserved medieval towns in Cantabria, Spain!
No wonder the village center is a National Monument. It's on the North Camino route and the Santa Juliana Church is a popular spot for pilgrims.
I loved this place! It was easily one of my two favorite villages in northern Spain!
Recommended Accommodations in Castro Santillana del Mar
La Casa del Organista – The hotel is housed in a traditional, mountain property dating from the 18th century. The original decor has been kept. You'll find wooden floors and antique furniture.
Posada La Casona de Los Güelitos – This is a typical country inn, with stone walls and wood beams. The beaches of the Costa Verde are just a short drive from Los Güelitos. The famous Altamira Caves are also nearby.
Hotel Colonial de Santillana – Is set on a renovated old building, decorated with antiques collected through travels from all corners of the world. It only has fifteen rooms to be able to offer a more personalized service.
See more accommodation options in Santillana del Mar.
Related Reading: Castell de Montsoriu: The Greatest Gothic Castle in Catalonia
Comillas
This seaside town had me saying WOW upon entering. The whole town looks like an art gallery!
Of note are the old buildings of Pontifical University, a private roman catholic university that has now relocated to Madrid.
This is the finest architecture in town. That's saying a lot for a place that's also home to El Capricho. It's one of Gaudi's few works outside of Barcelona.
While I stayed near Comillas, I, unfortunately, didn't spend more time in the town itself. Duncan of Urban Travel Blog did, however. He declared it his favourite place in Cantabria.
Recommended Accommodations in Comillas
La Solana Montañesa – This property is 7 minutes walk from the beach. It offers views of Gaudí's El Capricho and the Sobrellano Palace.
La Montañesuca – This tiny hotel offers four double rooms and a classic-style dècor. It's only a 10-minute walk from the beach in Comillas and is centrally located.
Hotel Josein – Each room here has direct views of the Cantabrian coast and Comillas Beach as it is only a few steps away. Of interest to families is children 10 years or younger stay for free when using existing bedding.
See more accommodation options in Comillas.
Cicera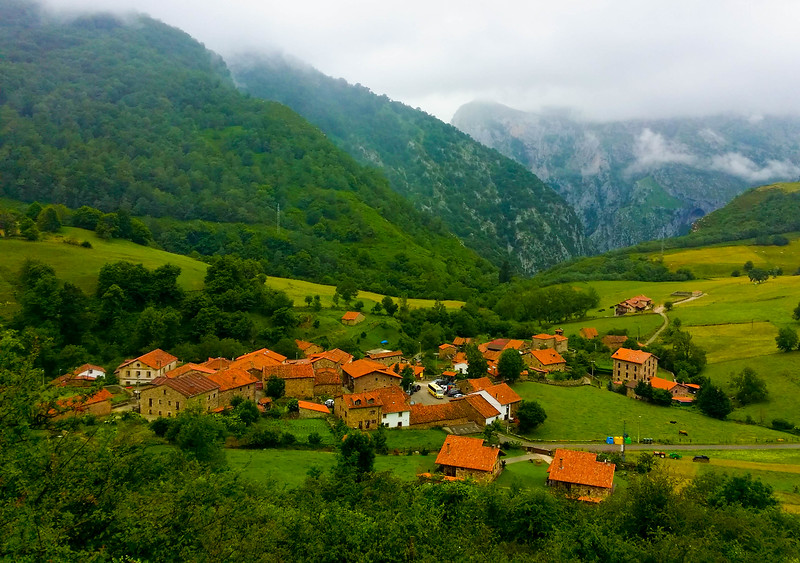 Surrounded by the Cantabrian mountains and green spaces. Cicera's 68 inhabitants live a peaceful life. While I didn't count, it's quite possible that the residents are outnumbered by cats.
You will pass it if you're hiking the Camino Lebaniego. Stretching 500 miles over hilly terrain with beautiful views. This northern trek typically takes 35 days for the seasoned hiker.
Recommended Accommodations in Cicera
El Molino de Cicera – Situated in the Peñarrubia Valley, this early 20th-century Colonial-style building offers fully-equipped rustic apartments. You'll get spectacular views of the Picos de Europa Mountains.
See more accommodation options in Cicera.
Llanes
Llanes is a medieval fishing town with a port that's still active today. It played an important part in the whale hunt.
Fishermen used to stand on guard and watch for smoke signals from other townsmen. Once the smoke signal was observed, all the fishermen would go out and join them in smaller boats with their harpoons.
Llanes is also famous for its folklore and fiestas! In summer alone there are 4 notable festivals. One, the Nuestra Señora del Conceyu, celebrates the patron saint of the town on August 15th of each year.
The other ones are La Magdalena on July 22nd, San Roque on August 16th, and La Guía on September 8th.
These fiestas have a long and well-known rivalry. Each year they try to outdo the others. The result is a summer of incredible festivals for both locals and tourists alike! It is a must-visit in Northern Spain.
Recommended Accommodations in Llanes
Don Paco – This beautiful hotel is set in a restored convent dating from the 17th century. Sablón beach is only a 4-minute walk away.
Gran Hotel Paraiso – A 3-star classical hotel just 300 m from the center of Llanes and the sea. It offers hotel rooms and apartments.
Hotel La Arquera – The hotel is in a country-style house. It's been restored and transformed into a traditional eastern Asturias villa.
See more accommodation options in Llanes.
Oviedo
Despite not being a village, I've included Oviedo, the capital of Asturias. It has a unique history. In the 8th century, it was the capital of the Kingdom of Asturias.
Centuries later, it still retains its medieval flair in the historic quarter. Of particular note is Oviedo Cathedral, but unfortunately, I arrived too late to visit.
Recommended Accommodations in Oviedo
Exe Hotel El Magistral – This cozy, modern hotel blends a superb location in central Oviedo. It's just meters away from the Cathedral and the city's shopping center.
Hotel Fruela – This is a modern and elegant hotel with 28 rooms in a boutique style. The Museum of Fine Arts of Asturias is just 300m as is the Campoamor Theater.
Ayre Hotel Alfonso II – A boutique hotel with an urban design located in a quiet residential area. It only has 19 rooms distributed over 3 stories with a colonial style.
See more accommodation options in Oviedo.
Cudillero
This is a tie with Santillana del Mar for my favorite medieval village in northern Spain. Its reputation precedes itself for being one of the most beautiful fishing villages in all of Spain.
But what I really loved about it, besides the incredible views, was how friendly the locals were.
My limited Spanish consists of Más vino por favor (more wine please). Fortunately, I was with Spanish friends who were able to translate so I got to enjoy the Basque cuisine even more!
I had the pleasure of meeting a 98-year-old lady. She said that she never tires of the view from her window after all these years. She had an aurora of peacefulness. She's the kind of person that you feel more still just from being around her.
I also loved the self-guided tour. You follow the bluefish signs painted on the ground. Be warned, you will feel the burn since Cudillero is built on a hill.
The village was also exceptional for cats. They all appeared to be well-fed. Another plus for Cudillero!
Recommended Accommodations in Cudillero
Casona de La Paca – Located in a 20-room house from the 19th century. The common areas still resemble those of an ancient Casona.
La Casona de Pío – This property is located right in the middle of the historic center of Cudillero. The building was once a large factory. It has 11 beautiful rooms.
Hotel Rural Aguilar – The hotel is located right on the Camino de Santiago. It's surrounded by forests and offers amazing sea views. Each room has a terrace.
See more accommodation options in Cudillero.
Luarca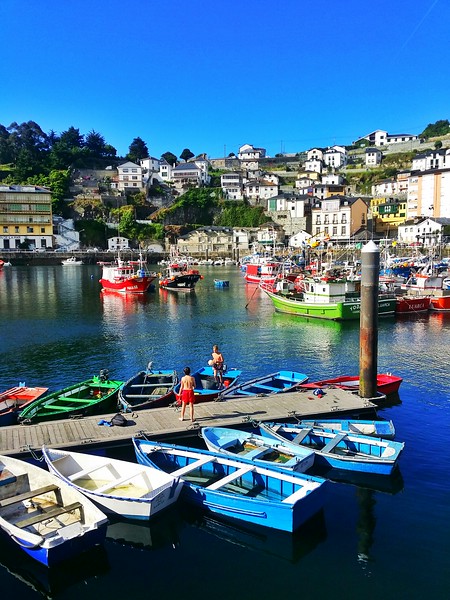 The highlight of Luarca is its harbor. It's one of the most beautiful in all of Spain. The coastal views, sandy beach, and history are just so heartwarming for some reason.
I really enjoyed walking around the fishing port. The winding narrow streets of the Old Town are also worth exploring.
Recommended Accommodations in Luarca
Hotel Rural 3 Cabos – This is a combination of modern and traditional Asturian Architecture. This project was a complicated renovation of the ruins of a big house more than a century old. You can also use one of the free bicycles that the hotel offers to guests.
Hotel Rural Cabo Busto – The hotel is a beautiful property with large gardens and rooms. You'll get great views of the gorgeous grounds.
Finca Portizuelo – This property is a 1-minute walk from the beach. It offers a sunny terrace and views of the garden. Certain units feature a sitting area to relax in after a busy day.
See more accommodation options in Luarca.
Sobrado dos Monxes
The name of this town translates to Monks. That's rather fitting since the main highlight is the Cistercian Monastery of Santa Maria de Sobrado dos Monxes. It dates back to the 10th century.
This UNESCO World Heritage Site is an important stop on the Camino de Santiago in Northern Spain.
Recommended Accommodations in Sobrado dos Monxes
Hotel Rural Pescadores – The highlights are the terrace and mountain views. It's located in Sobrado in the region of Castilla y Leon, just 20.9 km from Ponferrada.
See more accommodation options in Sobrado dos Monxes.
Santiago de Compostela
Santiago is not a small town. It has an old city called "Old Town" which is considered by UNESCO to be among the world's best-preserved examples of European colonial architecture.
Architectural styles range from Romanesque to Gothic to Baroque giving it a unique flair. You'll find many of the oldest buildings around the Santiago de Compostela Cathedral.
The cathedral is also the finish point of the 780km long St. James Way, also known as the Camino, of which I just did the last 112 km. You'll find the remains of St. James himself here.
It's worth doing a tour of Museum and Cathedral of Santiago de Compostela, even if you're not a tour person.
There's so much fascinating history that you miss if you just go on your own. I did a tour and really enjoyed it and I'm not usually much for cathedral tours.
I also highly recommend heading to the rooftop. It's available via tours only. You'll get an incredible view over Santiago and beyond!
Also, check out this guide of Things to Do in Galicia for more ideas.
Recommended Accommodations in Santiago de Compostela
Hotel Praza Quintana – This is a stylish hotel located in the heart of the historical center. It's just a 3-minute walk from the cathedral.
Hotel Atalaia B&B – The hotel is housed in an old stone building. Its name pays homage to an Atalaia tower that once protected the city. It has 10 beautifully furnished rooms.
A Quinta Da Auga Hotel Spa Relais & Chateaux – This luxury eco-hotel is set in a renovated 18th-century building. It's located just outside the city. The beautiful property has gardens, fountains, and a river.
See more accommodation options in Santiago de Compostela.
While these are my favorite medieval villages in northern Spain, I'm sure there are others I haven't discovered.
Let me know in the comments below!
Disclosure: Many thanks to the Spain Tourism Board for the UK and The Travel Mob for making my visit possible. As always, all opinions expressed are my own.
This post has been updated and republished.