Even if you're not into architecture there's something compelling about Gaudi's works. Fortunately, many of them can be seen in Barcelona.
Who is Antoni Gaudi and why is he so revered?
Gaudi was a Spanish architect (he died in 1926). He was known as the greatest contributor to the movement of Catalan Modernism. His works are incredibly unique and definitely very Gaudi.
You'll know it's a Gaudi building even before you can confirm that it is. Gaudi's works reflect his passions: architecture, nature and religion.
As a child, he suffered from rheumatism. While other children were playing, he would often be confined to a chair and spent hours outside drawing. His time in and love for nature is reflected in all of his works.
Gaudi's UNESCO Sites in Barcelona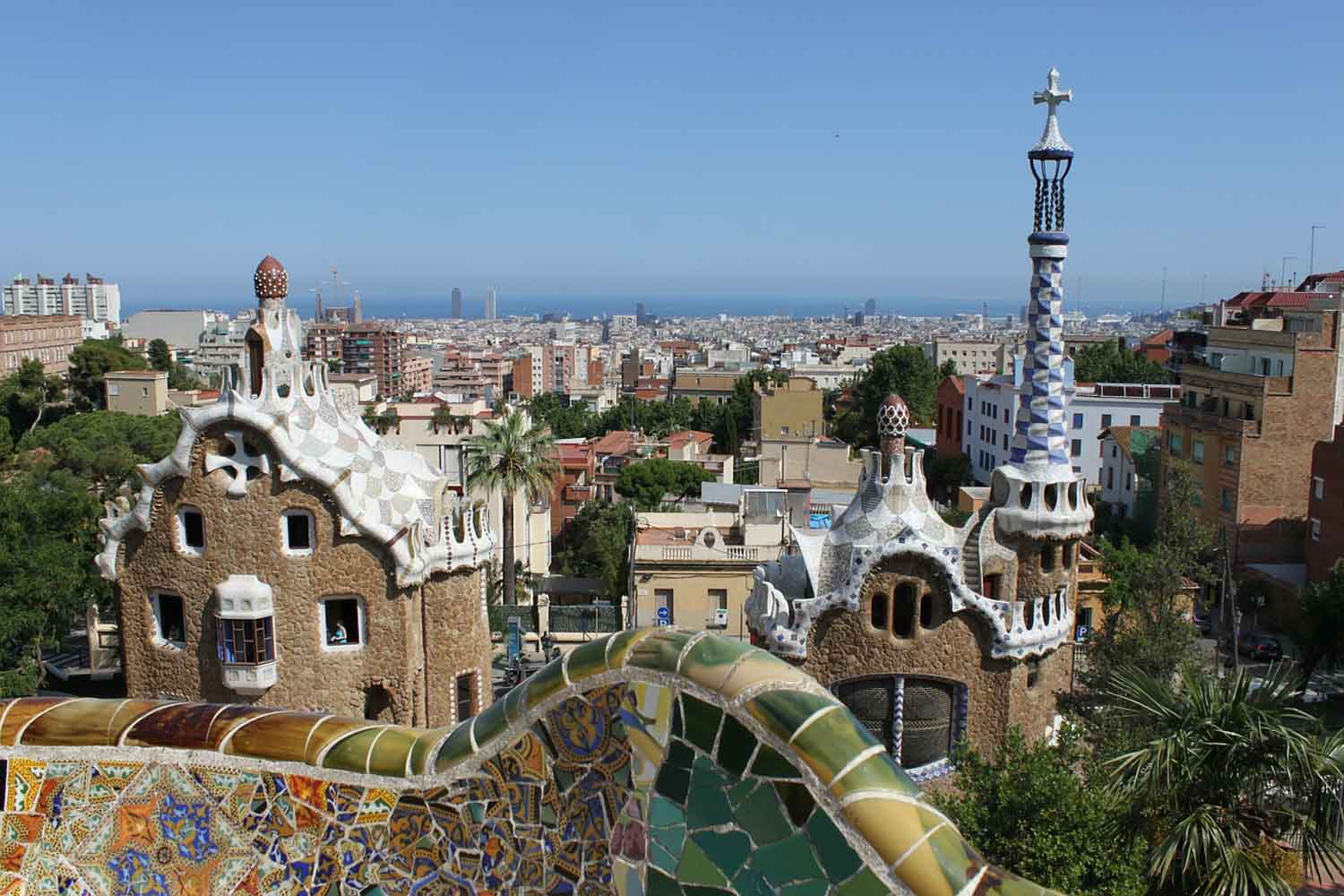 Furthermore, an incredible seven buildings (or parts of) are designated as UNESCO World Heritage Sites. All of them are found in the province of Barcelona. They are: 1) Parque Güell, 2) Palacio Güell, 3)Casa Mila, 4) Casa Vicens, 5)Nativity Façade and Crypt of the Sagrada Familia, other parts of the Sagrada Familia, 6) Casa Batlló and the 7) Crypt at the Colònia Güell.
Related Reading: Catalonia Spain: Why You Need To Experience Adventure Here
Why a Gaudi Tour is a Must When You Visit Barcelona
Even if you're short on time, I highly recommend visiting at least a couple of Gaudi's buildings while in Barcelona. His works are fascinating and will also give you a glimpse of Catalan culture as seen through his eyes.
As someone who loves nature, his works deeply resonate with me.
You may just decide to visit one Gaudi building, but I'll warn you, his works are addictive. They'll leave you wanting more. You could easily spend several days exploring Gaudi's works in Barcelona.
Guided Gaudi Tours in Barcelona
My top picks if you're hesitant about a guided Gaudi Tour would be Sagrada Familia and Casa Batlló , Sagrada Familia & Park Güell. The Sagrada Familia is his masterpiece and his most famous piece of work. Not to mention the most visited monument in Spain.
I love Casa Batlló because the Batlló family commissioned Gaudi to redesign their house. It's incredible design on a much smaller scale than the Sagrada Familia and I love seeing what he did in both large and smaller spaces.
If you want to spend a full day discovering Gaudi, which I'd highly recommend, then check out the Casa Batlló, Casa Milà, Sagrada Familia, and Park Güell Tour. It's 10.5 hours and you'll discover a lot about Gaudi in a single day.
Self-Guided Gaudi Tours in Barcelona
Of course, it's also possible to do a self-guided Gaudi Tour. In which case, these are my top picks.
Gaudi's Sagrada Familia
Sagrada Familia is a large Catholic church. Despite being started in 1882 it has still yet to be completed. It's considered to be the most extraordinary personal interpretation of Gothic architecture since the Middle Ages.
It is hoped that it will be completed by 2026. That marks the Centennial of Gaudi's death, but on my last visit there, the brochure indicates a completion date of 2028.
The completion date is a topic of much speculation among locals. What's your guess?
Travel Tips for Visiting Sagrada Familia:
I enjoyed visiting inside Sagrada Familia. The extra couple of € is worth it to climb the towers for the views over Barcelona. If possible, plan to visit Sagrada Familia during La Mercè, an annual festival held on September 24th, but the festivities start a few days earlier.
During this time visitors can see the Sagrada Light Show. I missed this by one day on one of my earlier visits to Barcelona, but it looks very impressive! There are also Christmas concerts held there in December.
I highly recommend booking the fast track entrance which includes access to the Nativity Tower for incredible views and an audio guide. On one of my visits to the Sagrada Familia, I was there 15 minutes before opening time and waiting 90 minutes. By the time I had completed my visit, the line was even longer.
That's why I highly recommend fast track tickets for the popular Gaudi attractions. You want to spend your time exploring Gaudi buildings in Barcelona, not spending hours waiting to get inside them.
Sagrada Familia Location, Opening Hours and Admission:
Carrer de Mallorca, 401, opens daily at 9:00 am. Closes between 2:0o to 8:00 pm depending on the time of the year. The last entrance is 30 minutes before closing time. Tickets cost between €17 – €32.
Related Reading: 15 Best Viewpoints in Barcelona.
Gaudi's Casa Batlló
Casa Batlló is my favourite Gaudi house. It was a restoration of a late 1800s house which Gaudi was commissioned to do. Visitors will be hard pressed to find a straight line in the house, but it's fun to try. I also love the view from the rooftop.
It was very controversial, breaking many by-laws when it was built between 1904 – 1906. Eventually, the city was won over with its Art Noveau design in the extreme.
In 1906 the Barcelona City Council named Casa Batlló as one of the three best buildings of the year. Today it holds UNESCO World Heritage Site status.
Check out this virtual tour here.
Travel Tip for Visiting Gaudi's Casa Batlló:
There was only a short line to get in when I visited this time on a Saturday in November. However, I've also waited over an hour to get in on other occasions. If you're in Barcelona at a peak time, it can be very busy.
Therefore, I recommend buying a Skip-the-Line Ticket in advance which also includes a visit to the Private Hall, getting a vintage photo taken, and an immersive experience with the augmented reality of a smart guide.
Casa Batlló Location, Opening Hours and Admission:
Passeig de Gràcia, 43, open 365 days of the year from 9.00 am to 9.00 pm (last entry: 8.00 pm). Tickets cost between €25 to €39.
Related Reading: Coastal Hike from Catalonia, Spain to France.
Gaudi's Park Güell
Park Güell is a whimsy of oversized mosaic. You'll be greeted by a mosaic dragon fountain (pictured above) as you enter Park Güell. Other highlights include the most famous is the serpent bench or famous dragon. Not surprisingly the park is a designated UNESCO World Heritage Site.
Travel Tip for Visiting Gaudi's Park Güell:
Entrance to Park Güell used to be free but the entrance is now €10. Go on a clear day and you will have incredible views of Barcelona stretching all the way to the sea. If you're going in the summer, go early as it gets busy.
Alternatively, consider a Skip-the-Line Guided Walking Tour of the park to discover much more than you would if you explored the park on your own.
Park Güell Location, Opening Hours and Admission:
08024 Barcelona, opens from 8:00 to 8:30 am depending on the time of the year. A single adult ticket costs €10.
Related Reading: The Best of What to Do in Barcelona.
Gaudi's Casa Mila
Casa Mila, also called La Pedrera, is considered to be the epitome of Modernist design. Interestingly though the self-supported stone facade and iron-wrought balconies were considered controversial at the time it was built.
Casa Mila is an apartment building with elevators stopping only on every second floor. Gaudi believed that neighbours should know each other and converse with one another. This was his way of imposing this. Sadly, I haven't been inside yet – another reason to return to Barcelona!
Travel Tip for Visiting Gaudi's Casa Mila:
Both day and night tours are offered. The Skip-the-Line Night Tour sounds especially intriguing, promising amazing audiovisual display on the roof terrace, light and projections in the stairwells and panoramic views of Barcelona's L'Eixample.
You can also purchase a Skip-the-Line Day Tour which includes an audio guide.
Casa Mila Location, Opening Hours and Admission:
Passeig de Gràcia, 92, Opening hours: 9:00 am to 8:30 pm, last entry 30 minutes before. Night opening access: 9:00 to 11:00 pm. Tickets cost between €22 to €41.
Related Reading: Eat Like a Local in Barcelona.
Gaudi's Casa Vincens
Casa Vincens was Gaudi's first important work and is now a UNESCO site. It has an obvious Moorish influence. Unfortunately, when I was there the house was a private residence and not open to the public. I snapped quite a few photos of it, intrigued with all the detail. I especially liked the white and green tile below the patios. Gaudi had thought of every aesthetic from every possible angle.
But the good news for you, it's now a museum and open to the public. Yeah!
Travel Tip for Visiting Gaudi's Casa Vincens:
You can purchase a Skip-the-Line Ticket to see Casa Vincens for a very reasonable €12. It's cheaper than the regular ticket from the official site so I highly recommend it. Casa Vincens Location, Opening Hours and Admission:
Casa Vincens Location, Opening Hours and Admission:
Carreró de les Carolines, 20. Open daily from 10 am to 8pm. Last admission is at 6.40pm. Tickets: €16.
Related Reading: Day Trip to Girona from Barcelona.
The Gaudí Experiència a 4D Movie
The 10-minute movie is overpriced at €9 but it was entertaining. It was also the first time I've ever had to wear a seat belt in a movie theatre:
Travel Tip for Visiting Gaudí Experiència:
If you decide you want to do this, plan it in combination with Park Güell since it's located nearby. I recommend buying your tickets in advance.
It's a cool experience, but if you're short on cash, save your money. Instead, visit one of the interiors of Gaudi's other buildings. These provide more value for money in my opinion.
Location, Opening Hours and Admission:
Carrer de Larrard, 41. October 1 – March 31: 11.30am to 4:00 pm and from April 1 – Sept 30: 10.30 am to 7:00 pm (last show is 30 minutes before closing time). Tickets: 9.
Related Reading: Barcelona – Secrets of the Gothic Quarter.
Where to Stay: Gaudi Hotel
If you're a Gaudi fan, stay at the Gaudi Hotel. It's conveniently located in the heart of Barcelona. And most impressively, it has views of Palau Güell (Güell Palace) including views of the chimneys which can't be seen from the street.
Some of the rooms are decorated in an Art Noveau style to emulate Palau Güell so be sure to ask for one of these rooms when you make your reservation.
By now I hope that I've convinced you to visit at least one of Gaudi's famous works when you're in Barcelona. He was truly one of a kind and has left his unique footprint on Barcelona.
Thank you to Vueling and NH Calderón for hosting me in Barcelona.