How are you interested in working together?
SPEAKING ENGAGEMENTS
I'm available to speak about a variety of topics including adventure travel, transformative travel, hiking, specific topics within the travel industry,  female entrepreneurship and primates.

I hosted an interactive experience about primates on Airbnb The Fascinating World of Primates which has 5-star reviews. Below are just a few of the reviews:


I hold a Master's degree in Adult Education and Global Change and use educational principles to deliver presentations that are engaging and that provide practical advice takeaways for the audience. I'm a big believer that every presentation should serve the audience and improve their lives in some way.
I've also been featured on FLY Travel Radio program twice. Listen at Episode 145.

My previous speaking engagements in the travel industry include ITB Berlin (3 times), WTM London, WTM Dubai, NBE Finland, TBEX Athens, TBC Asia Colombo, Social Travel Summit, Travel Massive Munich and many more.

Below is some of the feedback I received from my presentation at TBEX Athens: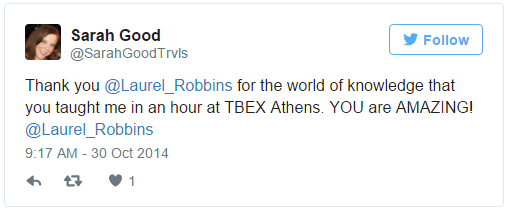 PRIMATE & HIKING TOUR OPERATOR
I work with a small team to offer primate tours to see gorillas in Rwanda and lemurs in Madagascar, plus self-guided hiking tours in Europe and guided hikes in the U.S. and Canada through our trusted partners. You can see all our tours here.

If you have a primate or hiking tour that would be a good addition to our existing tours please contact us. Note: at this time we are only interested in hiking tours in the U.S., Canada or Europe.


Please note that Monkeys and Mountains does not accept sponsored or unsolicited guest posts and is not interested in joining a new affiliate program at this time. Please do not contact us about these.