This post is also available in: German
Thinking of trying a long-distance hike? Here are some top trekking tips to make sure you enjoy every minute of your trek.
When you hike as much as I do, you pick up a few good trekking tips along the way besides drinking plenty of water. Long-distance hiking is one of my favorite vacations. This 'active relaxation' holiday is rejuvenating. Not to mention addictive. I now do at least one every year.
While I've LOVED all my long-distance trekking experiences – Tour du Mont Blanc, Everest Base Camp, Wicklow Way, West Highland Way, the Alta Via 1 and Cinque Terre, both in Itay and, most recently, the Dana to Petra trek in Jordan, I've also had rough spots on some of them.
Along the way, I've also met a lot of hikers who were miserable. Enough so that they quit. Instead of feeling bliss and a sense of accomplishment, they walked away in misery. It doesn't have to be that way though.
Related Reading: How to Get to Cinque Terre
These are 7 common things that will wreck your treks, along with trekking tips to prevent them from happening to you.
1. Trekking tips to Avoid Blisters
Nothing will wreck your long-distance trekking trip faster than blisters where each step is agonizing, and no amount of mountain peaks and awesome views can stop you from focusing on the pain you feel. Fortunately, to a large extent, they are avoidable.
Break-in your hiking boots. Hiking in new hiking boots that you haven't worn is almost asking for blisters, so while it's fine to buy new hiking boots for your TMB adventure, break them in first.

Pro trekking tip: buy them in the afternoon or evening when your feet are swollen, as they will be when you're hiking. Years ago, I made the mistake of buying my hiking boots in the morning, and even though I bought the correct size (1/2 size bigger) to allow for swelling it wasn't enough. I ended up with blisters on every single hike I did until I eventually gave up and bought new ones. Check out our FREE Hiking Gear Guide for more tips.
Keep your hiking boots dry with a waterproof spray. If your boots get wet, you'll create friction which means blisters. It's very likely that at some point while hiking the TMB you'll be walking in the rain so bring a waterproof spray with you to keep the moisture out of your boots. If it's raining hard, gaiters can also help keep your boots dry.
Invest in a good pair of socks with wicking material to keep the moisture away from your feet. Now is not the time to stock up on bargain cotton socks. Wearing cotton socks is practically asking for blisters, especially in bad weather.
Bring Compeed. If a blister does develop, I've found this is the best solution to prevent further rubbing.
You'll find more ideas on how to prevent blisters and tips on how to treat a blister here.
Recommended Reading: Trekking: How to Choose a Trek That You´ll Love
2. How to Deal with Muscle Soreness
If you wake up and feel like an old granny or grandpa who takes 5 minutes to lift yourself out of bed, it's going to be rather difficult to motivate yourself for long-distance or days of trekking.
A great trekking tip is to have adequate training in advance. It can help ensure that your muscles and energy levels are ready for the challenge that awaits.
I swear by, even though I hate it, a cold burst of water at the end of my shower, focusing on my sore muscles. In my case, it was my shoulders from carrying a heavy pack. If you aim the shower nozzle at the affected spot and hold it there for a minute, it will reduce inflammation. You can read more about cold water treatment in this study. It won't be possible for you to take a bath while on most long-distance hiking but a cold shower or bursts of cold water is possible.
A far more pleasant experience and the #1 non-essential item I recommend bringing is a massage ball. This feels SOOOO good on aching shoulders, legs, feet wherever. It's cheap, doesn't take up much room and provides immediate relief on every hiking trip I've been on. Check out these leg massagers.
Pro trekking tip: take magnesium supplements. Magnesium helps to relax the nerves and muscles. I took supplements every day while hiking and believe they helped. You can read more about them here.
3. Choose the Right Tour for You
While there is no best way to do long-distance hiking, there is the best way for you. Carefully consider whether you want to do an easier or more difficult version. In addition, on some treks, you can either choose to carry your own luggage (making it much harder).
For example, for our Self-Guided Tour du Mont Blanc, we offer 7, 9 or 10-day tours. You should choose the one best aligned with your fitness level.
Our Tour du Mont Blanc 6-day tour is the easiest with ~ 4 – 6 hours of hiking each day, the 10-day tour is the middle option with ~ 6 hours of hiking each day, and the most difficult option is the 9-day option with ~ 6 1/2 hours of walking each day. Keep in mind these times don't include breaks so expect to add at least 1 – 2 hours to your hiking time.
Trekking tip: When choosing your tour, be honest with yourself about your fitness level and abilities. You want this to be an incredible experience, not a painful one.
4. Getting Wet
There's a very good chance that you will get rained on at some point while hiking. Mountain weather is known for being unpredictable and for changing in an instant. Fortunately with a little bit of preparation getting wet is very easy to deal with.
As mentioned above, ensure that you have a waterproof spray for your hiking boots. You should also bring a waterproof coat and pants – in addition to quick-dry hiking pants.
One of the best trekking tips for this situation is to make sure your backpack has a waterproof cover. You should also be sure to pack your valuables like your mobile phone and passport in a dry bag.
If it's raining hard and you're carrying your gear, it's also a good idea to have a larger dry bag that you can fit at least some of your clothes into. That way you'll be guaranteed to have a change of dry clothes.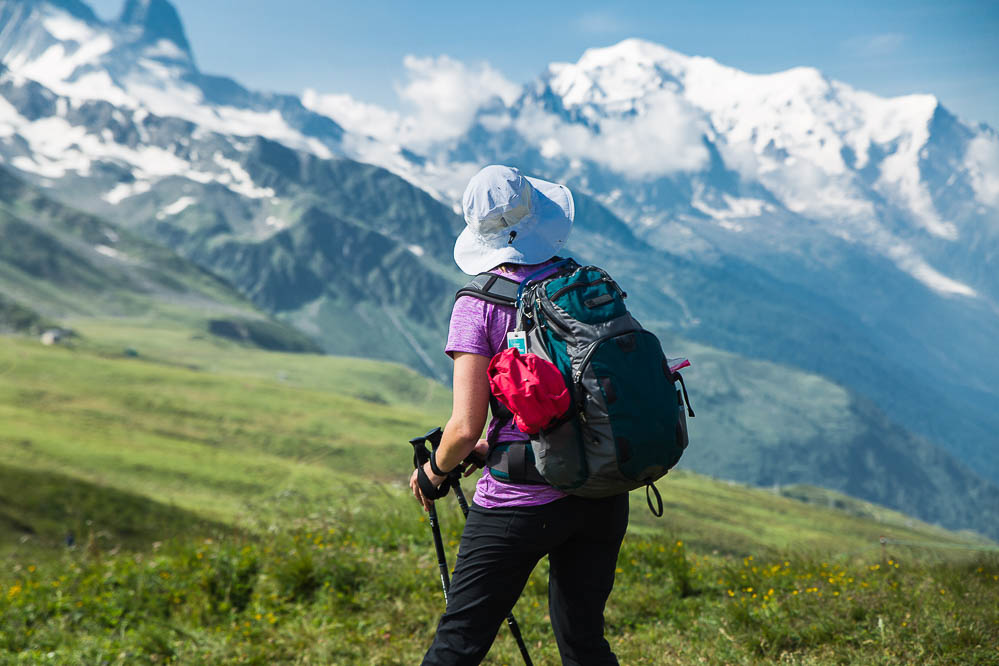 5. Getting Hungry
One thing that surprises many trekkers is how light breakfasts are on some treks. For example, when you hike the TMB a typical breakfast at a hut will be tea or coffee and a croissant. This is a cultural thing. Most Europeans eat much lighter breakfasts than we do in Canada and the United States. If you're lucky, there may be a small cheese and meat plate, yogurt, and a piece of fruit.
That may not be enough to sustain you so ensure that you bring extra snacks to tide you over until lunch. A great trekking tip I picked up is ordering lunch at your hut the night before for a fee.

A typical lunch on the TMB includes sandwiches and a piece of fruit, but you can ask at the hut before you order. Thankfully, dinners are much heartier and are usually three courses.
Meals will vary depending on what trail you are hiking but it's always a good idea to bring extra trail mix or energy bars. You don't want to be a hungry hiker! Especially with long-distance hiking.
6. Avoid Sleepless Nights
This can be an issue if you've chosen dormitory accommodation in a mountain hut. While huts are typically quiet (hikers are tired) it's almost a given that someone will be snoring. Fortunately, this is remedied by bringing earplugs. It's the best trekking tip to help you get the rest you need.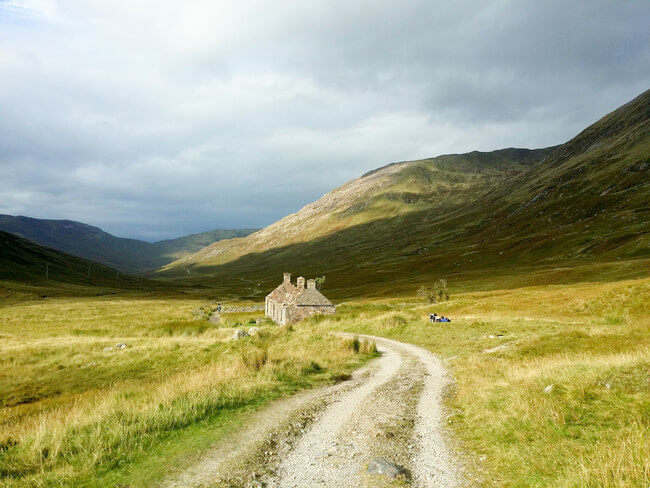 7) Getting Along with Your Hiking Companion
Whether you're hiking with a friend, relative or partner tensions may arise no matter how much you love the person(s) you're hiking with. It's easy for both parties to get frustrated if you're hiking at different speeds or have different ideas of how often to take breaks and for how long.
I find the best way to deal with these kinds of differences is to have an adaptable hiking flow. By this, I mean start hiking together but if one person is much faster than the other and both parties are getting annoyed by having to speed up or slow down. Agree to walk separately for a time (don't just take off) and agree on a meeting place on the trail.
For example, you can look at your map and see there's a hut a few kilometers ahead and can agree to meet there and stop for a break. This works best when both parties have mobile phones so that you can send a quick text to each other to check in.
Another idea is that if there is a steep section near the beginning of the trail, the slower hiker can get an earlier start and agree to meet the faster hiker at the top.
Note, this only works if both parties agree and are OK with hiking small sections alone. I did this while hiking the TMB and it worked perfectly. I don't like talking much while hiking and sometimes it's good to walk at your own pace.
On the days and sections, it was the same, we hiked together, and on the days it wasn't we walked short sections separately as outlined above.
If you're not comfortable hiking small sections alone, then ensure that your hiking buddy walks at a similar pace as you do, or that whoever is faster doesn't mind walking at a slower pace.
I find it's useful to have these discussions ahead of time and agree on a strategy. That way, you'll avoid surprises and disagreements on the trail and thoroughly enjoy your time with your hiking companion. Make sure to get the right gear, you can check out my top gifts for hikers for ideas for your next hike or for a special hiker in your life.
Follow these seven trekking tips to avoid wrecking your long-distance hike.
This post has been updated and republished.