This post is also available in: German
Follow this pre and post-hike recovery plan to soothe your sore muscles after hiking or working out. Your muscles will thank you.
Whether it's your first hike of the year or you're doing a multi-day hiking tour you'll likely experience muscle soreness after hiking at some point.

Your calves or quads may be sore, or if you're carrying a heavy backpack it might be your shoulders or your back. Or in some cases, your entire body might be aching.

That's why we've created this pre and post-hike recovery guide. It will help you relieve your aches and pains.

While we're focusing on post-hike recovery, many of these tips will apply to runners, cyclists and other sports as well.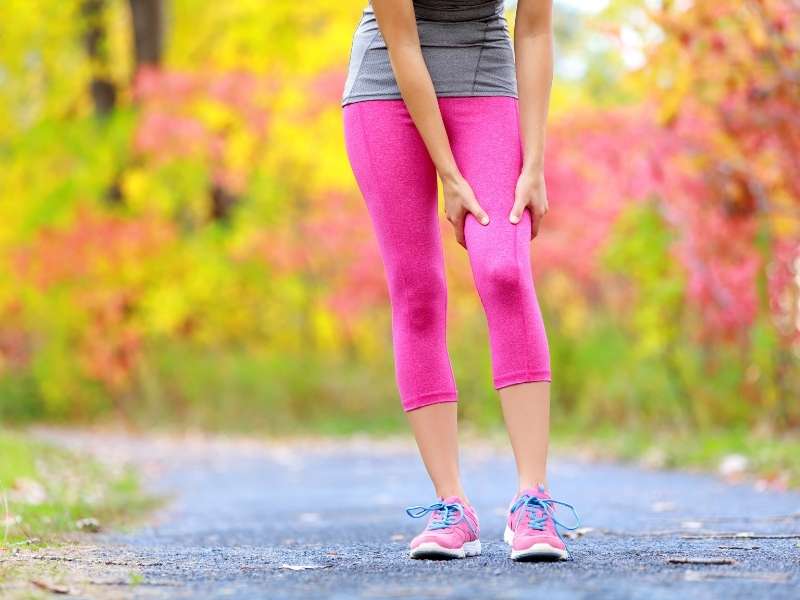 5 Ways to Prevent Muscle Soreness Pre-Hike and While Hiking
The first step is to actually prevent muscle soreness in the first place. Implement these tips pre-hike and during your hike. They'll make a HUGE difference in how you feel afterwards.
1) Choose An Appropriate Hike For You
The first step in preventing muscle soreness is to choose a hike that's appropriate for your ability and fitness level. If it's your first hike of the year it's much better to do an easier hike than one that's too difficult for you. Your muscles will thank you later.
2) Ensure You Have the Right Hiking Gear
Choose the right gear, to begin with, and perhaps most importantly, break in your hiking boots first before wearing them to avoid painful blisters. You want to look for lightweight gear that fits well and have the essentials without overpacking – since the extra weight will contribute to muscle soreness after hiking.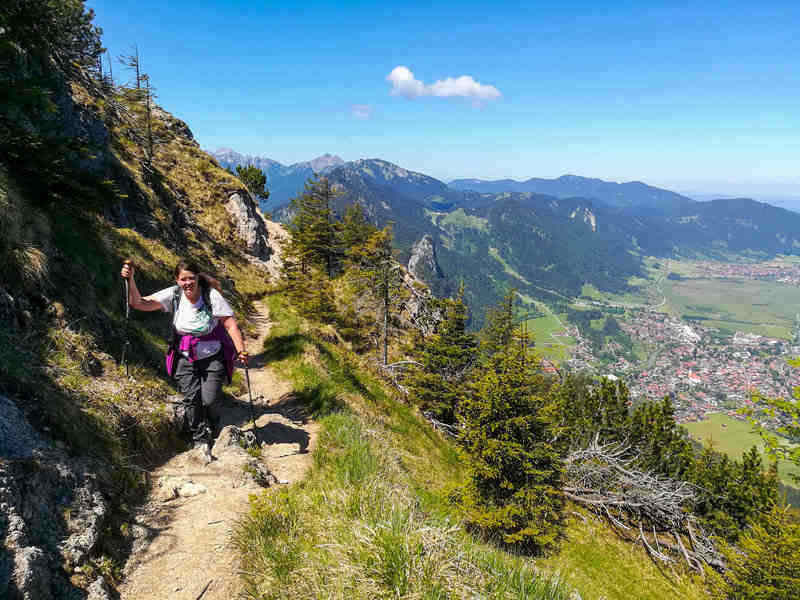 Check out our hiking gear guides:
3) Hike with Trekking Poles to Prevent Soreness
Trekking poles help prevent muscle soreness, especially when you're going downhill. A rstudy2 published in Medicine and Science in Sports and Exercise reported that trekking poles help reduce the load on the lower body. That results in decreased muscle damage and soreness. In addition, trekking poles may also lead to faster recovery and fewer injuries when hiking multiple days in a row, like on the Self-Guided Tour du Mont Blanc or The Haute Route.
Check out our guide to the Best Trekking Poles of the Year.
4) Stay Hydrated and Nourish Your Body Before, During and After Your Hike
Muscle soreness after hiking is often caused by dehydration so ensure that you stay hydrated while hiking and consider taking rehydration salts. 

Dr Singer, an orthopedic surgeon in Munich, Germany also recommends taking Magnesium to relieve muscle cramps, twitching and tension. In particular, she recommends Magnesium oil since it can also be absorbed by the skin so you can use it to massage sore muscles for a double benefit.
I'm also a huge fan of taking Magnesium. When I'm doing a multi-day hike I take it every day. I haven't tried using Magnesium oil yet but am excited to do so after hearing Dr Singer's recommendation. 
Nutrition-wise aim for a mix of carbohydrates and protein. Good choices include nuts, seeds, nut butter, fresh fruit, tuna or other canned fish. 
5) Warm-Up Before Your Hike to Prevent Soreness
You may be excited to get your hike started but before you do, take a few minutes to loosen your body, do a quick few stretches then ease into your hike at a slow pace until your body has a chance to warm up. Just as you'd do in an exercise class. The Mayo Clinic reports that doing so will help prevent muscle soreness and reduce your chance of injury. 
How to Prevent Muscle Soreness After Your Hike
My favourite way to prevent soreness after hiking is with a self-massage so I was thrilled to hear from Dr Singer that it really works. Light massage increases the circulation/blood flow and increases the flow of the lymphatic system which helps muscles regenerate.
She recommends using it in combination with a mountain pine oil which has a long traditional use in the alpine areas of Europe. If you can't find it then try this soothing massage oil for sore muscles.
1) Take a Cold Shower to Soothe Tired Muscles
OK, you're probably not going to like this one. At least not when you first feel the chill of the water that makes you scream in agony but according to Healthline, cold showers help to reduce muscle soreness by helping them to relax and repair.
Plus there's a whole bunch of other health benefits of cold showers. Do this and then, you get to move on to #2 which you'll love.
2) Self-Massage with ExoGun as Part of Your Post-Hike Recovery Routine
I promised you that this one would be much more fun than the cold shower. I LOVE massages and I particularly love the ExoGun. It uses percussive therapy and deep tissue massage to deliver an intense massage.
So what is percussion therapy?
According to ExoGun's website, it boosts muscle function and recovery by penetrating deep into the muscle tissue with a series of rapid, concentrated pulsating strokes.
I hadn't heard of percussion therapy before, but I'm now a recent convert. I LOVE my ExoGun so much so that I've partnered up with them to give you 10% off. Just use the code MAT10 at the checkout.

It has 6 speeds and four attachment heads. I often find that the lowest speed is intense enough when my muscles are sore. This is not just another massager that vibrates but doesn't really get into your muscles. The ExoGun really gets into your muscles.
Self-Massage On a Multi-Day Hike
If you're doing a multi-day hike, you'll have to wait to use the ExoGun until you get home. But in the meantime, I recommend bringing these Lacrosse Massage Balls. They're small enough to fit in the ball of your hand and can be used on all parts of your body.

You can rub it on your legs, or stand next to a wall and use it to massage your shoulders and back. I also love standing on it for an amazing foot massage. It won't deliver the same intensity as the ExoGun but I love it on multi-day hikes.
3) Include a Light Workout in Your Post-Hike Recovery Plan to Prevent Soreness
The last thing you'll probably feel like doing is a workout after hiking but doing a super quick light yoga routine or some stretches can make a big difference.

The following day, you may wake up the next day and feel fine but muscle soreness often doesn't kick in until 24 hours later.
I almost always do an easy post-recovery yoga or stretching routine right after my hike. Then the next day, I'll do a slightly longer one (20-40 minutes) but still easy workout the day after.


Here are a few of my favourite post-hiking recovery workouts for reducing soreness:
Follow this pre and post-hike recovery plan and you'll significantly reduce your soreness after hiking or other intense activity.
Thank you to ExoGun for providing me a sample to try.
Source: 2. Howatson, G.P., Hough, J., Pattison, J.A. et al. (2011)