The Wicklow Way is Ireland's oldest way-marked long-distance trail. The 128 km long walk takes you through the incredible Wicklow Mountains and through County Wicklow, known as the Garden of Ireland.
Read on to find out what you need to know about the ancient routes before you go and whether I recommend walking the whole route which takes 8 days or just a part of it. My answer may surprise you.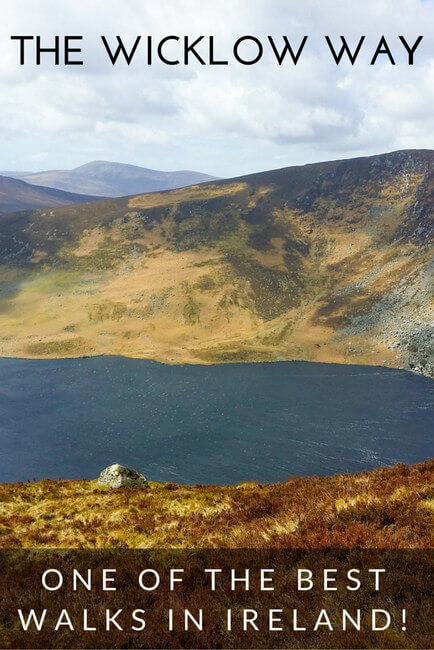 Highlights of Ireland's Wicklow Way
You'll also walk past Glendalough, a 6th-century monastic settlement city, which is one of the most important in the country. The monastery was a centre of learning for hundreds of years.
Some of the amazing scenery may be familiar to you if you watch the TV show Vikings including Lough Dan and Lough Tay, which you'll pass.
You'll also get great views of Powerscourt Waterfall – the highest in Ireland!
Wicklow Way Map
As you can see from the map the Wicklow Way starts or ends in the small village of Clonegal and starts/finishes in Marley Park in Dublin. If you book with Ireland Ways they'll provide you with a more detailed map. Otherwise, you'll need to buy your own map.
Even if you're using GPS, I'd still recommend a map as a backup since technology sometimes fails.
Terrain of the Wicklow Way
The Wicklow Way is a combination of country roads (especially on the southern part of the walk), forestry roads, hiking trails and platforms over bogs.
Approximately 28% of the route is walking on roads, past fields of sheep and countryside. If you want to avoid the country roads, I recommend skipping the South Wicklow part and starting in Glenmalure walking north to Marley Park in Dublin.
The highest point is 630 m, and you'll do a total of 3753 m of elevation if you walk the entire route.
You'll find yourself climbing a hill, only to climb back down, and then climb back up. Only in a few instances is it really steep.
If you're used to hiking in the Canadian Rockies or have done the Tour du Mont Blanc, the elevation will seem easy. Still, don't underestimate it. Some days you will be walking over 25 km!
As long as you're reasonably fit you'll be able to walk the Wicklow Way. It's a good first multi-day hike.
The Easiest Way to Plan Your Wicklow Way



While it's possible to plan your Wicklow Way Walk yourself, it's also very time-consuming, planning your route, and booking accommodations.
Plus, if you want to know more about the highlights along the route so that you don't miss any of them, you'll need to spend more time researching those as well.
You also won't have the option of having your luggage transferred every day to your next accommodation. You'll have to carry it.
In addition, if something goes wrong, like you sprain your ankle, you're on your own to figure out what to do. If you decide to plan it yourself the WicklowWay.com is also a helpful resource for information about the walk.
That's why I recommend booking your self-guided walking tour with IrelandWays.com (use the code 'MONKEYS' and you'll get €25 off) as I did. I loved how easily they made my trip and how much time they saved me.
They'll book all your accommodations, (and they know the nicest places to stay), arrange your luggage transfer provide you with detailed instructions each day of the route, along with a map and a guidebook.
They also offer GPS instructions on request, which I highly recommend. Plus, they have a 24/7 number you can call should you need help while on your tour.
You can read my review here. The review is for Camino Ways but the same information applies to Ireland Ways since the services they provide for all their self-guided tours are the same.
I'm a HUGE fan of self-guided hiking and walking tours (most of the tours I offer are self-guided for this reason). I've done two other tours with GreenLife Tours (the umbrella company under which Ireland Ways falls); 6-Day self-guided hike in La Gomera in the Canary Islands which I loved and the Camino de Santiago: The Last 100 KM.
When you do a self-guided walking tour you get the flexibility to hike or walk at your own pace, start at whatever time you like, and take as few or as many breaks as you want.
They also save you a TON of time in planning your tour. You can print off the documents they send you, have a quick read and you're good to go!
I also like knowing that after a day of hiking I can look forward to nice accommodations since they've already vetted all the accommodations. We've all booked places that looked soooo nice online…only to find out that the reality is quite different.
It's never a nice surprise, especially after a day of walking when you're tired and just want to put your feet up.
That's why I'm pleased to have teamed up with Ireland Ways and to offer you €20 off your own Wicklow Way.
While it's possible to walk the route from north to south or south to north, Ireland Ways recommended that I walk it from south to north. I was very happy with this choice because the more impressive scenery comes later in the trip.
There's also more elevation in the northern part of the route, so your walking legs have a chance to kick in.
Finally, the prevailing wind blows from the southwest, so you're more likely to have the wind on your back for most of your walk.
You will also need a guidebook and map. I used The Wicklow Way Rucksack Readers. The book provides an overall description of the Wicklow Way.
It was useful, but it only provides day-by-day instructions for the walk from north to south. As a result, I didn't use it very much when walking. I found it confusing since I was doing it in the opposite direction. The map, however, was very useful.
I used it in conjunction with the free app mapmywalk. It tracks your progress via GPS and with the route description given to me from IrelandWays.com, which provides specific directions.
The combination of using the three together worked very well. WicklowWay.com is also a helpful resource for information about the walk.
Plan your route and book your accommodation. I highly recommend booking your accommodation in advance, and not as you go along. In most places, accommodation is not directly on the Wicklow Way.
Pre-advanced arrangements need to be made for your accommodation provider to pick you up from a meeting point.
I.e., it's not usually obvious where you are going to stay, and there are not a lot of choices. If you can walk to your accommodation, in most cases, you need specific instructions beforehand.
It's possible to plan your route and book your accommodation yourself. This site has a list of accommodations, but it would take a lot of time and planning.
That's one of the reasons I recommend IrelandWays.com(use 'MONKEYS and receive a €20 discount).
It took virtually no planning from my side. They booked all my accommodations, arranged all my luggage transfers, and provided me with a detailed route description each day and the phone number and address for my accommodation.
It saved me a ton of time, and I didn't have to stress about the details!
I also recommend having a mobile phone on you, since you will need to call your B&B for a pick-up on at least 2-3 of the days.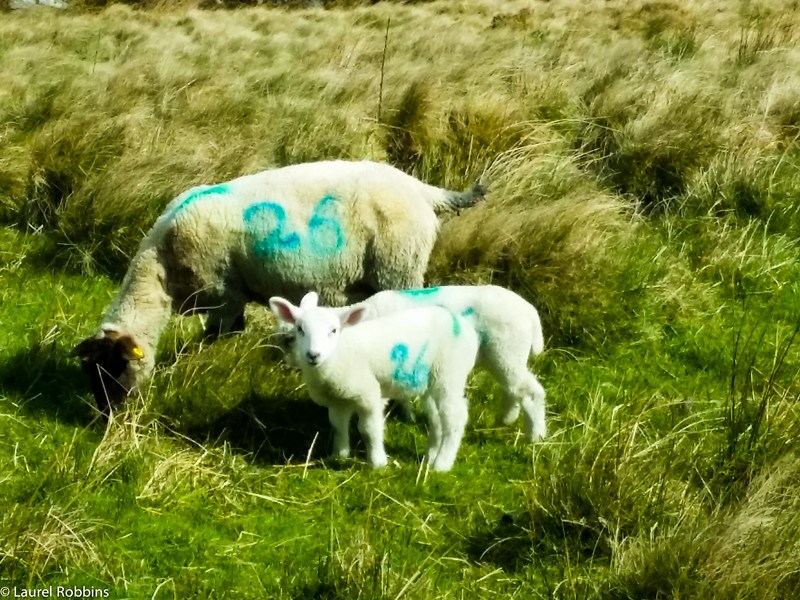 Decide whether to carry your own luggage or arrange for a luggage transfer. Confession: I've never had my luggage carried for me before. When I did the Tour du Mont Blanc, I carried my own. I also carried my own when I cycled the Danube.
Having a lighter load makes your walk much easier. It was also very convenient to have my luggage waiting for me each day when I arrived. After having my luggage transferred to Ireland, I also choose this option when I hiked the West Highland Way in Scotland.
Alternatively, if you are going on your own, you can arrange it through Wicklow Way Baggage. Note: if you do go for the baggage transfer service, you leave your bag in the lobby for pick up.
It will also be waiting for you in the sitting room for you to take up to your room. I was lucky enough not to have anything stolen, but I would recommend a good lock.
It's also a good idea to carry your valuables with you, since your luggage may be left unsupervised at times.
Eating Along the Wicklow Way
Despite being in Ireland, there are only a few pubs directly on the route. There are also only a few restaurants, and often these are several kilometers away from your B&B or hotel.
You will either need to walk or ask your B&B to arrange a taxi for you.
For lunches and snacks, either bring food with you or ask your B&B to prepare a packed lunch for you. On most days, you will not come across anywhere to purchase food during the day.
I stocked up at a grocery store in the evenings when available. There wasn't one close by each day, so I always made sure that I had three days of food with me.
I took when I needed it for the day, then packed the rest in my luggage that was being transferred to keep my backpack weight to a minimum.
If you have dietary requirements as I do (I'm celiac), inform your accommodation provider in advance, or if you book with IrelandWays.com, they'll do it for you.
When the B&Bs knew in advance that I was celiac, they would arrange for gluten-free bread. Had they not been informed prior, they may not have had this available.
Weather on the Wicklow Way: The Best Time To Go
The best time to walk the Wicklow Way is between April and October. The days are longer, the temperatures warmer, although it never gets too hot. You can expect a brisk 9 ° C in April and temperatures up to 16 or 17° C in summer.
It's also important to note that it rains between 11 to 14 days a month. Sometimes it rains all day, sometimes it's just part of the day. t can also be windy in some places.
On one day on my trip, I had wind and rain the whole day, but on other days I had sunny skies.
Other days, it only rained late in the afternoon after I'd arrived at my accommodation. You can expect a mix of weather and expect that it may change quickly.
In summer it's busier but never overcrowded, except for some of the more popular spots that attract day-trippers.
My 8-Day Wicklow Way Walking Tour
Arrival Day: Arrive in Bunclody
Note: I have purposely not included the name of the B&Bs and hotels where I stayed as a courtesy to IrelandWays.com who organized my accommodation.
Walking Distance: 0
Walking Route Description: N/A
Highlights: A short walk around the village. If you're able to make it to Conegal (5.5 km away), there's Huntington Castle. Tours are available in June, July, and August. The gardens are open from May to September.
Where to Stay: I stayed in an old charming farmhouse B&B located just a 10-minute walk from the city center.
Where to Eat: There's a pub that serves food in Bunclody, but it's closed on Mondays and Tuesdays. I went down to the grocery store, which has a good selection of ready-to-go food, and brought it back to my B&B.
Additional Info: The south starting point for the Wicklow Way is the tiny village of Clonegal. It's 5.5km from Bunclody, so stay with a B&B that will give you a ride to the starting point.
Day 1: Walking from Clonegal to Shillelagh
Walking Distance: 25.7 km + 2km extra from getting lost (~6:30 hours of walking time)
Walking Route Description: The route starts from the small village of Clonegal which is known as the Switzerland of Ireland since it's so scenic. 65% of the way today is on the road, but with the sheep baa-ing, as you pass by, it's not as mundane as it sounds.
Much of the route is through scenic countryside, with a few jaunts up forest-covered hills. Be careful on Urelands Hill – I got lost and had to backtrack. Note: Once you're at the top of the ridge, take the first right downhill – don't carry on the road as I did.
A local informed me that it loops right back around to Clonegal – where I had started! The only part of the walk I didn't enjoy was the part where they were logging.
Highlights: I finished at the historic farmhouse Dying Cow Pub, originally called Tallon's – which is what the sign still says. The pub is 300 years old!
Unfortunately, it wasn't open when I arrived (3:30 on a Wednesday). I couldn't find any opening hours on-site or online, so ask a local to make sure you don't miss this famous pub!
The dog was amicable though, and I hung out with him until my B&B came to pick me up.
Wildlife Sightings: Lots of birds, and several rabbits
Weather: Mainly sunny/cloudy until around 1:30, then scattered showers, and some hail for about 10 minutes.
# of Other Hikers Seen: Only 1 and she was going in the opposite direction.
Where to Stay: I stayed directly in the village of Shillelagh (I called my B&B from the Dying Cow Pub, and they came and picked me up – was arranged in advance)
Where to Eat: There's one restaurant in Shillelagh, but it was closed for renovations when I visited (April 2016). The only other options were: 1) taking a taxi to Tinahely, a market town where there are more restaurants/pubs, or 2) picking up something from the mini-mart in Shillelagh.
I did the latter, but the grab-and-go section was rather limited, so I don't recommend this option.
Additional Info: Ensure you have enough food to tide you over while walking the next day, as you won't pass any place to buy any. I picked up some at the mini-mart in Shillelagh.
Note: Tinahely is ~2 km from the Wicklow Way at one point, so you could always detour here if needed. I was too lazy to walk the additional 4 km but would have loved to have seen the town.
Day 2: Walking from Shillelah to Moyne
Walking Distance: 18.4 km + 900m to B&B (4:45 hours of walking time)
Walking Route Description: My B&B dropped me off at the Dying Cow Pub where they had picked me up yesterday. 45% of the route is on a small country road and passes through scenic countryside, rolling hills, valleys, and forest.
Quite a bit of the walk was on paths through farmer's fields, which if it's wet, can get quite so mucky. Be sure to close any gates that you pass through. It was very picturesque.
Highlights: Seeing two herds of deer on Muskeagh Hill and the valleys – just gorgeous.
Wildlife Sightings: Lots of birds, several rabbits, and two herds of deer on Muskeagh Hill
Weather: I woke up to the sound of pitter-patter on the skylight of my B&B. Fortunately, it stopped before I headed up.
For the most part, it was cloudy with bits of the sun until 12:30. Then there was heavy rain for ~30 minutes, followed by scattered showers.
# of Other Hikers Seen: 0 while hiking, but had a lovely dinner with two other hikers from Denmark at my B&B.
Where to Stay: I stayed at a B&B just 900m from Wicklow Way and walked there.
Where to Eat: My B&B had the option of having supper there for an additional cost (€12 for the main course, €5 each for soup and dessert). The closest village that has restaurants in Tinahely, ~10km away.
If you're just craving a pint, the closest option is the pub in Knockananna (which doesn't serve food), ~ 3km away.
Additional Info: At least at the B&B that I stayed at, located in the countryside, there was no grocery store/mini-mart. The nearest village is Tinahely.
Ensure that you have brought enough to eat from the previous day. Alternatively, ask your B&B nicely if they'll pack you a lunch for an extra fee.
Day 3: Walking from Moyne to Glenmalure
Walking Distance: 21 km + 900m to get from B&B back on the Wicklow Way (5:30 hours of walking time)
Walking Route Description: Much of the challenging route today was walking along forestry roads. Farmland quickly turned into forests, and the hills became more numerous and larger.
The route also takes you through quite a bit of wood harvesting. Part of my route around and in Drumgoff Forest Recreation Area was re-routed. Fortunately, signs marked the alternate route.
Highlights: Seeing deer on three separate occasions, seeing snow on a couple of hilltops (didn't expect that in Ireland at the end of April!) and entering the valley of Drumgoff – gorgeous!
Wildlife Sightings: Birds and deer – no rabbits today!
Weather: I woke up to snow which melted by the time I finished breakfast. There was a tiny bit of rain and hail, and although it remained cloudy, it was the driest day I had.
It did start to pour at around 2:30 – right after I had arrived at my B&B for the night – whew!
# of Other Hikers Seen: 4 in one group near the end of my walk in Drumgoff Forest Recreation Area.
Where to Stay: I stayed at a B&B in Drumgoff.
Where to Eat: I ate at the pub/restaurant attached to the B&B in Drumgoff.
Additional Info: As far as I can tell, there's nowhere else nearby to grab something to eat, so ensure you have enough with you or eat at the pub/restaurant in Drumgoff.
Day 4: Walking from Glenmalure to Glendalough


Walking Distance: 14km to Glenmalure + 4km to get to Laragh (4:15 of walking time + stop at the Monastic City
Walking Route Description: This has been my favourite day of walking so far! You're no longer looking at the Wicklow Mountains from a distance; you're hiking in them!
It's also where things start to get busier, notably around the Valley of the Two Lakes in Glendalough Valley in Wicklow Mountains National Park.
You also pass by one of the most important monastic sites of ancient times in Ireland. It developed into a Monastic City and dates back to the 6th century!
While it was strange being around so many people again, I can see why the Glendalough Valley is so popular. It's a beautiful, and historic area!
Highlights: I loved the hiking trails in the Wicklow Mountains, the magnificent views of the Valley of the Two Lakes and walking through the Monastic City.
Wildlife Sightings: Just birds today, but it was raining.
Weather: I was excited to wake up to the bluest skies I've had on the entire trip so far. Unfortunately, they didn't last, and it sprinkled most of the morning – not hard enough for me to put my rain pants on though. It cleared up around noon.
# of Other Hikers Seen: Only 1 for the first part, then too many to count in the Valley of the Two Lakes. Note: Tour buses make a stop here. ,
Where to Stay: The Glendalough Hotel or in one of the many B&Bs in the nearby village of Laragh, which is what I did.
Where to Eat: I stopped for lunch at Casey's in the Glendalough Hotel. It was busy and filled with tourists, but the food was good. I also stopped for a cappuccino and a gluten-free cake at the Glendalough Fayre, which also has a shop.
I LOVED this place, a tasty gluten-free cake is hard to find anywhere, and the piece I had was especially good. There are a couple of restaurants in the village of Laragh, along with a convenience store that sells grocery items.
Day 5: Walking from Laragh to Roundwood
Walking Distance:10.9km + 3km to visit Lough Dan (3:25 of walking time)
Walking Route Description: A lot of today's route is walking along a road, including a relatively busy road into Roundwood.
I did enjoy the walking paths and getting mistaken for a sheepherder on one path. Guess I'm really starting to fit into my surroundings?
Highlights: Today was my least favourite day of walking so far. The scenery was OK, but not amazing – perhaps that was due in part to the rainy weather. I did enjoy the hiking paths.
Wildlife Sightings: One herd of deer.
Weather: I was excited to wake up to the sun, but unfortunately that had turned into rain by the time I had started walking. It rained on and off for most of my walk.
# of Other Hikers Seen: Several coming from the opposite direction.
Where to Stay: I stayed in a hotel in the village of Roundwood.
Where to Eat: There are four pubs in Roundwood, a convenience store, a cafe and several takeaways so you have several options.
Additional Info: You can visit Johnnie Fox's Pub, the highest pub in Ireland! I had a pint there, because how could I not!
Day 6: Walking from Roundwood to Crone Woods Car Park (near Enniskerry)

Walking Distance: 18.9km + 1.5 km extra from getting lost
Walking Route Description: I LOVED the walk today! Only 20% of it was on roads, meaning I spent more time on hiking paths. That's always a plus in my book!
I got excellent views of Louch Dan, which I had visited yesterday, but was more spectacular from this angle. I saw Lough Tay – also known as Guinness Lake since the Guinness estate is on one end of the lake (the estate is not pictured).
What I loved most of all was walking along the bog on White Hill and Djouce Peak. I was up high enough to get spectacular views! As I descended, I got beautiful views of the Irish Sea AND passed by Powerscourt Waterfall – the highest in Ireland at 121m.
It's also worth noting that I did get lost at around the 7th km mark along the forestry track – it's tricky so be careful.
I found my way on the beautiful trail again, but I never find out where the correct point was to descend, adding an extra 1km to my route.
Highlights: Walking along White Hill and Djouce Peak (not quite to the top – I turned off at the Wicklow Way marker), seeing Powerscourt Waterfall and the Irish Sea – so many highlights today!
Wildlife Sightings: A herd of deer
Weather: Warm and sunny for the morning, then really windy, and a hail storm. It was so windy that the pellets actually hurt when they hit.
I was on White Hill on the bog with no place to duck for cover so carried on. 30 minutes later, the sun was out and it was a gorgeous day again!
# of Other Hikers Seen: A few mountain bikers at the beginning, and then too many hikers to count on White Hill and while descending from Djouce Peak.
Where to Stay: My pick-up point was at the Crone Woods Car Park. From there, I called my B&B to pick me up.
Where to Eat: The nearest place to eat was a pub, or in Enniskerry. Both were 3km away, and you had to either walk or take a taxi.
Day 7: Walking from Enniskerry to Marlay Park in Dublin

Walking Distance: 22km + an additional 4km (1.2km+ walking to the top of Two-Rock Mountain for fantastic views over Dublin and another 2.8km somehow (5:55 of walking time)
Walking Route Description: Much of the walking route today was along paths or boardwalks with gorgeous views of the Wicklow Mountains, valleys, and the Irish Sea.
Highlights: I loved the frequent open views of the Irish Sea. Today, was my second favorite day of walking the Wicklow Way.
I was also giddy knowing that I was getting close to finishing – not because I wanted to be done, but for the sense of accomplishment.
Wildlife Sightings: Birds, but no deer or rabbits today.
Weather: Sunny and the warmest day I'd had so far.
# of Other Hikers Seen: Too many to count, as I came closer to Dublin.
Where to Stay: You arrive back in Dublin, so you have your choice of accommodation.
Where to Eat: There are so many places to eat in Dublin, but a requirement for me was stopping for ice cream in Marlay Park near the Wicklow Way sign.
Additional Info: The Wicklow Way sign in Marlay Park is near the car park, not far from Marlay House. Just outside the car park on Grange Road, you can catch the Dublin bus to the city centre.
Is It Worth Walking All of the Wicklow Way?
It takes 9 days, including an arrival and sightseeing day. You can also choose the Wicklow Way Highlights which takes 5 days, or a short break which only takes 4 days.
If you are pressed for time, I highly recommend the Wicklow Way Highlights tour.
This takes you through the most impressive parts of the walk, including the Wicklow Mountains, which was my favourite part! The Wicklow Way also makes my friend Leigh from Hike Bike Travel's list of the 7 best hikes in Ireland.
I enjoyed the walk, especially through the Wicklow Mountains and the route leading to Marlay Park, these two days were my favourite.
It's a beautiful route through the Garden of Ireland, and a wonderful way to experience Ireland at a slower pace. If you are a hard-core mountain hiker, you may find it too easy.
While the Wicklow Way was easier than my usual type of hike, I still enjoyed it and slept very well at night after walking over 20 km some days!
How to Book Your Wicklow Way Walking Tour
While it's possible to walk the Wicklow Way on your own and make all the arrangements yourself, I was very grateful that I had made mine through IrelandWays.com.
It made my planning so easy and saved me a ton of time. I was also still independent, walking alone and not with a group, which I prefer for most walks.
I'm sure I would have gotten lost a lot more left to my own devices, and I may not have chosen the most convenient accommodation providers. That's why I'm happy to recommend IrelandWays.com.
That way, you can have as good of time walking the Wicklow Way as I had!
Happy Walking!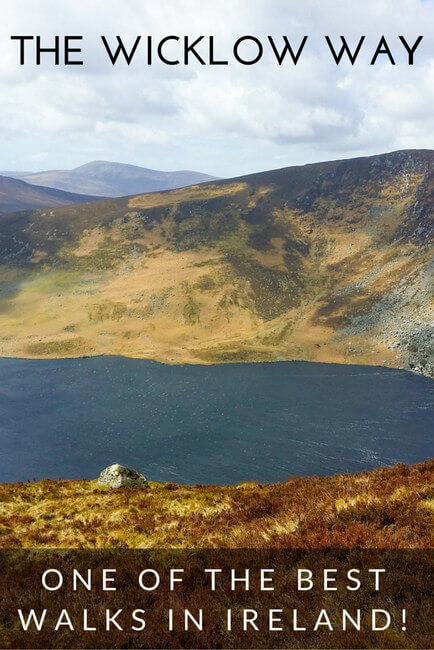 Disclosure: Thank you to IrelandWays.com for making my journey of the Wicklow Way possible.
This post has been updated and republished.