The West Highland Way in Scotland is one of the best long-distance hikes in all of Europe. I loved it. 
However, like planning for any multi-day hike there are things you need to know and easier ways to do it than others. Some are cheaper, others are more convenient. 
You'll also want to consider things like do you want to carry all your hiking gear or have luggage transport. 
There's a LOT to figure out. That's why I've created this guide and share my personal experience of hiking Scotland's first long-distance hike.
But first: 
How long is the West Highland Way?
It's 154 km (96 miles). Scotland's first long-distance hike was completed in 1980.
Where does the West Highland Way Start and Finish?
It starts in Milngavie, just outside of Glasgow, the largest city in Scotland.
You'll hike in changing scenery that takes you through the Scottish Highlands. On your last day, you'll pass Ben Nevis the highest mountain in Scotland. You'll finish in Fort William, known as the adventure capital of Scotland.
How long does it take to walk the West Highland Way?
I walked it in 7 days and really enjoyed this pace. If you're coming from abroad, you'll need to add in an arrival and departure day as well, so 9 days in total.
Is the West Highland Way a Walk or a Hike?
Well, that depends on where you're from. If you're Canadian (like me), or American, you'd call it a hike. If you're British, you'd call it a walk. I use both hike and walk interchangeably in this article. Blame it on the Scots that I met who kept calling it a walk :).
When is the Best Time of Year to Walk the West Highland Way?
The season runs from April to October. The two best months to do it are June and September when the midges will be gone. If you do it early or late in the season you may run into snow. I did it the third week in September and the conditions were perfect.
Note: for those who aren't familiar with midges, they're small flies that bite. They're super annoying and best avoided.

Why I Wanted to Hike This Trail
If you're a regular reader you know that I absolutely love long-distance hikes and try to do at least one every year.  I had walked the Wicklow Way in Ireland just a few months earlier.
But when I found out that I was heading to Scotland for a travel conference in Inverness, I knew that I had to hike in Scotland again.
I'd done so ten years earlier, even summiting Ben Nevis, the highest peak in Scotland. But there's just something mystical about hiking in the Scottish Highlands that never leaves you. It keeps calling you back.
Either that or I've read too many of the Outlander books. But I knew I had to do it. Being the most famous, and arguably one of the most scenic treks in the UK, with ever-changing scenery and the famous Highland Cows for the company along the way, the West Highland Way was an easy choice.
It's not just me who feels that way. I recruited my friend and fellow hiker Simon from Wild About Travel. It only took one Facebook message.
Click on the link to read her article. With its dramatic landscapes, the West Highland Way is practically begging you to hike it.
Related Reading: Aberdeenshire Scotland: A 3-Day Adventure Travel Itinerary
The Terrain 
The landscape is ever-changing and almost always breathtaking. You'll walk the length of Loch Lomond, the largest freshwater lock by surface area in all of Great Britain.
You'll pass through the Lowlands, cross the Highland Boundary Fault, and head into the Scottish Highlands. For me, hiking in the Scottish Highlands was the highlight.
For much of the way, you'll be following ancient and historic routes along Drove Roads, 18th Century Military Roads, and abandoned railway tracks.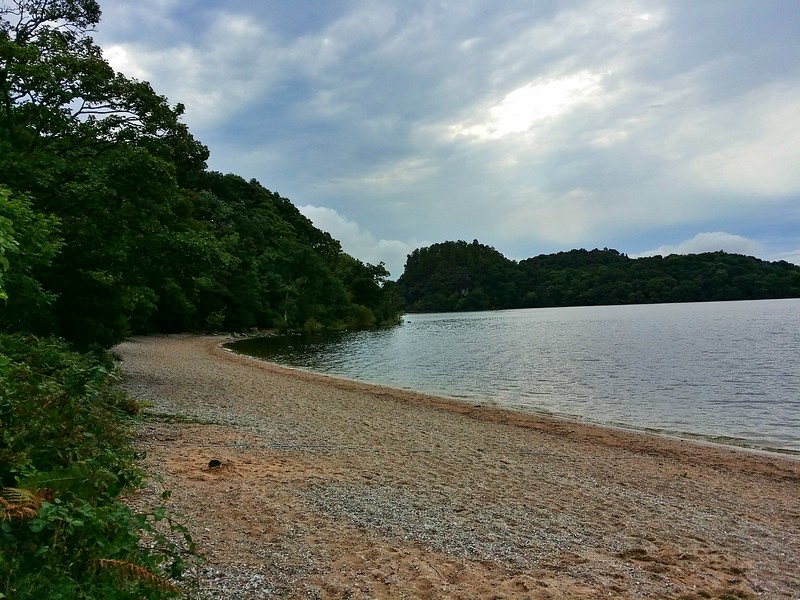 Starting Point of the West Highland Way
The typical way to hike the West Highland Way is from Milngavie in the south to Fort William in the north. The easier stages in the south will prepare you for the hillier parts that come in the highlands part of the trek.
Furthermore, the scenery just gets more and more exciting in my opinion. S,o it makes sense to finish in the mystical Scottish Highlands.
Milngavie is a town ~ 10 km (6 miles) northwest of Glasgow. You can spend the first night either in Glasgow, as I did. From there it's  ~ 30-minute train ride to Milngavie. Alternatively, you can head directly to Milngavie.
The closest airport is Glasgow Airport. I booked my flight with Skyscanner.
How to Hike the West Highland Way
You have three choices, each with its pros and cons:
1) Plan your West Highland Way Adventure on your Own
Pros of Planning It On Your Own:
This is the cheapest option. It's ideal if you're camping and on a tight budget. If you go this route, this guide with walking maps will be essential to figure it out.
Cons Of Planning  It By Yourself:
It's by far the most time-consuming and least convenient option. Finding and booking accommodation takes a ton of time. If accommodations on the trail or close to the trail are all full you'll have to figure out how to take a taxi and add that into your costs.
It's doable but a hassle and very time-consuming. You also won't have the possibility to have your luggage transferred for you.
2) Do the West Highland Way as a Self-Guided Walk
My friend and I choose the self-guided option with Wilderness Scotland. They've been named by National Geographic Adventure as one of the Best Adventure Travel Companies so you know that you're in good hands.
Pros of Doing the West Highland Way as a Self-Guided Tour:
There is very minimal planning and time to organize on your part. Wilderness Scotland does everything for you. They'll arrange luggage transfer for you daily. You just need to carry your daypack.
They also know the best B&Bs and hotels to stay in and book these for you. On one day there wasn't any accommodation available close to the trail.
They organized taxi pick-up and drop-offs. It was easy and convenient but it would have been difficult to organize on my own. Finally, they provide support during your trek if something goes wrong.
Fortunately, nothing went wrong on my trek but I know from my other hiking tours how easy it is to sprain an ankle. When you're in pain, you don't want the added hassle of trying to figure out how to call a taxi and arrange a meeting spot. You want someone to do it for you.
Cons of Doing the West Highland Way as a Self-Guided Tour:
While it's slightly more expensive than doing it yourself, I honestly don't see any cons. I think the slight extra expense outweighs the time and inconvenience of having to do it all yourself.
The only other con is finding your way by using the maps and following the detailed instructions they provide. I personally enjoy this. However, if you don't, you should consider option 3 below.
3) Do the West Highland Way with a Guide.
Pros of Doing It with a Guided Tour from Wilderness Scotland:
In addition to the same advantages as listed above with the self-guided walk, your guide will bring to life the rich history and legends.  I missed out on this by doing a self-guided walk which is a shame since Scotland is full of fascinating history and the Scottish are famed storytellers.
And be honest…if you've ever watched the tv show Outlander, or read the books, you want to know as much as possible about the Highlanders. Your guide will also point out the diverse flora and fauna that you'd likely miss on your own.
Furthermore, you'll be hiking in the company of like-minded people. There's nothing like a shared interest over multiple days to connect with someone.
I met my boyfriend while on a hiking day tour so am living proof of this. Although I'm pretty sure the tour doesn't come with a guarantee of finding a partner :).
Most of the meals are included with the guided tour. That way, you'll always have someone to revel in the day's adventures with.
I've hiked the Wicklow Way in Ireland and did the Coastal Hike from Spain to France alone. While I didn't mind walking alone, I didn't enjoy eating dinner alone. I wanted to share what I'd seen and done that day.
The guided tour is also a great option if you're not comfortable with route finding. If you just want to focus on enjoying hiking and not reading a map, a guided tour is the best option for you.
Cons of the Guided Tour:
While the guided trip is reasonably priced, it is more expensive than if you did it by yourself or chose the self-guided walk. Still, I think it provides exceptional value and benefits. Plus, it includes most meals, which the other two don't include so you need to factor this in when comparing costs.
Related Reading: Top 7 Must See Natural Wonders Of Ireland
Medical Advice and Travel Insurance
After one expensive incident years ago where I didn't have travel insurance, I always get it. It's especially important when doing something adventurous.
Like hiking the West Highland Way where a slip can lead to a broken ankle. Often the nearest hospital is miles away, so even a taxi ride is costly. Let alone the medical treatment. I'm a fan of HeyMondo(get a 5% discount for being a Monkeys and Mountains reader). Check out this article on what to consider when choosing adventure travel insurance.
You should also travel with an Outdoor First Aid Kit. And have something for blisters which often plague hikers since nothing can ruin your trip faster. I always have Compeed in my backpack. It's the best solution for blisters that I've found.
Packing for the West Highland Way
If you're carrying all your luggage, you'll want to travel as lightly as possible. If you're having your bags carried for you, you don't have to be as strict. But you'll still want to keep the weight of your day pack to a minimum.
It's worth noting that you should carry electronic equipment like laptops, cameras, etc. with you at all times. Don't place them in your carried luggage. The luggage carrier company is not responsible if they go missing or are damaged.
As Scotland can be rainy, put any electronics in a Waterproof Dry Bag to make sure they stay dry.
Luggage transfer is included on both the self-guided and guided tours that I've mentioned.
Eating Along the West Highland Way
Every B&B that I stayed in provided a hearty Scottish breakfast. If you haven't had a Scottish breakfast, they're very filling!  There was also a place to eat dinner each night in the places I stayed.
However, on most days you won't find restaurants while you're hiking. Or they will be several kilometers out of the way. So either bring food with you or ask your B&B to prepare a packed lunch for you (at an additional cost).
There are a few days when you will not come across anywhere to buy food during the day or in the evening.  I stocked up at a grocery store in the evenings when available. On average, I had 3 days of food (lunch and snacks) with me.
I took what I needed for the day. Then packed the rest of my luggage that was being transferred to keep my backpack weight to a minimum.
That's one of the advantages of booking with Wilderness Scotland. They give you a PDF of all the amenities along the way. That way you can prepare appropriately.

The West Highland Way National Trail is one of 16 national trails found in the UK.
Here's a list of all the national trails in the UK: Cleveland Way, Cotswold Way, Glyndwr's Way, Hadrian's Wall Path, North Downs Way, Offa's Dyke Path, Peddars Way and Norfolk Coast Path, Pennine Bridleway, Pennine Way, Pembrokeshire Coast Path, The Ridgeway, South Downs Way, South West Coast Path, Thames Path, The West Highland Way, Yorkshire Wolds Way. 
My 9-Day West Highland Way Route
Day 1: Arrival in either Glasgow or Milngavie
It's ~ a 30-minute train ride from Glasgow to Milngavie so you can sleep in Glasgow and take an early morning train to Milngavie. Alternatively, you can head straight to Milngavie where the walk begins. Also worth noting is Milngavie is pronounced Mul-guy.
Day 2: Walking from Milngavie to Drymen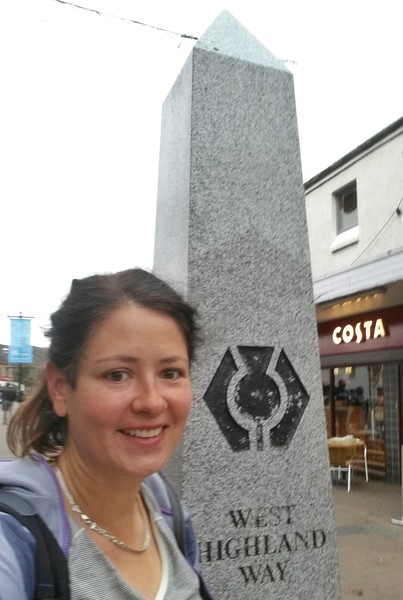 Distance: 19 km (12 miles)
Description: Your hike begins in the town of Milngavie. There are plenty of cafes to give you a caffeine fix. It then continues through wooded areas and pastures passing Craigallian and Carbeth Lochs.
Then you'll reach the village of Drymen. It was a popular stop in the 18th and 19th centuries for Highland cattle drovers.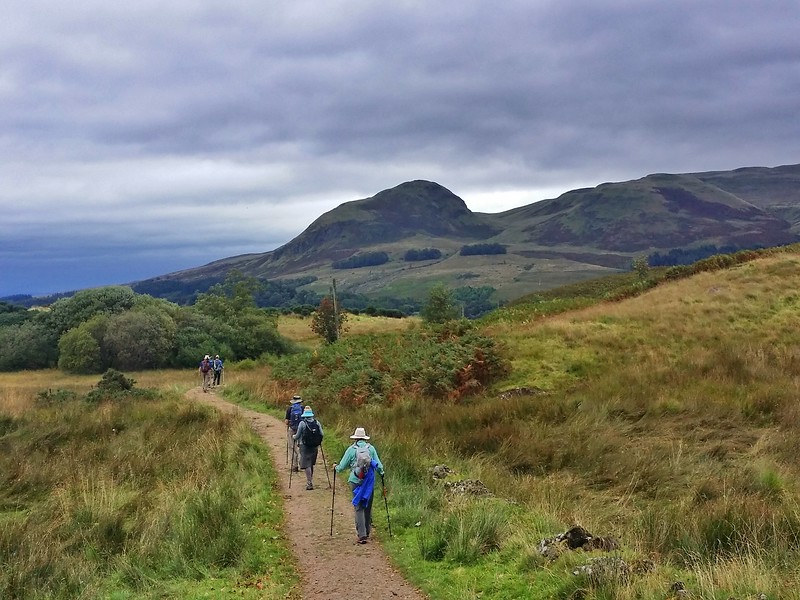 Highlights: Meeting a couple of other hikers who I often ended up walking with. And throughout the walk and getting a taste of the scenery that was to come. They were 20 years or so older than I was but very friendly. That's one of the reasons I love hiking. You connect with people that you might not in your daily life.
Day 3: Walking from Drymen to Rowardennan
Distance: 22.5 km (14 miles)
Description: You follow the eastern bank of Loch Lomond. It's one of the most gorgeous lochs in the entire country until you reach the rural area of  Rowardennan. Here you get fantastic views of Loch Lomond.
Highlights: Spending hours walking along Loch Lomond. And the incredible sunset over Loch Lomond from Rowardennan. It felt as if the sunset was my special reward for hiking the West Highland Way.
Day 4: Walking from Rowardennan to Inverarnan
Distance: 22.5 km (14 miles)
Description: This is one of the remotest parts of the West Highland Way. You hike along the north-eastern shores of Loch Lomond. The trail is slippery, and slow going with rocks and branches peeking out on the trail. Watch your step.
But it improves as you reach Inverarnan. Some walkers consider this the most difficult part of the trail because of the terrain. As long as you're prepared to go slower though, it won't give you any problems, and I loved it. There's also an easier detour.
Highlights: This was one of my favourite days of the entire walk. There's something incredibly peaceful about walking along the water. And because I had to slow down because of the terrain, I had more time to appreciate it.
Related Reading: Coast to Coast Walk: Day by Day Itinerary to England's Popular Walk
Day 5: Walking from Inverarnan to Tyndrum
Distance: 21.25 km (13.25 miles)
Description: Congratulations! You've now reached the Scottish Highlands. Here the mountains are much bigger. You'll get an especially stunning vista in Strath Fillan. At the end of the day, you're more than halfway finished hiking the West Highland Way.
Highlights: I was excited to finally reach the Highlands and love hiking in them. I loved seeing how dramatically the landscape changed after walking along the serene shores of Loch Lomond. In all honesty, this day landscape-wise was one of my least favorites. It was scenic but lacked the wow factor that many other days had.
Day 6: Walking from Tyndrum to Kingshouse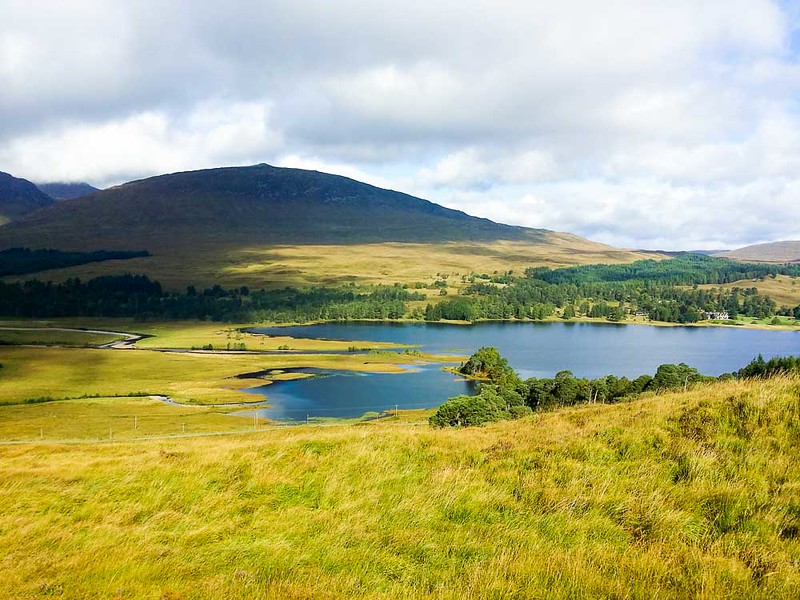 Distance: 29.75 km (18.75 miles)
Description: While this is by far the longest day of hiking on the West Highland Way, you're walking in some of the finest scenery in the Highlands. You'll climb up past Loch Tulla, then across the remote and wild area of Rannoch Moor to Glencoe.
After your long day of hiking, there's a cold one waiting for you at the King's House.
You'll likely need a taxi to pick you up from here and bring you to your accommodation. It's one of the reasons I appreciated hiking with Wilderness Scotland. 
They arranged everything for me. And after hiking 30 km, the last thing I wanted to do was figure out how to get a taxi.
Highlights: I met two other Canadians while hiking this section – Go Canada! The scenery was spectacular and during the second half remote.  I absolutely loved it. I stayed in a B&B in nearby Glencoe.
With its high mountain peaks, rivers, and waterfalls, it has a mystical feeling that will pull at the heartstrings of any adventurer.  I plan to go back.
Day 7: Walking from Kingshouse to Kinlochleven
Distance: 14.5 km (9 miles)
Description: While the first climb up over the Devil's Staircase, a high mountain pass, will get you huffing and puffing, it's not nearly as difficult as the name indicates. Besides, you'll forget all about it once you take in the stunning vista from the top.
You'll descend to the small village of Kinlochleven, famous for its Ice Factor Sports Centre, where ice climbers come to practice in artificial, yet realistic conditions.
Highlights: The landscape was absolutely stunning, especially from the top of Devil's Staircase and for the entire descent. This was one of my favorite days, and not just because it was short ;).
Day 8: Walking from Kinlochleven to Fort William
Distance: 24 km (15 miles)
Description: The trail climbs over a mountain pass, but then rewards you with panoramic views of Glencoe. You'll continue on, before walking along the foot of Ben Nevis, the highest mountain in Scotland.
It's usually shrouded in clouds. As it was when I climbed it ten years earlier as well. But keep looking up, the weather can quickly change, and it just might show itself.
Finally, you'll descend to the endpoint of the West Highland Way in Fort William. The last few kilometers walking along the road feel like a slog. But knowing that you're THISCLOSE to finishing keeps you going.
Highlights: The amazing views of Glencoe after the first climb, the way the sun hit an old farmhouse while I was walking through a valley. And how Ben Nevis peeked out from behind the clouds for about 20 seconds, revealing just how massive it is.
And of course, and most importantly, completing the West Highland Way!
Day 9: Depart Fort William
Revel in your success, then climb Ben Nevis, the highest mountain in Scotland if you still have the energy to spare or head to your next adventure!
What Gear Do I Need To Bring on the West Highland Way?
Here's our list of recommended trekking gear for a multi-day walk like this. Of special note is buying clothing made from Merino wool, which is perfect for English weather, especially if you're doing the walk in spring or fall.
Plus, I like to bring a good hiking book, so I have something to read in the evenings (usually on my Kindle) and record the day in my hiking journal.
And for the ladies who still want to look good while doing this route, check out our hiking makeup tips.
Related Reading: 12 Best Hikes and Walks in the Lake District of England
More Information on Walking the West Highland Way
Guidebooks are great sources of information, like this guidebook which includes a route planner, route maps if you're planning on doing it by yourself.
Final Thoughts About Hiking the West Highland Way
I've been to Scotland before, climbed Ben Nevis, the highest mountain in Scotland, and had high expectations for the West Highland Way. Despite that, it far exceeded them.
It's one of the most beautiful long-distance hikes I've ever done. It offers dramatic changes in the landscape, from walking along the shores of Loch Lomond to hiking over mountain passes in the Scottish Highlands.
Scottish hospitality is also out of this world. I felt so welcome at each of the B&Bs.  And I'd highly recommend doing it with Wilderness Scotland. Either with their self-guided tour, that I did, or their guided tour, depending on your preference.
I highly recommend hiking the West Highland Way. In my opinion, it's one of the top long-distance hikes in all of Europe.
Disclosure: Thanks to Wilderness Scotland for making my self-guided tour possible. As always, all opinions are my own. It also contains affiliate links in which I make a commission at no extra cost to you. 

This post was first published in Oct 2016 but updated and republished in Oct 2021. 
This post has been updated and republished.