Hadrian's Wall Path is an excellent choice if you're looking for a multiple-day walk that gives you a glimpse back into history, dating all the way back to the Roman Era.
It's similar to the Coast to Coast Walk because you visit both coasts of the UK. The difference is that on this national trail, the landscape isn't as dramatic, and the walk is not as challenging. However, it's a fascinating part of English heritage and is perfect for history buffs.
But don't let that put you off. It's still a fantastic walk in Northern England that sees thousands of visitors yearly.
This article will explain everything you need to know about the hike, from how to get there to where to stay and get food.
You'll even get a day-to-day guide with route descriptions, so you know exactly what to expect: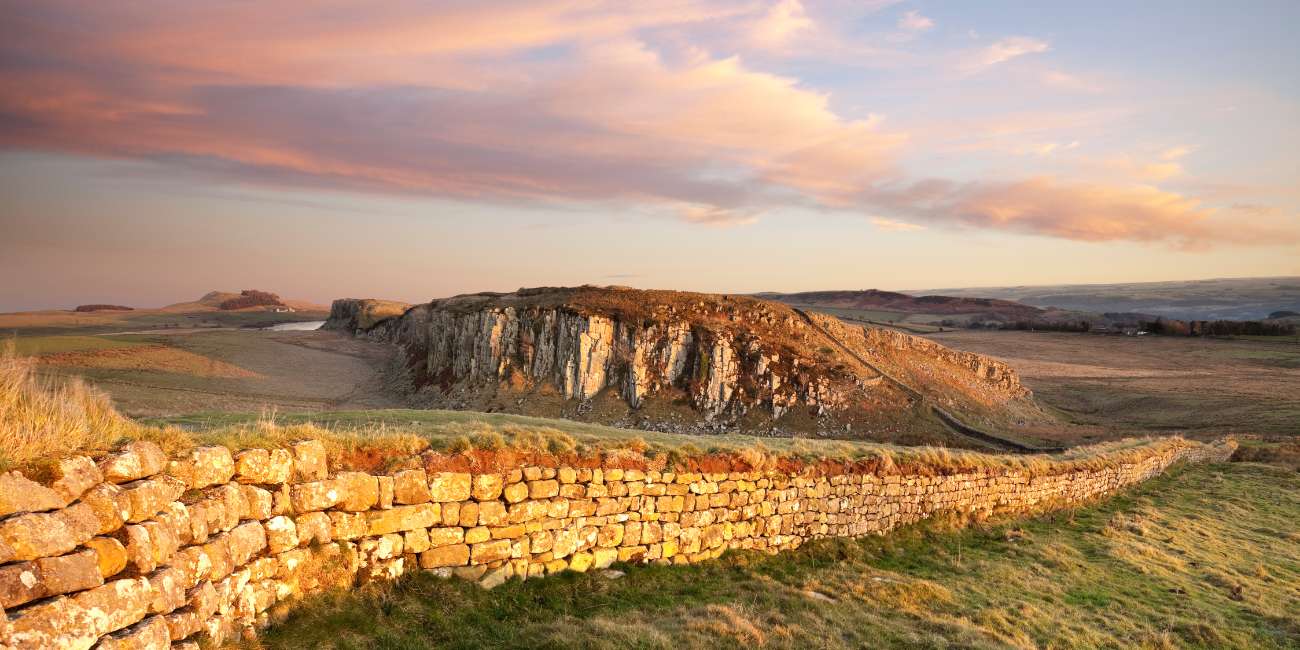 Your Complete Guide To the Hadrian's Wall Walk
Around 15,000 Roman soldiers built Hadrian's Wall following the eponymous emperor's visit in 122AD.
The wall served as a northern frontier for the Roman empire for around 300 years. The Romans used it to separate colonized territories from land that the Picts controlled.
The original wall was 73 miles long (80 Roman miles), had 80-mile castles (small forts the Romans used every mile), and had half a dozen giant forts.
And although the ancient wall is not as impressive as it once may have been, the archaeological remains are still pretty remarkable. In fact, it was listed on the UNESCO World Heritage Site in 1987 and is a national trail.
Which Direction to Walk Hadrian's Wall?
Most walkers do it from east to west, starting in Wallsend and finishing in Bowness-on-Solway) the direction the Romans initially built the wall. So you're literally following in the footsteps of the Romans and getting an insight into life back in Roman times.
Another advantage to doing it from east to west is that you finish in Bowness-On-Solway at the King's Arms, where pilgrims would share the stories of their journey.
With that being said:
The advantage of walking Hadrian's Wall from west (Bowness-on-Solway) to east (Wallsend) is you'll have more favourable weather conditions. In other words, the rain and wind will most likely be on your back instead of blasting you in the face.
How Long Does Hadrian's Wall Walk Take?
The official length of Hadrian's Wall Path is 84 miles (135km), but depending on certain factors and where you want to visit along the path, you might end up walking further.
Most people take around seven days to complete the path, but you can easily do it in four days if you're willing to put the millage in.
When you're in the planning stage, the daily distances should look a little bit like this:
4-Day Hike: 21 miles per day
5-Day Hike: 16.8 miles per day
6-Day Hike: 14 miles per day
7-Day Hike: 12 miles per day
It's not a difficult path. There aren't many steep inclines along the way, so people of any age with a reasonable fitness level will enjoy this multi-day hike.
Another great thing about the path is it's straightforward to follow, so you don't need too much map-reading experience.
The next question you're probably wondering is, "what does that look like day by day?"
The Hadrian's Wall National Trail is one of 16 national trails found in the UK.
Here's a list of all the national trails in the UK: Cleveland Way, Cotswold Way, Glyndwr's Way, Hadrian's Wall Path, North Downs Way, Offa's Dyke Path, Peddars Way and Norfolk Coast Path, Pennine Bridleway, Pennine Way, Pembrokeshire Coast Path, The Ridgeway, South Downs Way, South West Coast Path, Thames Path, The West Highland Way, Yorkshire Wolds Way.
Your Day To Day Breakdown of the Hadrian's Wall Walk
There are many ways to tackle Hadrian's Wall Path, but this is the one I know personally, which is why I'm going to share it with you.
I've hiked in the UK for 20 years, have experience in teaching outdoor education and have walked the Hadrian's Wall Walk, so you're in good hands. I'll share the highlights, point out tricky or technical sections if there are any, and share my favorite accommodations for walkers each day. Let's get started!
It follows the traditional starting in the east (Wallsend) and finishing in the west (Bowness-On-Solway), following the sections of the wall the Romans built first. 
Plus, it gives you lots of time to explore this important slice of history, like the Housesteads Roman Fort and the beautiful landscapes.
You can use this as a base, and if one of the days is too long of a walk, you can. adjust it to suit your needs. There're plenty of places to stop off along the way.
Let's take a look at the 7-day plan:
Day 1: Arrive at Wallsend
Start Point: Your Home
Distance: N/A
Ascent: N/A
Finish Point: Wallsend
Your first day involves getting Wallsend via the National Express train. I usually aim to get the train to Hadrian Road, which is ideally located.
If you're getting there late, you can spend the night nearby; if not, you can get started with the hike.
See accommodations in Wallsend here.
Day 2: Walk from Wallsend To Heddon-On-The-Wall
Start Point: Wallsend
Distance: 11.5 miles (18.5km)
Ascent: 213m (699ft)
Finish Point: Heddon-On-The-Wall
Your first day of hiking will start with plenty of eye-catching architecture. Starting with the Segedunum Roman Fort, a major archeological site on Hadrian's Wall. It means "Strong Fort' and was built to guard the most easterly part of Hadrian's Wall/
One thing to note is if you want to explore the fort, it doesn't open until 10 am and is closed on Sundays, so make sure you factor that in.
Personally, I didn't go because my friends and I set off early from Wallsend to avoid the bad weather later that afternoon.
The trail will take you along the Tyne River for most of the day while passing old shipyards and industrial sites.
Although you're walking through industrial zones, the national trail has done an excellent job of keeping in some natural areas.
Your end spot is Heddon-On-The-Wall, where you can find a few bunkhouses to rest up and prepare for a long day of walking the next day.
Find accommodations in Heddon-On-The-Wall here.
Day 3: Walk From Heddon-On-The-Wall To Green Carts Farm
Start Point: Heddon-On-The-Wall
Distance: 17 miles (27.3km)
Ascent: 378m (1,240ft)
Finish Point: Green Carts Farm
During this section of your walk, you'll leave the cobblestones and head into the country. And although you follow the B6318 road, you don't really see it while you're walking.
Most of your journey will be in the countryside, walking a grassy trail and briefly passing a reservoir.
You'll also follow alongside some Roman defensive trenches that run along the wall giving you a glimpse into history.
The last part of the journey is challenging, not because of the terrain, but because you've already walked so far.
But staying at Green Carts Farm (a bunkhouse just outside of Walwick) was a pleasure.
If you don't fancy staying there, you have a few other locations not too far away, including Walwick Hall, Linden House, George Hotel, and East Farmhouse.
If you stay at any of these other locations, make sure you check where they are on the map; most of them are before you reach Green Carts Farm. You don't want to be walking further than you have to and end up having to retrace your steps.
Day 4: Walk From Green Carts Farm To Once Brewed
Start Point: Green Carts Farm
Distance: 10.4 miles (16.7km)
Ascent: 511m (1,191ft)
Finish Point: Once Brewed
This was one of my favorite days of the walk, mainly because I'm a massive fan of Robin Hood: Prince of Thieves, starring Kevin Costner.
You actually pass the Sycamore Gap, which was made famous by one of the scenes in the film. The iconic scenery is an excellent place for a photo stop.
During this whole section of the walk, you'll have exceptional views of the moors in some very rugged landscapes.
You can also plan a trip to Housesteads Fort, the best-preserved Roman fort on the wall and an English Heritage Site.
You'll end your walk in the town of Once Brewed, where you can stay at one of the local pubs called Twice Brewed.
Day 5: Walk From Once Brewed To Walton
Start Point: Once Brewed
Distance: 15.8 miles (25.4km)
Ascent: 585m (1,919ft)
Finish Point: Walton, Brampton
You're in for another long day today, but luckily, it's an enjoyable day filled with stunning scenery and wildlife.
You'll pass a quarry-turned-lake at Cawfields and be treated to beautiful views of Walton Crags, which offers some of the best places to see Hadrian's Wall.
And, of course, you have the ruins of Thirlwall Castle, not from Roman times, but a 12th-century castle on the bank of the River Tipalt to look forward to.
You'll end your day in the town of Walton, where you can find plenty of bunkhouses, B&Bs, and even a few campsites.
Day 6: Walk From Walton To Carlisle
Start Point: Walton
Distance: 10.5 miles (16.9km)
Ascent: 277m (909ft)
Finish Point: Carlisle
Today, you'll have a much shorter walk, which is definitely welcomed after such a long walk the day before.
Although this part of the walk isn't too exciting, there are still many areas where you can enjoy walking through overgrown fields full of wildflowers.
You'll also pass through a few small forests and the stunning Rickerby Park just outside of Carlisle beside the river.
You'll spend the night in Carlisle.
Day 7: Walk From Carlisle To Bowness-On-Solway
Start Point: Carlisle
Distance: 14 miles (22km)
Ascent: 133m (436ft)
Finish Point: Bowness-On-Solway
This is your final stretch of the walk. While it could be considered a long day, luckily, it's a relatively flat path, so you don't have to contend with rolling hills.
The first few miles of the hike aren't too pleasant due to the diversion of the track after the 2015c floods collapsed the river bank.
Once you get past that, the walk is enjoyable.
While hiking, you can check out St Michaels's Church while enjoying local birds hopping from tree to tree.
After a long day, you'll reach the end in Bowness-On-Solway. Congratulations, you've done it! You've completed Hadrian's Wall Walk!
You can spend the night in Bowness-On-Solway and start making your way home the next day.
But of course:
You shouldn't go anywhere before stopping off at the King's Arms. Here you'll probably meet up with other walkers that you've met along the way and trade stories.
Accommodation Options on Hadrian's Wall Walk
If you're on a budget, your best option is camping under the stars. It's the most affordable option and gives you more flexibility.
The main problem with camping is that you're not allowed to wild camp along Hadrian's Wall, and there can be quite a lot of distance between campsites.
When I was hiking Hadrian's Wall Path, I camped most of the way, using a combination of campsites, and asked local farmers if I could camp on their land. Most of them were okay with it and happy to let me camp as long as I had no fires.
If you camp on farmers' land, ask them first and leave no trace when you leave.
If camping isn't your thing, you'll find plenty of budget hotels, B&Bs, bunkhouses, and a few pubs with a room for the night.
One thing you have to think about is you're going to be passing through some pretty remote areas. So, depending on the time of year, you might find it hard to get a place on the spot. That's why I recommend booking your accommodation in advance.
For your easy reference, here is a list of where you'll want to book your accommodations for the 7-day itinerary:
Day 1: Wallsend
Day 2: Heddon-On-The-Wall
Day 3: Green Carts Farm. Our Recommendations: Green Carts Farm, Walwick Hall, Linden House, George Hotel or East Farmhouse
Day 4: Once Brewed. Our Recommendation: Twice Brewed
Day 5: Walton
Day 6: Carlisle
Day 7: Bowness-On-Solway
Can You Get Food & Drink Along The Way While Walking Hadrian's Wall?
You're never really too far away from a shop, pub, cafe, or restaurant, so you'll have no problems stocking up on your supplies.
If you're staying at B&Bs, you'll usually get a complimentary breakfast included with the price, although some may charge ~ £5.
During the day, I usually stocked up on some hiking snacks like energy bars and fruit for my lunch or stopped at a cafe for a sandwich.
As for dinner, you'll have plenty of options at local pubs where they serve traditional homemade food. You can expect to pay anywhere between £10-20 per dish depending on what and where you're eating.
When Is The Best Time Of Year To Walk Hadrian's Wall?
If there's one thing you can guarantee about hiking in the north of England, it will be pretty wet weather. Even during the summer months, the weather is relatively mild and overcast.
You could wake up to blistering sunshine, and two hours later, it's pouring down with rain, so you need to consider that when you're planning your trip.
With all that being said, your best option is to travel in the spring or summer months if you want the best weather.
Remember that you might find it challenging to turn up to a B&B during the summer and get a spot straight away. Try to book your accommodation at least one month in advance to guarantee you can get a room.
How To Get To Wallsend and Return Home From Bowness-on-Solway?
There are varying difficulties when it comes to getting to the starting point of Hadrian's Wall. If you're starting in Wallsend, you shouldn't have too many issues.
Getting into Newcastle is accessible from anywhere in the UK. Ideally, you should go by public transport and use the National Express train. But you can also go with Megabus, depending on where you're starting.
If you're flying from outside England, you should be able to fly into Newcastle Airport.
Regarding transportation options from Bowness-On-Solway, you'll find that it's pretty limited, which is probably the last thing you want after a 70+ mile hike.
One option is to get a taxi to Carlisle for around £30-40. From there, you'll be able to take the train service to get back to wherever you need.
Bowness-On-Solway also has a bus service you can use if you want to save some money, but it is limited. If you do decide to take the 93 bus, try to plan your arrival for the following times:
07:34
10:32
13:27
17:14
19:58
Unfortunately, these times only run from Monday to Saturday, so make sure you don't arrive on Sunday, or you'll be spending the night at the bus stop.
If you plan on starting from Bowness-On-Solway, you'll have to get the train to Carlisle and then the bus from there.
Finally, a bus service named the AD122 runs along Hadrian's Wall between Hexham and Haltwhistle. You can use it to shorten your journey if you're struggling for time.
What Gear Do I Need for Walking Hadrian's Wall?
Here's our list of recommended trekking gear for a multi-day trek like this. I'm a huge fan of Merino wool, especially when it comes to British weather.
Plus, I like to bring a good hiking book, so I have something to read in the evenings (usually on my Kindle) and record the day in my hiking journal.
And for the ladies who still want to look good while doing this route, check out our hiking makeup tips.
More Information on Walking the Hadrian's Wall Walk
Guidebooks are great sources of information, like this guidebook which includes a route planner, route maps if you're planning on doing it by yourself.
Final Thoughts & Takeaways
Hadrian's Wall Path is an excellent experience for walkers of all levels. It might not have the rugged mountainous landscapes that many hikers look for, but it has charm, and the 73-Mile Long Wall has plenty of stops for history buffs like Milecasttle 39, Chester's Roman Fort and Birdoswald Roman Fort, plus the ones mentioned above.
It gives you great insight into Roman history, where you can see the actual wall the Romans built in 122AD and many of their forts.
I had a great time during my walk, and even though there aren't too many large hills, you'll still find it somewhat challenging due to the miles you have to cover each day.
Be sure to check out our other posts about walking in England: