If you're a hiker in the UK, you've most likely heard about the 3 Peaks Challenge, but you might wonder, "what is it exactly?"
The National Three Peaks Challenge was an event created for people to take on the highest mountains in Scotland, England and Wales within 24 hours:
Ben Nevis in Ben Nevis and Glen Coe National Scenic Area, Scotland (1345 m)
Scafell Pike in the Lake District National Park, England (978m)
And Snowdon in Snowdonia National Park, North Wales (1085 m)
This tough challenge is often done as a fundraiser for charity within 24 hours. Many walkers try to do this outdoor challenge within the timeframe even if they're not doing it for charity, while other hikers take on the 3 Peaks but don't worry about the 24-hour time frame.
… In total, you'll walk over 23 miles (37 km) with a total ascent of 3,064 meters (10,052ft) and drive 462 miles for a total of ~ 13 hours of hiking and 11 hours of driving. It doesn't leave a lot of wiggle room or time for sleeping.
All of this makes it a fast-paced and physically challenging adventure, which makes it harder than it might seem at the onset.
Fastest Record for Completing the National 3 Peaks Challenge
The fastest record for this tough event was set in 1971 by Joss Naylor and his driver Frank Davies.
They used a rally specification Ford Capri Vita and took on the Three Peaks Challenge in 11 hours and 56 minutes.
You will only break this record if you get the UK government's permission to drive that fast between points.
How to Do the Three Peaks Challenge
In the following sections, I will talk about the official paths for each mountain to take  if you want to complete the 3 Peak Challenge within a 24-hour period.
But I'm also going to introduce you to my favorite hike on each mountain, just in case you want to do the Three Peak Challenge in three days or over a longer period.
I've hiked in the UK for 20 years, have experience in teaching outdoor education and have hike the 3 Peaks Challenge on several occasions, so you're in good hands. I'll share the best hike to reach each peak, point out tricky or technical sections if there are any, share the highlights of each hike and provide handy tips so that you can complete the challenge on time. Let's get started!
Ben Nevis: The First Peak of the 3 Peaks Challenge
Trailhead: Pony Track Ben Nevis Visitor Center
Trail Length: 10.5 miles (17 km) Up & Down
Difficulty: Moderate
Elevation Gain: 1,352 m (4,413 ft)
Trail Type: Out & Back
Walking Time: 5 hours
24-Hour Challenge Route: Pony Trail
3-Day Challenge: Ledge Route
Most walks start with Ben Nevis because it gets the tallest peak in the UK and the most challenging mountain, so it's a good idea to do it first while you're still fresh.
Ben Nevis is located just outside the town of Fort William in the Scottish Highlands and attracts around 100,000 hikers each year.
The Summit sits at 1,345 meters above sea level and features the ruins of an old observatory where the data collected still plays a huge part in understanding the weather.
If you're looking to take on the 3 Peaks Challenge, you'll use The Pony Trail, which is considered to be the most accessible trail to reach the summit of Ben Nevis.
Personally, I like taking the Ledge Route on the northeast face of Ben Nevis. It's classified as a grade 1 scramble and is a delightful hike if you have some experience.
While most peaks offer amazing views, keep your expectations low for Ben Nevis since it's often shrouded in clouds, as it was when I summited it.
Accommodation: You'll want to arrive in Fort William the day before and spend the night there.
Scafell Pike: 2nd Mountain in the 3 Peaks Challenge
Trailhead: Wasdale National Trust Car Park
Trail Length: 5.1 miles (8.4 km)
Difficulty: Easy
Elevation Gain: 900 meters (2,952 ft)
Trail Type: Out & Back
Walking Time: 4 hours
24-Hour Challenge Route: Wasdale Direct
3-Day Challenge: Corridor Route
After taking on Ben Nevis, you'll drive 5 ½ hours south toward the next mountain on your list, Scafell Pike, located in the Lake District of England.
Scafell Pike is the tallest mountain in England but the smallest hike on the Three Peak Challenge. The summit sits at 978 meters (3,209ft).
The most common route walkers use on the Three Peak Challenge is the direct route from Wasdale or Wasdale Head. However, there are five different routes you can take to reach Scafell Pike.
The direct route will only take you around 3-5 hours to compete if you have relatively good fitness. It's also the perfect route if it's going to be your second climb without sleeping.
Personally, my favorite hike to the peak is the Corridor Route. It provides some great scrambling along the way, but it will take about 8-9 hours to complete the trek, so this option only works if you're not doing the three peaks in a 24-hour period.
Mount Snowdon: Final Mountain in the 3 Peaks Challenge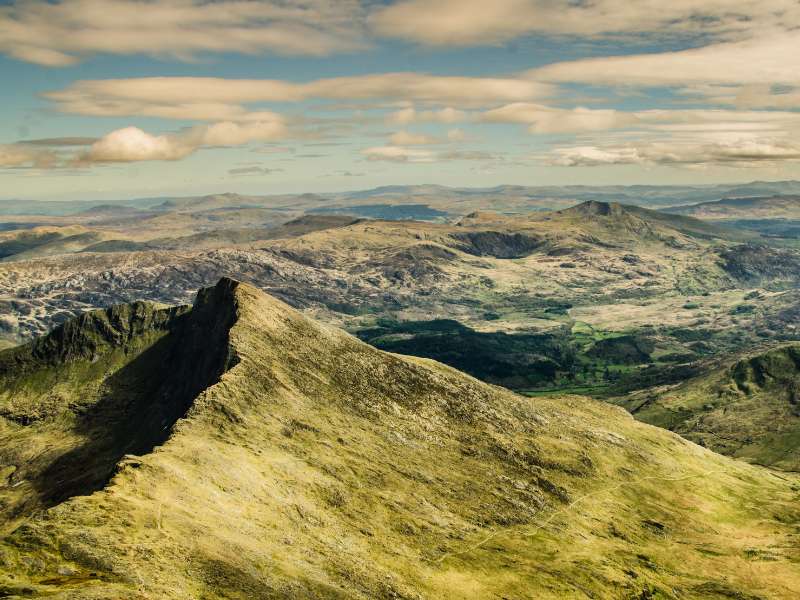 Trailhead: Pen y Pass
Trail Length: 6.2 miles (10 km)
Difficulty: Easy
Elevation Gain: 1,085 meters (3,560ft)
Trail Type: Out & Back
Walking Time: 4 hours
24-Hour Challenge Route: PYG & Miners Track
3-Day Challenge: Snowdon Horseshoe
This will be your final hike of the Three Peaks Challenge and is considered the easiest of the three.
It's about a 4 ½ hour drive from Scafell Pike.
The summit of Snowdon sits at 1,085 meters (3,560ft) and provides beautiful views across Snowdonia National Park in North Wales.
The most common route to ascend Mount Snowdon while on the Three Peaks Challenge is the PYG & Miners Track. It's one of the easiest and quickest routes when you're on a deadline.
But Personally, I like taking ascending Snowdon via Crib Goch using the Snowdon Horseshoe, the famous knifepoint ridge. It provides you with a far more exhilarating journey.
From the summit, you'll get spectacular views over Snowdonia National Park.
3 Peaks Challenge Schedule
There are three ways you can take on this tough challenge:
Option 1: Optimize Your Walk for Day Light
This is the best option if you have dedicated drivers since you'll climb Ben Nevis in the evening, then have 5 1/2 to 6 hours to sleep while your driver takes you Scafell Peak.
This schedule maximizes the hours you'll be walking in daylight, making navigation easier so that you don't lose time searching for the trail in the dark.
| | |
| --- | --- |
| 5pm | Start hiking up Ben Nevis |
| 10pm | Finish hiking Ben Nevis and start driving to Scafell Pike ( 5 1/2 to 6-hour drive) |
| 4am | Arrive and start climbing Scafell Pike (from Wasdale Head) |
| 8am | Finish hiking Scafell Pike and start driving to Mount Snowdon (5-hour drive). |
| 1pm | Arrive and start hiking Mount Snowdon |
| 5pm | Finish hiking Mount Snowdon, and complete the 3 Peaks Challenge. |
Option 2: Optimize the Challenge for Avoiding Traffic
In order to avoid traffic, which is a common reason why walkers fail to do the Three Peaks Challenge in under 24 hours, you could start hiking up Ben Nevis at noon, finish at 5 pm, then drive to Wasdale Head to start hiking up Scafell Pike at 11 pm.
The only downside is that you're climbing. Scafell Pike completely in the dark. Then you drive to Mount Snowdon and start hiking it at 8 am for a noon finish.
Option 3: Long Day of Hiking Up Ben Nevis and Scafell Pike in Daylight
This option is a very long first day. However, it means that you can hike both Ben Nevis and Scafell Pike in the daylight, and then you only have to do the easiest peak, Mount Snowdon at night.
For this option, you'll start hiking Ben Nevis at 6 am, finish at 11 am, start hiking Scafell Peak at 5pm and finish at 9 pm and start hiking Snowdon at 2 am and finish at 6 am.
How Long Does the Three Peaks Challenge Take?
Ideally, if you're looking to take on the Three Peak Challenge, you should be able to do it in under 24 hours.
That said, it's no easy feat, and if you're unfamiliar with the mountains, you shouldn't be ashamed if it takes you more than 24 hours to complete the Challenge. It's better to take slightly longer and make it down safely than to rush and injure yourself.
Where Can You Sleep While Doing the Three Peaks Challenge?
If you're doing the 3 Peaks Challenge in 24 hours, you'll likely want to spend the night before in Fort William, and then once you start the challenge only be sleeping in the car while your driver is taking you to the next peak.
Of course, if you just want to complete the three peaks without worrying about time, you can spend a night at each location; there are plenty of hotels, bunkhouses, B&Bs, and campsites around the three mountains.
When Is The Best Time To Do the 3 Peaks Challenge?
If you're looking for the best time for the Three Peaks Challenge, it's in summer for two key reasons:
You're more likely to have good weather. This makes for a safer hiking experience. Plus, the roads will be safer.

You'll have more hours of daylight, which means you won't have to hike as much in darkness, which reduces your chances of getting lost. Plus, as you'll be able to see more, you'll be able to enjoy the stunning landscape of where you're hiking more.
Getting There and Back Home
If you're going by public transportation because you're meeting a group, you'll want to go to Fort William Train Station.
To get back home, you'll take a transfer to Chester Train Station. Try to book an open-time ticket if possible in case you're delayed for some reason.
How To Increase Your Chances of Successfully Completing the Three Peaks Challenge in a 24-Hour Period?
While 90% of walkers do complete all three peaks, only around 40% do it in less than 24 hours. Around 50% successfully complete it in between 24 and 25.5 hours. Here's how you can increase your chances of completing it:
Have an Assigned driver
Do not attempt to walk and drive yourself. You need to rest and sleep while en route for your and others' safety, both on the mountain and on the road. Be sure that your driver follows all the road traffic safety regulations. I.e. no speeding trying to make up time.

Sign Up for a Group Trip with a Qualified Mountain Leader
When you want camaraderie, the safety of other walkers, and the experience of a mountain leader, sign up for an organized challenge that puts you in a group of hikers with similar fitness levels. You won't have to worry about getting lost, thanks to your mountain guide or logistics. You might also meet some interesting people. Although your success depends on the success of the group, so this option definitely isn't for everyone.

Sign Up for an Organized Challenge
If you don't like the idea of hiking with a group of strangers but still want the safety of knowing there are other hikers nearby, consider signing up for an organized challenge set up by professional event organisations.

Some of them have different themes, so you can choose the one that suits you best. That way, there will be other hikers on the mountain, but you'll still have the flexibility of being on your own or with your own group and not a group of strangers.

Choose Your route wisely
As I mentioned earlier, there are different routes to the summit, so be sure to choose the ones recommended to increase your chances of finishing the 3 Peaks Challenge in 24 hours.

Train for the Challenge
One of the key considerations of whether you'll successfully complete the challenge is how much you've trained for it. It's not just going for a few hikes; you'll need to build up your endurance and strength so that you can hike at a steady pace.

Start by gradually increasing the distance and elevation of your hikes, and then add some weight training to your routine to build up your muscles. If possible, try to hike each of the peak routes that you have chosen before the challenge so that you know what to expect.

If you don't have time to hike them all beforehand, then choose the one that you'll be hiking in the dark so that you're familiar with it.

Pack Light but Smart
One mistake that many walkers make when attempting the 3 Peaks Challenge is packing too much gear, which makes them hike slower.

Only pack what is essential, which should include plenty of water, electrolytes, hiking snacks, a first-aid kit, a map, a headlamp and a waterproof jacket. While you want to pack light, ensure you bring enough water.

Otherwise, you risk not being able to complete the challenge due to dehydration.

Test Your Hiking Gear Beforehand You want to ensure that you've broken in your hiking boots to avoid painful blisters, and have hiked with your backpack before and hiking poles if you're using them. That way if there are any issues with your gear, you'll have time to fix them before taking on this incredible challenge.

Pace Yourself
One temptation when attempting the 3 Peaks Challenge is to try to hike as quickly as possible so that you can finish within 24 hours. However, this is not advisable as it increases your risk of injury or exhaustion.

Instead, go at a steady pace that you can maintain, which saves your energy as opposed to fast spurts followed by more rest periods.

Plus, you want to actually enjoy the experience rather than rushing through it. Remember that there is no prize for finishing first; all that matters is that you complete all three peaks within 24 hours.

Stay Safe
Safety should always be your top priority when attempting any type of physical challenge like the 3 Peaks Challenge. Make sure to follow all safety guidelines set by the organizers, such as carrying proper equipment and not hiking alone.

If at any point during the challenge you begin to feel unsafe or uncomfortable, do not hesitate to turn back or to slow your pace even if it means you won't complete the challenge within 24 hours. . Your safety is more important than completing the challenge.
Final Thoughts & Takeaways
The 3 Peaks Challenge can be an exciting challenge because you can experience three mountains in three countries in just 24 hours.
But it's not as easy as some people might think. Share this with someone you'd like to do it with.
And be sure to check out our other articles on walking in the UK: