Bennachie is a must-do for hill walkers in Aberdeenshire, Scotland. It's beloved by locals, the subject of numerous poems and provides far-reaching views.
And at just 528 m, the highest peak, Oxen Craig is accessible to walkers of many levels.
Here's why you'll want to walk this famous landmark:
Locals Love Bennachie
I love walking and hiking in places that locals regularly go to. It gives you the feeling of living like a local as opposed to being a tourist. And Bennachie is definitely loved by locals.
It's the kind of place that when you mention to a local that you just came from walking Bennachie, the response is something like Oh Bennachie, that makes a fine walk said in an approving north-eastern Scottish accent.
I get the feeling that the locals would like to keep Bennachie all to themselves and not let the word get out as it has for the West Highland Way, Scotland's most famous hike. I can honestly say that I don't blame them.
As a tourist to Aberdeenshire, it almost seemed like a sort of right of passage or a secret handshake that sets you apart from other tourists. I know that I wasn't the only one that felt it. My friend Shivya did as well.
To Hell with your Alps, Rockies and Himalaya, Bennachie is the hill for me.
Lord Aberdeen
Bennachie has inspired folklore and songs and poems like the Back o Bennachie which you can hear below:
And yes, leprechauns are mentioned in the song :).
It's even believed to have religious significance during the Bronze Age as evidenced by a large number of standing stones. It's hard to beat a hill with so much history. And one that makes you feel like you're a local!
Related Reading: Best Hikes in Europe: Your Ultimate Guide to Where and When to Go
The Changing Scenery of Bennachie
You start walking through woodland up forested slopes, before the landscape changes and opens up into a moorland covered in heather. Then, near the top, it changes again. This time into rocky granite.
Once you're at the top, you get far-reaching views of the landscape all the way to Aberdeen and the North Sea. This much variety in such a short distance can be hard to find on a walk but you'll find it here.
Related Reading: Find The Best Travel Deals
Bennachie is Accessible if You're in Reasonably Good Shape
The other thing I liked about Bennachie is that even if you're not an experienced hiker but are in reasonably good shape or hiking with children, Bennachie is accessible to a lot of people.
Yes, you'll breathe a little heavier than usual and maybe even break a few beads of sweat, but unlike other peaks, that are higher and steeper, Bennachie is not overly strenuous but will still give you a good workout.
As an avid hiker, I like finding peaks that walkers or hikers can do without a lot of experience or when you don't have a lot of time. I truly believe that hiking can change your life and accessible hills like this one enable more people to experience the benefits of hiking.
Related Reading: Day Hiking Packing List: Everything You Need to Stay Safe
You May Spot Your Pot of Gold from the Top of Oxen Craig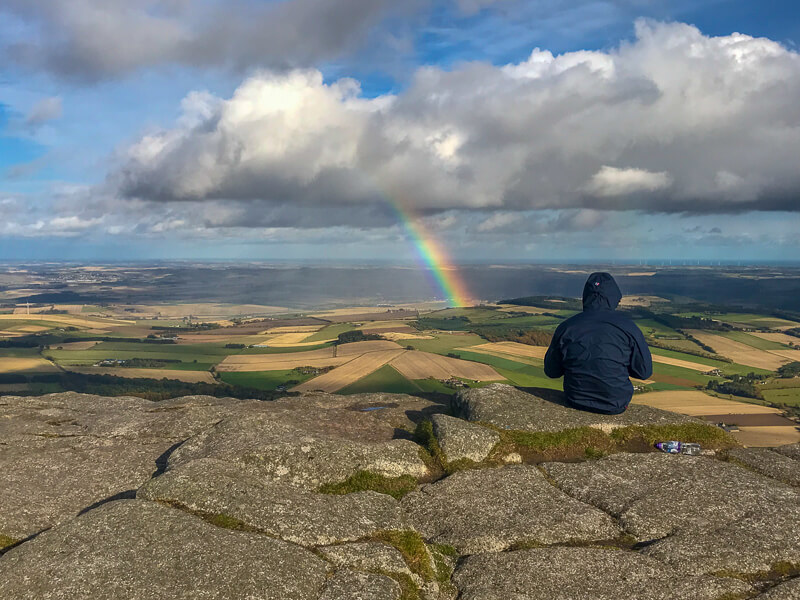 Oxen Craig (518 m) is the highest peak of Bennachie. When I was there, we saw an incredible rainbow! It's one of the best rainbow sightings I've ever had in my life. I didn't go searching for the pot of gold, but after walking Bennachie, I wouldn't have been surprised to have seen a leprechaun!
Related Reading: West Highland Way: How to Plan For Scotland's First Long-Distance Hike
Bennachie: What You Need to Know
The walk starts at the Bennachie Centre, near the Chapel of Garioch, AB51 5HX.
It's just over 20 miles from Aberdeen and easily reachable by car.
You can pick up a trail map at the Visitor Centre. Note: it's closed in winter so check that it's open before you go.
The return hike to Oxen Craig and back is 6 miles (9.65 km). It takes ~90 minutes to reach the top, and less to go down.
It can be very windy at the top as it was when I was there so bring a wind jacket with a hat.
If it's raining, walk Bennachie another day since the granite rocks near the top can be slippery.
So whether you're looking for a gorgeous view, want to check out one of the local's nature hotspots or are hoping to spot a leprechaun, head to the Back O Bennachie!
My visit to Bennachie was made possible by VisitBritain in collaboration with iAmbassador. As always, all opinions are my own.