Aberdeenshire is located on the north-east coast of Scotland. You'll find the Grampian Mountains, rolling hills, miles of beaches and cliffs that plunge into the sea. Its rugged landscape makes it an excellent choice for travellers who love adventure.
You could easily spend a week exploring Aberdeenshire, but if you only have 3 or 4 days here are my top recommendations for adventure travellers:
Day 1: Arrival Day, Explore Aberdeen and Hike Bennachie
Fly into Aberdeen International Airport
Once you arrive at Aberdeen Airport, pick up your rental car from the airport. You'll need a car to maximize your time and to reach some of the adventure spots listed on this itinerary.
If you arrive in the morning, take some time to explore Aberdeen. You can see my suggestions on what to see and do below on Day 4.
Where to Eat Lunch in Aberdeenshire:
Drive ~30 minutes northwest to Inverurie for lunch at JG Ross Cafe (Bakers). They're well-known in northeast Scotland for their fresh baked goods. Be sure to try a buttery, a local delicacy.
You may also want to bring a treat along to enjoy at the top of the mountain you'll be climbing afterward. Feel free to indulge, you'll be working it off afterward.
Location: Highclere Business Park, Highclere Way, Inverurie.
Feel Free to Indulge, you'll be hiking it off after lunch.
Then, it's a 15-minute drive to the Bennachie Centre where you'll start your hike.
Hike Bennachie: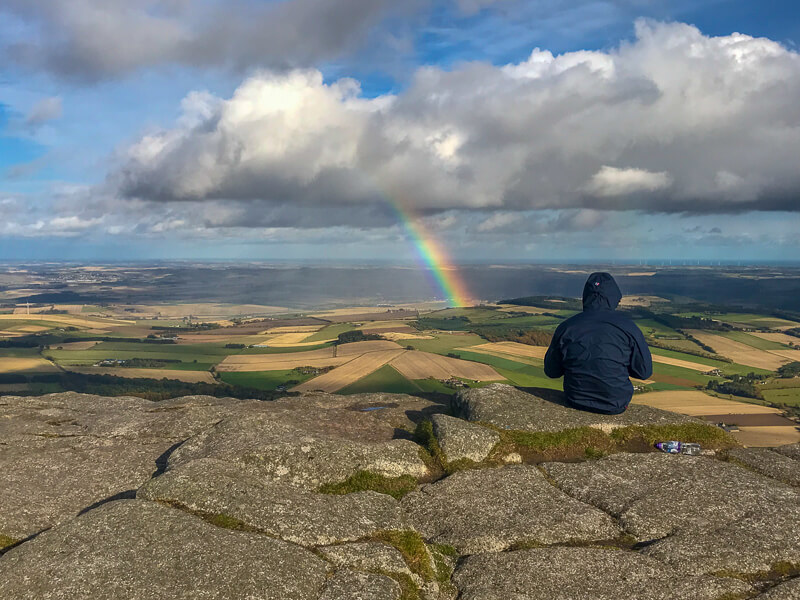 Located in the Grampian mountain range, Bennachie is one of the most famous landmarks in NE Scotland. Hike to Oxen Craig, the highest peak at 528 m. See my article on hiking Bennachie here for further details.
While it's not nearly as famous as the West Highland Way, Scotland's most famous hiking trail, I did see a rainbow and had incredible views all the way to the sea. I really enjoyed this hike.
After your hike, it's a 20-minute drive to your accommodation.
Where to Stay: Meldrum House
Meldrum House is a 13th-century, 4-star country house hotel set on 240 acres of picturesque Aberdeenshire countryside. The Cave Bar dates back an incredible 800 years. Be sure to sample a few of the 120 whiskeys on offer.
Day 2: Kayaking at Knockburn Loch and a Quad Bike Safari at Deeside Activity Park
After a hearty Scottish breakfast, you'll drive south for just under an hour until you reach Knockburn Loch. It's a picturesque place for kayaking but be sure to make arrangements for kayak rental in advance. If you prefer to just wing it, you can also swim in the loch as I saw two braver than I local Scottish women doing. Brrrr…but respect!
Where to Eat Lunch in Aberdeenshire: It's a 15-minute drive to Banchory where you'll find Buchannan Bistro. They serve organic, ethical, and local food. It's a great option, especially for vegetarians and/or vegans.
Location: Woodend Barn, Burn O'Bennie Rd, Banchory
It's approximately a 30-minute drive to Deeside Activity Park.
Deeside Activity Park
You can try a variety of adventures here including a quad bike safari which is what I did and thoroughly enjoyed. It's suitable even if you don't have any experience. Your guide will choose terrain based on your experience and comfort level.
In addition to a quad bike safer, you can also try archery, clay pigeon shooting, or off-road driving. Be sure to reserve in advance.
After your heart-pumping adventure of driving over rough terrain, it's only a 10-minute drive to your accommodation.
Where to Stay
Banchory Lodge is the perfect place to unwind. Set on the banks of the River Dee with a mix of rolling fields, ancient forests, and the river, you'll want to go for a walk on the grounds if you can pull yourself out of the exquisitely decorated rooms. You'll enjoy dinner with ingredients from local suppliers wherever possible while enjoying stunning views from the dining rooms.
Related Reading: West Highland Way: How to Plan For Scotland's First Long-Distance Hike
Day 3: Horseback Riding or Hiking at Glen Tanar Estate and a High Ropes Course at Go Ape Crathes Castle
After a hearty breakfast, everything is prepared as it's ordered so give yourself a lot of time, it's a 30-minute drive.
Horseback Riding or Hiking at Glen Tanar Estate
This massive estate is a nature lover's paradise and a great place for birders. Of special note are golden eagles so keep your eyes towards the sky.
You can go for a guided horseback ride (reservations are required in advance) or hike through the ancient Caledonian Pine Forest. No reservations are required.
Then, it's a 10-minute drive to lunch in the village of Aboyne.
Where to Eat Lunch
Head to The Boat Inn and warm up by the toasty fire and revel in locally sourced home-cooked Aberdeenshire fare.
Bellies full, it's a 30-minute drive to your next adventure.
High Ropes Course at Go Ape Crathes Castle
Think you have nerves of steel? You're about to find out as you navigate your way through the 592-meters of ropes, moving bridges, and more while suspended from high above in the trees at Go Ape Crathes Castle. I'm a huge fan of the high ropes courses, like the one I did in Lombardia, Italy, and the one in Valley of Fire State Park in Nevada, U.S.  
You look at an obstacle and think I can't do that. You take your first step tentatively, then the next. Your whole body is shaking as you try to find solid footing on a moving bridge but you're doing it. Step by step.
It gives you SO much confidence. If you can be such a badass in the trees, imagine what you can do in other areas of your life when you're back on the ground. It can be very transformative, similar to how I believe that hiking can change your life. 
You'll need 2-3 hours to do the entire high ropes course which I recommend. If you have time, it's also worth exploring Crathes Castle, Garden, and Estate.
Then it's a 30-minute drive to Stonehaven, located just outside of Aberdeen.
Where to Stay
Dalriada Luxury Lodges offer 5-star self-catered accommodation in beautiful self-contained lodges located right on the coast. They're a great option if you want to feel like you're at home and prepare some of your meals yourself.
Where to Eat Dinner
While you easily could prepare your own dinner in your gorgeous lodge, we opted to try the world-famous The Bay Fish and Chips on the Stonehaven seafront.
In August Lonely Planet rated it as one of the world's best food experiences. It's no frills. You'll stand in line for at least half an hour and there's no place to sit, but it's the must-try fish and chips shop in the UK.
You could indulge in it from the seaside directly outside the door or take it back to your lodge if it's too cold to sit outside.
Day 4: Explore Aberdeen, Then Depart
Sadly, I didn't have as much time as I would have liked to explore Aberdeen but I did get the chance to walk along Aberdeen's mile-long beach. Also worth checking out is the Footdee, which locals refer to as Fittie. It's a quirky fishing village at the end of the beach with brightly painted houses and eccentric decorations.
If you're short on time check out this self-guided audio tour that leads you through Union Street. 
Or simply explore on your own. Head to Old Aberdeen which was settled in the 14th century by monks, scholars, traders, and travelers. As you explore the cobblestone streets you'll feel as if you've stepped back in time. Of special note are St Machar's Cathedral and King's College.
Marischal College which dates back to 1593 and is now the headquarters of Aberdeen's City Council is the second-largest granite building in the world. Only second to the Escorial in Spain.
Also worth checking out is the epic Balmoral Castle Tour located a 1:15 drive from Aberdeen.
You can find more about what to eat in Aberdeenshire from my friend Jodie of Ala Jode.
If you love adventure, then I'd highly recommend exploring Aberdeenshire for a long weekend. The idyllic landscapes will leave you feeling relaxed while the adventures will rejuvenate you. You're not soon to forget a short vacation in Aberdeenshire.
My visit to Bennachie was made possible by VisitBritain in collaboration with iAmbassador. As always, all opinions are my own.
This post has been updated and republished.