This post is also available in: German
Hiking with friends is one of the best ways to build strong friendships and is much more impactful than meeting a friend for a cup of coffee. Plus, I give you tips for hiking with friends who are in really good shape when you're not so that you can still enjoy an outdoor adventure together.
In my other post, we talk about the benefits of hiking, so in this post, we'll focus on the benefits of hiking with friends instead of the overall benefits.
Top 5 Benefits of Hiking with Friends
1. You'll Spend Quality Time Together
Be honest. Are you spending enough quality time with your closest friends? When I lived in Munich, Germany, I'd often only see my closest friends twice a month. I know I'm not alone in this. We all have good intentions, but life gets in the way, or we have conflicting schedules.
According to the Mayo Clinic, spending quality time with our closest friends makes you happier, reduced your stress, boosts your confidence, and can help you get over a traumatizing life event. In other words, hiking with friends improves your mental health.
When you hike with a friend, you get hours of uninterrupted quality time together. Combine these mental benefits with the physical benefits of hiking; you'll feel amazing afterwards.
2. Your Hiking Adventure Will Be Distraction-Free
You can build stronger friendships while hiking since you're less distracted and more attentive to the other person. I find that while hiking, I end up having deeper conversations, even with it's a new hiking buddy.
And when it's with a close friend, we often go much deeper while hiking than we would over a cup of coffee. I often feel closer to a friend after hiking with them, and always if it's a multi-day hiking trip like our self-guided Tour du Mont Blanc tour.
3. You Help Each Other Reach Your Hiking Goals
While you may start the year motivated, it's so much easier to reach your hiking goal if you have some positive social pressure. Let's say your hiking goal (click on the link to see some suggested hiking goals) is to hike 25 times this year.
By having a friend who has the same goal, you'll keep each accountable, and you're more likely to achieve it since you don't want to disappoint your friend. Having a friend who also serves as an accountability buddy increases the chances of reaching your goal, especially if it's someone who pushes you – in a loving way, of course.
Plus, you can encourage each other if your goal is to hike a certain distance, hike to a certain elevation, or face a challenge on the mountain which will bring you closer. Not to mention making achieving your hiking goal more fun.
4. You Get Exercise and Social Time
Most of us are so busy in our daily lives that we have a hard time finding time for physical activity and meeting friends. Hiking is an exceptional form of exercise.
And you can do it while catching up at the same time, unlike if you took a yoga or HIIT class with a friend and can only talk before or after the class.
Scheduling a hiking date with a friend is a great way to incorporate both into your busy life.
5) You Get a Personal Photographer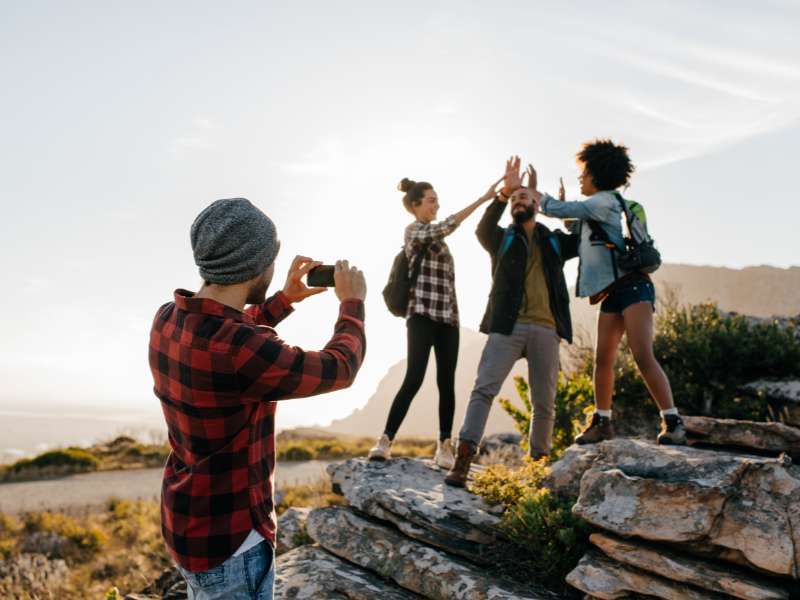 When you hike with a friend, you have your own personal photographer and don't have to settle for the same-old selfie pose or realize that you have no way of getting both you and the mountain in the photo.
I've gotten my best hiking photos when I was hiking with friends, and have enlarged some of the photos and have them hanging in my apartment to remind me of the great memories we shared.
Related Reading: Best Women's Hiking Sandals
Top 5 Mistakes People Make When Hiking with Friends Who Are More Experience Hikers
You may want to hike with friends but are a beginner hiker and are worried that you'll be the one left behind – and when you finally do catch up with your lungs on fire, your friends will say, "We're all finally here; let's go," and take off before you've had a chance to catch your breath.
We've all been there at some point, and it's not fun trying to keep up with someone whose physical fitness is much better than yours. Even as an avid hiker, I'm still struggling with this after suffering the effects of long-term covid, not once but twice.
I'm MUCH slower on steep ascents than my hiking friends than I was previously, and honestly, it's sometimes humiliating. I've had to relearn how to focus on the beauty of hiking and less on how much slower my pace is than my friends.
By following my tips, you can still hike with your friends, even if they're in better shape than you are or are more advanced hikers.
1) Tell your friend, "You choose, as long as it's an easy hike."
Don't let your friend (s) choose the hike when you're concerned about keeping up since everyone has a different idea of what is "easy."
Instead, you should choose the hike. Follow my tips in How to Choose an Easy Hike, paying special attention to choosing a hike with a gradual ascent instead of a steep one.
If you happen to be in any of these areas, here's a list of easy hikes to make your research even easier:
2) Trying to keep up if your friend is faster than you.
I know how tempting it is to try to keep pace with your friend. But if you're struggling, it's more important to listen to your body and keep a steady pace that's right for you.
Trying to keep up is exhausting and is one of the best ways to ruin your hike. You'll find more tips in my Hiking for Beginners article.
3) If your friend chooses the hike, check it out in advance.
If your friend suggests a hike, ask for the
GPS tracks
Hike description

That way, following my How to Choose an Easy Hike Tips, you can ensure that it's an appropriate hike for you. And if it's beyond your hiking abilities, don't be afraid to suggest a hike that's more suitable for you.
4) Don't make it ALL about the hike.
If you're hiking with a friend who has different fitness levels than you do, choose a hiking trail that ties into something else so that the hike is a PART of the day – not the entire focus of the day.
For example, you could:
Hike to a castle/castle ruin/lookout point or another attraction that you can visit.

Hike to a restaurant with a great view. Or stop on the way back for a place that offers the best milkshakes/cheesecakes, etc, around.

Hike to a lake where you could go for a swim and relax basking in the sun.

Choose a hike where you could look for dinosaur bones, like in the Canadian Badlands, or look for Aboriginal rock paintings, like in Writing-On-Stone Provincial Park.
5) Hike Separately, But Together
I have a close friend that I love to hike with, but we hike at very different speeds. That's fine on a short day hike, but on a longer hiking trip, like when we did the West Highland Way in Scotland, it doesn't work.
So we agree to start hiking together, then go our separate ways soon afterwards. Then meet up again in the later afternoon, and we spend time together, sharing stories from the trail and having dinner together before hiking the next day again.
It might seem like a strange agreement for some people, but it works really well for us since we each love spending time in nature and enjoy a mix of being together and alone.
How to Find Hiking Friends
So if you're thinking, all this sounds great, but I don't have any friends to hike with, check out my post on 7 Ways to Find a Hiking Buddy: +5 Things to Look For. You'll get some great tips on how to find fellow hikers who may just turn into hiking friends.
Now that you know the benefits of hiking with friends, share this post with someone you want to hike with so that you can start repeating the rewards.