This post is also available in: German
Hiking has many benefits that aid in several elements of a healthy lifestyle. My reason for hiking, may not be the same as yours, but the top 7 health benefits we get from hiking are the same!
1) Muscular, Cardio & Respiratory Health
Hiking increases your body's muscular health and helps to create muscles in your body. Improving muscle function and growth will benefit your body and you by being strong and turning fat into muscle. This is an important health benefit of hiking.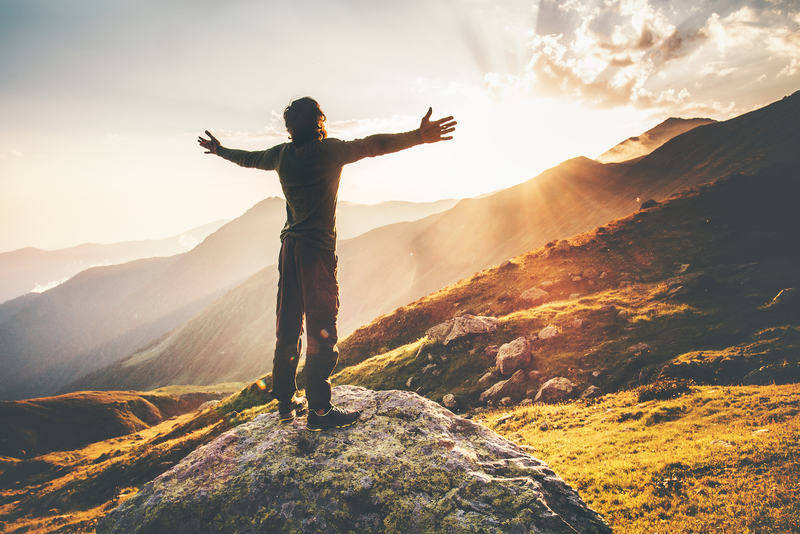 Cardio exercise improves your heart function and the speed of your blood flow, as well as helping to eliminate plaque in your veins and help keep veins tight and secure. Cardio is crucial to heart health and blood vessels staying strong without restricting blood flow.
Respiratory is vital if you like breathing and I'm sure you do! Keeping your respiratory health in good terms gives you healthy lungs, helps fight off pneumonia, bronchitis and many other illnesses. Hiking improves your respiratory function the more you hike, and you'll notice the difference!
Related Reading: Best Hikes in Europe: Your Ultimate Guide to Where and When to Go
2) Sharpens Your Brain
Hiking increases blood flow and oxygen to the brain which enhances a variety of areas. These areas include concentration, focus, memory, and happiness. Oxygen and blood flow allow your brain to function better and helps your body to produce more chemicals that make you feel joy and pleasure.
Sharpening your mind is one of the many benefits of hiking. However, once you sharpen these areas, you'll want to continue to engage these regions to continue activating them and keep them in action!
3) Lowers Risks of Health Problems
You can reduce your risk of many health issues by hiking. Hiking helps to decrease high blood pressure and reduces your risk of attaining it in the first place. In addition, it lowers risk for diabetes, high cholesterol and lowers your risk of heart disease.
Hiking is hard on your body at first, which is why you should use hiking poles, but after you get used to strengthening your core muscles and developing a hiking routine, you may find that you don't need the poles anymore on easier hikes.
4) Increase Bone Density
Hiking is bone-healthy! By hiking routinely, you can increase your bone density and even prevent bone loss, or slow it down if you already have some. Hiking allows your bones to be exercised in your body to the extent that regular activities can't compete with you.
Hiking allows your body fresh air, away from pollutants and has you walking to increase stamina, muscles, and overall performance. This also increases your bones' abilities to work harder with less ache each time that you hike.
Related Reading: What to Bring for a Day Hike
5) Sleep Better
Hiking stimulates your brain, your body, and your soul, so it's no wonder that it takes a lot out of you and helps you to sleep at night! While you hike, no matter how small you start at first, your body and mind will be pushed from its comfort zone. The benefits last long after your hike and will reduce adrenaline.
Hiking builds up your body by walking up hills, over rocks, through woods, and on unsteady terrain. While your body is out of its element, compared to the other 12-16 hours you are not hiking, your body pumps adrenaline and spirit until you finish your walk. Once completed, your body moves into rest and recovery mode, making for a good night's sleep.
Related Reading: How to Prepare for a Hike: Experienced Hikers Share Their Tip
6) Brightens Your Spirit
Finally reaching the top of a mountain, cliffside or any high peak, is bound to have a beautiful view, no matter the location. When you come to the top of your climb, the peak, you will feel proud and humble. Your body will be exhausted, but your soul and mind will be alive and energized from the feat you just accomplished.
After that initial reaction, the view will raise your spirit and may just take your breath away. The scenery is an amazing thing to experience when you can look at it from different points of view and see just how little you are to the rest of the world around you.
Lastly, the whole time you climb and descend, you may see animals you might never have gotten to see if you didn't hike and meet people who are walking with you and experiencing the beauty of nature around you.
Related Reading: How to Choose a Trek That You'll Love
7) Weight Control
We've all been there with trying to lose weight and keep it off. Hiking is a fantastic way to continue your weight loss, build up your core muscles, and continue to stay in shape and get fit.
Even without changing your diet, hiking can aid in weight loss, so long as you continue to push yourself.
Hiking is beneficial to your mind, soul, and body. It helps you with weight loss, muscle building, increasing and supporting your bone density, and lessens your risks of dangerous illnesses.
In addition to hiking, there are many exercises I love participating in, my favorite being everything mountain biking, swimming, running, and skiing are some of the best exercises you can get.
Building your body is a wonderful way to stay healthy, but you also need an activity that engages your mind, soul, and health. Hiking has some incredible health benefits!
Denise Nelson is a profound lover of the cross country mountain bike and considers herself a great mountain hiker. She's worked as a trainer for 6 years and is the co-founder of a private biking lessons school. She also owns a small fitness store in NY. You can find her on Twitter: @Mountainbikeez.