You'll love hiking in the Canadian Badlands. Not only is it the dinosaur capital of the world, but there are also other-worldly formations known as hoodoos. It's a unique hiking experience.
It's an odd feeling to drive across endless prairies and bright yellow canola fields. Then out of nowhere is a canyon with otherworldly rock formations that resemble a moonscape!
Welcome to the Canadian Badlands – a place that couldn't be more different from my beloved Canadian Rockies if it tried, but is beautiful in its own right! The only other place that is similar in Alberta but not as dramatic in my opinion is Writing-On-Stone Provincial Park.
Related Reading: 9 Ways to Experience the Natural Beauty of Vancouver
What the Heck are Badlands and How Were They Formed
As you may have guessed, the Badlands weren't named by a marketer, but rather by French Canadian explorers in 1743.
The land couldn't be farmed, used to raise cattle and made travel rather inconvenient, earning it the name mauvaise terre which translates to badlands in English.

The rocks in the Badlands are as old as 80 million years. They were formed around the same time the Rocky Mountains were forming.
Now flash forward millions of years later to the end of the last Ice Age (12,000 to 15,000 years ago). Huge sheets of ice up to 1 km thick started melting and retreating.
The runoff eroded away the land, creating huge channels and canyons, which is what remains today. They are composed mainly of sandstone and are still eroding today. The black bands seen in the hills are coal seams.
Related Reading: Writing-On-Stone: Your Guide to Exploring This Treasure in Alberta.

Now the Badlands are impressive in themselves, but what's really, really cool, is that they're a hotbed for dinosaurs. So much so that Drumheller is often referred to as the Dinosaur Capital of the World!
It's also undisputedly home to the world's largest dinosaur, a Tyrannosaurus rex in downtown Drumheller (60 – 1 Avenue West in front of the Visitor Information Center).
You get a glimpse of just how large this reptile was as you climb the 7 stories and 106 steps to its mouth. But reality really sets in when you stand with not 1, not 2, but 11 other people in its mouth!
But don't worry, this is actually 4.5 times larger than a real Tyrannosaurus rex….whew!
Travel Tip: Consider visiting Dinosaur Provincial Park, a UNESCO World Heritage Site located ~175km SE of Drumheller.
Recommended Reading: The Best Way to Experience Castle Provincial Park in Alberta
Hiking in Horseshoe Canyon

The first badlands that you'll encounter when driving from Calgary to Drumheller is Horseshoe Canyon. It's about 17km outside of Drumheller.
Horseshoe Canyon is one of the most well-known sites in the entire Canadian Badlands. It's an isolated coulee in the shape of … you guessed it…a horseshoe!
It's a steep 60m drop down to the valley floor on unofficial hiking paths, so I highly recommend wearing running shoes, or even better, hiking boots and bringing hiking poles.
Once you're on the valley floor it's easy hiking. There are no signs so just wander around. I like heading north (left), then gradually making my way back.
Keep your eyes peeled for dinosaur fossils – 16 different dinosaur species have been found in Horseshoe Canyon alone!
Related Reading: Head-Smashed-In Buffalo Jump in Alberta.
You may also see cactuses. This never fails to surprise me – being a Canadian, I'm all too familiar with the looooong cold winters.
Only go when it's dry as the sandstone is slippery. If you're visiting in summer, do it first thing in the morning, as temperatures soar up to 40 C!
Related Reading: Find the Best Travel Deal
Hiking in Horsethief Canyon

It took me 3 visits to Drumheller before I visited Horsethief Canyon. It's not as famous as Horseshoe Canyon, because it's a bit out-of-the-way. But still, it's only 17 km NW from Drumheller on the Dinosaur Trail.
Don't make my mistake and wait 3 times before visiting. It's worthy of a visit on your first time to the Alberta Badlands!
Related Reading: The Best Hiking Journal and 7 Reasons You Should Keep One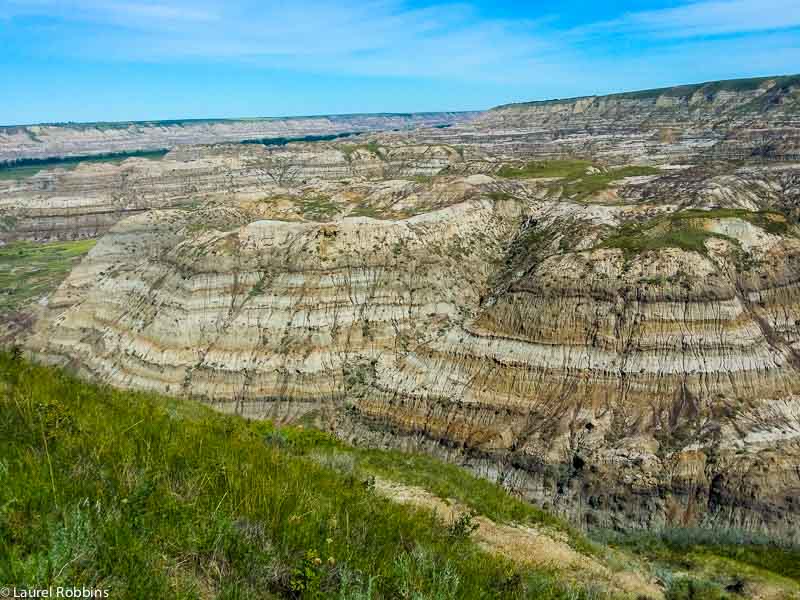 It gets its name from horse thieves who hid the stolen horses in the Canyon! We had the entire canyon all to ourselves for the first hour we were there.
Similar to Horseshoe Canyon, the view at the top is spectacular, but I still prefer trekking in the canyon for a unique experience and searching for dinosaur fossils.
There is no official trail so just choose one of the unofficial steeps ones and start exploring!
Related Reading: Elk Island National Park: One of the Best Places to See Bison (Alberta).
The Hoodoos Trail

Drumheller is famous for its Hoodoos! The towering sand and clay mushroom-like forms appear as if they are from another world! They are constantly evolving and changing due to the effects of erosion.
You will no doubt see people hiking on them, but please don't do this! Let the natural elements do the eroding, not your footsteps.
The Hoodoos recreation area is ~15 minutes east of Drumheller on Highway 10.
You'll pass the town of Rosedale on the way which is famous for the Rosebud Theatre, a professional theatre company which puts on really good performances.
When I lived in Calgary, I used to drive to see the performances at least once a year!
Also nearby is the scenic detour of Hwy 10X. It takes you over 11 bridges to the hamlet of Wayne and the historic Last Chance Saloon.
I really enjoyed the drive out there! While I loved the history of the Last Chance Saloon, I found the service and food just OK.
Related Reading: Your Adventure Guide to Castle Provincial Park in Alberta.
Royal Tyrrell Museum
This is Canada's only museum dedicated exclusively to the science of paleontology and is a hit with kids!
As I listened to other visitor's conversations, I quickly learned that most 6-year-olds knew a lot more about dinosaurs than I did! I loved seeing their enthusiasm and exploring the museum through their eyes.
Not only is it Alberta's most visited museum, but it's also home to one of the world's largest displays of dinosaurs!
Related Reading: Frank Slide: The Most Unique Hike in the Canadian Rockies!
There is also a 1 km long interpretive easy hiking path among hoodoos in the southwest corner of Midland Provincial Park.
Here you can see first hand how glaciers sculpted 70 million-year-old layers of rock into hoodoos and worldly formations. Again you're going to want to keep your eyes peeled for dinosaur fossils!
There's also another self-guided tour through what is left of the remains of the Midland Coal Mining Company, a nod to the area's once-booming coal industry. Search for dinosaur bones while you're there.
The Royal Tyrrell Museum is at 1500 N Dinosaur Trail, Drumheller, approximately a 7-minute drive from Drumheller.
As you can tell, I'm a huge fan of the Alberta Badlands – it's not every day that your hiking buddies are huge giants that lived millions of years ago!
But don't just take my word for it! The Alberta Badlands are cool enough to make an extended appearance in beloved Canadian musician Tom Cochrane's
Life is a Highway video. Take a look:
Where to Stay in Drumheller:

I stayed for two nights at the Ramada. The room was a good size, and I appreciated the snazzy coffee machine and microwave in our room. On the downside, we were out the entire day and our room wasn't cleaned.
It was a bit of a bummer, but not the end of the world. In fairness to the Ramada, I only notified the front desk the next day when we were checking out so they didn't have a chance to try to fix the situation.
I was disappointed by the breakfast. Most of it was pre-prepared and there was little choice for celiacs.
Related Reading: Yoho-Iceline Basecamp
Where to Eat in Drumheller:
I really enjoyed Ivy's Awesome Kitchen and Bistro (35 3 Ave W, Drumheller) for lunch where much to my delight I discovered they have gluten-free bread and other menu choices beyond salad!
However, my favourite meal in Drumheller was at upscale Sublime Food and Wine:

The food really was sublime, with excellent service and an extensive wine list. It's in a small charming historic house, so I'd highly recommend making reservations in advance to avoid being disappointed.
While I didn't eat at the following places, they were also recommended to me by someone who had and enjoyed them: WHIFS Flapjack House (lunch), Bernie & The Boys Bistro and Athens Greek Restaurant.
Know Before You Go to Drumheller, Alberta:
The Calgary to Drumheller drive takes about 90 minutes and is 135km. Head north on Deerfoot Trail (Highway 2). Take Highway 72 east through Beiseker, which will become Highway 9. From there, follow the signs to Drumheller.
For all of the activities I mentioned above, 2 -3 days is enough time. For more ideas check out Travel Drumheller's 48 Hours in Drumheller guides with 3 different itineraries, depending on your interests.
If you have more time, visit Dinosaur Provincial Park, a UNESCO World Heritage Site located ~175km SE of Drumheller.
Make sure to visit Drumheller and the exceptional badlands. They aren't that bad! (pun intended).
Disclosure: My most recent visit to Drumheller and the Alberta Badlands was made possible by Travel Alberta. All opinions are my own.