You probably haven't heard of Castle and Castle Wildland Provincial Parks in Alberta. It was once known as Castle Wilderness and is home to the highest number of animal and plant diversities in Alberta.
If you are an adventurer who shuns crowds, you will love this incredible wilderness gem!
Castle and Castle Wildland Provincial Parks just became provincial parks on Feb 15, 2017, joining the revered status of Alberta's other provincial parks like Writing-On-Stone and Dinosaur Provincial Park.
Before that, it was known as the Castle Wilderness. For simplicity, I'll simply refer to them collectively as Castle Provincial Park or Castle Wilderness.
Location of Castle Provincial Park
Castle Parks is located in the southwestern corner of Alberta, Canada, ~225km south of Calgary. I grew up in the town of Pincher Creek, just 20km away.
Recommended Reading: 6 Adventures In Whistler, British Columbia
Related Reading: Sunshine Meadows: Top Hike in the Canadian Rockies
Why Castle Wilderness is Important to Me
As a kid, I spent my summers camping and exploring here. In winter I skied at Castle Mountain Resort. Or Westcastle as it was known back then.
It was where I developed my passion for adventure and the outdoors. It served as my playground when I was a child. And it played a part in me founding an outdoor tour company that encourages people to get outdoors and be active on their vacations.
I want people to experience what I was so fortunate to have so close to me growing up. And I truly believe that hiking can change your life.
Recommended Reading: Elk Island National Park: One of The Best Places to See Bison
Here's your comprehensive summer guide to making the most of Castle Wilderness in Alberta:
Hiking in Castle Provincial Park
As an adult, I've spent far less time there than I would have liked. I moved away from Pincher Creek when I was 18 years old. However, it's always remained close to my heart. I share this gem of a place for people who crave the solitude of a place that only locals know about.
For the kind of people who relish being the only hikers on a trail! That's why I was giddy with excitement to introduce my German friend to the area.
While there are numerous hikes and mountains to climb in the region, I was feeling nostalgic. That's why I chose the Carbondale Fire Lookout.
It's an active fire lookout. The last time I had hiked it, was when I was 8 years old on a school trip. It obviously was quite the adventure. And clearly, it made quite the impression because 30 some years later I wanted to return.
It's an easy 4 km hike up with only 457m of elevation gain. It offers spectacular, far-reaching views of the Castle Wilderness. The difficult part is finding the hiking trailhead. It's unmarked and my memory from 30 plus years failed me.
I was asked by Alberta Agriculture and Forest Service to only provide vague directions. In addition, they asked me to respect the privacy of the fire lookout observers and not use their last names. Of course, I will honour their requests.
I will honour their requests by saying it's on the way to Castle Falls. You can inquire for more specific information at the Beaver Mines General Store as we did (mentioned below). For further information try doing a thorough Google search.
Related Reading: Georgian Bay Islands NP: why you need to visit this part of Canada
Here's a link to a trail map.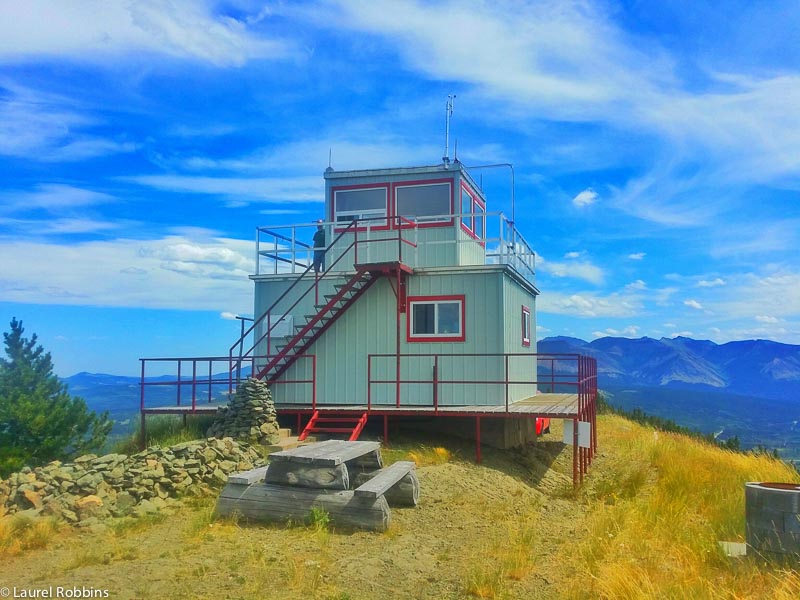 If you do make it, please note that the fire observers may, or may not come to greet you depending on how busy they are. If they do, consider it a gift, as they are not obligated to do so.
We were incredibly fortunate that Harvey and Ingrid choose to greet us. I loved hearing what it was like living in a fire observation lookout.
I knew that Carbondale Fire Lookout was really only known by locals. But was still surprised to learn that besides school groups, there are only ~50 hikers each summer!
Given that information, unsurprisingly, we didn't see a single other hiker on the trail! Even more surprisingly, is that neither of them had ever hiked it – they always drove!
Related Reading: The Best Hiking Journal and 7 Reasons You Should Keep One
I was also surprised to learn that the fire observers rarely see fire, but smoke instead! Life can get lonely up there they tell us, but technology has made staying in touch easier.
The Carbondale Fire Lookout has a telephone and internet. However, the internet only came in 7 years ago!
In the early days, the only communication was via radio. It was connected to all the other fire observers. So a private conversation didn't exist. I imagine that's one way to get to know your colleagues on a whole new level.

Depending on the location and season, the fire observers work for ~ 5 months of the year. They get very few days off. You can feel like you're going crazy by the end of the season, Harvey admits.
But just as quickly, he points out that his carpeted forest green view of the 1000km area and the Rocky Mountains from his office is hard to beat! I left in awe of Harvey and Ingrid.
They are the first line of defence of forest fire prevention in Alberta. And for that, I say a heartfelt thank you!
Related Reading: Things to Do in Yoho National Park: Why You Should Visit this Canadian Gem
If you are looking for popular trails that are easier to find, then I recommend Table Mountain. It's an 8km long, 765m elevation gain scramble. You'll have to use your hands-on part of the mountain. It gets its name for its flat table-top.
The trailhead starts at Beaver Mines Campground. You'll find a sign pointing the way. Another bonus of this hike? You may see mountain sheep at the top! Somehow, I don't think you'll mind that kind of "crowd".
What Else to Do in Castle Wilderness


Besides hiking, the area is an outdoor enthusiast's paradise with 25 major headwater streams and 24 alpine lakes.
Opportunities abound for fishing, canoeing/kayaking and swimming!
I learned to fish at Beaver Mines Lake. It's also a campground. I have fond memories of chasing minnows while swimming in the lake!
As a child, I also loved the small swimming hole at Castle Falls which is also a campground.
On our recent visit there, we spotted 10 trout in the crystal clear waters within minutes!
Related Reading: Yoho-Iceline Basecamp
Wildlife in Castle Wildland Provincial Park

An incredible 59 mammal species live in Castle Wildland Provincial Park. I've seen moose several times while driving to Beaver Mines Lake.
I haven't personally seen black bears in the area. However, most locals have seen both black and grizzly bears. Ensure that you are never alone. There's safety in numbers!
While returning from the Carbondale Fire Lookout, we spotted a deer resting in a meadow above us. She calmly observed us. Apparently, she determined that we weren't a threat and went back to her afternoon nap!
The area is also home to 10 rare/endangered butterflies and to a number of butterfly species found nowhere else in Canada!
Note: You won't see buffalo though. For that, you'll have to visit Elk Island National Park near Edmonton.
Special Events in Castle Wilderness
The Huckleberry Festival is a great even in Castle Wilderness that shouldn't be missed. The highlight of this festival is huckleberry picking. You can either hike up the mountain or take the chairlift for a fee. It takes place in late August every year.
Where to Eat in Castle Provincial Park
The Beaver Mines General Store has a wonderful little deli. They serve fresh soup and sandwiches, along with ice-cream, including my personal favourite, Tiger ice cream. Open until 7:00 pm.
T-Bar Pub and Grill

at Castle Mountain Ski Resort is open Friday evening – Sunday. Their pizza is supposed to be really good but I haven't tried it.
Where to Stay in Castle Provincial Park
If you want to stay in a hotel, or a place with more amenities, check out the nearby towns of either Pincher Creek or the Crowsnest Pass. But being from Pincher Creek, I can honestly say while the places may be "fine", they don't have the same character as the places that you'll find on VRBO do.
In most cases, they're just a standard hotel room, so I'd highly recommend staying at a VRBO and only choosing the hotel option if there are no other options.
Hotels in Pincher Creek and the Crowsnest Pass
Top Pick: Stardust Inn
Stardust Inn is located in Pincher Creek and provides free secure, high-speed Wi-Fi and air conditioning. Guests can enjoy the use of a refrigerator, coffee maker and microwave in each room. Select rooms offer a kitchenette. Enjoy the onsite BBQ facilities as well as the use of the fax and photocopy facilities.
Top Pick: Travelodge
Travelodge by Wyndham Pincher Creek offers air-conditioned and comfortable accommodation. Guests can enjoy private bathrooms as well as free wifi. The hotel also offers guests family rooms and serves an American breakfast daily.
Top Pick: The Kanata by BCMInns
The Kanata by BCMInns is located in Blairmore40 minutes from Pincher Creek. Each of the guestrooms offers tea and coffee facilities and refrigerators. Guests can enjoy an on-site fitness centre as well as free wifi. Select rooms feature a kitchenette. Free parking is available and you can enjoy a daily hot breakfast.
You can also choose to camp at Beaver Mines Lake or Castle Falls.
Helpful Tips to Enjoy Your Stay in Castle Provincial Park
The Beaver Mines General Store offers retail services of fuel, groceries and camping and fishing supplies, along with maps. It's also a great place to get tips from locals about the area.
Getting to Castle Provincial Park
Wherever you choose to start from you will be sure to have a great trip. If you don't have a vehicle of your own don't worry, you can easily rent a car in Calgary or Lethbridge.
Near Castle Provincial Park
In the other direction, but still, only a 50-minute drive is Head-Smashed in Buffalo Jump.

Also, not to be missed is Waterton Lakes National Park. If you're going to be spending several days there and/or visiting other national parks, it's worth getting the Parks Canada – Discovery Pass. With it, you'll be able to enter the parks, without having to wait in what are often very long lines.

And be sure to check out the epic hike of Frankslide. It's outside of Castle Provincial Park but is an epic hike up one of the largest mountain slides in Canada.

Have you explored Castle Provincial Park yet? Go explore…before the secret of its beauty and wildlife gets out!