This post is also available in: German
How do you know if a hiking trail is for beginners? Check out my 7 tips to help you determine if it's the perfect hike for you. And just because it's easy doesn't mean that you can't get incredible views, whether it be of an alpine lake, waterfall or of nearby peaks.
For example, I live at the base of Pirin National Park in Bulgaria, and my two favorite hikes that are perfect hikes for beginners are:

– An alpine lake loop trail that passes not one but four alpine lakes with minimal elevation gain spread out and offers stunning views (pictured below).
– Another one of my favorite hikes is to Bezbog Peak. It's steep in places, so a bit more of a strenuous hike and involves a bit more meters/feet of elevation gain, but it's short, so accessible to hikers of all experience levels who are in decent shape. And it offers beautiful views that stretch to not only the Pirin Mountains but also to the Rila Mountains.
I love hiking trails for beginners that actually take you to a peak, as the feeling of reaching the summit is incredibly rewarding.
I developed these tips to find hiking trails for beginners when I started hiking in the Canadian Rockies over 20 years ago and discovered some of these by trial and error.
And I continue to develop them in my search for the perfect trail for beginners as part of my mission to support new hikers.
Read on to find the key traits of a perfect trail when you're new to hiking and at a beginner skill level.
1) Choose a Popular Trail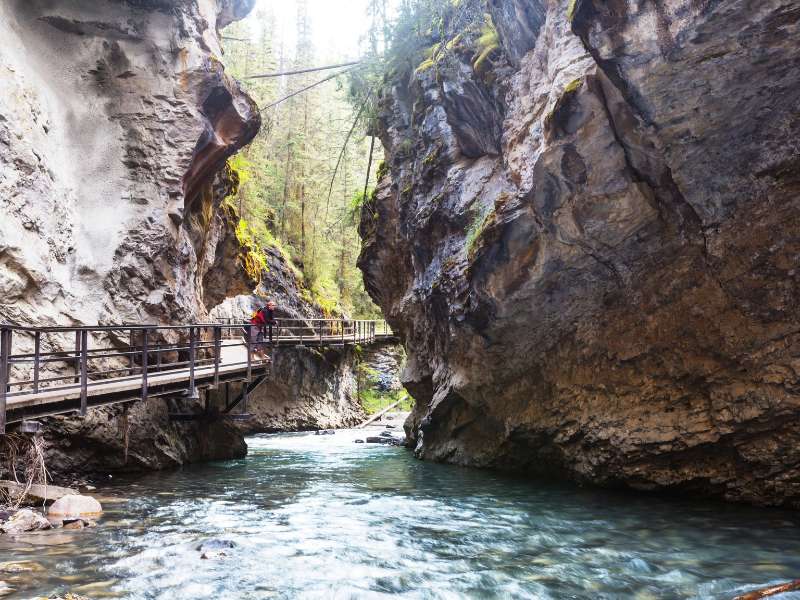 When you're looking for a hiking trail for beginners or just starting to hike, I recommend choosing a popular spot. Knowing there are other hikers on the trail can give you peace of mind, especially if you're worried about wildlife encounters or are just wary about being in the woods.
Note: this doesn't mean that you shouldn't be prepared. It's essential that you are. That means bringing plenty of water. For how much to bring, check out our post on How Much Water to Bring Hiking, and ensure that you have the right hiking gear.
You can find popular trails by looking on the websites under "easy hikes" on national parks or state/provincial parks. Also, look for words like ample parking, which signals that there will be many other hikers.
For example, in my article on easy hikes in Banff, you'll find many mentions of the popular trail or popular spot with families.
And the popular trails often have incredible views. That's why they're popular. For example, the hike to Johnston Canyon in Banff is a very popular spot and the perfect beginner hiking trail.
There are always lots of people there, and besides its popularity, it meets the other requirements below, making it a perfect trip for beginners.
2) Choose a Trail with a Hiking Distance of ~10km (~6 Miles)
Choose a hike distance of ~10km (~6 miles) or less when choosing a hiking trail for beginners. You can gradually build up to more miles of trails after you've done a few hikes and as your experience level increases. But start with a shorter distance to keep it fun and build your endurance.
Insider Hiking Tip: When choosing a trail, check that the distance includes there and back and not just one way. Otherwise, your hike distance might be double what you planned.
I had this happen a few times when was just starting to hike and had to return early without finishing the entire hike, which was disappointing. It can be confusing on some sites.
If you doubt it, check it on another hiking app or a national/state/provincial park site.
Loop trails are a sure way to know that the hike distance indicated is of the entire hike.
3) Choose a Trail with a Maximum Elevation Gain of~ 300 m (~984 ft)
This is the difference in meters or feet of elevation gain from the start of your hike to the highest point, usually, a peak, an alpine lake, or a waterfall if you're hiking in the mountains.
If you're in reasonable shape, look for a hiking trail with an elevation gain of ~300m (~984 ft). It's enough to get your heart rate up without being too much for a day hike.
If your fitness level is quite low, no worries. Just choose a trail with less elevation gain. T
here are lots of great hiking trails for beginners with beautiful views that require minimal elevation gain.
Depending on how easy or difficult you find it, you can gradually build up to more strenuous hikes if you choose.
You want to enjoy your hike, so you'll want to do it again, which is also why I recommend setting a hiking goal. Therefore I recommend erring on the safe side by choosing a trail that's too easy instead of too difficult, where you'll be miserable.
If you have a fun day in the mountains, you'll be more likely to make hiking a regular occurrence.
4) Choose a Trail with a Gradual Elevation Profile vs a Steep One
When you're looking for a hiking trail for beginners, you'll want to choose a trail with a gradual incline versus one with a steep incline.
For example, the two hikes below are similar in terms of total elevation gain. However, I'd recommend the first one marked in red is a better hiking trail for beginners since the elevation is more gradual.
If you were going to do the second one in blue, I'd recommend doing it in reverse so that the elevation gain is more gradual.
That way, you avoid the steep incline, which requires a lot of endurance. I've done it the first way, and it's steep even for an experienced hiker.
5) Choose a Trail That's Well Marked
When choosing a hiking trail for beginners, it's important to choose one that's well-signed and where it's easy to find the path. Look for trail descriptions that specifically mention that it's easy to find your way or well-signed.
If the description says it's unmarked or to "look for a pile of rocks, then turn left," you'll want to save these trails until you're more experienced in route-finding.
Generally speaking, popular trails also tend to be well-marked, and if you get confused, you'll be able to ask someone.
I personally love doing off-the-beaten-path trails but save hiking trails that require navigation until you've practised your skill level and are more comfortable hiking.
6) Consider the Trail Surface
When looking for beginner hiking trails, be sure to consider the trail surface in the description. Paved trails will be the easiest, while a normal hiking trail will be dirt.
This will be more difficult than regular hiking if it says something like scrambling over rocks or rocky terrain.
7) Find Out the Latest Trail Conditions
Hiking in good weather makes all the difference, which often means hiking in the summer months. But even in summer, trails can be flooded, so check with the national park or state or provincial park office to enquire about the current trail conditions.
If that's not possible, read the trail description and comments carefully from the hiking app or site you're using.
By doing so, you'll often discover that certain trails are flooded in spring or subject to being covered in snow in October, even if it's not snowing where you live. 
Having said that, finding hiking trails for beginners in winter is still possible. Check out my article on 22 Tips for Hiking in Winter and the Best Winter Hikes in Banff to get you started.
I love hiking in winter, although it does require more care than hiking in summer. If you hike in winter, bring microspikes and an emergency thermal blanket with you. 
Related Reading: Strength Training for Hiking: A Step-By-Step Workout Plan To Prepare You
More Tips for Hiking Trails for Beginners
Choose a loop trail if possible. Loop trails are one of my favorite hikes because you see new scenery the entire hike. And if you're hiking a shorter distance, you want to have as many incredible views as possible on your day hike.

Allow for plenty of time. When you're new to hiking, you may be slower than the times indicated on the hike, so always give yourself more time than you think you'll need and ensure that you'll be finished your hike in plenty of time before it gets dark. If you finish earlier than expected, then fantastic! Check out our article on How to Calculate Your Average Hiking Speed for more info.

Bring plenty of water. One of the new day hikers' biggest mistakes is not bringing enough water. Check out our article How Much Water Do You Need? for more details. Also, be sure to bring more than one water bottle or a water bottle and a bladder as a backup in case one leaks or you lose one.

Ensure you have the right gear for your day hike. Not having the right gear is another common mistake that new-day hikers make. Check out our Day Hiking Gear Guide to ensure you have everything you need.

Don't Count on Having Cell Service. While you might have it, you might not have cell service, especially if you're in a ravine or in a forest of pine trees. If you require an emergency, head to a more open spot and/or higher elevation. I've done hikes where I had no cell service until I reached the top of a summit. But even that's not guaranteed.

Always follow the Leave No Trace Principles. It's important to leave the hiking trail in the same conditions (or better by picking up any trash you find). You can see the Leave No Trace Principles here.
In summary, now you know how to find the perfect hiking trails for beginners. Start with an easy hike, and then you can work your way up from there as your skill level progresses.
Also, be sure to check out our Hiking For Beginners Guide for even more tips.