Whether you're looking for outdoor adventure or want to explore the area's rich mining history, there are so many things to do in the Crowsnest Pass, located in southwestern Alberta – especially if you're a history enthusiast!
I have a confession. When it comes to the Crowsnest Pass, I'm a bit biased. I grew up in nearby Pincher Creek, and there was always a bit of a rivalry, especially when it came to hockey.
I didn't think very highly of it and only visited it on obligatory school visits to the Frank Slide Interpretive Center and to Leitch Collieries. It wasn't until I was an adult and moved away from Pincher Creek that I developed an appreciation for it.
Now that I have, I think it has a rich history that's interesting for tourists, more so than for some other Alberta towns.
While I normally focus more on the hikes you can do in a destination, especially when it's one in the Canadian Rockies, for this, I've focused more on the historic attractions since I think they're worth exploring.
But if it's hiking you're looking for, then I can highly recommend hiking up Turtle Mountain. More on that below.
I'll also share some other nearby attractions to beautiful waterfalls you can hike to.
About the Crowsnest Pass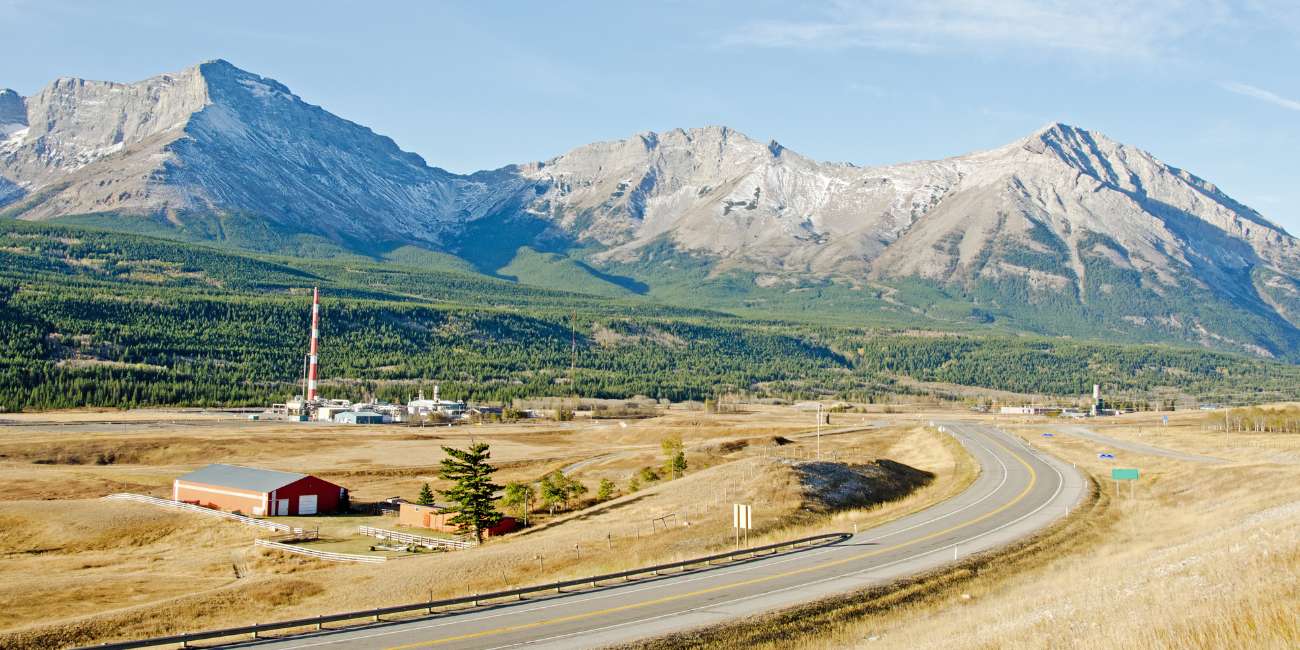 Located in the Canadian Rocky Mountains and on the border of British Columbia, Crowsnest Pass was home to some of Canada's most productive coal mines.
From 1897-1910, four major mining towns flourished in this area: Bellevue, Hillcrest, Blairmore and Frank. Today, the area is still filled with reminders of its rich mining history, including a variety of interpretive sites.
Here are the top things you'll want to do in the Crowsness Pass:
1) Visit the Frank Slide Interpretive Center
If you only do one thing in the Crowsnest Pass, make it a visit to the Frank Slide Interpretive Centre.
It takes you back in time to explore Canada's deadliest rock slide killing more than 90 people when Turtle Mountain fell on that fateful night over 100 years ago.
You'll re-live the gripping first-hand accounts through interactive exhibits and award-winning shows while enjoying engaging storytelling from knowledgeable guides who will transport you straight into this dramatic event's past!
You'll also want to do the short interpretive loop outside, which is informative. You can find more info here.
The Frank Slide Lookout is also a good choice for a very small hike giving you one of the best views of Frank Slide – without having to climb up a mountain. It's one of several short cycling/walking routes with a paved path you can choose from.
Although if you're up for that, I highly recommend hiking up Turtle Mountain, as I've done twice. It's a bit of a mentally challenging hike when you see the huge cracks at the top of the mountain, but definitely one of a kind.
Related Reading: Why a Visit to Head-Smashed-In-Buffalo-Jump is a Must
2) Visit the Leitch Collieries Provincial Historic Site
Leitch Collieries was a coal mining operation located in the Crowsnest Pass, Alberta. It operated from 1906 to 1916 and was one of the largest coal mines in the area, producing high-quality coal for the Canadian Pacific Railway.
The mine was closed after a series of accidents, including a major explosion in 1914 that resulted in the deaths of 26 miners.
It's now a historical site, and there is no active mining taking place there. When you visit the site, you'll see the remains of the mine buildings and structures, including the headframe, tipple, and some of the underground tunnels.
There are also interpretive signs explaining the history of the mine and the lives of the miners who worked there.
Leitch Collieries is closed in winter, so it's not maintained or staffed, but you can still explore the exhibits. You can find more information here.
3) Go Night Skiing at the Pass Powderkeg Ski Hill (Winter) and Mountain Biking (Summer)
The Pass Powderkeg is a very small (by Canadian standards) ski hill with 300m (1000 ft) and 27 trails.
I'll admit that despite growing up in the nearby town of Pincher Creek, I never skied here, instead skiing at the closer and larger Castle Mountain Resort located in the Castle Wilderness Area.
However, they offer night skiing, which I love. And they operate as a non-profit, which is very rare for a ski hill, and they pride themselves on their retro vibe, which provides a groovy experience.
While they have limited operational hours during the day, they do have a ton of special events so check it out.
In summer, it turns into a mountain biking area with trails for all levels and a bike park. There is no lift to take you up though, so you'll definitely get your exercise.
4) Follow in the Footsteps of Miners on the Bellevue Underground Mine Tour
This is one of the most unique things you can do in the Crowsnest Pass, as it's the only underground mine tour in Western Canada! You'll venture deep into the heart of Western Canada's mining history as you explore a 300-metre coal mine.
You'll put on an authentic miner's helmet and lamp and take the same tunnels once taken by early 20th-century miners as you learn about their techniques from your knowledgeable interpreters.
Revel in this unique experience bound to stay etched within your memory forever. But dress warmly; mines are chilly!
It's only open seasonally, so check that it's open before you go.
5) Coleman National Historic Site: Downtown Coleman Walking Tour
Home to the early beginnings of a turn-of-the-century mining town, Coleman National Historic Site is truly unique. Unpolished and unaltered by time, it stands as an ode to its past inhabitants' courage and resilience throughout tough conditions in this Canadian coal mining community between 1905 – 1950.
You'll immerse yourself in their story through its preserved historic streetscapes: former mineshafts, rail lines that bear witness to hard labour undertaken daily, and old downtown storefronts with stories just waiting for more discoveries about their past lives and Canadian industrial history.
In my opinion, the best way to experience the Coleman National Historic Site is with the free 1 to 1.5-hour self-guided walking tour through Coleman. It's a historic town that grew up around the mine in the early 1900s. The route is well-signed.
6) Explore the Crowsnest Museum
The Crowsnest Museum is a window into the past, giving you an up-close look at both the fascinating accomplishments and heartbreaking tragedies of Crowsnest Pass.
With nearly 100,000 artifacts telling stories of its unique mining history, first settlers and criminal ties, you'll get a good glimpse into the Crowsnest Pass' unique history. History buffs will enjoy learning about the incredible history of the area. More information here.
7) Visit the Crowsnest Pass Public Art Gallery
The Art Gallery showcases rotating artworks from local, provincial and national artists. They also provide art programs for both adults and children and host a variety of special events.
Admission is free, and it's open daily. The gift shop is a great place to support a local artist and get a unique souvenir of your time in the Crowsnest Pass.
8) Revel in the Beauty of the Heritage Driving Route
It's worth taking a mini road trip or cycling through the beautiful Crownest River Valley through the communities of Coleman, Blairmore, Frank, Hillcrest, and Bellevue. The 20 km long route will show you the highlights of these mining towns that are an important part of Canadian history.
Related Reading: A Canadian Adventure: Itinerary for Western Canada
9) Visit the Stone's Throw Cafe in Blairmore
After sightseeing or hiking, you'll probably have worked up an appetite. I really enjoyed Stone's Throw Cafe, located at 13019 20 Ave Blairmore.
This is where the locals hang out. The homemade goodies, friendly service, and cozy atmosphere reminded me more of a cafe in Europe than in Canada. Trust me, that's a good thing; Europeans know how to do cafes.
Related Reading: The Best Hiking Journal and 7 Reasons You Should Keep One
Know Before You Go to the Crowsnest Pass
There are so many things to do in the Crowsnest Pass like visiting Frank Slide, Leitch Collieries and exploring its mining history. But of course, I'm still going to recommend hiking along with exploring its history.

If you're not planning on hiking, 1 -2 days is long enough to see the highlights.

Southern Alberta is famous for its wind, with winds of 100km per hour fairly common, so bring a wind jacket.
Hikes in the Crowsnest Pass
Miner's Path and Rainbow Falls
Walk through some of the oldest old-growth forests in the Crowsnest Pass while following in the steps of minors, then carry on to Rainbow Falls. It starts in the town of Coleman. Directions here: https://www.alltrails.com/explore/trail/canada/alberta/miners-path
Allison Creek Falls and Swim in Chinook Lake
This hike starts at Chinook Lake and circles around the lake before the trail follows a creek upstream until you reach Allison Creek Falls, a staircase-like waterfall with a series of cascades. After your hike, go for a swim in Chinook Lake on a hot summer day. Directions: https://www.alltrails.com/trail/canada/alberta/allison-creek-falls
Crowsnest Community Trail
This 23km long trail connects the four mining towns. While it's possible to hike, I think it's better to cycle it.
Attractions Close to the Crowsnest Pass to Visit
Explore the Castle Provincial Park and Castle Wildland Provincial Park
This region with the highest animal and plant species diversity in Alberta. I spent a LOT of time growing up here so it has a special place in my heart. You could easily spend a week hiking here and in the Crowsnest Pass.
Visit Lundbreck Falls
This is a provincial recreation area offering unserviced campsites, but the real highlight is the stunning waterfalls, Lundbreck Falls, which you can reach with just a few steps from your car. Head to the viewing platforms for the best views.
Head-Smashed-In-Buffalo Jump
This UNESCO World Heritage Site is one of the best-preserved buffalo jumps in North America and gives you a unique glimpse into Blackfoot culture. You can read about Head-Smashed-In Buffalo Jump here.