Mountain huts, sometimes called rifugi, gites, relais, depending on which country, make for very comfortable hiking in the Alps.
Staying in a mountain hut significantly reduces the amount of gear you need to carry and there's nothing after a long day of hiking knowing that a home-cooked meal is waiting for you and that you'll be sleeping with a roof over your head.
I enjoyed very much staying at mountain huts while trekking the Tour du Mont Blanc and when I did the Alta Via 1 Tour in Italy. And I also learned a few things regarding "etiquette".
If you're planning a long-distance hiking tour in the Alps and will overnight in a mountain hut for the first time, there are a few things you need to know. Follow these 10 tips and you're in for a pleasurable stay in your mountain huts:
1. During the high season, reserve your mountain huts in advance
Mountain huts can only accommodate a limited number of people. Advance booking is highly recommended, especially if you plan to stay in a hut offering also double rooms. There are only a few if any, and they usually get reserved long before the trip.
When you book, inform the hut owners of any dietary requirements or allergies, in order to have them prepare meals according to your needs.
To give you an idea, when we book our Self-Guided Tour du Mont Blanc trips, some accommodations are sold out for certain dates 6-8 months in advance, so book early.
Related Reading: Best Backpacks for Every Budget

2. Expect perfunctory service rather than super friendly and welcoming
It's not that they're not friendly but they are very busy, understaffed, and likely very tired. Hut owners and the staff are extremely busy in summer. This is especially true if the mountain hut is along a well-known circuit like the Tour du Mont Blanc, or in the Dolomites.
It's not uncommon that they work 14 – 15 hours a day for days on end. Service is also different in Europe than it is in North America and much of it is cultural.
Most Europeans don't do the Hi, how are you? type of greeting. Once you know this you can better appreciate the cultural differences.
Related Reading: 11 of the Best Mountaineering and Hiking Watches.
3. Plan to arrive at the mountain hut before 6:00 pm
If you can arrive between 4:00 to 5:00 pm, that's even better. Dinner in mountain huts is often served at a pre-set time, usually somewhere between 7:00 – 8:00 pm. By arriving before, you'll have time to check-in, shower and rest a bit before dinner.
Recommended Reading: Where to Stay in Cinque Terre
4. Take off your hiking boots before entering the mountain hut if they're muddy
.At some huts, you'll be required to take them before you enter even if they're not muddy. You'll see a shoe rack so follow the example. In any case, all the mountain huts will require you to take off your hiking boots before entering the sleeping quarters.
You can either bring your own slippers, wear socks or wear the hut shoes that most huts provide. You'll leave your hiking boots and hiking poles by the entry or in an equipment room.
Don't bring these into your room with you. I can't emphasize how important following these guidelines are. Not doing so is likely to result in a tongue lashing from an upset hut owner who now has to do more cleaning.
Related Reading: Best Hikes in Europe: Your Ultimate Guide to Where and When To Go.
5. When you check-in, tell the hut owners your name or show them your booking form
Remind them of any dietary preferences (vegetarian, etc.) or allergies that you mentioned when you booked. Even if you have already informed the huts at the time of booking, you'll need to tell them again when you arrive so that they know who you are.
If you don't do this, you likely only get whatever everyone else is having. As the mountain huts are so busy they're not generally open to special requests unless they've been previously notified.
Related Reading: 7 Things That Will Wreck Your Trek.
6. Whether you're staying in private double or dormitory accommodation, you'll likely be sharing bathroom facilities so be respectful
All the mountain huts have showers, some will require a small fee of a few euros. Some are timed to keep showers short. You'll need to bring your own towel at most huts.
Everyone needs to use the mirrors and other facilities so now's not the time to spend hours primping in front of the mirrors.
Related Reading: Best Hiking Leggings
7. Respect the quiet/lights out policy of the mountain hut
For most huts, this is around 10:00 pm. Please respect this and be quiet. Other hikers are tired and want to sleep and won't be happy if your chatting is keeping them up.
If you're staying in private double accommodation, please keep your voice down after 10:00 pm. Hut walls tend to be thin and voices easily travel to other rooms.
You'll likely meet a lot of European hikers and they can be blunt if you're not following the rules.
Related Reading: 8 Best Hiking Apps.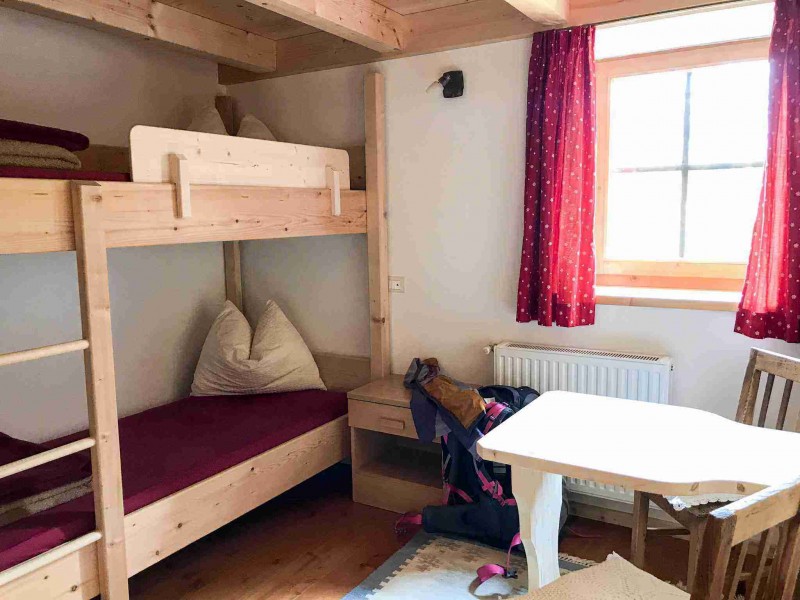 8. Bring your own sleeping bag liner
This also applies if you're staying in private double accommodation. Mountain huts will provide blankets and pillows but you still need to bring a liner. Have a look at my Tour du Mont Blanc packing list, which indeed can apply to any long-distance hike in the Alps.
Related Reading: Tour du Mont Blanc: How to Plan Your Epic Trek.
Recommended Reading: Best Walking Holidays in Italy
9. Don't hog the charging devices
Plugins are usually scarce in mountain huts, especially in dormitories. So bring a charger that allows you to charge multiple devices at once. Once your gadget is charged unplug it so that someone else can use it.
Related Reading: Best Hiking Socks.
10. Be at breakfast at the assigned time
.Some mountain huts will serve breakfast at a fixed time while others will have a set of fixed hours, i.e 7:30 and 9:00. Be sure to be there. If you come too early or too late, you likely won't be eating breakfast.
Staying in a mountain hut is part of the long-distance hiking experience and by following these simple tips you're in for a great time.
This article was originally published in Aug 2018 but was updated and republished in April 2021.