For many hikers, Snowdonia National Park in Wales is one of the best places in the UK to go hiking. And this is why Snowdonia Way is such a popular long-distance trail.
Snowdonia Way takes you through some of the UK's most dramatic and beautiful scenery. And when you get to explore the area, you'll know exactly why people love this area so much.
The Snowdonia Way Mountain Route is a 122-mile (196 km) long-distance walking trail that connects you to some of the most amazing areas Snowdonia has to offer.
The traditional Snowdonia Way route is 97 miles (156 km) and is fantastic, but the mountainous route is a high-level route for true adventurers. And that's the one we'll be covering based on popular demand from you.
Your Day By Day Breakdown of the Snowdonia Way Mountain Route
The Mountain Route is 122 miles (196.34 km) and hits some of Wales's most famous peaks. We outline a 9-day itinerary, but many hikers will want to split the last day in two, making it a 10-day route.
I've hiked in the UK for 20 years, have experience in teaching outdoor education and have walked the Snowdonia Way Mountain Route, so you're in good hands. I'll share the highlights, point out tricky or technical sections if there are any, and share my favorite accommodations for walkers each day. Let's get started!
Here's what the route descriptions look like day by day:
Stage 1: Hike From Machynlleth To Abergynolwyn
Start Point: Machynlleth
Distance: 13.3 miles (21.5 km)
Total Ascent: 1,522 m (4,993.4 ft)
Finish Point: Abergynolwyn
Your first day of hiking will start in the charming market town of Machynlleth. I suggest that you spend the night there before you set off so you can start fresh and early.
The first day will give you great insight into what to expect for the rest of the trip.
From Machynlleth, you'll head to Foel-y-Ffridd, which will set you on the trail for your first incline up Foel-Goch, a mountain that's part of the Glyderau mountain range.
You'll continue your hike up the hillside path to Tarren Rhosfarch, where you'll have beautiful views of the forested slopes of the mountain peak, Mynydd Cefn-Caer.
Then, you'll head to Tarrenhendre, a mountain that's one of the Marilyns in the Cadair Idris group. This marks your final 4 miles of Stage 1, where you'll finish your day at Abergynolwyn.
As for spending the night, you can stay at the Riverside House for comfort or camp at the Fferm Cedris Farm.
You won't face many steep inclines during this day, but it's certainly a shock due to the amount of elevation. When I took on this route, I was pretty out of practice, and it opened my eyes to how challenging this hike would be.
Stage 2: Hike From Abergynolwyn To Dolgellau
Start Point: Abergynolwyn
Distance: 14.2 miles (22.9 km)
Total Ascent: 1,166 m (3,825.4 ft)
Finish Point: Dolgellau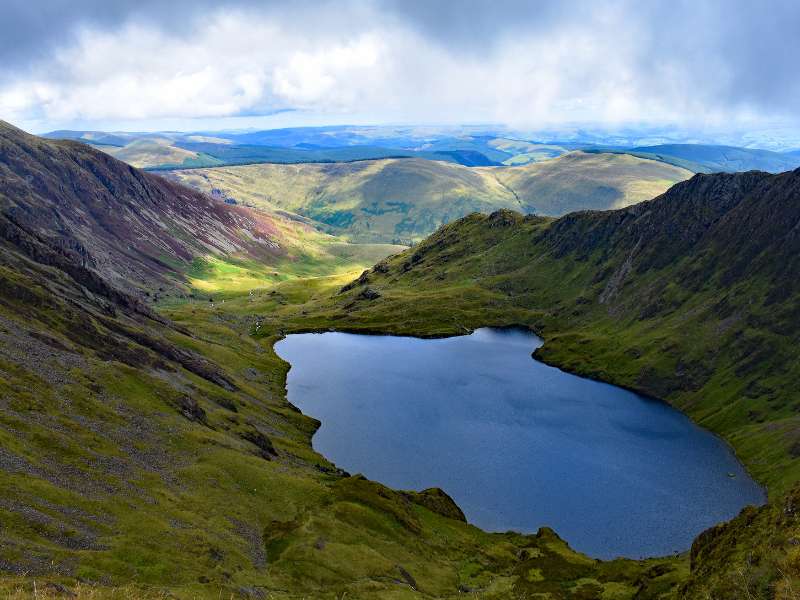 If you thought the first day of hiking was hard, don't expect it to get any easier, which might seem strange. You'll do less elevation, and it's only one extra mile, but the trail is much steeper.
This part of the journey is absolutely stunning. You're going to be hiking up Cadair Idris (Cader Idris), a mountain in southern Wales, which can be considered a bit of a slog, but it's totally worth it for the epic views you'll get.
From Abergynolwn, you're going to head through a valley toward Tyrrau Mawr, which is actually a stunning part of the hike.
From there, you will follow the ridge line to Cadair Idris (Cader Idris). The path is more accessible than some routes to Cadair Idris, but be warned, you need map-reading abilities; the trail isn't easy to follow.
Once you've summited Cadair, you'll continue following the ridge line around Gau Graig and Pen-Y-Bwich-Coch before heading down to Dolgellau.
You'll stay the night in Dolgellau before you prepare for your next stage. There are plenty of places to stay, with some of the more popular being Felin Ship Luxury Cottage and Tan-Y-Fron holiday park.
Stage 3: Hike From Dolgellau To Trawsfynydd
Start Point: Dolgellau
Distance: 16.7 miles (27 km)
Total Ascent: 1,210 m (3,969 ft)
Finish Point: Trawsfynydd
This was one of my favorite days hiking, thanks to the views you get across the ocean (when the weather is clear).
You'll start your hike from Dolgellau before heading to Craig Llanelltyd, a peak in Gwynedd through wooded farmland and past streams.
Your first ascent is to Foel Ispri, where you'll get amazing views of the Mawddach Estuary. Then it's a straight line north to the mountain of Y Garn. It's one of the Welsh 3000s — the 15 summits in Wales over 3,000 feet in height, taking place as the 10th highest mountain in Wales. From here, you'll have beautiful views of the sea.
Your day is finished when you arrive at Trawsfynydd. I stayed at The Cross Foxes Hotel, which was very nice.
Stage 4: Hike from Trawsfynydd To Penrhyndeudraeth
Start Point: Trawsfynydd
Distance: 11 miles (17.7 km)
Total Ascent: 562 m (1,843 ft)
Finish Point: Penrhyndeudraeth
You'll start your hike by heading across the bridge that takes you over Llyn Trawsfynydd and then towards Bwich Gwylim.
Then, you'll spend the morning making your way through marshy bog before taking on your first mountain. You might also notice that you've joined The Cambrian Way (another long-distance hike).
As you approach Penrhyndeudraeth, you get gorgeous sea views and a view of the Dwyryd River. Today was an easy day comparatively, so get your sleep, as the next day will be tough.
There are plenty of places to stay in Penrhyndeudraeth, but I'd recommend Snowdonia Rock Cottage.
Stage 5: Hike from Penrhyndeudraeth To Beddgelert
Start Point: Penrhyndeudraeth
Distance: 15.5 miles (25.1 km)
Total Ascent: 1,267 m (4,156.8 ft)
Finish Point: Beddgelert
Today will be a tough day, but it's worth it. Stage 5 takes you past beautiful reservoirs before heading to the summit of Moelwyn Mawr.
From there, you'll continue on the trail to the wild country of Llyn yr Adar before taking a sharp turn to the southwest to Cnicht, a mountain that's part of the Moelwynion mountain range.
You'll follow the ridge line down close to the small village of Croesor and then to Nantmor Halt Train Station, which serves the hamlet of the same name. This was the easiest part of the hike for me.
Follow the Afon Glaslyn River to Beddgelert, one of the most beautiful villages in Snowdonia. It's won many awards for being the cleanest village in the UK; it's a truly stunning mountain village at the base of Mount Snowdon.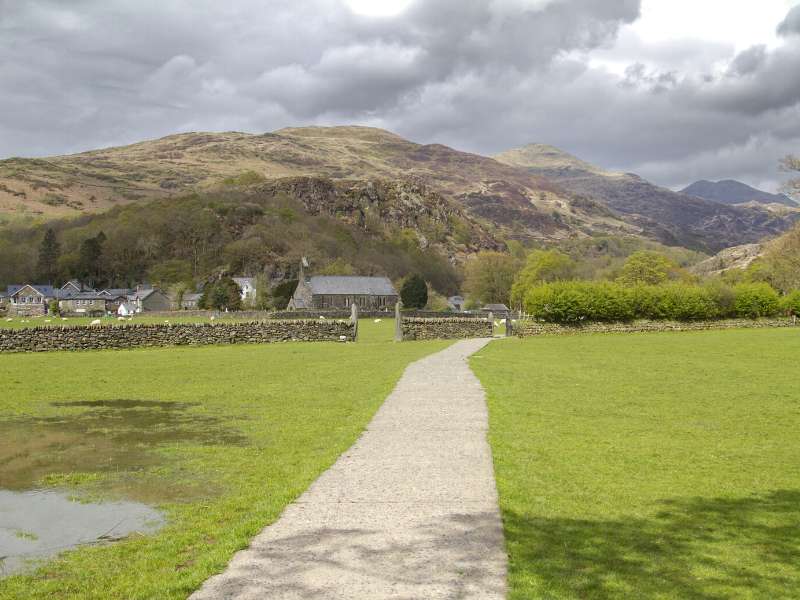 I stayed at the campsite Dae Du Campsite, which is a bit further, but it remains close to the trail you're going to be following the next day.
Or stay in Beddgelert and enjoy your time here.
Stage 6: Hike from Beddgelert To Pen-Y-Pass
Start Point: Beddgelert
Distance: 10.8 miles (17.4 km)
Total Ascent: 1,295 m (4248.6 ft)
Finish Point: Pen-Y-Pass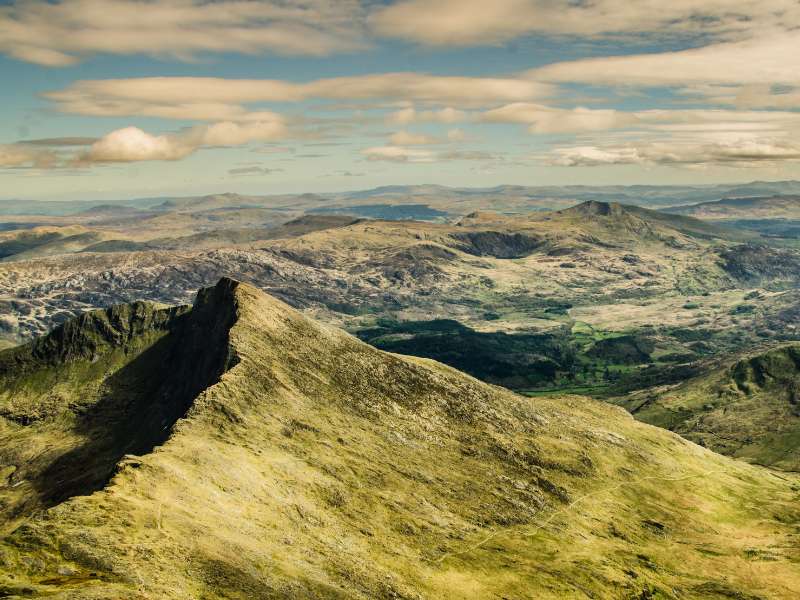 Today is the day you're going to take on the tallest mountain in Wales, Mount Snowdown. It's essential to wake up early today, not because it's going to be a long day, but to avoid the crowds on the popular hiking trail up the mountain.
From Beddgelert, you'll head around Llyn Dinas Lake and up, then up towards the summit of Snowdon, one of the peaks in the Three Peaks Challenge.
On your way to Snowdon, you'll pass by a fantastic river with waterfalls and cascading pools towards the start of your climb.
There are many routes you can take up Snowdon, but I decided to walk the less popular trail Watkin Path.
Once I arrived at the summit, I used the Snowdon Horseshoe Path to Crib Goch and then down to Pen-Y-Pass.
Note that the Snowdon Horseshoe is only for experienced hikers with a head for heights. Check out the post, and you'll see why.
For the night, I started at the YHA Snowdon Pen-y-Pass; the closest location made it convenient. Or you can stay at other accommodations at the Pen-y-Pass.
Stage 7: Hike from Pen-Y-Pass To Capel Curig
Start Point: Pen-Y-Pass
Distance: 9.8 miles (15.9 km)
Total Ascent: 966 m (3,169 km)
Finish Point: Capel Curig
This stage is relatively easy, you don't have many ascents, and you don't have far to walk; instead, you can take in the scenery around you.
As you walk to the summit of Moel Siabod, you'll have stunning views of the mountains surrounding you until you reach the small village of Capel Curig, located in the heart of Wales.
There's a lovely campsite in Capel Curig called Bryn Tyrch Farm Campsite, or you can stay at St Curigs Church for a bit more luxury.
Stage 8: Hike from Capel Curig To Bethesda
Start Point: Capel Curig
Distance: 13.3 miles (21.5 km)
Total Ascent: 1,522 m (4,993.4 ft)
Finish Point: Bethesda
After all the hiking I'd already taken on, this was one of the most challenging and favorite days I had.
The route takes you on scrambles past mountain goats to Y Foel Goch to the south side of Tryfan, one of the most recognizable peaks in the UK and part of the Glyderau group. And one of the best hikes in Snowdonia National Park.
You'll then continue over the mountains Glyder Fach, the 6th highest mountain in Wales and Glyder Fawr, the highest peak in the Glyderau range (1000 m) and the 5th highest mountain in Wales.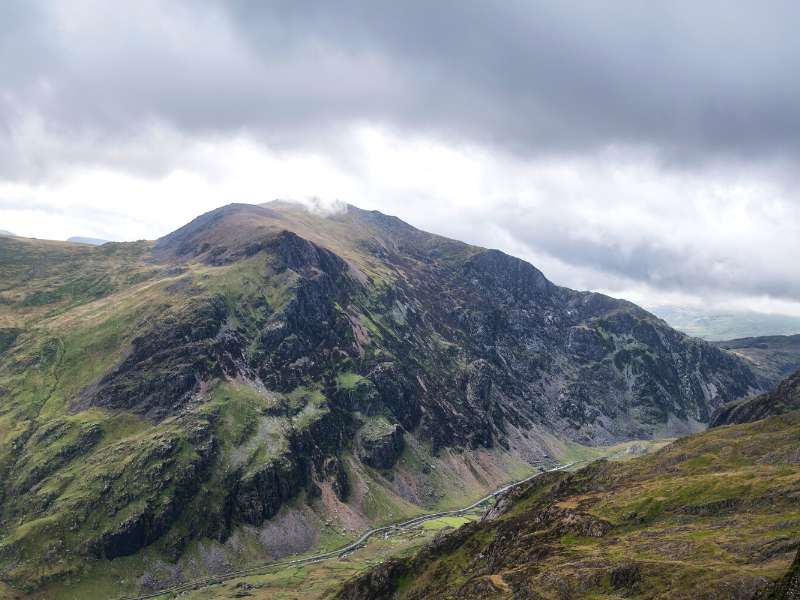 You'll continue over five more summits until you reach the town of Bethesda. It's a challenging day but worth every step; the views are stunning.
There are a few places you can stay the night, including Caban Cysgu and Tyddyn Du Bunkhouse. Or check out these places to stay in Bethesda.
Stage 9: Hike from Bethesda To Conwy
Start Point: Bethesda
Distance: 17.9 miles (28.9 km)
Total Ascent: 1,134 m (3,720.4 ft)
Finish Point: Conwy
Unfortunately, the final stage of your journey doesn't get any easier, so some people like to split this day in two.
I wasn't that smart and struggled through the hike. In hindsight, I'd separate the day the next time.
The day starts with a hike up the mountain summit of Moel Fabn. from here; you'll climb five summits, each getting progressively higher until you reach Foel Fras at 942 meters above sea level.
The summit provides excellent views of the Ogwen Valley and the surrounding area. Once at the summit, the hiking gets easy because it's pretty much all decent until you reach Conwy.
You'll want to spend the night in Conwy.
Frequently Asked Questions About Hiking the Snowdonian Way Mountain Route
Where To Stay When Hiking the Snowdonia Way Mountain Route?
One of the best things about hiking Snowdonia Way is you're never short of places to stay.
Snowdonia is full of tiny B&Bs, hotels, bunkhouses, and campsites, so you'll be able to find something from basic accommodation to comfortable accommodation depending on your budget.
Where To Get Food & Drink?
Some of the villages you'll pass are pretty small, but that doesn't hinder your chance of getting a good hiking breakfast or topping up on your hiking snacks. You'll also find plenty of camping shops that sell boil-in-a-bag food if you're camping.
You'll also want to have a good hiking breakfast before you head out each day.
When Is The Best Time To Hike the Snowdonian Way Mountain Route?
Ideally, you should go in summer, especially if your map reading abilities are limited. During the summer, you can usually expect good weather with an odd day of rain.
Winter and autumn dates can be tricky due to poor weather. You can quickly find yourself in a whiteout where you can't see more than 10 meters in front of you, and you don't want to be on mountain ridges when they're wet as they'll become very slippery.
For this reason, you need to be able to read a map and compass very comfortably during these periods.
While I recommend wearing Merino wool at any time of the year when hiking, it's especially useful if you do this route in the fall.
What Hiking Gear Do I Need for the Snowdonia Way Mountain Route?
What's the closest airport to Snowdonia National Park?
The closest airport is Liverpool (LPL) Airport (54.1 miles away). Other nearby airports are Manchester (MAN) (77.7 miles) and Dublin (DUB) (92.9 miles)
Final Thoughts & Takeaways
The Snowdonian Way Mountain Route isn't for the faint-hearted. It's a challenging walking route that sees many hikers drop off and exit the trail. You need to be a fit walker and a confident walker who's not afraid of heights. 
But if you love summiting mountains, it's a one-of-a-kind route you need to take. It will take you up to some of the most famous peaks in Wales and provide you with mountain views you could only dream about.
Saying that:
It's not something I'd do again, at least not in one go; it's physically and mentally demanding. You need to be a strong hiker with excellent map-reading abilities!
Finally, if you need help planning your route further, I used Hiiker App. It shows you the exact route, which does make like easier.