This post is also available in: German
You've heard that breakfast is the most important meal of the day! That's especially true when hiking since it can be so strenuous and you'll burn more calories than usual.
These hiking breakfasts will fuel your day hike with the right balance of carbs, protein, and fat – giving you sustained energy for tackling the trail!
What's the Right Nutritional Balance for a Hiking Breakfast?
Fueling your body while hiking is essential. The Mayo Clinic recommends that endurance athletes obtain 60-70% of their calories from carbohydrates, 10-15% from protein, and 20-30% from fat.
Why? Because:
Carbohydrates provide energy for muscles (important when you're hiking up a steep incline)
Protein repairs tissue damage during exercise.
Fat aids in sustaining long-term energy levels, something you need when you're going for a long hike.
However, the optimal balance may vary depending on your individual needs as well as the length & intensity of your hike.
Ultimately it's important to experiment with different breakfast items before you hit the trails so that you can feel great and enjoy your time in the outdoors. But you will want to eat additional calories since you'll be burning more while hiking, so choose a hearty meal of healthy food that will keep you full.
Don't forget to add some salt, too, since you'll lose vital electrolytes when you sweat.
My hiking breakfast always consists of a cup of coffee and often leftovers from my meal the night before. One of my favorite meals is a frittata since it's quick to make, and I can add whatever vegetables I have lying around. You'll see the recipe below.
12 Best Hiking Breakfast Ideas to Fuel Your Hike
These hiking breakfast ideas are intended if you're eating breakfast at home and are doing a day of hiking, so you won't see any dehydrated meals or instant coffee here.
But you may notice that some of them do have a higher caloric density than your average breakfast would. That's because you'll quickly burn off the extra calories from hiking and need the extra fuel.
Watch for a coming post on preparing breakfast when you're doing a backpacking trip.
1. Breakfast Bars: When You Need a Fast Hiking Breakfast
You can make your own oatmeal breakfast bars, like this one, which I recommend making ahead of time or if you're short on time choose a premade one like Nature's Bakery Whole Wheat Fig Bars or KIND Breakfast Protein Bars. Look for ones that have natural ingredients and aren't loaded with sugar.
Most come in a variety of flavors so you can choose what you prefer. Watch for ones that have natural sugars from fruit and aren't packed with processed sugar providing additional calories for no nutritional benefit.
2. Meal Replacement Shake
When you have a really early morning hike, a meal shake like Purely Inspired All-in-One Meal Replacement can save the morning. It delivers an incredible delivers 20 grams of premium plant-based protein, 6g of fiber, omega-3s, 27 fruits and vegetables, 17 vitamins and minerals, and 1 billion CFU probiotics, making it a balanced meal replacement option.
It's also vegan and gluten-free. It's one of the healthier options and provides a convenient energy boost.
Look for a meal replacement shake that's high in protein. Many come in a variety of flavor assortments, although I tend to prefer vanilla or chocolate.
3. Oatmeal
Sometimes you can't beat a hot meal, and oatmeal is a favorite hiker breakfast because it's easy to make and packed with nutrients to give you sustained energy on the trail.
Simply add water to instant oatmeal, like Quaker Oatmeal or cook old-fashioned oats, then top with fresh fruit, nuts, and seeds for a filling pre-hike meal. Plus, it's an inexpensive meal, so perfect if you're on a budget.
4. Breakfast Burrito
Breakfast burritos are another hiker favorite. It's a hearty option that will keep you fueled all morning long. Fill a whole wheat tortilla with scrambled eggs, black beans, cheese, and salsa, then roll it up and enjoy on the go.
If you're feeling extra hungry, add some avocado or sausage to your burrito. You can also make an extra one for your lunch. While it's quick, it does require a bit of cooking time, so I recommend making them in advance.
5. Pancakes Stuffed with Peanut butter for a Sweet Breakfast Meal
Pancakes are another great option for a hot breakfast before you hit the trails if you don't have a super early hike. You can either make them from scratch or use a mix.
I like this recipe since it has filling peanut butter (or you could use another nut butter). I'd also sprinkle with flaxseed for some extra protein and fibre to keep you full. Top with fresh fruit for a delicious start to your day.
6. Banana Oat and Walnut Muffins
Muffins are an easy way to get in some complex carbs, healthy fats and natural ingredients before hitting the trail. Make them ahead of time since they do require some cooking time.
Then you'll have a grab-and-go hiking breakfast when you have an early morning. Plus, bananas are a natural source of electrolytes. Add some chocolate chips or dried fruit to your muffins for an extra hit of energy. Be sure to pack extra ones for a hiking snack. Check out this recipe.
7. Quinoa and Egg Muffins
Not your traditional muffin, these ones give you 6 grams of protein, and quinoa helps keep you full. I often make salads and add a handful of quinoa for a hearty meal. I think quinoa a seriously underused healthy food. You could either make them in the morning or the night before.
8. Fruit and Yogurt Parfait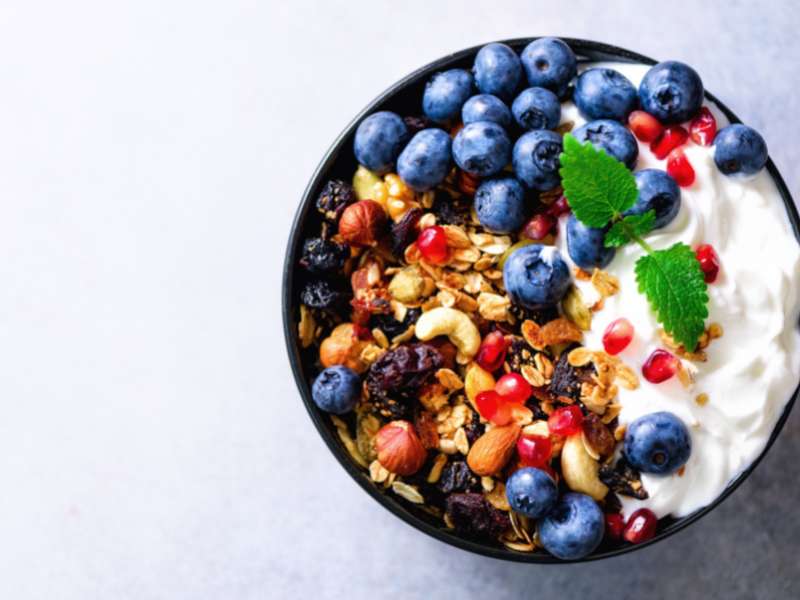 A fruit and yogurt parfait makes a light but satisfying breakfast that's perfect for warm-weather hikes. Layer Greek yogurt, fresh berries, and granola in a jar or container, then enjoy when you're ready to eat. It's chock full of natural ingredients and natural sugars. This hiking breakfast is also easy to make ahead of time for a quick and easy hiking breakfast.
9. Whole Grain Bagel with Peanut Butter
Whole wheat or whole grain bagels are a great source of complex carbs and will give you sustained energy on the trail. Toast a bagel, then spread with peanut butter (or another nut butter) for added protein and flavor and a sprinkling of flaxseed.
10. Summer Sausage, Hashbrowns and Veggie Frittata
Frittatas are one of my quick go-to meals, partly because they're a multi-serving meal. I like anything I can cook once and eat at least twice!
I make one at least once a week and then put the leftovers in the fridge. I recommend making this one the night before, and would also add zucchini and sprinkle with flaxseed.
11. Breakfast Sandwich
A breakfast sandwich is an easy way to get all of your favorite morning flavors in one portable meal. Simply layer eggs, bacon or sausage, cheese, and vegetables between two slices of whole grain bread, then wrap it up for a quick hiking breakfast.
If you have an early hike, prepare it the night before, so it's ready to go in the morning.
12. Trail Snacks
While not my first choice, when you wake up late and don't have time for even a quick breakfast, you can grab some quick trail snacks to eat on the way to your hike.
Consider fresh foods, like a piece of fruit – bananas are a natural source of electrolytes, energy bars, trail mix, beef jerky, and/or fruit leather and drinking coffee on the go if you need your morning cup a joe, like me. 
You'll find more ideas in our hiking snacks articles for a convenient energy boost. 
More Tips for a Healthy Hiking Breakfast
Drink plenty of water when you walk up and before you start hiking. This will help prevent dehydration.

Look for foods that are a natural source of electrolytes – think bananas, apricots, and sunflower seeds for example.

You may be tired if you have an early morning and are tempted to get a sugar rush with gummy bears or jelly beans, but instead, get natural sugar (and nutritional density) from fresh fruit.

If you're choosing a packaged meal, like a protein bar, look for one with natural ingredients. Otherwise, you'll feel sluggish as your body has to use its energy for digesting instead of for hiking.

While you will want to eat additional calories to compensate for the extra calories you'll be burning, you want them to be nutritionally dense. You don't want a hit of energy that disappears as quickly as it comes.

Despite your hearty hiking breakfast, you may find yourself hungry earlier than you'd usually be. That's totally normal. Check out our healthy hiking snacks post for ideas.
On your hiking days, breakfast is more than ever the most important meal of the day and now you know which hiking breakfasts will provide energy to fuel you up the mountain.