Legends and ancient Greek mythology abound in Mount Olympus National Park in Greece, making for a unique hiking experience. Just don't anger the gods, or else!
According to Greek mythology, Olympus National Park was home to the ancient 12 Gods. Naturally, Zeus lived on Mount Olympus, the highest peak.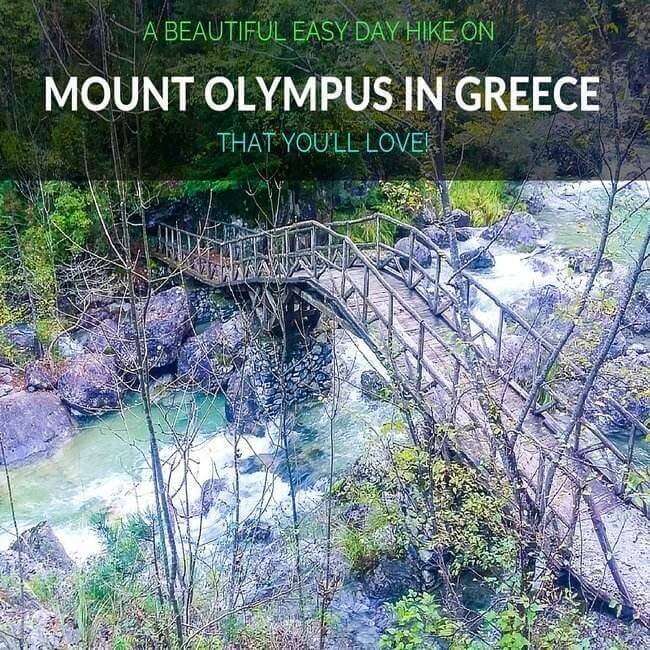 There's something both eery and magical about Greece's first national park. A lot has happened in its 3000-year-old history.
It's also a UNESCO World Heritage Site and a Biosphere Reserve.
Recommended Reading: Hiking in Greece: The Top 9 Places
The original plan was to climb Mount Olympus. It's the highest peak in Greece at 2918 m. Our plan was to stay at Yosos Apostolidis, the only refuge along the way.
I was beyond excited and looking forward to not only the climb but hiking among the gods. Albeit admittedly a little anxious. Nobody wants to anger a Greek God, especially high in the mountains!
Recommended Reading: Crete White Mountains Hiking Tour
Alas, it was not to be. It was already near the end of the hiking season in October and had rained heavily a few days before. Therefore our planned changed.
Instead, our group settled on a much easier afternoon hike – Enipeas' Gorge. The name Enipeas comes from a sea deity.
According to Greek mythology, Enipeas' Gorge is where the musician Orpheus was devoured by Maenads. They were the immortal female followers of Dionysus, the god of ritual madness and ecstasy!
Although I had nothing against my fellow hikers, I secretly hoped to witness one of them being devoured by Maenads. Serious who wouldn't?
Unfortunately, or perhaps fortunately for my fellow hikers, Maenads didn't show up. Or if they did, they were stayed well hidden.
It's no wonder that the forested path with wooden bridges crossing the Enipeas' River feels shrouded in mystery!
The 10km path also leads you to an important historic site in Mount Olympus – The Holy Cave of St. Dionysus Monastery. St Dionysus spent time in Meteora, then Mount Athos, leading a pious life.
Many monks came to hear his wise words. He guided many lawless people to the path to salvation. Nearby, but not directly on the Enipeas' Gorge Trail, you can visit the Old Monastery of Agios Dionysus.
Besides the Greek mythology, legends and historical sites, keep your eyes open for the 100+ bird species and 30 amphibian and reptile species that call Mount Olympus home. I was thrilled to see this salamander, right on the trail.
Recommended Reading: Greek Cyclades Islands of Tinos and Naxos Hiking Tour

A salamander, one of the 30 amphibian/reptile species found in Mount Olympus National Park.
It's this unique combination of Greek mythology, 3000-year-old legends and historical sites, along with the flora and fauna that make Mount Olympus so special!
And you don't have to climb to the top of Mount Olympus to experience it, although I would sure like to!
How to Hike Enipeas' Gorge in Mount Olympus National Park:
I did the Olympus Hiking Tour with a local guide, which you can book here.
The 10km one-way hike starts in Prionia and finishes in Litochoro. You will need to either hike back or arrange a transfer back if you're hiking on your own. You can find a map of the Enipeas' Gorge here
There are no huts/refuges along the way, so be sure to bring water and snacks if required.
See our recommendations for a day hiking packing list
What Else To Do Nearby:
Visit the ancient shepherd village of Old Panteleimonas; located ~30km away.
Hike in Meteora. It's an incredible UNESCO World Heritage Site, home to suspended monasteries, and unique hikes. On one guided hike, you can hike to an old monk jail! It's located ~2 hours from Mount Olympus by car.
Where to Stay:
I stayed at Cavo Olympo Luxury Resort & Spa. It's the only 5* hotel in Pieria, ~ 30 km from Litochoro.
I LOVED this hotel so much. It offers incredible value for luxury and views of Mount Olympus and the Aegean Sea, AND it has a private beach!
Note: Thank you to Visit Meteora who made my visit possible. As always, all opinions are my own.