When hiking in Greece, you'll encounter mesmerizing waterfalls, world-famous gorges and sweeping sea views from some of the highest peaks in the Greek Isles. Could there be any more reason to visit?
There is plenty of variety when you're hiking in Greece. From idyllic Greek islands like Tinos and Naxos, charming village to village trails, and exciting routes to the summit of mythical Mount Olympus, home of the gods, it's no wonder that Greece is a dream hiking destination.
Related Reading: The Best Hiking Tents For Every Backpacker
Best Hikes in Crete
On our White Mountains of Crete Hiking Tour, you'll hike the best places in Crete without having to do the time-consuming research of where to go and how to get there. We've chosen the best hiking trails, arrange transfers for you where necessary, book you in our favourite accommodations and are there to welcome you in person and answer any questions you may have. We're also there if you need any support throughout your self-guided tour.
Recommended Reading: Trekking: How to Choose a Trek That You´ll Love
If you don't have enough time to try out our hiking tour, why not try a day hike instead. Choose between the Samaria Gorge full-day tour, an 18km hike that includes a stop for lunch in the picturesque Agia Roumeli, or a hike up to Mount Giglios, where you'll enjoy stunning views of Samaria Gorge, the Omalos Plateau and the full range of the White Mountains. 
Recommended Reading: Greek Cyclades Islands of Tinos and Naxos Hiking Tour (Self-Guided)
Mount Olympus Hike
Located in Mount Olympus National Park, the first and oldest national park in Greece, Mount Olympus is the country's highest peak and the mythical home of the gods. 
There is so much to be discovered on your way to the summit of Mount Olympus, the highest mountain in Greece at 2,918m. That's why we recommend trying out this private guided hike. You can relax and enjoy the hike without worrying about finding the right route for you. While you hike, you're guide will share with you the local legends and myths associated with Mount Olympus. Be sure that you're ready for the distance and the Class B scramble that awaits you at the summit. It can get daunting for beginners.
If you're up for more than just a day hike, check out this guided tour where you can split your way to the summit with an overnight stay at Yosos Apostolidis, the only refuge on Mount Olympus. 
Recommended Reading: Crete White Mountains: Hiking Tour in Greece (Self-Guided)
Hiking in the Cyclades Islands of Tinos and Naxos
On our Tinos and Naxos Hiking Tour, you'll explore two of the most beautiful Greek islands. While hiking in this part of Greece, you'll discover breathtaking views of the Cyclades Islands, picturesque villages, serene beaches and the towering peak of Mount Zas. 
Related Reading: 7 Fun Facts About the Balkan Mountains
Our self-guided Cyclades hiking tour is tailor-made to ensure you have a stress-free experience while you enjoy the scenic routes specially chosen for you. After a day of exploration, stay in a charming boutique hotel and explore the exquisite cuisine that awaits you in the picturesque villages. We even take care of all your transfers and include picnic lunches for your convenience. 
Related Reading: Average Hiking Speed: Why it's Important and How to Calculate it
Hiking in Meteora
Meteora's unique landscape and legendary monastery caves make this the perfect place to enjoy epic hiking in Greece. With its large network of trails, there are plenty of options that will take you on the same well-travelled paths that the legendary monks of Meteora once used.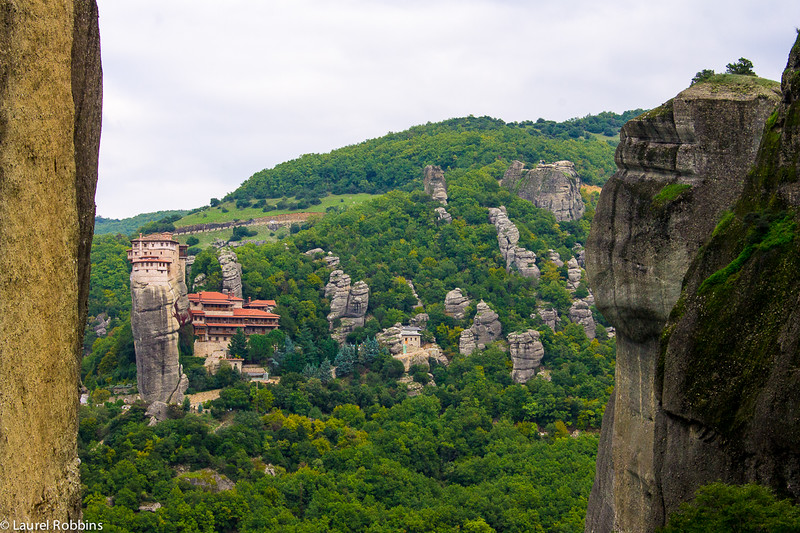 The Meteora Monasteries are rich with legends and hidden caves that only the locals know, so it's always better to explore with a guide. On a guided tour such as this half-day hike, you'll not only learn more about the monks that once resided here, but you'll also explore some of the harder-to-find caves. 
Recommended Reading: Kalarrytes: Photojourney to a Remote Greek Mountain Village
Hiking Vikos Gorge
Vikos Gorge is the world's deepest gorge at 1,700m, and an unforgettable hiking experience in Greece. Numerous trails lead into the gorge, with the most popular start points in the villages of Monodendri or Vikos. The routes are both scenic, but long and should only be attempted when the river is low. 
As you do need to be very careful of the water levels, it's always better to hike Vikos Gorge with a guide. A guided tour like this half-day hike through Vikos Gorge includes a stop at the Voidomati Springs, Greece's coldest river, and an authentic Greek picnic. Be sure to wear good hiking shoes as the ascent can get pretty steep in sections. 
Recommended Reading: Hiking in Epirus, Greece: A Hidden Paradise for Hikers
Hiking Gerolimni Waterfall 
Located on Andros, the Gerolimni Waterfall is a lesser-known attraction but well worth a visit. To get to the falls you have to trek through the Achla River and lush vegetation which makes this an exciting hike in Greece. River trekking is not easy and without experience can be dangerous. 
That 's why you should do this trek on with a local guide. This hiking experience offers you a safe way to traverse the river and many streamlets that meet you on the way. You'll also learn more about your unique surroundings, and end with a swim at the Gerolimni Waterfall. 
Hiking Plakias
Crete is one of the best places to visit when looking for challenging hiking in Greece. There are some great village to village trails where you will discover beautiful landscapes and unforgettable cultural experiences. 
Without basic knowledge of the area, you would need a lot of time to plan a route with great views and that matches your hiking abilities. To make your experience stree-free and fun, it's better to go with a guide. You can try out this two-hour hiking tour that explores the lesser-known Plakias. After your hike, you'll be rewarded with a stop at a stunning beach and a traditional Cretan meal served at a tavern with unforgettable sea views. 
Recommended Reading: Meteora: Calling All Adventure Seeking Monks
Hiking in Corfu
Corfu, also known as the emerald island of Greece, is the perfect mix of charm and adventure. Whether you're planning a day of city walks in the quaint French alleys or venturing into the lush countryside, this is where you'll find some of the best hiking in Greece. 
If you want to avoid tourist traps and overcrowded sights, the best way to hike Corfu is with a guide. Try out this multi-day trekking adventure, where your guide will take you to quiet beaches and the highest peak on the island. The experience also includes traditional Greek meals and unique cultural experiences. Or you can explore a section of the island with this day tour, that takes you through lush olive groves and down to one of Corfu's most popular beaches.
Recommended Reading: Mount Olympus in Greece: A Beautiful Easy Day Hike
Hiking Mount Taygetos
Hiking in Greece is not complete without summiting one of its many peaks. Mount Taygetos is the highest mountain in the Peloponnese at 2,407m. The walking trails of Taygetos are littered with fantastic forests, gorges, and alpine meadows littered with fragrant shrubs. This peak is also well known for its connection to the ancient Spartans. 
You can hike to the top on your own, but without a guide, the experience is lacking. On a guided hike, such as this full-day experience, you'll be guaranteed better views. Your local guide will also entertain you with the myths and legends of the Spartans before treating you to an authentic Greek picnic. 
Hiking in Greece is an experience of a lifetime filled with myths, culture, and unrivalled views. Which of these hikes will you be trying?