The best way to discover the iconic region of Cinque Terre is on a tour, even if you're largely travelling independently.
You'll get an insider glimpse into the culture and facts about the region that you wouldn't get if you visit independently.
I'll share with you my personal experiences from traveling around the incredible medieval fishing villages and provide you with some great advice to ensure you have a wonderful experience.
11 Best Cinque Terre Tours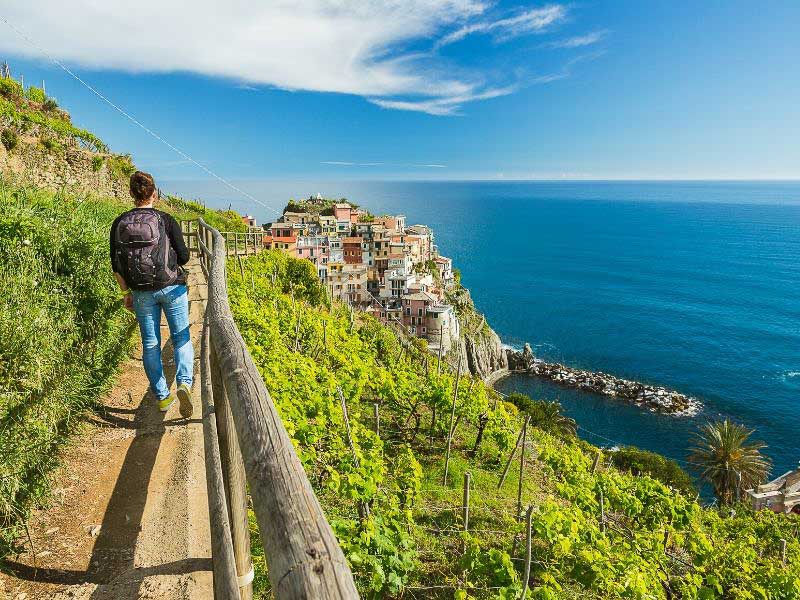 Related Reading: Where to Stay in Courmayeur: The Best Accommodations for Hikers and Skiiers
Get the inside scoop on our 8-day self-guided walking tour of Cinque Terre! Take the time to relax, and eat delicious Italian food with gorgeous seaside views while exploring the world-famous Cinque Terre. One of the highlights is the hiking trail that leads to San Fruttuoso Abbey. It's a 1000-year-old monastery that's only reachable by foot or by boat! This tour is perfect for those looking to discover some of the lesser-known places in the Italian Riviera in an active adventure.
You can also visit Portofino. It is a beautiful town with lots of shops and restaurants along the harbor. After spending some time relaxing on the beach, reward yourself with a delicious meal before choosing your next boat. Another great hike is between Riomaggiore and Portovenere. Although Riomaggiore attracts the largest crowd, you won't find any crowds once you start walking.
Related Reading: Best Things to Do in the Aosta Valley (Valle d'Aosta)
Highlights:
Walk the famous coastal route between the 5 famed villages known collectively as 'Cinque Terre' (Monterosso, Vernazza, Corniglia, Manarola and Riomaggiore)
Discover the jetsetter port of Portofino and other lesser-known but lovely coastal villages on the Ligurian Riviera (Camogli, Bonassola, Deiva Marina, Framura, Levanto)
Explore some lesser-known trails that offer stunning coastal views. They're some of the best-kept secrets in the Italian Riviera.
Walk among olive groves and vineyards while enjoying stunning views of the Ligurian Sea.
Indulge in delicious Italian food and wine every night (including the olive and vineyards you passed earlier) – the area is famous for its pesto, fresh fish, and seafood dishes.
Related Reading: Where To Stay in Cinque Terre: 18 Top Choices for Everyone
Discover the charms of the Cinque Terra, a coastal area of cliff-hanging villages and dramatic sea views on this one-day private guided driving tour. Visit UNESCO-listed regions with a driver-guide escort and learn about the areas' rich historical backgrounds.
Take a boat ride along the coast between Manarola and Vernazza. You may want to spend some free time exploring both towns on your own before visiting any winery or restaurant. Try tasting some regional varietal wines at your own expense.
This is perfect for small-group private guided tours since it ensures a more personal experience. Round-trips transportation from Florence is also included.
Highlights:
Transport by an AC minivan (maximum of eight people).
Visit UNESCO-listed regions with a driver-guide escort and learn about the areas' rich history
Visit three gorgeous villages in the Cinque Terre area: Manarola, Vernazza, and Corniglia Gratuities
Related Reading: 5 Travel Tips You Need To Know Before Visiting Cinque Terre
This traditional Liguria boat departure from Monterosso provides an excellent way to explore the Cinque Terri coastline in style. The large deck is ideal for relaxing, enjoying panoramic views, and exploring the secrets of this unique part of the world. It's also good for people looking for an intense experience at the beach. Enjoy this unique opportunity to visit our beautiful beaches and to discover and explore the hidden gems of the coast.
Highlights:
Free use of snorkeling equipment
The tour passes by all five seaside towns of Cinque Terre with time to stop and enjoy some spectacular views.
Get a taste of their famous pesto Cinque Terre and focaccia water, local wines, and beers.
Related Reading: 15 Most Beautiful Places in Italy to Visit
This is a great Cinque Terre tour to avoid crowds! Enjoy 3 hours of Watching the sunset over Cinque Terre. In a small boat tour, the journey begins and ends at the Monterosso Pier. You will be passing by beautiful villages such as Corniglia, Manarola, and Riomaggiore.
Highlights:
Exploring Vernazza before heading back to Monterosso.
Pass by local villages and take photos as the sun sets Aperitifs and prosecco will be served
Snorkeling equipment is available on board
Related Reading: 20 Best Hikes in Europe for Breathtaking Views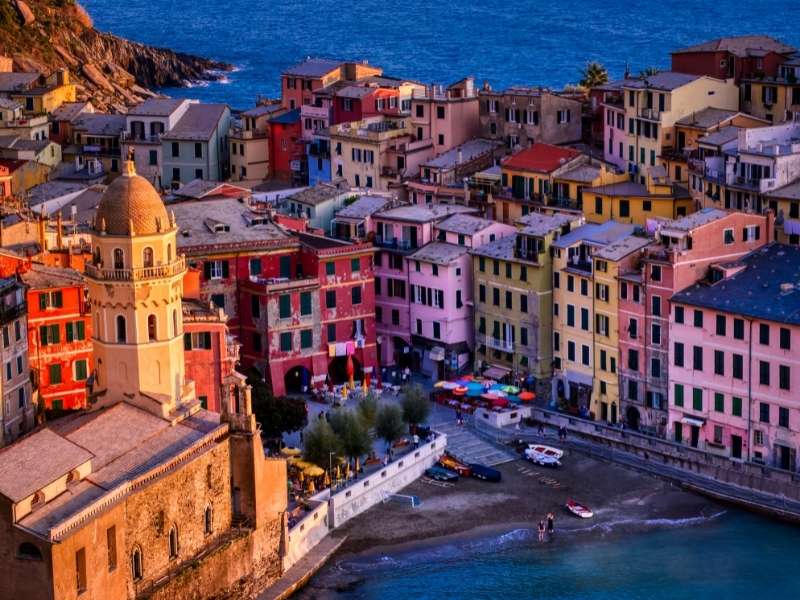 This small-group, captain-led Cinqueterre boat tour boats stunning coastal views of Cinqueterre's iconic villages. cruise along the shore, from Manarola up until Punta Mesco as your captain gives an enriching commentary on the amazing history and culture of the Lingurian coastline and a chance to spot bottlenosed dolphins along the way.
Highlights:
Insider commentary on the cultures and cuisines of the coastline
See all five colorful villages from a unique and scenic perspective
Related Reading: 9 Best Walking Holidays in Italy
Skip the land-based crowds and cruise the Cinque Terre and Porto Venere instead! Enjoy this half-day experience that combines stops to swim and explorations. Take some time to relax on deck, coast-gazing, and snacking on treats from the Liguria region.
Highlights:
The boat has a restroom on board and a freshwater shower
Sample regional specialties such as fresh pesto and focaccia
Snorkeling equipment is available on board
Keep cool as you cruise with complimentary water and other drinks
Related Reading: The 9 Best Places to Visit in Italy
During this half-day cooking class, learn how to master two types of homemade pasta and a traditional Italian cake. You'll follow step-by-step instructions from an expert chef who will teach you how to create these dishes in his own kitchen.
Highlights:
Hands-on instruction in classic Italian recipes
Complimentary prosecco and snacks, plus soft drinks
Insider tips from an Italian home cook
Related Reading: Alta Via 1 Self-Guided Hiking Tour in Italy
Learn about the history of the region under the guidance of the ship's hospitality as you sail at sunset. This traditional and historic Ligurian boat passes by the Vernazza, Corniglia and Manarola on this journey.
Highlights:
Cruise Cinque Terre Coast on a traditional and historic Ligurian boat.
Enjoy local delicacies drinks and tales from the captain and his wife.
Related Reading: 20 Nature Puzzles that You'll Love
You should definitely visit the Cinque Terres during the magic hour when the sunlight illuminates the small towns, the cliffs, the bays, and the inlet. A special boat departs directly from Monterosso, offering an unforgettable experience. You'll be able to visit all five towns (Cinque Terre) during the cruise, stopping at each one to admire its beautiful scenery and take pictures.
Highlights:
Swimming in the turquoise sea
Exploring famous small inaccessible coves
Tasting their famous "Pesto Cinque Terre", Focaccia, Acqua Beer and local wine
Related Reading: Best Adventure Travel Insurance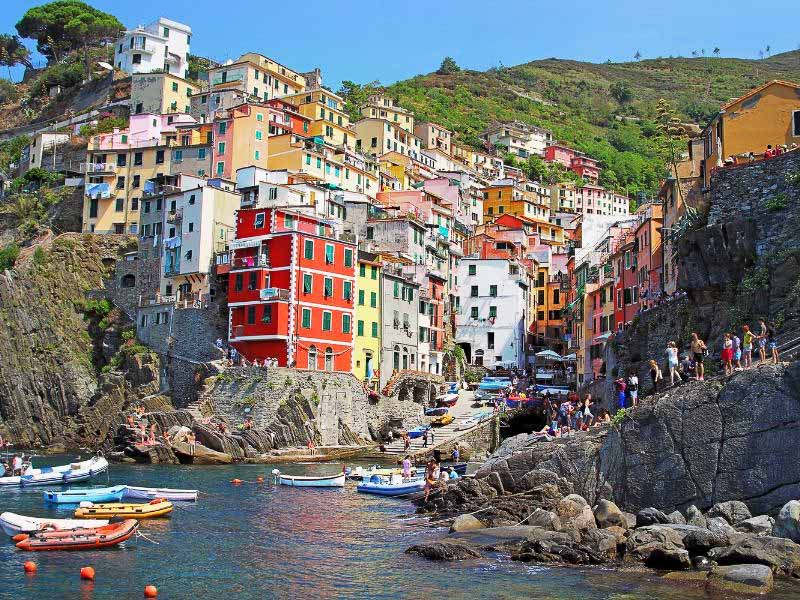 If you plan to visit Monterosso from the sea I suggest you take this Cinque Terre tour. You will be away from the crowds of visitors. Discover amazing places and anecdotes between Montersosso and Vernazze by your guide. Then enjoy serene spots for swimming and snorkeling.
Highlights:
Equipment is provided
Easy access since it's close to a large public car park and the railway station;
Related Reading: 15 Most Romantic Hotels in Europe: The Best Places to Stay
Visit the lively local market and learn from the experts in this Cinque Terre tour! Soak up kitchen skills from Italy's oldest network of 1000+ home cooks all over the country in more than 500 cities. Better known as Cesarine.
During the lesson, participants will learn how to prepare three authentic Riomaggiores recipes. They will also get an opportunity to try out their culinary skills. Afterward, they can enjoy a tasting session where they can savor the food and wine pairings.
Highlights:
Visit the lively local market
Learn from 1000+ home cooks
Visit traditional shops
Take a private culinary lesson from a local home cook
Related Reading: Trekking Tips: 7 Things that Will Wreck your Trek
Frequently Asked Questions
Where is the best place to stay in Cinque Terre?
Each of the five villages has its own charm. Check out our guide, Where To Stay in Cinque Terre for suggestions. It also includes nearby towns outside of Cinque Terre which you may find quite a bit cheaper.
How many days do you need in Cinque Terre?
If you're planning to visit Cinque Terre and just want to see the highlights, you could do it 2 days. However, you could easily spend more a few more days and at a more relaxed pace discovering the seaside villages, enjoying wine tastings and getting in some hikes, like our self-guided Cinque Terre walking tour.
What is the best month to visit Cinque Terre?
Summer is very crowded with tourists and very hot. Accommodation prices also increase a lot during these months. We recommend going in spring, i.e. mid-March to mid-June, or mid-Sept to the end of October.
How long does it take to walk between the towns of Cinque Terre?
The famous walking trail that connects the five villages of Cinque Terre and is about 11 km long. Depending on your pace, it takes around 5-7 hours to walk/hike between towns but on average, 5 hours. Tip: check with the Tourist Information upon arrival that all the trails are open as some parts are often closed.
Where is the closest airport to Cinque Terre?
There's no airport in Cinque Terre. The closest major airports are Pisa, Florence and Milan. You can read our guide How to Get to Cinque Terre for further details.
• Pisa Airport: 120 km (1:30 hours by car) to Cinque Terre
• Florence Airport: 178 km (2:10 hours by car) to Cinque Terre
• Milan Airport: 267 km (3:12 hours by car) to Cinque Terre
Related Reading: Molise: Italy's Last Undiscovered Region
These tours of Cinque Terre give you a glimpse into the culture and history of the region.