The most beautiful places in Italy, since you're spoiled for choice, we're sharing our favorite places.
Blessed with gorgeous architecture pieces, stunning scenery, and vibrant cities, Italy makes for a rich and fulfilling holiday destination. Let's get started.

1. Colosseum
Let's start with a classic! This vast amphitheater built by the Roman Empire is their largest architectural establishment that is still standing and is a signature landmark of Italy. A sight that can only be appreciated with your own eyes – looking at pictures does not even come close!
Related Reading: 11 Best Cinque Terre Tours
2. Mount Vesuvius
A gem for true nature lovers. Located at the East of Naples, the volcano is still smoking, looking down at its once destroyed city remains. Visitors can now tour the site, roaming around the ancient streets, demolished theaters, markets, and temples.
3. Lake Como
Spread across Northern Italy, Lake Como is one of the most picturesque sceneries in the country. If you wish to explore natural attractions and have some time for relaxation, definitely try this area. There are many cities and towns that surround this lake, so finding a spot nearby will be easy.
4. Vatican City
Though small in size, the Vatican oozes Italian culture. Home to stunning pieces of art and art collections, the city is a must for everyone who wishes to experience the authenticity of the country. Do not forget to visit the great Basilica of St. Peter and Sistine Chapel, covered with frescoes of Michelangelo.
5. Cinque Terre
Another jewel for those who like spending time outdoors! Cinque Terre is a fusion of five small but charming villages and you can hike from village to village. Roam around lively streets and chat with friendly locals so that your visit to this fishermen's town is up to its full potential. This region is iconic in that you will find everything you expect from a small Italian town. You'll also want to check out the best places to stay in Cinque Terre.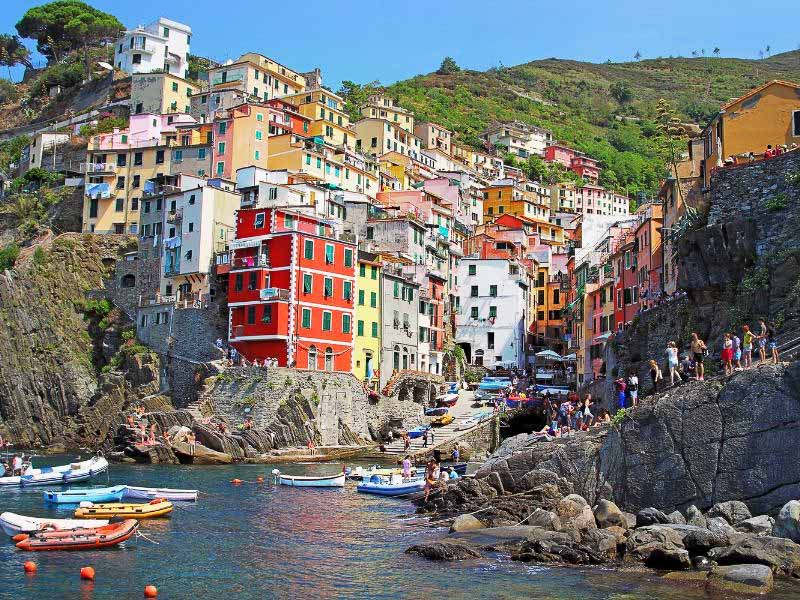 Related Reading: How to Get to Cinque Terre
6. Pantheon
Another well-preserved remnant of the Roman Empire, the Pantheon, is a temple dedicated to the planetary gods. It is also a burial for many great Italians – kings, painters, and others. Pantheon is a landmark for Italians, as it shows how one establishment can hold so much history and culture.
7. Milan Duomo
One of the world's largest churches and the best example of Gothic style, Metropolitan Cathedral-Basilica of the Nativity of Saint Mary is quite a mouthful, so just use the Italian version Il Duomo! An impressive facade and stunning architecture will captivate you for quite a while, so set some time aside for this place only, especially because tourists are now allowed up on the roof!
8. Stair of the Turks
Probably a little less known but amazing natural attraction is these rocky white cliffs in Southern Sicily. Walk across white marls and just enjoy the quiet, ocean breeze and the simplicity of the Italian coast. Also, ask the Sicilians for stories about the Turkish pirates this place was named after!
9. St. Mark's Basilica
In the heart of Venice, surrounded by magnificent buildings and clear canals, proudly stands the St. Mark's Basilica with a stunning Byzantine-inspired facade. Soak up the beauty by seeing the impressive mosaics and art, jewels and gold. You can also choose guided tours to learn about the history of the church.
10. Amalfi Coast
Impressive coastline dotted with towns and villages, Amalfi remains one of the most popular places in Italy. Find the time to relax at the beaches, spend evenings enjoying a drink at local restaurants and simply spend days living the Southern lifestyle.
11. Leaning Tower of Pisa
The Tower of Pisa is an extremely loved place by tourists from all over the world. The beauty of medieval stone carving and the exciting history behind the process of building the tower are the things that convince you to visit, but all the rest you simply must see with your own two eyes!
Related Reading: Best Things to Do in the Aosta Valley (Valle d'Aosta)
12. Langhe
Can you imagine Italy without wine and cheese? Impossible! This stunning region of Langhe in Piedmont is a picturesque scenery of never-ending wineries, and cozy cafes is a must-see place for any food-lover or simply any visitor who wishes to try out the Italian cuisine.
Visit Italy tours for inspiration and all the help with planning!
13. Dolomites
The Dolomites is the perfect place for travelers who enjoy outdoor sports. The hiking in the Dolomites is fantastic in summer. In winter plan on skiing and snowboarding. At any time of year you'll want to visit the small villages and forests nearby afterward.
14. Verona
The city of the most famous love story in the world, Romeo and Juliet, Verona is also one of the top destinations in Italy that you should see with your own eyes. A very romantic and elegant city, with some fantastic sights to enjoy and relaxed, friendly locals.
15. Porto Santo Stefano
A small, delightful town by the seaside, Porto Santo Stefano is located in the corner of Tuscany. A very picturesque holiday destination with luxurious yachts, busy streets, and relaxed travelers who enjoy the best food and scorching sun. Do not hesitate; become one of them!
Related Reading: Where to Stay in Courmayeur: The Best Accommodations for Hikers and Skiiers
Have a fantastic trip visiting these most beautiful places in Italy. We guarantee that this will be an unforgettable holiday if you take full advantage of what this amazing country has to offer!