With so many things to do on Tybee Island, it's no wonder that it's a popular vacation spot in Georgia. Your trip will be full of exploration, adventure and relaxation.
With its beautiful beaches, bountiful history and perfect location, there is no shortage of things to do on Tybee Island. In fact, there are so many fun-filled activities that you may need to extend your vacation.
Where is Tybee Island?
Located at the mouth of the Savannah River, Tybee Island offers you the perfect place to enjoy the Atlantic Ocean without leaving behind the warm Georgia weather. The island is just 18 miles from Savannah, making it a fantastic place to escape the city.
Recommended Reading: 20 Airbnb and VRBOs to Stay on Tybee Island.
What is Tybee Island known for?
Tybee Island wasn't always the picturesque holiday destination that it is today. Its rich history dates back all the way to the Spanish conquests. Until the late 19th Century, a portion of Tybee Island was a thriving military base.
But, those days have long passed, and the island has become the perfect summer vacation spot. Tybee Island is also a prime Hollywood location. Over the years this vacation town has seen the making of many blockbusters, including Baywatch and the General's Daughter.
Recommended Reading: Why You Need Adventure Travel Insurance and Our Top Recommendation.
Tybee Lighthouse & Lighthouse Museum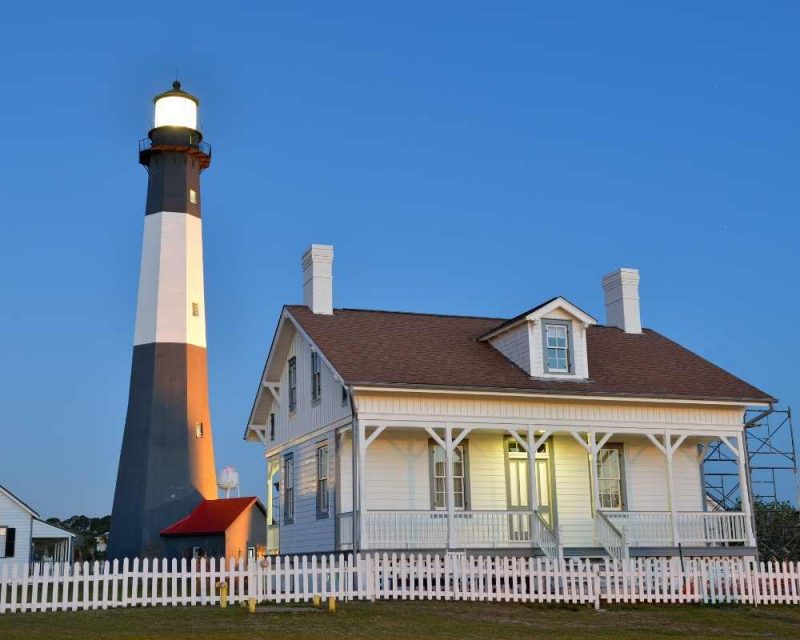 One of the last surviving colonial lighthouses in the U.S, the Tybee Island Light Station dates back to 1736. A visit to this 145 feet tower is well worth it. The picturesque lighthouse and surrounding buildings are a great way to learn about Tybee Islands' unique history. Don't forget to climb to the top for amazing views!
Related Reading: The Top 22 Airbnbs On Amelia Island for a Relaxing Vacation
Watersports on Tybee Island
Surfing
You may not find massive swells here, but the crowds are less, and there are still decent waves to be caught. Try out surfing at the Tybee Pier, South Tybee Sandbars and Little Tybee Island. If you aren't an avid surfer and are just starting, you'll find plenty of surf shops offering lessons on the main beaches.
Paddleboarding
When it comes to watersports, paddleboarding is a must-try. There are plenty of great places to try paddleboarding. If you're starting, you can check out one of the certified tours available on the island. For those with experience, you can head down to Little Tybee Island, Back River or Horsemen's Creek.
Kayaking
If you are looking for family-friendly things to do on Tybee Island, kayaking should be at the top of your list. There are plenty of places to kayak, including Little Tybee Island. If you have experience kayaking, you'll love the numerous small creeks on the island. You can also try out one of the numerous tours available for beginners and families.
Kite Surfing
Another fantastic watersport to try, Kite Surfing, is one that adventurers will love. Most surfing companies on the island offer lessons for beginners.
Related Reading: 14 Amazing Treehouse Rentals in Georgia.
Visit Fort Pulaski
Fort Pulaski was completed in 1847 at the mouth of the Savannah River. It has a long and intriguing history, having played a role in the Civil War and the Underground Railroad. Today the monument offers you a great escape and beautiful views.

Recommended Reading: 20 Airbnb and VRBOs to Stay on Tybee Island.
Hiking On Tybee Island
Lighthouse Overlook Trail
An easy 1.7 miles out and back, the Lighthouse Overlook Trail is the perfect way to spend an hour or two. You'll walk along an open marsh and a forested area, all with views of the beautiful Savannah River. And of course, you'll enjoy one of the best views of the historic Cockspur Island Lighthouse.
McQueens Island Rails to Trails
For a more challenging hike, the 6 mile McQueen's Island trail is perfect. The route follows the old Tybee rail line that once ran between Savannah and Tybee Island. The gravel path is perfect for hiking, running and even cycling.
Historic Dike Trail
The Historic Dike Trail is one of the best routes to check out. The trail is just 2 miles long and passes Fort Pulaski with views of Cockspur Island and the Savannah River.
Recmmended Reading: The 17 Best Hikes in the Smoky Mountains.
Hang out at the Beach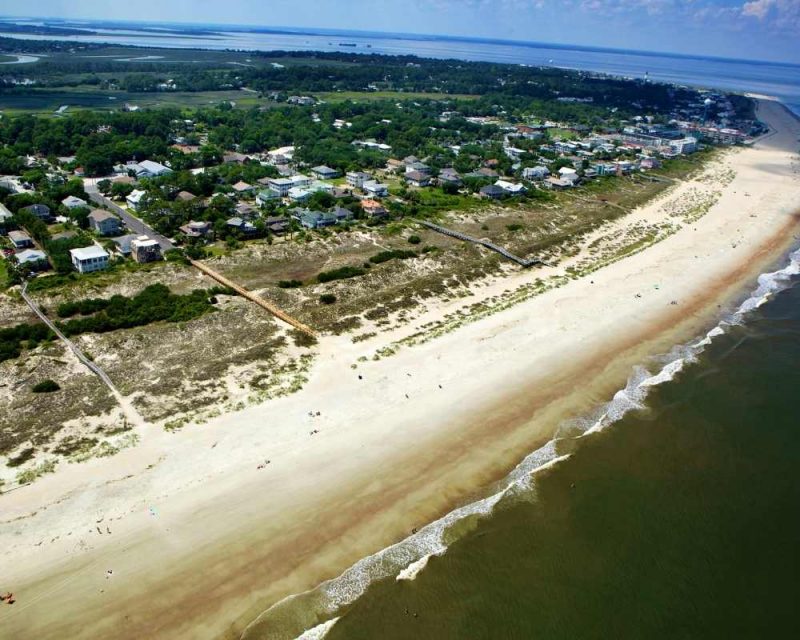 Watch the Sunrise at South Beach
There's no doubt that watching the sunrise is one of the best things to do on Tybee Island. Make sure to head to South Beach to take in the most breathtaking views on the island.
Picnic at Tybee Pier
The Pier is one of the islands' best attractions. Having a picnic here will allow you to enjoy the coastal breezes and stunning views. It's the perfect family-friendly activity and a great way to get out. It does get crowded, though, so get there early if you can.
Go Swimming
The best beaches for swimming and water recreation are South Beach and North Beach. During the summer, there are usually lifeguards at certain points but make sure to check water conditions beforehand to make sure they're safe.
Related Reading: 24 Most Romantic Airbnbs: The Best Getaways for Couples in the U.S
Birding on Tybee Island
The North Beach Birding Trail
Located at the mouth of the Savannah River, where it meets the Atlantic Ocean, this birding trail is worth a visit. During winter there are plenty of migrating birds to be seen, including, Sanderlings, Willets and Western Sandpipers.
Little Tybee Island
The uninhabited Little Tybee Island is twice the size of the main island, despite its name. There are plenty of places you'll find nesting birds. It is also a perfect place to camp if you're up for a multi-day birding trip.
Cycling on Tybee Island
Jaycee Park
Perfect for a day of fun with family and friends, Jaycee Park is an excellent place to enjoy a leisurely bike ride. Once you're done biking, you can stop for a snack at one of the many gazebos and picnic tables. It's one of the most relaxing things to do on Tybee Island.
McQueen's Island Trail
Besides being perfect for hiking, the McQueen's Island Trail is great for a day of biking. The 6-mile trail is easy and rewards you with great views.
Tybee Island
If you aren't in the mood to visit a specific trail, you don't have to. Tybee Island is bike-friendly, with plenty of roads quiet enough for a cycle on any day. You can choose to check Back River or bike down to one of the incredible beach paths. Just be sure to follow the rules of the road.
Related Reading: 10 Best Cabins in Florida's Everglades
Get on a Boat
Boat Tours
As you can expect with a terrific coastline, there are boat tours. There are plenty to check out that will bring you up close and personal with beautiful marine life. You may even be lucky enough to see a dolphin or two.
Kite Sailing
Very similar to traditional sailing, Kite Sailing, uses a towing kite for propulsion. This is one of the most exhilarating things to do on Tybee Island that every adventurer will love.
Fishing
There is plenty to be caught on the coast. Whether you enjoy fishing from the pier or prefer getting out on a boat to try your hand at deep-sea fishing. You'll find whiting, speckled trout and many more varieties of fish. Make sure to be aware of any permits you may need.
Related Reading: 19 Things To Do on Amelia Island For the Outdoor Adventurer
Tybee Island Marine Science Centre
The Marine Science Centre offers you several things to do on Tybee Island. There are plenty of programs to take part in, some at the centre and others around the island in marshes on the beach and the rivers. The aim of the programs to teach kids and adults the value of marine conservation. Call ahead to find out about their programs and times.
Where to Stay
There is a great choice of where to stay on Tybee Island – see our accommodation recommendations here. If you're looking for luxury check out this 4-star B&B featuring beach access or search by location for hotels and VRBO vacation rentals:
You'll find great things to do on Tybee Island for active relaxation and adventure.