Here are our top recommended tiny houses for rent on VRBO and Airbnb in the U.S. They're sure to make you fall in love with the tiny house movement.
Have you ever stayed in a tiny house? And I don't mean a small home. These houses are tiny yet come packed with everything you would need and more.
Get a brand new experience during your next vacation, or staycation with these perfect tiny house rentals on VRBO and Airbnb. You may just be inspired to join the tiny house movement.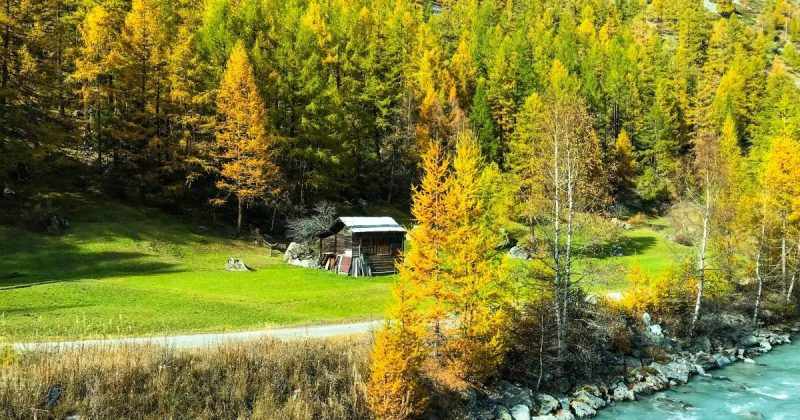 Recommended Reading: Why You Need Adventure Travel Insurance and Our Top Recommendation.
The Tiny House Movement
The tiny house movement or small house movement started some years ago. In a world that is consumer-driven, the tiny house movement reminds us that we can live a simple life with fewer things and smaller homes.

Since 2008 the tiny house movement was given much more attention and the idea of affordable and eco-friendly homes took hold.
The movement is about people reconsidering their finances and shifting away from the consumerism that has gripped us.

Basically, it's all about living simpler, having more time and money to spend on the things that matter most to us and being more environmentally sustainable. Smaller homes mean fewer resources are used for building these homes. And many tiny houses are built (or are moveable) and placed in gorgeous natural settings to feel more connected with nature. The idea behind the tiny house movement is simply magnificent.
Before you join the tiny house movement, see what it's like by renting a tiny house. Stay at least a week to get used to it and see if you could do it on a more permanent basis. You may want to try staying in multiple tiny houses to see what works for you and what doesn't, as each one has different features.
You may even join the tiny house movement after your stay. If you decide it's not for you, you've still had a unique experience.

Why Rent a Tiny House on VRBO
VRBO, which stands for vacation rental by owner, is a platform similar to Airbnb. The biggest difference is that unlike Airbnb where you can rent a room in a shared apartment, on VRBO you'll have the entire place to yourself, which I love.

While you can see the reviews on both platforms, only on VRBO can you see the owner's response. This is very handy so you can see how an issue was handled.

I'm personally in favor of VRBO for their customer service both from the customer point of view and how they work with bloggers. I won't say more than that but would encourage you to book with VRBO.
Related Reading: Hikes Near Seattle that You Just Have to Try
Check out these tiny houses on VRBO and Airbnb that give you a glimpse into what tiny house living is really like. We've added them according to State to make it easier to find the perfect one for you.
Tiny House in Colorado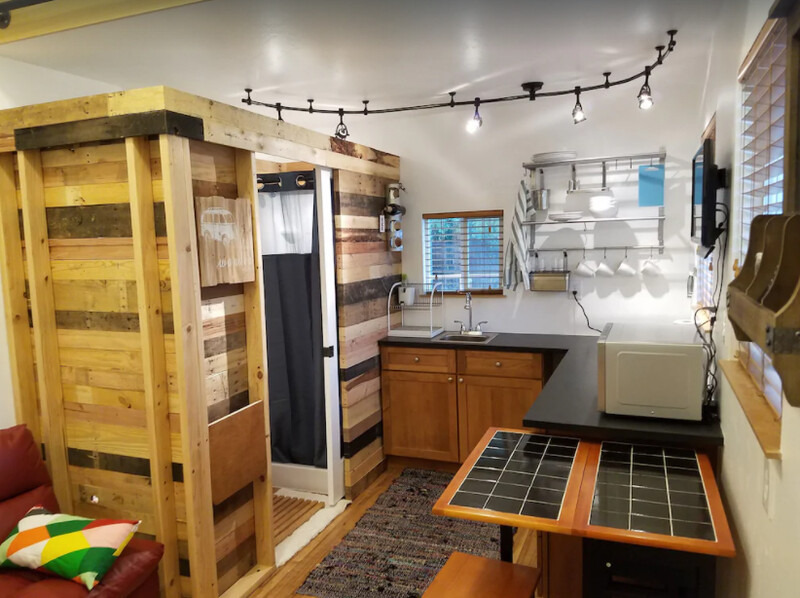 This great tiny home in the heart of the city offers you a cozy interior and the perfect outdoor area that includes a BBQ grill. Nearby you'll find a large park where you can enjoy cycling and running paths that link the entire city of Colorado.
The property is perfect for couples and is just an hour away from the area's best ski resorts. You won't find a better tiny house experience than this.
Price: From $90
Sleeps: 2 guests
Related Reading: 20 Coolest Airbnb Treehouse Rentals in the U.S
Tiny House in Pahoa Hawaii
2. The Phoenix House – Tiny Home on Volcanic Lava Field, Pāhoa, Hawaii
As far as tiny houses for rent go, this is a pretty cool stay with a super exciting location, at the foot of a volcano in Hawaii. The Phoenix House is an Airbnb Plus and is the perfect and unique way to experience the best of Hawaii. The decor speaks for itself in this tiny house and won't leave you wanting.
The tiny house offers a cute kitchen with all your necessities and it is totally off the grid and secluded. Perfect to take in the unique terrain.
Price: From $88
Sleeps: 2 guests
Tiny Houses in Montana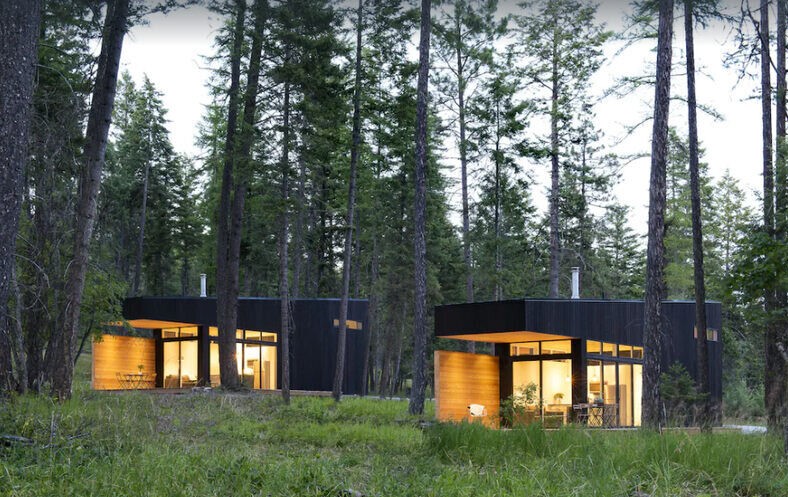 Within walking distance from Flathead Lake waterfront park, the modern Blackfoot is the perfect tiny house to stay at. You'll be a short distance from the Blacktail Mountain Ski Area and beautiful hiking and biking trails.
The cabin is perfect for couples and small families looking for adventure and tranquillity in the woods. Enjoy perfect views from the wide windows. The interior includes a cozy lounge and kitchen with great appliances, including a dishwasher.
Price: From $129
Sleeps: 4 guests
Tiny Houses in North Carolina
This tiny house in downtown Asheville is perfect for solo travellers and couples. You can enjoy a comfortable place to stay that includes a bathroom with a shower and a kitchenette.
Full-speed wifi is also available and all the best restaurants and breweries are just a few minutes away by foot.
Price: From $84
Sleeps: 2 guests
5. Tullamore Dew Flat Rock, North Carolina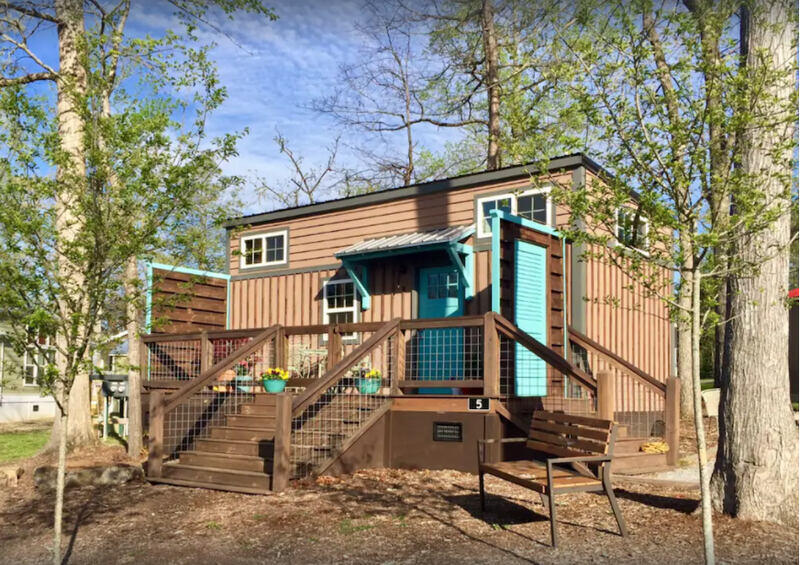 You can enjoy an incredible stay at the Tullamore Dew. This charming tiny house has a spacious deck where you can relax and take in your perfect surroundings. Enjoy luxuries like granite countertops and modern appliances. There is even a crystal chandelier in the living room.
You'll love the bathroom with its large shower and how surprisingly spacious this property is. Take a short walk to the clubhouse, where you'll find a pool table, TV, free wifi and an exercise room. There is also a great pool where you can hang out in warmer weather.
Price: From $103
Sleeps: 2 guests
Related Reading: Northern California Road Trip A 3 Day Vacation not to be Missed
Tiny House in Dover Ohio
You gotta love all things refurbished that have found an exciting new use, and the same goes for this shipping container turned tiny house on VRBO. Located in the woods, this is the perfect escape where you can try something new and get in some ever-needed relaxation.
This unique tiny house to rent has everything including a kitchen and bathroom. What is really amazing about this place is that once your inside you'll find it hard to remember that you're in a shipping container at all. That's just how homely it is.
Price: From $144
Sleeps: 4 guests
Tiny House in Oregon
Enjoy the perfect tiny house in the U.S. It is perfect for couples and includes plenty of things to keep you occupied while you enjoy the surrounding forest. The property includes a kitchen, bathroom with shower and wifi.
Enjoy mornings on the deck with a cup of coffee in hand. You may even get to see some of the local wildlife that includes raccoons, deer and squirrels.
Price: From $84
Sleeps: 2 guests
Related Reading: Hiking in Yosemite: The Best Reason to Visit this National Park
Tiny Homes in Texas
This tiny house on VRBO is a great way to experience the tiny house movement in a luxurious and modern way. This Tiny Cargo Home offers everything you need, a kitchenette, seating area and a wonderful bedroom. The host has even added an incredibly super comfy mattress to make your stay even more memorable.
There is even an amazing rooftop deck with LED lights that will make evenings here interesting. It's the perfect place to sit and relax with a glass of wine and take in some spectacular sunsets.
Price: From $92
Sleeps: 2 guests
This container home can also be categorized as a tiny house. And it is unique and beautiful. This two-storey container offers comfort and class with a modern touch. The decor in this VRBO is beautiful and offers simple and stylish comforts such as a well-lit rooftop deck.
The interior offers comfortable seating and a bedroom as well as a kitchenette that has everything that you need. Enjoy the modern and stylish bathroom located in the container itself. This place is so cool and stylish that you'll find it hard to leave at the end of your vacation.
Price: From $169
Sleeps: 6 guests
10. Bluebonnet Kingsland, Texas
Located on a 4-acre property, the Bluebonnet is a quaint tiny home that is perfect for couples. This property only offers you the best in appliances and furnishings and is built for ultimate comfort.
You'll have access to Granite Lake, where you'll find plenty of wildlife like deer. The property is surrounded by beautiful parkland that is peaceful and great for a retreat from the hustle of everyday life.
Price: From $125
Sleeps: 2 guests
Related Reading: 7 Best Mount Rainier Hiking Trails To Explore
Tiny Houses in La Conner Washington
This tiny house/cabin has the perfect location with some of the most amazing views of Whidbey Island and the Olympic Mountains. You don't want to miss the Coho Cabin, a unique VRBO stay. With its authentic and rustic charm, this heated stone cabin is the perfect getaway.
With so many outdoor activities, this is the perfect spot to rest, relax and get in touch with nature. You'll find everything from an electric fireplace to a wonderful BBQ area perfect to spend the evenings. The kitchen is fully stocked and the sleeping loft is just picturesque. Even the bathroom is perfect, you'll love every moment here. This is one of the highest-rated tiny houses to rent on VRBO in the U.S.
Price: From $117
Sleeps: 3 guests
This fantastic eco-friendly tiny house is located on Whidbey Island and is great for couples looking for an adventurous retreat. The interior is cozy, and the wrap-around deck is the perfect place to hang out and enjoy the beautiful landscapes.
Enjoy local hiking trails that are located nearby as well as private access to a stunning beach. On a clear day, you'll have amazing views of the Saratoga Passage and Mt. Baker. This property also includes free wifi and a kitchenette.
Price: From $146
Sleeps: 2 guests
Tiny Houses in Wisconsin
13. One of a Kind Pierce County, Wisconsin
Why not treat yourself on your next vacation and stay at this one-of-a-kind tiny house. The property is perfect for couples looking for adventure and fun. There is a full kitchen where you can enjoy perfect meals as well as skylights in the bedroom that are perfect for star gazing at night.
You'll be surrounded by woods, where you'll have peace and privacy. There is a small fire pit for you to use as well as a pool and a saltwater hot tub that stay open throughout the year.
Price: From $238
Sleeps: 4 guests
These cool tiny houses for rent on VRBO and Airbnb are the perfect way to enjoy a unique vacation or see if you're ready to join the tiny house movement.