If you love road trips as much as I do then this perfect Northern California 3-day vacation is just what you need. This is the place to be for every nature lover.
California is more than just a wine country, wine tasting and cheese plates family-run vineyards. It also has gorgeous trees, panoramic bay areas and the next best road trip you will experience. Wondering where to start your Northern California road trip?
We've got you covered!
Redwood National and State Parks are both well-travelled and yet under-appreciated. While we all marvel at the height of the majestic redwood trees that have stood here for hundreds of years, you can't truly appreciate them until you see them in person.
Their sheer size, even of the smaller ones, is something that is hard to grasp. For the nature lover, a road trip through this amazing series of parks in Northern California is a vacation that must go on your bucket list.
Ready for winding roads? It's DRIVE TIME!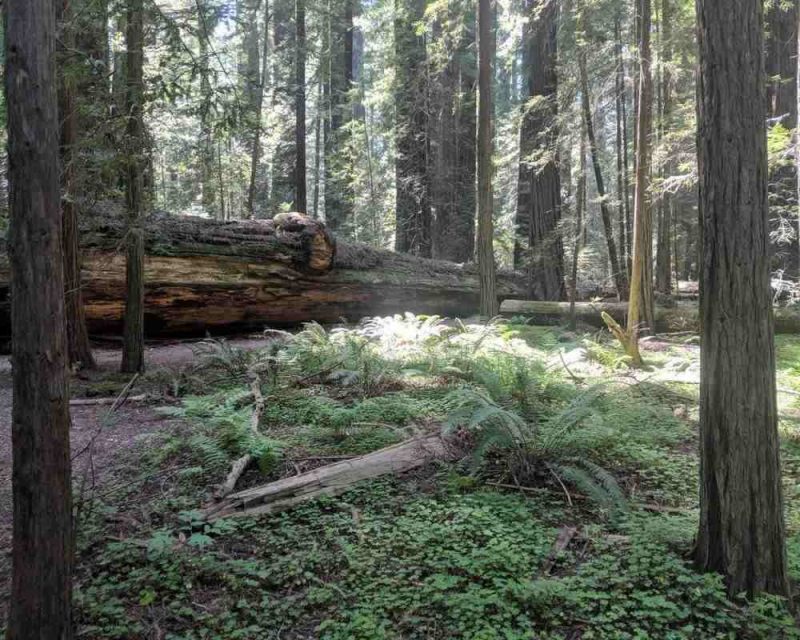 The Start of your Northern California Road Trip
I made the trip as part of a grand Pacific Coast road trip, but wish I could have extended my time among the redwoods. Ideally, you'll have plenty of time to make this three-day road trip and be amazed by the wonders you'll encounter.
Unless you live in Oregon or Washington, you'll be making this road trip heading north. If you aren't coming from the south (San Francisco or Sacramento), then just reverse the trip described here and you'll be all set.
Wherever you choose to start from you will be sure to have a great trip. If you don't have a vehicle of your own don't worry. You can easily rent a car from most major cities and airports.
If you are looking for more road trip inspiration and destinations that are easily accessed then you may also like my journey on my Trail Ridge road trip.
Related Reading: Hiking Guadalupe Mountains National Park: The Greatest National Park in Texas
Day One: Avenue of the Giants
The starting point of this trip is the town of Leggett. It sits at the intersection of US 101 and the end of California 1, better known as the Pacific Coast Highway.
Both of these routes have magnificent displays in their own right and offer plenty of ways to extend your trip before reaching Leggett. From Leggett, you'll be heading north along US 101.
This stretch of highway has some beautiful scenery, but for the most part, you'll be cruising along at highway speeds towards your main destination for the day.
However, if you're a fan of dirt roads and roadside attractions, take the time to stop in at Confusion Hill. Its a California State Point of Interest and is sure to fill your need for the weird.
Just over 30 miles north of Leggett, is the entrance to the Avenue of the Giants at exit 645.
This wonderfully scenic drive is the former route of US 101. When the modern highway was finished, the Avenue of the Giants was preserved as a scenic route that cuts through Humboldt Redwoods State Park.
When you first exit the highway, take a quick left and backtrack along the road for a short way until you see a pull-out. Take the opportunity to hop out and walk down to the South Fork of the Eel River. It should be a nice and quiet spot for a cup of coffee before you enter the forest proper.
It's the perfect vacation spot to start your Northern California road trip.
Franklin K. Lane Grove
Recommended Reading: Why You Need Adventure Travel Insurance and Our Top Recommendation.
The first hike of the day should be a stop at Franklin K. Lane Grove. This one is easy to miss, so keep your eyes peeled for a pullout to the right shortly after coming through the tiny town of Phillipsville.
This grove features an easy loop hike that goes around the grove, but also an unmarked spur trail that runs through the centre of the grove. What is a vacation in Northern California without a little hiking to start it off?
While not as spectacular as some of the later stops on the road, it's a great place to get your first taste of hiking among the old-growth redwoods. This is also a perfect stop for anyone who has mobility issues as the trail is fairly flat and hard-packed.
You could even let the kids run around a bit thanks to the openness of the trail, just make sure you don't let them scurry off into the woods!
Related Reading: The Best Hiking Jackets for Every Season
Bolling Grove
Once you've spent a little time at Franklin Lane Grove, it'll be time to head deeper into the Avenue of the Giants. Just a little ways past the town of Miranda and right before Elk Creek Road, you'll see a pull-off for Bolling Grove.
This grove features some impressive redwood grove which you can walk right up to. In fact, this would be a perfect place for a little picnic or even a photo shoot with the trees!
You can take extra time to make your Northern California road trip and vacation more memorable with the perfect photos.
This grove also has a couple of small trails that lead away from it and down to Elk Creek. Take the chance to wander away for just a bit and enjoy some solace by the soothing sounds of the creek.
Most people will be wanting to stay with the trees, so it's a chance to get away and grab some pictures that others might miss.
Related Reading: Visit Glacier National Park: Everything You Need to Know
Shrine Drive-Thru Tree
Now, it's impossible to make a road trip through all these redwoods and not stop at at least ONE drive-thru tree. Shrine Drive-Thru Tree in Meyers Flat is the perfect stop thanks to it being right off the Avenue of the Giants and just a minute down the road from your last stop at Bolling Grove.
The tree was naturally hollowed out by fire over a century ago and spared from logging in the area. The original owners expanded the opening only slightly to allow for the first horse-drawn buggies to pass through!
Shrine is one of the oldest drive-thru trees and is a great way to experience the Avenue of the Giants in the same way as those first tourists did over a century ago!
This Northern California wonder is what makes the road trip and any vacation truly unique in my opinion.
Related Reading: The Best Hiking Journal and 7 Reasons You Should Keep One
Founders Grove
Continue on down the Avenue of the Giants and if you're thinking of stopping for some souvenirs, swing by the Humboldt Redwood Visitor Center.
Once you've taken some time here to learn about this wonderful forest and the historic town it's in, you'll be heading for the Founders Grove next. This grove is one of the first to be protected along the highway.
This is the perfect opportunity to stretch your legs on an actual hike. The Founders Grove trail winds its way through the forest for just under half a mile.
Towards the back part of the trail, you'll come across the remains of the Dyerville Giant. This humongous tree was once the largest in the world but came crashing to the ground in 1991.
Getting a chance to view a downed redwood is a great way to understand just how large these magnificent trees actually are.
Related Reading: Hiking in Yosemite: The Best Reason to Visit this National Park
Rockefeller Forest
The final must-stop on your first day on this Northern California road trip has to be Rockefeller Forest. Just across the way from Founders Grove, this short loop hike will be the most peaceful you'll find all day.
During the shoulder seasons, it's entirely possible you may be alone as you stroll through Rockefeller Forest.
The hike and grove both sit at the confluence of the South Fork of the Eel River and Bull Creek. Further away from the highway, you'll feel a truly calming wave wash over you as you wander among these trees and really appreciate their greatness.
As you come around the backside of the loop, take the opportunity to step just off the trail and down to Bull Creek.
The flat rocky sides of the creek make for the perfect place to sit and just enjoy nature. It really doesn't get much better than the beauty of Rockefeller Forest. It is the perfect stop on every Northern California vacation.
Recommended Reading: 15 VRBOs in Phoenix, Arizona
Leaving the Avenue of the Giants
While there are plenty more hikes along the Avenue of the Giants, you'll be running out of daylight at this point. After you rejoin US 101, there are a number of accommodation options to stay on the first night of this trip.
If you're looking to camp on this Northern California road trip, there are a number of RV parks and campgrounds just beyond the end of the Avenue.
Your best bet for a scenic campground is to head down California 36 to Grizzly Creek Redwoods State Park and snag a riverside campsite. They might be tough to find, but you won't be disappointed.
For those not in the mood for camping, there are a bunch of little towns just down the road with a selection of hotels for a nice break.
Fortuna is one of them and offers all the amenities you could want including hotels, restaurants, grocery stores and more. If you're looking for something a bit more scenic, then check out the cute Victorian themed town of Ferndale.
Related Reading: Hiking in Denali National Park: Why you Should Visit
Recommended Reading: 18 Best Cabins in Florida to Rent to Get Away From it All
Where to Stay: Day 1 of Northern California Road Trip
Where to Stay in Fortuna
Top Pick: The Redwood Riverwalk Hotel
The Redwood Riverwalk Hotel is located just off Highway 101. The hotel offers guests an indoor pool and spacious room with free wifi and cable TV.
The decor in this hotel is classic and suits the area. Each guest room also comes fitted with a microwave, refrigerator and coffee maker. Guests that stay at the hotel can enjoy free access to the nearby HealthSport Gym.
Top Pick: Super 8 by Wyndham Fortuna
Located just off Highway 101 in Fortuna, the Super 8 offers a daily continental breakfast and free wifi in all guest rooms. All guest rooms feature a microwave, refrigerator and a coffee machine.
Guests can enjoy warm and classic decor in the spacious rooms which include a seating area. The hotel also offers a business centre as well as laundry facilities. This hotel is conveniently located just 20 minutes from The Avenue of Giants.
Recommended Reading: 3 Types of Accommodation and How to Choose the Perfect One For your Trip
Where to Stay in Ferndale
Top Pick: Victorian Inn
The Victorian Inn is located in Ferndale at the base of the Kings Mountain Range. The property offers free wifi access in all guest rooms as well as a daily full breakfast. Guests can enjoy unique and wonderful decor with each room decorated differently. Fine dining and cocktails are available at the onsite restaurant. This is a wonderful way to experience the unique atmosphere in Ferndale.
Top Pick: Gingerbread Mansion
The Gingerbread Mansion is a unique bed and breakfast which offers guests rooms with Victorian-inspired decor. Guests can enjoy free wifi and a daily gourmet breakfast.
Each room has a seating area and an en suite with a claw-foot bathtub. Guests can enjoy delicious gourmet foods as well as free hors d'oeuvres, pastries and tea in the afternoons.
Day Two: Exploring the Coast
The next day of your Northern California road trip will take you away from the giant trees and back along the beautiful California coast.
The road winds its way past Humboldt Bay and through the lovely towns of Eureka, Arcata, and Trinidad. These towns will serve as a great place to restock supplies if this trip is just a larger part of your road trip along the coast.
Humboldt and Arcata Bays
Eureka sits along the edges of the Humboldt County and Arcata Bays. It is the largest town in this part of the state and is worth exploring in its own right.
However, if you are looking for the best ways to experience nature on this Northern California coast road trip, then you won't find these sandy beaches in the city. The first place you'll want to head to along the coast is Samoa Dunes Recreation Area.
The coastal town has been used over the centuries for a number of different purposes. Now it is a recreation site where you are sure to have a good time. Take the opportunity to explore the dunes that separate the bays from the Pacific Ocean.
These dunes span a large stretch of the coast here in multiple parks. If you're up for a mile hike, you can head on up to Ma-le'l Dunes Park and hike the Dunes Trail to explore more of this ecosystem, its not a very challenging hike no worries.
Related Reading: The Best Women's Clothes for Hiking: A Guide to Everything you Need
Trinidad Head
About 15 minutes north of Arcata is the small town of Trinidad. This town is home to the best coastal view on this road trip. The Trinidad Head is a promontory of land that juts into the Pacific Ocean.
The trail which you can hike to the top of the head is a loop of around 1.7 miles with only 300 feet of elevation gain. About half of the trail is paved, while the half closest to the ocean is hard-packed dirt.
The trail provides stunning views of the surrounding ocean and northern coast. Looking north along the coast you can even see the tops of redwoods which are present in the nearby Redwood State and National Parks.
There are also sea stacks that surround it and provide plenty of visuals for those who are photographically inclined. It's also the perfect place to catch your Day Two sunset!
This is one of my favorite parts of this Northern California road trip itinerary and makes for the perfect vacation highlight.
Patrick's Point State Park
Just down the road from Trinidad is the hidden gem of Patrick's Point State Park. This park has a wonderful series of short trails that lead to overlooks of the Pacific Ocean from high above.
You'll also be able to spot Sea Lions off the coast for a good portion of the spring and summer as they move north. Patrick's Point features the breathtaking Agate Beach.
This long stretch of coast smoothed rocky beach is a great place to take a walk and spend time listening to the crashing waves.
From the park, you'll access the beach via an extremely steep but short hike down the cliffside. While the elevation is quite a lot for the short distance, it is relatively easy to complete.
If you don't want to hike, enjoy the views from the top, they are nearly as stunning. Patrick's Point is also a great place to camp for the evening before you head north on the last day of the trip.
If you are looking for more comfortable accommodation then look no further than the town of Trinidad where you will find plenty of chain hotels.
Where to Stay: Day 2 of Northern California Road Trip
Where to Stay in Trinidad
Top Pick: View Crest Lodge
Less than a 5-minute drive from Agate Beach, the View Crest Lodge offers cottages with free wifi, a microwave and a compact fridge. The cottages offer an en suite bathroom and flat-screen TV's. Some of the cottages offer a fully equipped kitchen. The property is perfectly located for hiking in the area.
Top Pick: Trinidad Inn
Located in Trinidad, the Trinidad Inn offers a garden as well as rooms with a flat-screen TV and a private bathroom. Guests can enjoy the barbecue area as well as the free wifi and private parking at the property. The Trinidad Inn has a great location for outdoor enthusiasts.
Top Pick: Trinidad Bay Bed and Breakfast Hotel
The Trinidad Bay Bed and Breakfast Hotel offers free parking and comfortable accommodation in Trinidad. Guests can enjoy free wifi throughout the property as well as a 3-course breakfast. Select units feature a seating area for guests to relax like a coffee shop. Each of the guestrooms offers a coffee machine as well as private bathrooms as well as wonderful scenic views.
Day Three: Searching for Titans
The final day of your trip will send you in winding roads in search of the biggest and tallest trees this trip has to offer. These trees will require getting away from your car for a bit and exploring the depths of the Redwood National and State Parks.
For this day you will need to get up and started early in order to explore all the trails on offer.
There is a wide array of parks along this stretch of the trip. Collectively, they comprise the Redwood National and State Parks. All of them are free to explore, though some of the more secluded hikes (like Tall Trees Grove) require a permit.
By no means is what is included below an extensive list of what you can explore in these parks. In fact, if you've got the time, you should consider spending two or three days along this stretch to really dive deep into stunning views mother nature has to offer.
What could be better than an extended vacation in San Francisco's Northern California?
Lady Bird Johnson Trail
Your first stop for the day will be one of the more unusual massive Redwood groves you'll visit. Unlike many others, the Lady Bird Johnson Trail winds through an upland grove of these large trees. Access to the trail is found off US 101 by taking Bald Hills Road.
Once you find the parking area, take the cool footbridge back over the road and into the forest. This trail was built for the dedication ceremony of the national park. As you continue along the loop, you'll come to the place where the ceremony was held.
Beyond this point, the scenery improves quite a bit and you'll see why it's worth exploring the upland section of the park. Overall, the trail is a good way to stretch your legs to start the day before you dive deeper into the parks.
Related Reading: The Best 12 Hikes in Joshua Tree National Park
Fern Canyon
Getting away from the thrills of redwood trees, your next stop will take you into a prehistoric world. So prehistoric in fact that it was used as a filming location for Jurassic Park: The Lost World!
To access this canyon, you'll take a detour down Davidson Road from US 101.
Be aware that a portion is a gravel and dirt road, so take precautions as necessary if the weather has been poor. The canyon hike itself is relatively short, but the scenery is something entirely different than what you've seen on the rest of the trip.
You'll be diving deep into a canyon with walls lined by lush green ferns, mosses and breathtaking views. The trail itself follows the creek bed closely and at the end loops up to the top of the canyon.
You can follow this route to join the far longer James Irvine Trail, but I suggest backtracking to get back to the road. Especially if you don't have more than three days to explore.
Newton B. Drury Scenic Parkway
Once you head back to US 101, it won't be long till you're jumping back off to explore the wonderfully scenic drive along Newton B. Drury Scenic Parkway. This road cuts through the delightful Prairie Creek Redwoods State Park.
There is access to over 25 miles of trails along this stretch of the parkway.
The main attraction is the Prairie Creek Trail and Big Tree. Starting at the visitor centre, you can hike the gorgeous Prairie Creek Trail which winds its way through a number of impressive groves.
Towards the end of the trail, you'll cross the road and continue on towards Big Tree. This mammoth tree is 21 feet in diameter and stands alone in a clearing. Its impressive girth is just a taste for what you'll find later in the day. What a way to start the last day of your Northern California road trip vacation.
Grove of Titans
The final part of your day will conclude your search for titans. Once you leave Drury Scenic Parkway and rejoin US 101, it'll be about 35 minutes north to Crescent City. When you arrive in Crescent City, head for Howland Hill Road and deep into Jedediah Smith State Park.
This road is narrow and unpaved for the majority, so be prepared for poor conditions after wet weather. About two miles after the road stops being paved, you'll come across a small pull out to the right.
You'll know it's the right place because across from this pullout will be a small trail marker for Mill Creek Trail.
Start your journey by following this trail deep into the woods. The trail is clearly defined but doesn't have any further markers so make sure you stay on the defined path. To find the grove, you'll stay on the trail until you come to a small footbridge that crosses the creek.
Turn around here and head back a few yards looking to your right. Just a little ways off the trail you'll find the majestic Grove of Titans.
While there are some social trails, I advise staying on the main trail and enjoying from a distance. It'll protect the grove for all those coming after you. This Northern California vacation is all about appreciating nature and all her outdoor spaces after all.
NOTE: As of May 2020, the Mill Creek Trail is entirely closed. The NPS is working to build an elevated pathway through the Grove of Titans to protect it from off-trail hikers. It should reopen in May 2021.
Recommended Reading: Best 20 VRBOs in Panama City Beach, Florida
Journey's End
After the beautiful Grove of Titans, you'll be at the end of this journey. However, you're far from the end of the adventure you can find in this part of California.
Take a break from wine tasting because this state is ripe for exploring if you've got the time and willingness to get out there and do it.
This three-day road trip for nature lovers is really only the beginning. Not only can you simply expand the amount of time you spend on the trip to a week or more, but it's easy to extend it far and wide.
Continue up US 101 to explore the Oregon Coast or even all the way to Olympic National Park in Washington. The sceneries are just breathtaking, so make sure to plan ahead and be prepared.
Alternatively, leave Crescent City using US 199 as a pathway to the interior of Oregon and Crater Lake National Park. No matter what you choose, this road trip through the redwoods will only make you want to adventure even farther.
This road trip itinerary can be the start of an epic Northern California vacation.
Recommended Reading: 17 Best VRBOs in Lake of the Ozarks
What's Next?
What's Next?
Northern to Southern California, this place just has so much to offer for those with wanderlust. From Lake Tahoe, Glass Beach, Yosemite Valley to more state parks like Emerald Bay State Park, Golden Gate Park, Yosemite National Park Castle Crags State Park and so much more to explore.
From the redwoods of northern part of California, you can also visit the ancient Mono Lake, South lake in Kern County, Burney falls within McArthur-Burney Falls Memorial State Park in Shasta County, Trillium falls, McCloud Falls, Yosemite Falls, Bodega Bay in Sonoma County or spend a couple of night in the bay area.
Wherever you choose, google maps is her for you. I would love to read all about your adventures too!
Related Reading: 8 Best Dog-friendly Hikes in San Diego
A Northern California road trip is only complete if you get the perfect amount of nature in. There is so much to explore that three days will feel like nothing and could easily lead to an extended vacation.
Written by Zack. Zack is the adventurer behind Florida Man on the Run. After spending much of his life living in Florida and not travelling much, Zack was inspired to start exploring more.
This led to the birth of the blog which aims to give readers an honest account of his travel experiences. Follow Zack on his journey and learn more about the places that he visits at the Florida Man on the Run.
This post has been updated and republished.