Glacier National Park sees thousands of tourists each year. But what makes a visit to this national park so special? There are so many reasons, its hard to just pick a few.
My husband and I love road trips! We frequently take them in our camper van conversion. One of our most cherished memories is of our visit to Glacier National Park. Glacier is a park divided by two countries and resides in both the US and Canada.
Tucked away in the northern corner of Montana State, thousands of visitors come here to enjoy the view of glaciers and wildlife. There are a variety of sights and activities that cannot be found in the southern part of North America, which is what makes this park so special. And you don't want to miss out on the epic Glacier National Park hikes.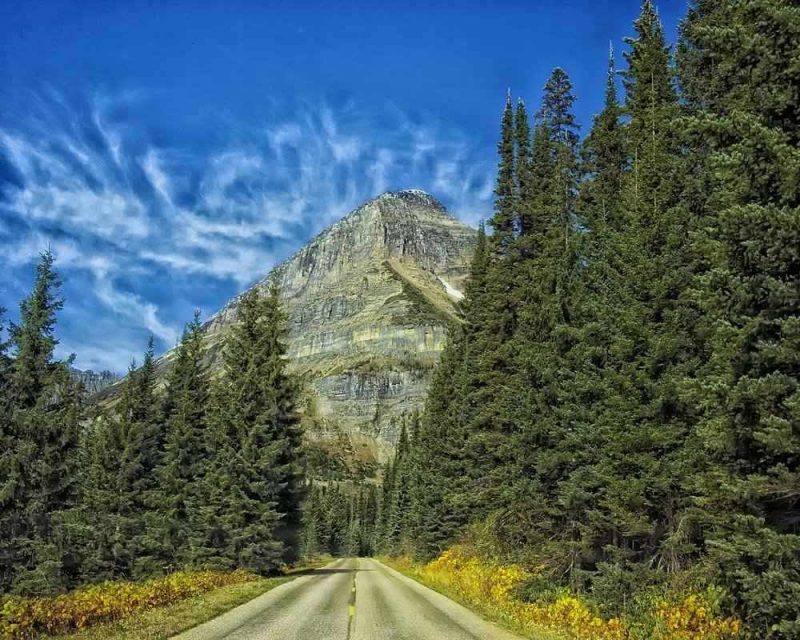 Recommended Reading: The Best Hiking Jackets for Every Season
The Best Time to Visit Glacier National Park
The late spring and summer months are among the most popular to visit the Glacier National Park. This is when everything is open, the flowers are blooming, and the rivers are flowing with snowmelt. The most popular months are July and August, so you'll want to book your reservation early! Traversing the landscape is even more exciting in a camper van conversion.
During winter, the temperatures drop substantially and heavy snow can make many of the roads impassable. If you're into snowshoeing and skiing, there are plenty of opportunities!
Recommended Reading: The Best Women's Clothes for Hiking: A Guide to Everything you Need
What to do in Glacier National Park
Spending just a few days in Glacier National Park will leave you with memories of adventure that will last a lifetime.
Hiking in Glacier National Park
Glacier is home to hundreds of miles of trails across both countries, making it one of the most popular activities in the park. The hikes in Glacier National Park vary from easy to extremely strenuous for expert hikers only. Essentially, there is something available that everyone will enjoy. Of the 700 hiking miles available, there are a handful of hikes in the Glacier National Park that reign most popular among guests.
"Many Glacier Valley" was the highlight of our trip. The area is home to multiple short hikes that can be done in an afternoon. The trails in this area are completely surrounded by mountains and lead to waterfalls, glaciers, and picturesque lakes.
Within the valley, the Swiftcurrent Lookout trail gives some of the best views of the park and is easy to hike.
Hidden Lake Overlook is another short hike (less than 3 miles) and it concludes with a scenic overlook at the end of the trail.
For those looking for a hike with a Glacier view, Grinnell Glacier offers a moderate hike that is most enjoyed with family and friends along the way.
Recommended Reading: 7 Best Mount Rainier Hiking Trails for Every Adventurer to Explore
Photography Opportunites
Recommended Reading: Why You Need Adventure Travel Insurance and Our Top Recommendation.
The views at Glacier National Park are unmatched anywhere else in North America, making it a hotspot for photographers.
Natural glaciers and waterfalls glisten in the sun, allowing photographers to hone their craft in a new and beautiful setting. These photos will also embellish the memories that visitors take with them once they depart the park.
Top photography locations:
St. Mary Lake

Wild Goose Island

Upper Grinnell Lake

Jackson Glacier Overlook
The best locations for photography in Glacier National Park can be found at St. Mary Lake and Wild Goose Island. This area captures the essence of the park and all of its natural beauty, where water and wildlife meet. While venturing to Wild Goose Island itself is not allowed, photographers have found this to be the wildlife hotspot for years.
Upper Grinnell Lake is also one of the must-see viewpoints in the park. The view of Grinnell Glacier allows photographers and visitors an up-close view of everything the park has to offer.
A popular pullover at Logan's Pass is the Jackson Glacier Overlook. This is probably the most famous backdrop for guests over the years. Both mountains and glacial valleys meet and develop a picture that is unrivalled in beauty.
Recommended Reading: Hiking in Yosemite: The Best Reason to Visit this National Park
Take A Scenic Drive
Related Reading: Hikes Near Seattle that You Just Have to Try
If you still want to see more after a long day of hiking, nothing beats a scenic drive. There are several auto tour options available for visitors who want to enjoy the beauty of the park from the comfort of their car.
Perhaps the most popular scenic road is Going-to-the-sun Road. This route is a must-visit in Glacier National Park. It carries visitors to the highest point at Logan's Pass. Along the drive, views and wildlife can be found just several feet away. There are also several pullover places for viewing and pictures so that you can enjoy the park at your leisure.
Related Reading: The Best Hiking Journal and 7 Reasons You Should Keep One
Wildlife that can be Seen
Bears, wolves, and mountain lions call Glacier National Park their home and can be found lurking in open areas by those visiting the park. In fact, Glacier National Park is home to the largest remaining population of Grizzly Bears. Fortunately, these bears tend to avoid human contact. So while you'll be safe during the hike, don't forget to lock up any food before you head out! The wildlife at Glacier National Park is well worth the visit.
Where to Eat in Glacier National Park
For the families and groups that plan to spend their day within the park on hiking trails, the best dining option would be to pack a protein-filled lunch so that you can get the most out of your hike and what the park has to offer. When you are off the trails, however, consider making a stop at one of the following:
Eddie's Cafe & Mercantile

Russell's Fireside Dining Room

Swiss Lounge
These options are among some of the most popular, giving guests the option for breakfast, light lunch or dinner so that they can enjoy at their own pace. For a full day's worth of meals, fill up with breakfast at Eddie's Cafe & Mercantile. Hit up the Swiss Lounge for lunch. It offers organic and wholesome items that are fresh and light.
Conclude your day with dinner from Russell's Fireside Dining Room, taking on the best that the Midwestern Cuisine has to offer.
Where To Stay in Glacier National Park
For those who want to stay within or close proximity to Glacier National Park, choosing a campground may be the best option for you, as there are six located within the park.
St. Mary's campground is positioned just ½ mile from the St. Mary visitor centre so it's in a convenient location for catching a shuttle bus around the park.
There is also lodging available at Lake McDonald Lodge for guests who want an experience of going back in time. Just outside of the park's entrance are a number of cabins, hotels, and lodges available for those who would rather stay somewhere with high-end amenities.
Top Pick: Sky Eco – Glacier General Store and Cabins
The Sky Eco Cabins is located 21km from Glacier National Park on the US side. Each of the cottages offers air-conditioning and built-in kitchenettes. Free wifi is available on the property. Guests can enjoy the use of their own private BBQ facility on their patios as well as simply furnished rooms which offer rustic comfort.
There is a general store available for your convenience and you can choose to have groceries delivered to your cottage. This property is located in a great area outside of Glacier National Park where visitors can explore the surrounding area as well as indulge in hiking, rafting, horseback riding as well as other activities.
Top Pick: Great Northern Resort (Lodge)
The Great Northern Resort features mountain views, a restaurant, bar, shared lounge and barbecue facilities. Guests can enjoy comfortable accommodation with private bathrooms. Wifi and private parking are available for your convenience.
Guests can enjoy a daily breakfast, either a la carte or American style. The property offers bicycle rental services and is perfect for exploring the areas great hiking and biking paths.
Recommended Reading: Hiking in Denali National Park: Why you Should Visit
Top Pick: Cedar Creek Lodge & Conference Center
Cedar Creek Lodge is a 4-season destination that blends the comfort of a mountain lodge with modern style at the gateway to Glacier National Park. Guests can enjoy free wifi and a hot daily breakfast buffet. Each of the guest rooms offers a mini-refrigerator and a microwave. All guest rooms are comfortable and rustic. 
Guests can enjoy an on-site sundries shop as well as an indoor pool and a hot tub. There is also a fitness centre where guests can enjoy their free time. Enjoy skiing in winter and some of the best Glacier National Park hikes and other summer activities during the warmer months.
How to Get to Glacier National Park
The closest airport to Glacier National Park is the Glacier Park International Airport (FCA) located in Kalispell. From the Canadian side, you can choose to fly into Lethbridge Airport (YQL).
My favourite way to visit Glacier National Park is by driving from wherever we are. If you are planning on flying into one of the nearby airports then make sure to rent a car. Get the best prices here.
A visit to Glacier National Park should be on everyone's bucket list. Whether you choose to enjoy the US or Canadian side, you don't want to miss this beautiful park.
Written by Kate. Kate has been travelling in a camper van conversion throughout the US and Canada for over two years. She uses her blog ParkedInParadise.com to teach other travellers about van life and RV living. You can find Parked In Paradise on Facebook, Instagram, and Pinterest.