This post may include affiliate links, including Amazon Associate links. I may earn money if you click on one at no extra cost to you.
Our top choices for Airbnb treehouse rentals for the ultimate escape. They're a great choice for both families and couples. You're sure to feel like a kid again on your next vacation.
When you think of treehouses, I bet it brings back joyful childhood memories. I think most of us can happily think about the treehouse we had or attempted to build (and failed) when we were young. What comes to mind is very Nickelodeon movie and not at all what I would consider luxury as an adult. But what if I told you that staying in a treehouse could be the best part of your vacation and not just a childish dream? You'll see what I mean when you check out these treehouse rentals on Airbnb.

The array of different types of treehouse rentals from simple to luxurious is amazing. But one thing they all have in common is that you'll leave feeling much more relaxed and recharged than when you came.
Find Your Perfect Treehouse Rental on Airbnb
There are loads of different treehouse rentals on Airbnb and the options can get overwhelming. So here are a few of our favourites, each with something unique to offer in different parts of the U.S. We've also listed the treehouses by State and alphabetically to make it easier for you to find your perfect pick.
Treehouse Rental in Hayden Alabama
If you are looking for the perfect treehouse rental that is located deep in the forests of Alabama then you have to book this one. This glass treehouse has everything from comfortable accommodations, private waterfalls, swimming holes and a beautiful garden for you to explore.
There is nothing more wonderful than staying in a treehouse that is hand-built and filled with all the comforts you need for a great vacation.
Price: From $225
Sleeps: 5 guests
This wonderful treehouse is a popular choice for honeymooners as well as couples that just need some time out. The Romantic Tree House Cottage is a great little getaway that has everything you could wish for in the perfect setting.
There is a great little kitchenette and the perfect homely decor that will make you feel cosy and comfortable. There is also a shared deck and a community fire pit where you can enjoy your evenings. You can also enjoy the wonderful outdoor furniture which is perfect if you enjoy your morning coffee outside.
Price: From $100
Sleeps: 2 guests
Treehouse Rental in Mountain View Arkansas
3. 87 Getaway Treehouse Escape, Mountain View, Arkansas
The 87Getaway Treehouse sits atop the Ozark Forest. This is a perfect treehouse rental whether you are looking for a quiet weekend by yourself or are planning a family vacation. There is plenty of sleeping space in the treehouse with its king-size bed as well as a full-size sleeper sofa.
The treehouse is fully furnished and comes complete with a wrap-around deck with a seating area. Perfect to enjoy the tranquillity that being directly in the treeline has to offer. There is a fully equipped kitchen, a jacuzzi tub and plenty of seating to enjoy family games and meals.
The lower level offers a furnished patio area with a hammock. There is also a fire pit and a grill with rock wall seating to enjoy. This Airbnb treehouse is the perfect getaway and offers you plenty of areas to walk through and enjoy during your stay. Easy check-in is also available.
Price: From $177
Sleeps: 4 guests
Hot Springs Treehouses offers you a choice of 6 treehouse rentals. This awesome Airbnb has great views of the surrounding mountains, which can also be enjoyed from your hot tub.
You won't have to look far for luxury and comfort with the upscale furniture and wonderful cosy fireplace. There is a great little kitchen where you can make your own meals as well as a porch swing, perfect to sit and unwind on. You won't find a better way to enjoy nature and luxury.
Price: From $194.00
Sleeps: 2 guests
Related Reading: How to Get an Airbnb Discount & Make the Most Of Your Stay
Treehouse Rentals in California
The Peaceful Treehouse with Ocean View is an Airbnb Plus property which offers you great luxury. You can expect the highest quality of hospitality here and a beautiful setting to boot. Besides being above a beautiful treeline with nature surrounding you on all sides, there are also ocean views. Enjoy one of Airbnb's most luxurious treehouse rentals and its perfect natural surroundings.
Your stay in this Airbnb treehouse won't disappoint in any way. The interior is furnished in mid-century furniture. There are perfect details of wood and stone in the decor which gives you a calming setting perfect for unwinding. You can also enjoy floor to ceiling windows that give you great natural light and allow for magnificent views. This Airbnb host is meticulous about ensuring a clean and sanitary environment for each of their guests.
Price: From $1,086
Sleeps: 6 guests
Related Reading: 5 Staycation Ideas That Will Make You Feel Like You're Actually Travelling
This romantic treehouse like cottage has the perfect location for nature lovers, right next to Hood Moutain Park. It is the perfect couples getaway and offers some wonderful outdoor activities including hiking. The property has its own seasonal waterfall as well as a few of its own hiking trails.
Situated on 5 beautiful acres the treehouse site just above the Valley of the Moon in Sonoma County. The property is specifically well known for its stargazer dwelling on a cliff. It is perfect for a romantic moment and offers excellent views. The treehouse is small and cosy and offers you all the comforts you need. There is a kitchenette which is equipped with everything you would need as well as a propane BBQ on the deck.
Price: From $257
Sleeps: 2 guests
Treehouse Rentals in Colorado
This wonderful treehouse was built in 1971 making it one of the most exceptional stays on this list. The Rocky Mountain Treehouse has everything that you need including a perfect balcony and a hot tub.
This Airbnb treehouse also offers you a full-size kitchen as well as a bathroom with an amazing rock shower. While you lie in bed in the loft you can gaze out of 2 large skylights at the night sky.
Price: From $309
Sleeps: 6 guests
The Little Red Treehouse is a truly great place to spend a few days. The treehouse is equipped with a wonderful bathroom and even includes heat and air-conditioning
Enjoy home cooked meals in the fully equipped kitchen and a cosy bedroom where you can relax and get in some great rest. You don't want to miss out on this great treehouse.
Price: From $250
Sleeps: 2 guests
The Colorado High Mountain Treehouse is a beautiful retreat that offers you amazing views. This remote and down to earth treehouse rental is a great opportunity to enjoy something new, unique and environmentally friendly.
The treehouse is located at an elevation of 10 000 feet and is a great way to experience "glamping" at new heights. In addition, the deck is relaxing and you will find the night skies to be dazzling in this excellent location. You won't get cellphone reception up here, however, this just adds to the perfect getaway.
Price: From $125
Sleeps: 4 guests
Related Reading: Hikes Near Seattle that You Just Have to Try
Treehouse Rentals in Florida
This is an adult-only treehouse rental in Danville, perfect for a quiet weekend away. The property offers you some great amenities You will also get your own golf cart that can be used to move around the massive property and explore.
There is even a wonderful elevator that is disguised as a tree trunk if you aren't in the mood to use the 1926 classic fire tower stairway. Why not also try the private outdoor shower that is a great addition to the perfect getaway spot.
Besides this, you can spend your time taking in the most spectacular views from the panoramic window. And there is also a 4-foot skylight which will give you brilliant natural light inside the treehouse. If you are interested, you can even learn to milk a goat with your host.
Price: From $180
Sleeps: 2 guests
What could be more exciting than a treehouse rental that is just 30 minutes away from Disney? This is the perfect way to get back in touch with your inner child. This Disney treehouse doesn't only have a great location but also offers you a beautiful setting where you can relax and enjoy your time out.
Sit out on your balcony and enjoy the perfect sunsets at the Disney treehouse. At the end of your trip, you may even want to stay a little longer to bask in this perfect place.
Price: From $49
Sleeps: 2 guests
This is a wonderful luxury treehouse in the woods that has everything you would need for a perfect stay. Whether you enjoy being on the move or quiet days enjoying the surroundings, this is one of the best spots to be.
With strategically placed windows, you can also enjoy wonderful views of the forest even from your room. What could be better than lying in bed and enjoying the peace of the forest? You can also enjoy a wonderful outdoor area which includes seating and a hammock.
Price: From $112
Sleeps: 2 guests
13. Treehouse in the Cloud (Close to Theme Parks) Saint Cloud Florida
Experience something different at the TreeHouse in the Cloud. This treehouse rental is as whimsical as its name and is perfect for couples looking to get some quality time together. This property also has an amazing location near the best Theme Parks in the area. On the whole, this is a great Airbnb rental.
Take a seat and enjoy a perfect glass of wine on the wrap-around deck or enjoy the perfect warm and cosy interior with a full bathroom and kitchenette. The property also has horses that you can feed! Enjoy an evening at the fire pit after an active day out.
Price: From $150
Sleeps: 2 guests
Treehouse in Stanton Kentucky
14. KY Breeze Treehouse on Private Land In Red River Gorge Forest, Stanton, Kentucky
The KY Breeze treehouse on Airbnb is located on private land inside the Daniel Boone National Forest. It is the perfect choice if you love hiking as much as I do. There are loads of exceptional hiking trails to be discovered and they are even in walking distance from the treehouse.
The treehouse offers a bedroom and bathroom located in a loft which can be reached with a ladder. There is a kitchen and seating area that you can enjoy. This unique treehouse also includes a stargazing deck where you can enjoy the beauty of the nighttime sky. It is the perfect stay for small families and nature lovers.
Price: From $169
Sleeps: 4 guests
Cosy and rustic, the Eagles Nest Treehouse is the perfect vacation spot. You'll have everything you need. There is a great deck to watch the perfect sunset or stargaze each evening.
Firstly, enjoy hiking trails right on your doorstep, ideal for the nature lover. Secondly, enjoy the perfect decor that will make you feel right at home. With its stone fireplace and cosy decor, it is perfect all year round. Enjoy the solitude and the sound of nature at this great treehouse rental.
Price: From $158
Sleeps: 4 guests
16. Private Romantic Treehouse: The Lions Lair, Stanon Kentucky
You won't find anything more special than a stay in a wonderful custom-made treehouse. Enjoy the perfect place to watch the sunset and stars each evening. The Lions Lair perfect place for a little romance.
The treehouse is air-conditioned and also offers heating for cooler nights. There is even a perfect campfire area that you can enjoy in the evenings and is great if you are visiting with family.
Price: From $157
Sleeps: 4 guests
Treehouse Rental in Sanford Maine
17. The Canopy Treehouse, a Luxury Carbon Free Retreat, Sanford, Maine
Located in Littlefield Retreat, The Canopy Treehouse offers you what they call "eco-luxury". Enjoy your day to day luxuries while leaving a smaller carbon footprint. This treehouse stay offers you a fully equipped kitchen. There are a loft and a sleeping pod, both offer a queen-size bed. You can also use the deck where there are a grill and private hot tub. The views of the trout pond will make you want to stay on the deck though. It is the perfect spot to curl up with a good book.
There is also a private dock nearby where you are welcome to fish or you can paddle a kayak on across to Littlefield Pond. In brief, the treehouse is the perfect eco-friendly nature getaway. It is super-insulated and the energy that powers this tiny property is wind sourced and soon will be solar-powered.
Price: From $395
Sleeps: 4 guests
Related Reading: San Francisco To Sonoma Wine Country: Hiking And Wine Tasting Tour
Treehouse Rental in Wareham Massachusetts
Beach and forest come together at the Mink Cove treehouse. Besides having the perfect setting with unbelievable views, this treehouse has a great location. When you aren't relaxing on the porch or stargazing from the little tower, why not venture onto one of the many walking and hiking trails nearby.
You can also visit the beach as it is just a few minutes from this amazing treehouse rental. With so much to do this is a great place to spend a week or more.
Price: From $177
Sleeps: 2 guests
Treehouse Rental in Two Harbors Minnesota
ReTreet House is an Airbnb treehouse rental is located near Lake Superiors north shore. It is the perfect spot to relax and unwind. The treehouse is built among white cedar trees in a 30-acre wood. This is the perfect treehouse that offers comfort as well as amazing views. Enjoy the views from the master bedroom which has a large window that overlooks the woods.
The second floor offers a treetop view of the forest and Lake Superior. There is a kitchenette with basic appliances such as a fridge, microwave and toaster. This treehouse does not offer indoor plumbing but there is a cold and hot water dispenser. However, guests can make use of the outhouse which is heated and clean for your comfort.
Price: From $129
Sleeps: 3 guests
Treehouse Rental in Columbia Falls, Montana
20. Meadowlark Treehouse at Montana Treehouse Retreat, Columbia Falls, Montana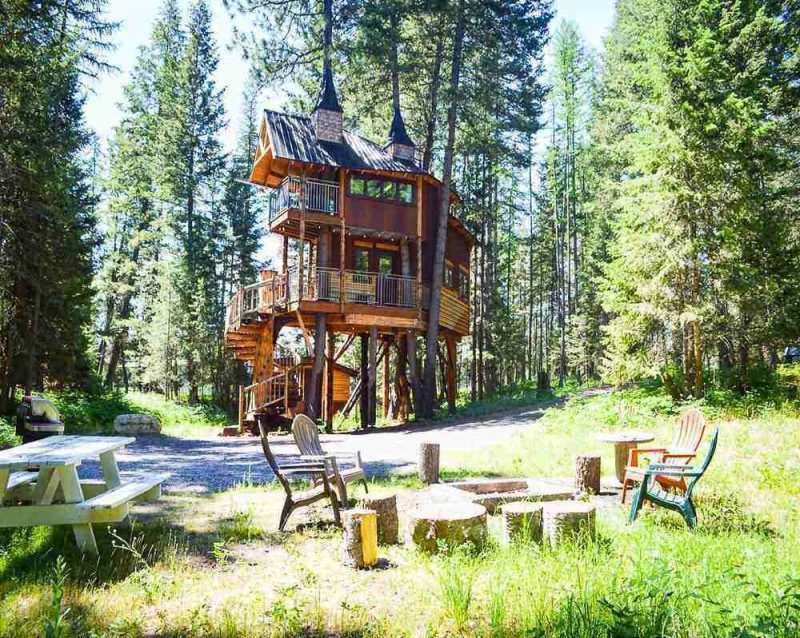 The Meadowlark Treehouse is located on 5 acres of forest and offers an artistic design with luxury amenities. This is the perfect stay in winter as well as summer as it is just 30 minutes from Glacier National Park. In short, this is a great place for the whole family, or if you choose, just you and your significant other.
This treehouse offers 500 square feet of living space. There are two outside decks, a common room, full kitchen as well as a fully equipped bathroom. You will have every luxury you can imagine during your treehouse stay. There are living trees that grow through the treehouse and the decks. Guests also have access to a private wooded space with a campfire ring.
Price: From $429
Sleeps: 4 guests
Related Reading: Hiking Guadalupe Mountains National Park: The Greatest National Park in Texas
Treehouse Rental in Newbury, New Hampshire
21. Amazing Two-Story Treehouse Near Skiing and Lake, Newbury, New Hampshire
This two storey Airbnb treehouse rental offers you modern amenities with a rustic and old-world charm. In addition, it is perfectly nestled in the woods near Lake Sunapee. And you will be lucky enough to be walking distance from the shoreline.
This is one of those gorgeous and unique treehouse rentals that offer you little quirks that you will love. There's even a real mouse house! The cell-service here is unreliable, however, so be prepared for some good old fashioned relaxation. You can also enjoy the wrap-around deck high above the trees where you can relax and enjoy the views. The lower deck has a bench as well as a Weber Spirit grill which converts to a griddle. You'll find a convenient cookstove in the kitchen as well as other necessities.
Price: From $456
Sleeps: 4 guests
Treehouse Rentals in North Carolina
This is a special addition to this list. It can't technically be called a treehouse as it isn't technically a house at all. It is much more a "Camping Deck" as the host calls it. Nonetheless, it has some of the most amazing, long-range mountain views that you can imagine. It is well-built and roomy with a partial roof that provides cover from the rain. It is also perched high enough to give you wonderful views. This is one of my favourite treehouse rentals on this list and is by far the most adventurous.
This Airbnb host provides you with electricity, lights, chairs, picnic table, and a port-a-john nearby which is cleaned regularly. There is also a dog gate and you are welcome to keep your dog unleashed if you desire. You will have to bring your own tent as well as camping equipment with you. The area is quiet and remote enough to make you feel at one with nature. You are welcome to walk nearby and explore. This unique deck is located just 10 minutes away from shops and restaurant so you won't have to worry about getting supplies.
Price: From $61
Sleeps: 6 guests
23. Luxury Stone and Timber Tree House on 20-Acre Farm, Concord, North Carolina
The Luxury Stone and Timber Treehouse is located on a 20-acre farm estate in Concord. This is the perfect treehouse rental for couples as well as solo travellers. Surrounded by towering pines, you don't want to miss this special and unique opportunity. The owners like to refer to it as an all in one "glamping experience". The treehouse has a studio-style space with a queen bed as well as hand-crafted furnishings and decor.
Spend some time on the private deck or curl up indoors in colder weather and enjoy the internal heating. You'll also find all the home essentials you need in the kitchenette. The premises provide robes that you can use when heading out to the eco-bathroom. The bathroom includes an outdoor rainforest shower. There is also an onsite pool, hot tub and fire pit which you are free to use. During winter there is on-demand hot water and heated stalls that can be used. Fell free to roam the property and meet some of the animal residents.
Price: From $153
Sleeps: 2 guests
Related Reading: Northern California Road Trip A 3 Day Vacation not to be Missed
24. Exclusive Heated Treehouse; 15 min to Asheville! Fletcher, North Carolina
This camp-like heated treehouse stay is special. It is the perfect Airbnb treehouse rental for a family vacation. There is an array of sleeping areas including a luxury mattress, beds and a comfortable couch. Guests are also welcome to bring their own tents that can be set up on the wrap-around deck. On clear nights you will also have an incredible view of the stars.
The property does not have internet. But a Blu-ray DVD player with a movie theatre projector and surround sound is provided for entertainment. There is a kitchenette available with a fridge and microwave as well as a charcoal grill. The property is pet friendly and you are more than welcome to wander the grounds. There is also a trout stream for fishing enthusiasts.
Price: From $96
Sleeps: 5 guests
If you are looking for luxury with a touch of rustic, then this is the perfect treehouse getaway. This is a Superhost listing on Airbnb and for good reason. This romantic treehouse is the perfect treehouse rental to enjoy quiet and relaxation in nature.
The treehouse is surrounded by native Laurel as well as hardwoods and is located on 14 acres of land, perfect for enjoying nature. The interior of this Airbnb offers guests luxury bedding, an LED fireplace, internet, cable tv, and a kitchenette. Enjoy a unique experience in the outdoor shower which overlooks the forest. However, the property is located about a third of a mile into the forest on a gravel road and requires a short walk to reach.
Price: From $246
Sleeps: 2 guests
Related Reading: Hiking in Denali National Park: Why you Should Visit
Treehouse Rentals in South Bloomingville Ohio
If you are looking for the perfect treehouse rental in Ohio, Hocking Hills is a great choice. Located on a hillside with incredible views, this treehouse has everything including a great indoor shower.
You won't believe how comfortable the interior is and the area is the perfect spot for a relaxing vacation. It's always great when you can get back to nature and still enjoy the perfect luxurious accommodation of a beautiful treehouse.
Price: From $245
Sleeps: 4 guests
Treehouse Rentals in Oregon
Located near Portland, this treehouse in the city is the perfect place to enjoy peace and quiet. This is one of the most beautiful places in the USA and you won't regret staying in this amazing Airbnb treehouse.
If you love hiking then this is the perfect spot for your next vacation. You are just a few steps from some amazing hiking trails. Also, make sure to take a moment to enjoy a perfect cup of espresso on your deck each morning.
Price: From $225
Sleeps: 2 guests
Explore McDonald Forest, Bald Hill and Mary's Peak which are all near the Treehouse Retreat. This is the perfect way to spend some time away from the hustle and bustle of your everyday life and get back to nature.
This great "camping experience" is perfect for the adventurer that wants to try something new and wonderful. To sum up, don't miss out on this exceptional experience. The property also has some great activities for you to enjoy including a climbing crows nest, rope swings, ziplines and even a fishing pond.
Price: From $51.00
Sleeps: 3 guests
Treehouse Rentals in Tennessee
29. The Bostonian, Johnson City, Tennessee
If you are looking for a great treehouse The Bostonian offers you simplicity and comfort, the perfect getaway for up to three people. It is located in the trees next to an abandoned rock quarry pond. Enjoy perfect views and nature on this 34-acre property. You will also love the seclusion, but don't worry, towns nearby are easy to reach if you need anything.
At this Airbnb treehouse, you will also find a fully equipped kitchen with a seating area. There is also a porch where you can snuggle up and enjoy the tranquillity. The loft is located high above the main area and a clip-on ladder is provided to reach it. In addition, there is a fold-down couch available and the space is accessible by ramp.
Price: From $130
Sleeps: 3 guests
Find the perfect setting at The Elm in Treehouse Grove. With its luxurious decor, refreshing bathroom and breathtaking views, you won't want to miss out on this treehouse rental.
You will definitely not be disappointed with the views of the stream right on your doorstep. You can also enjoy some wonderful activities nearby.
Price: From $305
Sleeps: 4 guests
If you are looking for a romance and luxury, this Airbnb treehouse rental is exactly what you are looking for. It is perfectly secluded so you don't need to worry about being disturbed while enjoying your perfect getaway.
The treehouse is hand-built and includes some wonderful historic aspects including a 100-year-old stain glass window which has been repurposed. There's also a great jukebox to finish up the wonderful ambience.
Price: From $285.00
Sleeps: 2 guests
Related Reading: Hikes Near Las Vegas: The 5 Best Hikes You Have to Try
32. Serenity House ~ A Treehouse McEwen, Tennessee
Looking for peace and quiet? Why not book a getaway at the Serenity House treehouse Airbnb. This is an amazing way to spend a few quiet nights in nature enjoying the perfect views, day and night.
The treehouse is spacious and comfortable. In addition, it is perfect all year round no matter the weather. The loft is accessed with a ladder and gives you a wonderful vantage point high above the forest. There's no wifi or TV at this treehouse. However, this makes it a brilliant place to escape and unwind.
Price: From $139
Sleeps: 4 guests
Treehouse Rentals in Texas
Located in the heart of Little Forest Hills, this Airbnb treehouse makes for a unique and wonderful stay. This four guest treehouse rental is perfect for a quiet stay on your own or with close friends and family.
This property is handcrafted and blends contemporary with rustic to create an elegant and comfortable environment. The setting is also secluded and surrounded by Japanese Maples, perfect for the nature lover. Listen to the running brook as you relax. You can also enjoy the gravel footpaths that lead through the forest and on to the footbridge that spans Ash Creek.
Price: From $265
Sleeps: 4 guests
34. The Birdhouse by Skybox Cabins, Glen Rose, Texas
The Birdbox is located in the Texas hill country. If you are looking for stunning views then you will find it here and you can enjoy them from your bedroom balcony. This treehouse rental is the perfect couples retreat. Besides offering rustic decor, there is also a touch of modern. The treehouse also comes equipped with a kitchen, bathroom and hot water.
The bedroom features rustic decor. The property doesn't offer internet or a TV making it the perfect escape from your day to day hustle. You can enjoy a walk down to the Possum Hollow creek. Dip your feet in the water or enjoy a picnic in warm weather. Make sure to pack good bug spray however as this property is located in the midst of nature.
Price: From $202
Sleeps: 2 guests
35. The Treehouse On Lake Travis, Lakeway, Texas
Situated on the south shore of Lake Travis, the Treehouse of Lake Travis is newly renovated. This is the perfect luxury stay and offers everything you would need in a treehouse rental. There are a fully equipped kitchen and amazing panoramic windows that will give you the most amazing views.
You can relax on the wrap-around deck with incredible views. You can enjoy time with your significant other in front of the cosy fireplace or just spend quality time with the family. The bathrooms offer luxurious decor as well as combination tub and showers. Besides having a great interior, guests can enjoy the swimming pool, hot tub, BBQ area and the Marina.
Price: From $259
Sleeps: 4 guests
Treehouse Rentals in Utah
The Dreamy Treehouse is located at 8,000 feet within a huge living fir tree. This Airbnb treehouse is unique and quite literally living. It is the perfect getaway, whether you choose to visit solo or with a loved one. This treehouse is however only accessible by 4×4 or AWD as it is located on a 3-mile dirt road.
Here you can enjoy a lofted bedroom with a skylight as well as an equipped kitchen and a bathroom with hot water. There is also a large deck to get in as much relaxation on your stay as possible. You don't want to miss the 180-degree windows in the main room which offers unbelievable views of the Uintas. In addition, this treehouse rental can be enjoyed all year round.
Price: From $175
Sleeps: 2 guests
Related Reading: Best of Utah Basecamp Hiking Tour
37. Treetop #3 at East Zion Resort, Orderville, Utah
This Treetop House is located at the East Zion Resort and is newly built. Airbnb offers some wonderful treehouses, and this is one that you shouldn't miss. The treehouse has stunning views in all directions as well as wonderful sunsets every evening. It is furnished in a rustic style with a modern flair. The treehouse also has a private bathroom, kitchenette, fire pit, gas grill and air conditioning.
Elevated on a hillside that spreads out over 12 acres, you can enjoy the best that the southern Utah countryside has to offer. In addition, the property also has other accommodation types as well as a pavilion and swimming pool that is free for guests to use.
Price: From $162
Sleeps: 3 guests
Treehouse Rental in Ferndale Washington
The Sir Cedric Cedar Treehouse offers a unique stay for two. Offering hand-made decor as well as functional design in one unique space, this treehouse offers comfort. The treehouse has a 4-foot-wide Western Red Cedar passing directly through the middle which adds to the experience. There is nothing better than having nature in your room.
The treehouse includes a kitchen, living room as well as a bedroom. The deck offers a propane BBQ in addition to a comfortable seating area where you can spend your time. The outhouse is located just 15 feet from the treehouse and offers a year-round open to air shower that has complete privacy. However, no children under the age of 12 are allowed at this property.
Price: From $175
Sleeps: 2 guests
Related Reading: 7 Best Mount Rainier Hiking Trails To Explore
These are my top Airbnb treehouse rentals. A stay in one of them is the ultimate escape and is sure to bring back childhood memories on your next vacation.
Don't see what you're looking for? Click here to see more Airbnbs near you.