This post is also available in: German
Going on a hike is hard enough, but hiking on your period? You may need to make some adjustments. Here's what you need to know if you want to do a hike and are on your period.
Periods. Let's talk about it. As an avid hiker, I can 100% say it is totally normal to go hiking on your period but it's not something people talk about a lot, so let's dive into it today.
Women's Guide to Hiking on Your Period
Menstruation is a natural part of being a woman. It's also a very private topic. Many women feel embarrassed talking about it with others.
There are many reasons why women should talk openly about menstruation, especially outdoor enthusiasts. No one wants menstrual blood being sniffed by curious bears in the outdoors!
In fact, it's important to do so because it helps prevent health problems later in life and helps you stay comfortable and worry-free in any adventure.
This is our guide to help you be more comfortable and worry-free while hiking on your period:
Related Reading: Best Hiking Boots for Women
Know Your Choices for Menstrual Products
You've done it all! You've planned your hiking, camping, or backpacking trip, how to get there, and what to wear but then you get your period
Don't worry; you can still go hiking!
There are tons of products to choose from when hiking on your period. Here are our top picks!
Menstrual Cups
Menstrual Cups are reusable sanitary napkins made out of soft silicone. They're designed to be worn inside the vagina during menstruation.
With your hands clean, you simply fold and insert the menstrual cup rim-first and wear up to 12 hours, remove and empty it, and be sure to wash and sanitize it after each use.
Menstrual cups or period cups are a popular option for eco-friendly travelers too! Plus, you don't have to worry about disposing of a tampon, or carrying a dirty pad with you until you can properly dispose of it.
Here is some more information on our top picks of the best menstrual cups
Best Overall
DivaCup
The DivaCup is an eco-friendly company that offers a cost-effective, durable, and chemical-free vaginal cup for the modern woman. Their menstrual cups feature leak-resistant air holes under the rim to create a seal that secures the cup in place.
Features:
Made of 100% medical grade silicone making it super safe to use
Great for women who have a high cervix
Offers a 90-day satisfaction guarantee and a limited warranty
Buy on Amazon
Related Reading: 14 Best Hiking Sandals for Women
Easiest Clean-Up
Lunette Menstrual Cup
Lunette offers a comfortable, easy-to-use menstrual cup made from medical-grade silicone for safe, comfortable wear to help maintain vaginal health. These menstrual cups are designed with a comfortable rim and ridged bottom.
Features:
They offer menstrual cups that can take on light to moderate flow and moderate to heavy flow days.
These are super easy to clean
Lasts longer than most
Buy on Amazon
Best menstrual cup for beginners
Flex Cup
Flex Cup's unique pull-tab design makes this the best for beginners. Also made with 100% medical-grade silicone, these menstrual cups are FDA-registered and hypoallergenic.
Features:
Flex Cup Full Fit (Size 02) holds as much fluid as 3 super tampons.
Unique pull-tab design for easier removal
Super soft, I barely noticed it there
Buy on Amazon
Period Underwear
If you're going on a hiking trip during your period, you may want to wear special underwear that keeps you dry and comfortable. They're made from breathable material and feature a wide waistband for maximum comfort and fit.
Period panties come in different styles, including racerback, hipster, and boyshorts.
Best Overall
Thinx Hi-Waist
With the mission to provide the best period alternative to disposable products, Thinx Hi-Waist period underwear offers the lightest yet super absorbent period underwear for any kind of flow rate.
Features:
Provides all-day comfort
Stay fresh as these neutralize all unwanted smells
Provide great absorption without feeling heavy or bulky
Buy on Amazon
Best Side Opening
Trendix Hooked On You
In terms of security, we think Trendix wins this one. This is best for those who prefer not to pull their menstrual panties up and down.
Features:
These have the widest and longest absorbency panel of any of the side-opening underwear out there
The hook-and-eye latches are extremely secure
Treated to neutralize all unwanted smells
Buy on Amazon
Best Value
Goat Union Overnight Briefs
The Overnight Briefs are made from soft bamboo fabric with a wider and longer absorbent panel that reaches all the way to the waistband decoration. It sure can hold quite a lot of menstrual fluid, in our experience.
Features:
It has a longer-than-absorbent panel
Features a soft bamboo fabric
Great fit for all users
Buy on Amazon
Reusable Pads
Reusable pads are an eco-friendly alternative to tampons and disposable pads. Period pads are reusable menstrual hygiene products made out of cloth, decreasing the amount of period waste produced. They're great because they absorb blood and menstrual odor, making them hygienic and comfortable.
They're also very affordable, costing only $1-$2 per pad. So if you've been thinking about trying reusable period pads and reducing your environmental impact, now's a perfect time. The only drawback is that if you need to change a pad while hiking, you'll have to carry it out with you.
Best Overall
Teamoy Reusable Menstrual Pads
Teamoy specializes in producing practical yet functional reusable menstrual pads. They produce pads with different patterns and volumes to meet customers' needs. Enjoy reasonable but high-grade reusable pads perfect for eco-friendly adventurers.
Features:
Made with 2 middle layers of microfiber for maximum absorbency
Comes in 3 sizes for different menstrual volumes.
Available in 9 different sets with different colors and patterns
Buy on Amazon
Related Reading: The Best Women's Clothes for Hiking
Best Long-lasting Pads
Natissy Reusable Pads Menstrual
Natissy is an eco-friendly company dedicated to providing high-quality reusable menstrual pads to keep you dry and only feeling fresh and comfortable.
Features:
The toxic-free natural fabric keeps you away from allergic reactions and helps your skin to breathe.
The soft sides don't fold up along the edge and rub your sensitive skin
Available in different sizes for different monthly flow rates
Buy on Amazon
Best Value
Wegreeco Bamboo Reusable Sanitary Pads
Wegree boasts the charcoal bamboo inner layers of their pads that provide a super soft texture to the skin with a maximum and dry surface. It does great at soaking up the period blood while neutralizing bad odors to keep any grizzly bear away.
Features:
The charcoal bamboo layer eliminates bad odor
The microfiber layer is super absorbent
Comes with flexible snaps that stay well
Buy on Amazon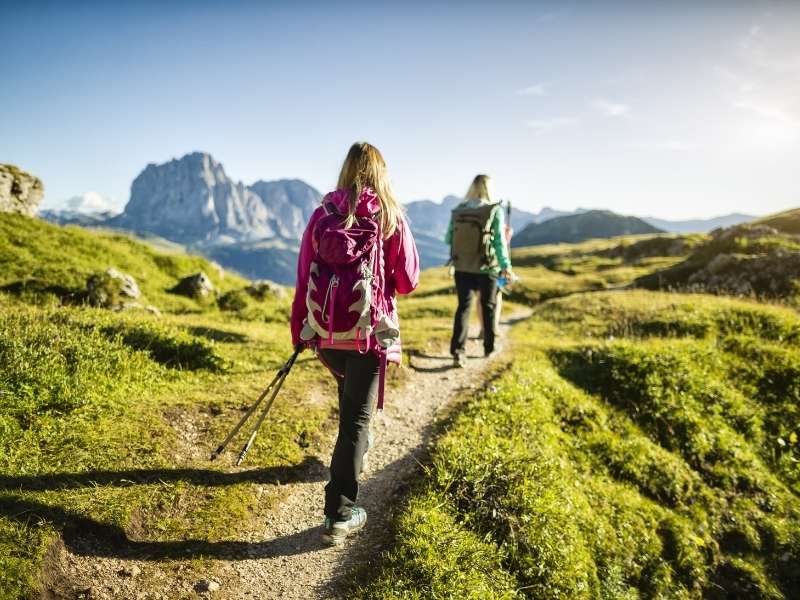 Backcountry Hygiene Tips for Your Period
If you're planning to go on a multi-day hiking tour or hike in remote areas where there aren't any bathrooms, toilet paper and clean water, you need to be prepared for unexpected periods.
When hiking during your period, you may experience period cramps, bloating, mood swings, and headaches.
To avoid these unpleasant side effects, pack extra period supplies, including feminine hygiene products, hand sanitizers, pain relievers, extra toilet paper and unscented wet wipes.
When packing, remember to include items that help prevent infections, such as antibacterial, biodegradable soap.
If you are hiking with a biodegradable tampon and you need to change it, then you need to bury it 6-8 inches deep, just as you would other human waste.
If your pad or tampon isn't biodegradable, then you need to carry your period trash with you until you can properly dispose of it. Carry it out in a bear canister if you're hiking in an area with bears or other predators that may be attracted to the scent. Another reason to consider using biodegradable period products.
Related Reading: The Best Hiking Leggings for Women
Is It Safe to Hike On Your Period?
Yes, for most women (if you're in doubt, check with your doctor),  hiking during your period is perfectly safe.  However, you may feel uncomfortable and bloated and not have as much energy as normal.
Many women find that an easy hike can help relieve their period symptoms,  so see how you feel.
If I'm doing a difficult hike on my period, I often find that it feels harder than it normally would, and I'm slower than I normally would be. So if you're doing a day hike then take that into consideration and perhaps consider choosing an easier hike if you're not feeling up for it.
If you're feeling OK, then great, you can hike as you normally would. 
Related Reading: Best Leg Massagers for Hikers
While you may want to modify your hike, depending on how you feel, you can still hike on your period. You may find that it even helps to relieve your menstrual symptoms.