Celebrate Halloween with a quick getaway to one of these haunted houses, hotels and Airbnbs. A stay in one of these haunted places is a thrill-seeker's dream come true.
If you're the kind of person that enjoys going all out over the scary season, then you will love the idea of spending a weekend at a haunted house, hotel or Airbnb. Chilling thrills are the order of the day in these unique haunted places to stay. Or so the reviews say.
The thought of spending a night in a haunted room or house may be slightly unsettling, to say the least, but for the thrill-seeker, this is exactly what you have been looking for. And if it's your first time seeking an encounter with the other side, don't fret. According to the owners, all the residents, living or not, are friendly and harmless… for the most part.
[thrive_leads id='1046668′]
So if you're looking for more to do than watching horror movie re-runs, why not try one of these epic Haunted Houses:
Haunted Stays in Alabama
01. Malaga Inn, Mobile, Alabama
There is nothing more charming than a historic property. The Malaga Inn is nothing short of fabulous. And if you're looking for a haunted stay, then be sure to ask for room 007. Rumour has it that this room is visited by the apparition of a woman who sometimes slams doors and swings chandeliers.
Some of the rooms offer you a balcony or patio, and all the rooms have wifi. The interior is just as stunning as the exterior, and you can expect to be more than comfortable at this amazing historical place.
Sleeps: 2 Guests
Price: From US$65
Haunted Stays in Arizona
Quaint, wonderful, picturesque and haunted. These are words that all describe this sweet organic getaway. This Airbnb haunted house is perfect for pet lovers and paranormal hunters alike. It is simple, eco-friendly and just downright adorable to be sure and if you stay a while you'll notice some very odd happenings in the house. Be sure to listen out for banging and clanging, but don't worry, according to the host the paranormal residents are completely harmless.
Sleeps: 5 Guests
Price: From US$65
Recommended Reading: The 17 Best Tiny Houses for Rent on Airbnb in the U.S.
Let's start by saying the views are nothing short of Wow! This little space is just wonderful, inside and out, and really perfect if you are looking for a secluded getaway with impressive surroundings. The Haunted Honeymoon Cottage even has a perfect patio where you can stargaze and enjoy the serenity.
Oh, and you may have some visitors so don't count on being completely alone. According to the hosts, friends and family have reported seen several different eery apparitions wandering around. Occasionally you may even hear faint music. But this is all part and parcel of this great haunted Airbnb. If you don't believe me check out the fantastic reviews that this haunted place to stay gets.
Sleeps: 2 Guests
Price: From US$150
Haunted Places to Stay in California
Victorian-style luxury awaits you at the Queen Anne Hotel. Besides being absolutely fabulous, this hotel is also said to be haunted. But don't worry, according to reports, it's a friendly ghost.
You can enjoy individually decorated rooms that include a beautiful bathroom and wifi access. The lobby is the perfect place to hang out when you aren't exploring this stunning property and its surroundings. This stay includes a daily complimentary breakfast.
Price: From $259
Sleeps: 2 guests
Recommended Reading: The 17 Coolest Airbnbs in the US for a Unique Stay
Haunted Airbnbs in Colorado
The Lumber Barons Mansion is well-known for a few things including Murder Mystery parties. Oh yes, and it's haunted. This magical place that now serves as a popular B&B and a wedding venue is said to have some unexpected visitors from the "other side". Some visitors have reported seeing apparitions dressed in period staff uniforms making their way through the mansion, others see something a little different.
During the 1970s, two young women were brutally murdered in the mansion. It has been said by some visitors to the mansion that you can see them walking the grounds at times and even hear them moving around some of the rooms. But don't worry, this room is not the most haunted in the mansion so you probably will get a good night's sleep.
Sleeps: 2 Guests
Price: From US$163
Recommended Reading: 5 Staycation Ideas To Have an Amazing Local Adventure
Okay, so its the same mansion but different rooms. But the reason is evident if you check the host's description on this one. According to the description, this room is the "most haunted room" in the mansion. So this is the one that you must try if you are a die-hard (excuse the pun) fan of the paranormal. This is a firm favourite with fans of haunted places to stay and should be on your list of haunted Airbnb houses.
Sleeps: 2 Guests
Price: From US$249
Haunted Places to Stay in Florida
07. Creepy Cottage!One of a kind experience! Do u dare? Florida
Before going on, can we stop to appreciate the coffee table/Ouija board? It is the perfect centrepiece in this unique and creepy cottage. The cottage is perfectly outfitted for those that love the scary season and even offers you pumpkin picking. There is even a coffin you can sleep in! With such great quirks and scary additions, this is the perfect Airbnb for the horror lover. Even if it's not actually haunted, it's still a pretty cool Airbnb.
Sleeps: 2 Guests
Price: From US$38
Haunted House in Georgia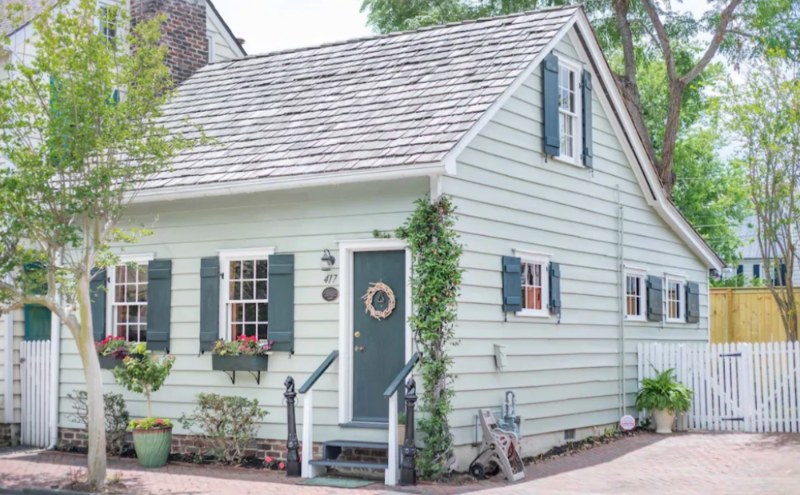 There is nothing better than staying in a historic house. You never know what secrets you'll find hidden in the cracks. The house was built in 1820 by John Ballon, a free man of colour.
This property is perfect for couples and friends that want to explore something unique. There are an open plan kitchen, warmly decorated living room and a secluded garden patio.
Price: From $145
Sleeps: 4 guests
Recommended Reading: 35 Cabin Rentals in the US for The Ultimate Relaxing Vacation
Haunted Places to Stay in Illinois
09. Ghost Camp, Alton, Illinois
Located on the Smith Campground in Alton, this is a fantastic and creepy new way to experience camping in one of the most haunted towns in the US. The land was once owned by Eunice Smith, a famous and renowned benefactor in Alton.
Now it serves as a 6 lot camping sight for the brave who don't mind encountering the weird, paranormal and downright creepy during the night. This haunted stay on Airbnb is bound to have you up close and personal with the things that go bump in the night. Are you brave enough to book this haunted Airbnb?
Sleeps: Up to 6 Guests
Price: From US$86
Haunted Place to Stay in Louisiana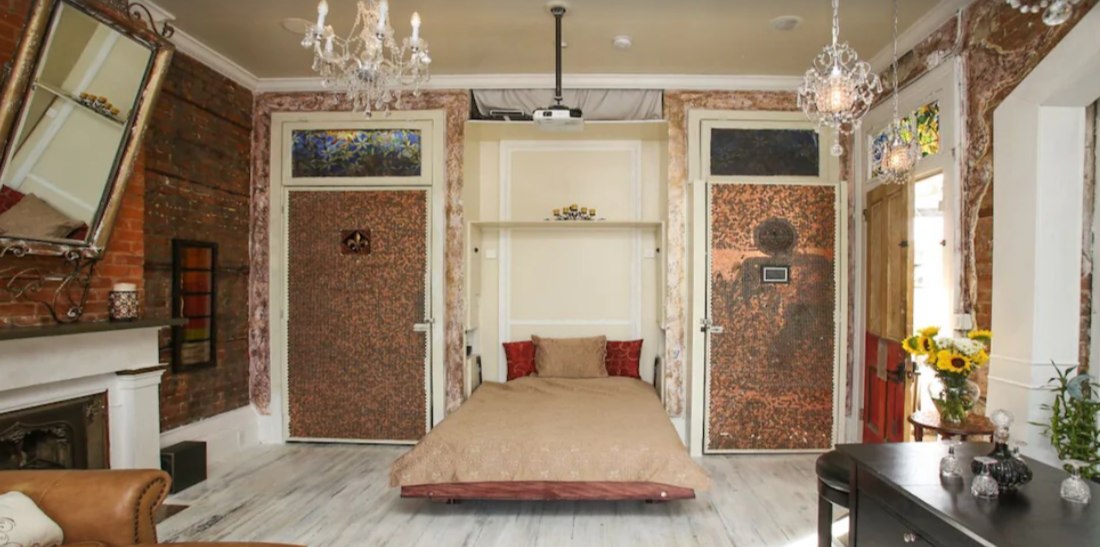 New Orleans is full of haunted properties, including the Fleur De Lis Mansion. Originally built in the 1820s by one of the founding families, the property is full of secrets just waiting to be discovered.
The property offers you authentic charm and comfort you won't find anywhere else. You can choose to stay in one of the rooms or rent out the entire mansion for a minimum of three nights.
Price: From $850
Sleeps: 20 guests
11. Elegantly Decayed Creole Mansion, Louisiana
If you have ever been to NOLA, you'll know that the streets of the Treme are full of paranormal stories of all kinds. And the Maison Vitry sits in the centre of it all. The house was built for a Free Woman of Color, Louise Vitry and her French consort before the Civil War and has been kept much the same.
The house has been used featured in several television productions such as "American Horror Story" and its no wonder considering that the house is elegantly spooky. Whether there are ghosts here or not is debatable, but the way that the house has been preserved and the truly creepy interior is what makes it worthy of this list. It really is a great Airbnb to stay in if you want to experience something scary without the actual scares.
Sleeps: Up to 6 Guests
Price: From US$339
Haunted Places to Stay in Maryland
The Lilburn Mansion is 160 years old, so you know that there must be some sordid mystery hiding in the walls. Peaceful, beautiful and also known as the castle, this is a stunning setting for a getaway. The castle offers a wonderful yard, stunning decor and it even has a ballroom.
It's a perfect and unique experience. Oh, and rumour has it that its also haunted by the original owners, the Hazelhurst family. Whether or not it really is haunted is for you to find out when you book this Airbnb.
Sleeps: Up to 12 Guests
Price: From US$500
Recommended Reading: 38 Coolest Airbnb Treehouse Rentals in the U.S
Haunted Airbnb in Minnesota
Admittedly, this place looks creepy and you'd probably figure it to be haunted just by looking at it. But on the inside, it is surprisingly comfortable, and the decor is straight out of a period novel. The Master Bedroom offers you loads of space, tall ceilings and windows that give you flowing sunlight throughout the day.
Built in 1883, this haunted house on Airbnb offers you some stories for sure. The Legend is that the bedroom is haunted by a little girl, Rosalia Fihn, that died of Typhoid here. Don't worry, even if you don't see her during your stay, the house and grounds are enough to send chills up your spine.
Sleeps: Up to 4 Guests
Price: From US$105
Haunted Airbnb in Missouri
This perfect place is beautiful inside and out. You'll look at the Hobo Hill House and wonder how it could possibly have ended up on this list. But underneath it, quite literally, lies a spooky story waiting for you to discover.
This haunted house is a great place to stay if you are looking for the mildly paranormal. The house was recently featured on a TV show, "The Dead Files", as well as in several online publications. Don't be fooled by the decor, this house is as haunted as it gets… Or so the hosts say.
Sleeps: 10 Guests
Price: From US$315
15. Haunted Suite in Historic Benton Park, Missouri
Built in 1890, this apartment was originally the maids quarters but today is a modern and beautiful apartment of its own. It has every amenity you would need for a comfortable stay, including some spooky stories. The stories actually originate from the main house that this apartment was once attached to.
The story goes that the residents of the house all died young, by suicide, or both. The only survivor of the family, and the oldest of them, is rumoured to have given instructions to burn all the families belongings. Some say the family was cursed and still roam the grounds…
Sleeps: 4 Guests
Price: From US$67
Haunted Airbnb in New Mexico
Hidden in a small valley in the Southern New Mexico Desert, the Old Cuchillo Hotel offers you a unique Airbnb stay. It's located in a ghost town and has a long history. It has been welcoming people for more than a century. Some living, some not… Besides being the perfect creative retreat, it's also a great way to experience a haunted place to stay. Do you dare?
Sleeps: 2 Guests
Price: From US$75
This gorgeous hotel was once a home owned by the Staab family. According to some sources, the lady of the house, Julia Staab, still resides there. The property is perfect if you love ghost stories and luxury, all in one place.
Pamper yourself at the onsite spa or lounge at the stunning outdoor swimming pool. There are four fantastic restaurants to choose from, each with something special to offer.
Sleeps: 2 Guests
Price: From US$249
Haunted Places to Stay in New York
According to the host, this family home has a "spooky charm". This haunted place has been a family home for six generations and offers you a wonderfully comfortable stay. Feel right at home in the Enslin Mansion where you can enjoy a pleasant stay and some paranormal activity to boot. The hosts are friendly and always willing to give you an inside look into this haunted house.
Sleeps: Up to 2 Guests
Price: From US$176
Haunted Places to Stay in North Carolina
19. The Stroud House Haunted AirBnB in DT Wake Forest, North Carolina
The historic Stroud House was built in the 1940s by the Rev I.T. Stroud and the house is quirky and wonderful. There are several available bedrooms, each of them oddly has a sink for washing up and a communal bathroom. The house has a certain charm to it and according to the host is also haunted.
Previous guests have reported footsteps in the hall, lights randomly going on and shadowy figures in the house. This haunted place to stay is not for the faint of heart according to the hosts. The best way to see whether it is haunted out not in by booking this haunted Airbnb today.
Sleeps: Up to 3 Guests
Price: From US$64
20. Shamrock House Historic Haunted Log Cabin in Brevard, North Carolina
It's no secret that the Shamrock House may be haunted, according to the hosts. Don't worry, Weeping Nancy (as they call her) is a friendly ghost by all accounts. The cabin was built in the 1920s and has a great history that includes a presidential stay.
The compound is made up of 3 fabulous cabins in a quiet and secluded spot with plenty of adventure activities nearby. It's the perfect place for a friend and family retreat despite being haunted. This property has a minimum stay requirement depending on the season and offers a full refund if you cancel 30 days before check-in.
Sleeps: Up to 21 Guests
Price: From US$378
Haunted Places to Stay in Ohio
21. Farnam Manor haunted camping experience, Ohio
Camping and the paranormal? Sounds like a scary movie waiting to happen. Which is perfect if you are looking for an eery experience this holiday season. Farnam Manor is all about getting in touch with your spirituality, and maybe some spirits along the way, if your up for it.
Your stay includes a bonfire, which is pretty cool. According to the tales, the grounds are haunted by the spirit of a girl who died there. Emily, the daughter of the original owners, drowned in 1858 in the well and according to residents, she can still be seen wandering the grounds at night. You may even see her from your tent!
Sleeps: Up to 16 Guests
Price: From $US 65
Recommended Reading: 27 Beach House Rentals in the US You Have to Try this Vacation
22. Inspiration House: cosy art & meditation retreat, Ohio
The Inspiration House was built in the 1870s and according to the hosts, they suspect the place to be haunted. Besides being a retreat and meditation space, the house is also used for the spiritual and paranormal. The host adds to the description that the house is also prepped for people to hone their psychic abilities. So if you want something different and quirky, you'll love this haunted house on Airbnb.
Sleeps: Up to 5 Guests
Price: From US$166
Haunted Stay in Pennsylvania
23. Baladerry Inn, Gettysburg, Pennsylvania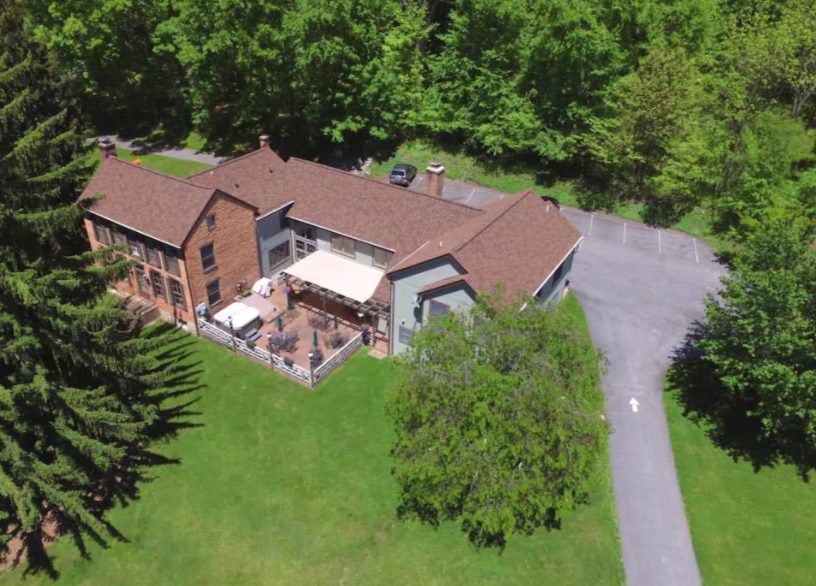 The Baladerry Inn is a great haunted place to stay. It was a Union hospital during the civil war. Some of its patients haven't left, and you are sure to have a few ghost sightings here.
You can choose between 10 beautiful rooms, each offering Egyptian cotton sheets and free wifi. There are onsite massages available, as well as a delicious complimentary breakfast each morning.
Sleeps: 2 Guests
Price: From US$143
Recommended Reading: Adventure in California: Top 60 Adventures you Have to Try at Least Once
24. Gettysburg Historic Lookout House – Victorian Room, Pennsylvania
Said to be one of the most haunted places in the state, you don't want to miss out on this haunted house on Airbnb. With its charming grounds and great interior decor, it's unbelievably comfortable and luxurious and perfect to stay at even if you aren't looking for the paranormal.
This haunted house on Airbnb was built in 1838 and was once a shelter for confederate soldiers. With its long and complex history, it's bound to draw back many of its previous visitors, living or not. You can enjoy paranormal investigations while staying here.
Sleeps: Up to 2 Guests
Price: From US$128
Recommended Reading: Packing Cubes: Why you Should Try them on Your Next Trip
Haunted Places to Stay in Texas
This property has been lovingly restored to embody its history. The building served as different things over its long history including a stagecoach station, a frontier hotel, saloon and brothel. Besides offering you all the comforts you can expect from great hospitality, you also won't find yourself alone.
If you check out the reviews, you'll believe that this Airbnb haunted house really is haunted. There is also an un-restored section of the hotel that you are welcome to explore, but if you read the Airbnb description carefully, you'll find that this is the spookier part of the building and as the hosts say "not for the faint of heart". But if you're looking for a great haunted place to stay, then this is it.
Sleeps: 4 Guests
Price: From US$218
Recommended Reading: How to Get an Airbnb Discount & Make the Most Of Your Stay
Haunted Airbnb in Utah
This original town post office closed down in the 1990s but has since been renovated into a tiny guest house. It's a great authentic and historic stay, complete with an old outhouse.
You'll be on your own in this ghost town and will have this unique place to yourself… For the most part at least. The surrounding buildings are uninhabited and some are dilapidated which just adds to the spooky atmosphere. It's the perfect escape if you're looking for something quiet and imaginative.
Sleeps: Up to 2 Guests
Price: From US$31
Haunted Places in Virginia
A few ghostly tales await you at The Omni Homestead Resort. Legend has it that a jilted bride walks the halls waiting for her groom to return. Besides having a reputation for the spooky, the resort offers you some great amenities for a spectacular stay.
You can enjoy a relaxing treatment at the onsite spa or try out horseback riding and a carriage ride. Or just enjoy the historical luxury you can expect in your beautifully furnished room.
Sleeps: Up to 20 Guests
Price: From US$850
Now that you know where in the US you can find the best haunted houses and other stays… Are you brave enough to try one of them this Halloween?