Ever hear of the Engadin Mountains near St Moritz in Switzerland? They are one of the most dramatic in all of the Alps. No wonder, the rich and famous have chosen it for their playground!
The Engadin Valley itself is an elevation of at least 1000 m. Many parts are higher, including the town of St Moritz, Switzerland.
The Engadin Valley itself is an elevation of at least 1000 m. Many parts are higher, including the town of Saint Moritz, Switzerland.
Engadin Mountains St Moritz is located at the southern end of the Engadine Valley in Switzerland. The town was founded in 1609. Today, it is home to some of the most luxurious hotels in Europe.
St Moritz is known for its winter sports including skiing, snowboarding, ice skating, sledding, tobogganing, and dog sledding. There are many hiking trails through the surrounding forests and meadows.
There are several ways to reach St Moritz. One option is to take the train from Zürich (Switzerland) to Brig, where you can catch a bus to St Moritz. The Glacier Express and Bernina Express train stop in St. Moritz too. Another option is to fly directly to St Moritz International Airport.
Facts About The Engadin Mountains
Engadin St. Moritz makes an excellent base for exploring the surrounding mountains. You'll find yourself surrounded by 3000 – 4000 meter high peaks, and an incredible 172 glaciers!
Related Reading: Tour du Mont Blanc: Hiking Tours
The unspoiled landscape is one of my favorites in all of Europe. Narrow ridges, glacier-covered peaks, iridescent high alpine lakes, and glacier-swept landscapes, make for some high drama!
Not to mention that it's capped off with 300 days of sunshine each year! And there are loads of great activities in winter and summer. I personally love the frozen lakes during the wintertime while other international visitors prefer the sunny terraces.
Related Reading: Tour du Mont Blanc: How to Plan for this Epic Adventure.
How Easy Is It To Access?
The other thing I love about the Engadin Mountains is that although they are high alpine, they are accessible to everyone thanks to gondolas and trams that you can take up.
The views from Muottas Muragl are fantastic – and only get better and better with a little effort.
Related Reading: The Haute Route: Hiking Tour
At the top of the tram stations, you can enjoy the view at a restaurant, do an easy hike, or challenge yourself with a real mountaineering adventure!
All of the best-known peaks in the Engadin are famous for their mountaineering stories. Especially Piz Bernina, the highest peak in the Eastern Alps at 4049metres.
The first ascent dates back to 1850. And the stories have been coming ever since! That's a long history of mountaineering.
Related Reading: Gelmer Funicular, The Steepest in the World: Adventure Junkies Only
The 2 Other Highlights of the Engadin Mountains
1) The Rhaetian Railway through the Albula/Bernina landscapes. It's an accredited UNESCO World Heritage Site for its technical, architectural and environmental features.
It's only the third railway ever to be designated as a UNESCO site!
2)The Olympia Bob Run. Not only is it the oldest bobsled run in the world at 125 years old, but it's also the world's only natural ice track that hosts international races.
If you feel the need for speed, you can experience the rush of going 130km an hour flying along the ice for CHF 250!
Bobsled rides are usually available from mid-December to early March, depending on the weather conditions.
What To Do In St. Moritz
Engadin St Moritz is a great starting point to explore the mountain range. There are great opportunities for hiking, whether they are family-friendly, themed hikes or multiple-day hikes, there are loads to choose from depending on your difficulty level. Make sure to check out the official website to find out about the available hiking passes and 3D maps available in St. Moritz. If you prefer walking to hiking, there is a selection of recreational nordic walks that you can do as well.
There are also plenty of mountain biking trails to try out and E-Bikes are available for hire in Engadin St Moritz. Expert mountain bike rides are often done here. There are also other outdoor activities such as climbing, kayaking in Lake St. Moritz, and mountain climbing schools that are great if you're looking for your first experience. You will also find a large selection of water sports available such as kayaking, windsurfing, and sailing.
Recommended Reading: The Best Bikepacking Panniers of 2021: What you Need to Know
Where to Stay in the Engadin Mountain:
I stayed at the Kempinski Grand Hotel des Bains in Engadin St Moritz. This is the place to stay when you want to feel like a princess and wrap yourself in luxury!
Be sure to treat your sore muscles after a day of hiking with some spa time – I had an excellent massage which left me feeling refreshed.
I was so impressed that it made my list of Most Romantic Hotels in Europe!
I also loved the incredible breakfast! If I could eat breakfast every day for the rest of my life here, I would be delighted!
Check out the cheese section, and you'll see what I mean: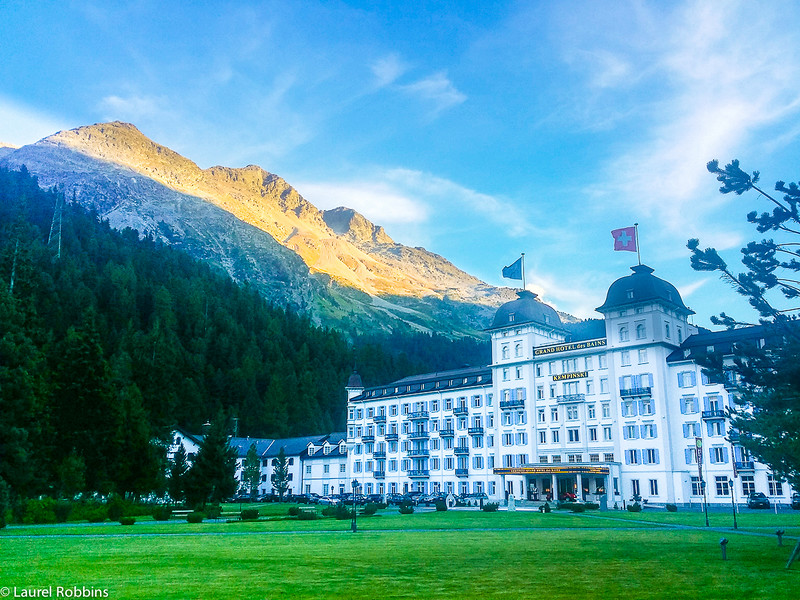 Be sure to check out these other destinations in Switzerland!
My trip to St. Moritz in the Engadin Mountains really was a great opportunity, especially because it proved to be great for relaxation and action-packed activities.
Note: Thank you to the Kempinski Grand Hotel des Bains for providing me with a complimentary stay. As always, all opinions expressed are my own.
This post has been updated and republished.