The last 100 km of the Camino de Santiago in Spain is a good alternative if you don't have time to walk one of the full Camino. Here's your guide to hiking this 1000-year-old route.
And what it's REALLY like. Hint: I didn't love it as much as I've liked some of the other multi-day hikes that I've done in Europe. But first:
A Brief History of the Camino de Santiago
El Camino de Santiago, or in English The Way of Saint James, is the pilgrimage to the Cathedral of Santiago de Compostela in northwestern Spain.
Legend has it that Saint James, Jesus's apostle, is buried here – although no one really knows for sure. The Camino has been a Christian pilgrimage for over 1000 years.
At its most popular periods in medieval times, a million pilgrims would walk the entire route. It was only one of three pilgrimages, the other two being to Jerusalem, and to Rome which could free a person from the penance of their sins.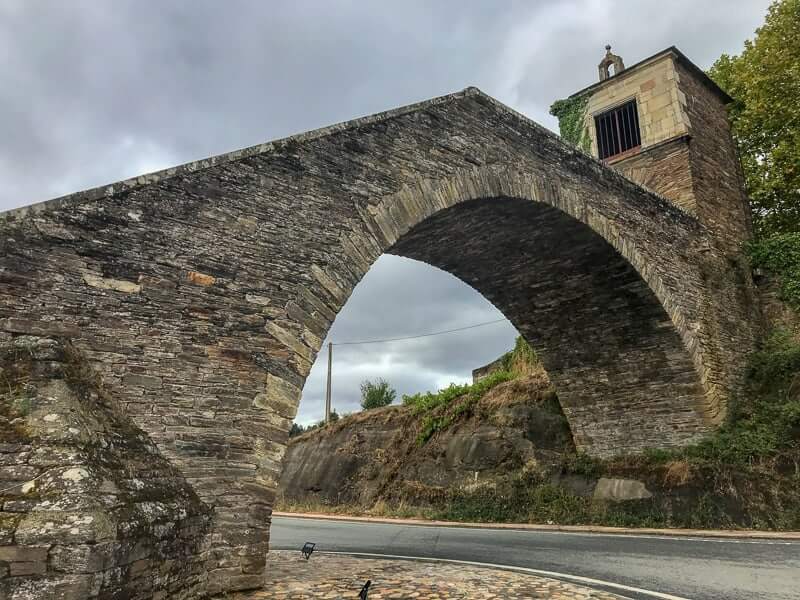 Today, approximately 200,000 pilgrims walk the route. And while many don't walk it for religious reasons, it maintains a spiritual element.
You'll meet many pilgrims seeking meaning in their lives, who are trying to overcome tragedy, who are seeking peace or are open to seeing what revelations appear from walking the Camino.
Booking a Self-Guided Tour of The Last 100 KM of the Camino de Santiago with Camino Ways.
I choose to walk the last 100 km as a self-guided tour with CaminoWays.com and I'm SO glad that I did.
They book all your accommodations, arrange luggage transfer and provide you with walking directions. Plus, they have a 24/7 number you can call should you need help while on your tour. You can read my review of Camino Ways here.
I'm a HUGE fan of self-guided hiking and walking tours (most of the tours I offer are self-guided for this reason). I've also done two other tours with GreenLife Tours (the umbrella company of which CaminoWays falls under); 6-Day self-guided hike in La Gomera in the Canary Islands which I loved and the Wicklow Way in Ireland. (Update: unfortunately they're no longer offering self-guided hiking holiday ins Ireland or the Canary Islands, but are still offering the Camino).
When you do a self-guided Camino tour you get the flexibility to hike at your own pace, start at whatever time you like, take as few or as many breaks as you want.
They also save you a TON of time in planning your tour. You can print off the documents they send you, have a quick read and you're good to go!
I also like knowing that after a day of hiking I can look forward to a nice hotel since they've already vetted all the accommodations. We've all booked places that looked soooo nice online…only to find out that the reality is quite different.
It's never a nice surprise, but especially after a day of walking when you're tired and just want to put your feet up. That's why I'm pleased to have teamed up with Camino Ways and to offer you €20 off your own Camino.
Getting to Sarria From Santiago de Compostela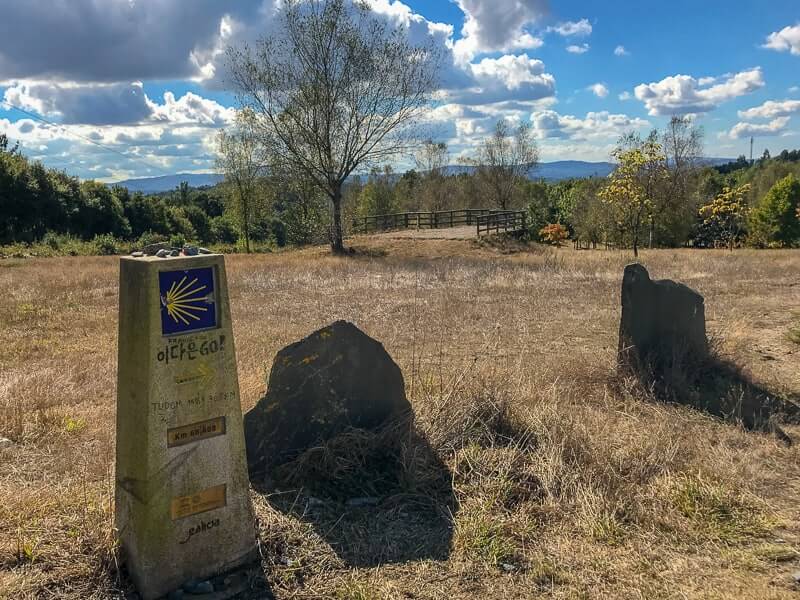 The last 100km of the Camino de Santiago starts in the town of Sarria. With just under 14,000 inhabitants it's the most populated town you'll come across on the Camino until you reach Santiago.

The easiest way to reach Sarria is from Santiago de Compostela, the endpoint of the Camino. It's 126 km. You can reach it by bus which takes ~ 2 1/2 hours.
You can take a bus directly from the airport to Lugo which takes just over 2 hours. From Lugo, you take another bus to Sarria (~ 30 minutes). In total it costs ~€14. This is the cheapest way to reach Sarria.
However, depending on when your flight arrives you could end up waiting several hours as I did. You also have the option of taking a train.
I recommend searching on Omio. They show you bus and train connections from different companies so you can choose the best option.
Note: It's often only possible to purchase tickets within 90 days of your departure so if you search and nothing comes up, you're probably looking too far in advance.

Related Reading: Coastal Hike: Costa Brava, Spain to France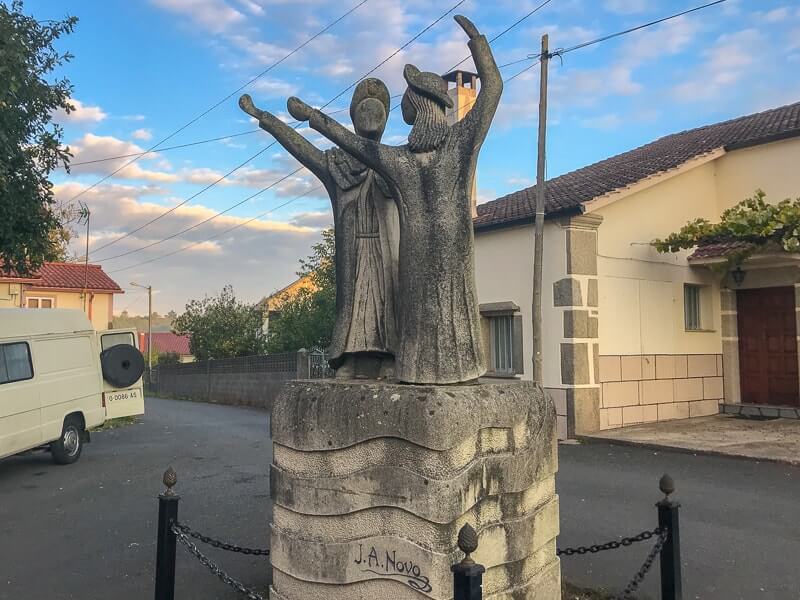 Of you can check the bus schedules (https://www.empresafreire.com/) from Santiago to Lugo, and then https://www.monbus.es/es to see the times from Lugo to Sarria.
It's also worth noting that it may be faster to take a bus from the airport to the bus station in Santiago and go with another bus company.
If your flight doesn't coincide with the bus schedule, consider a private transfer which CaminoWays.com can arrange. It will be more expensive but is the fastest and most convenient way to reach Sarria.
Day 1 of the Last 100 km of the Camino de Santiago: Arrive in Sarria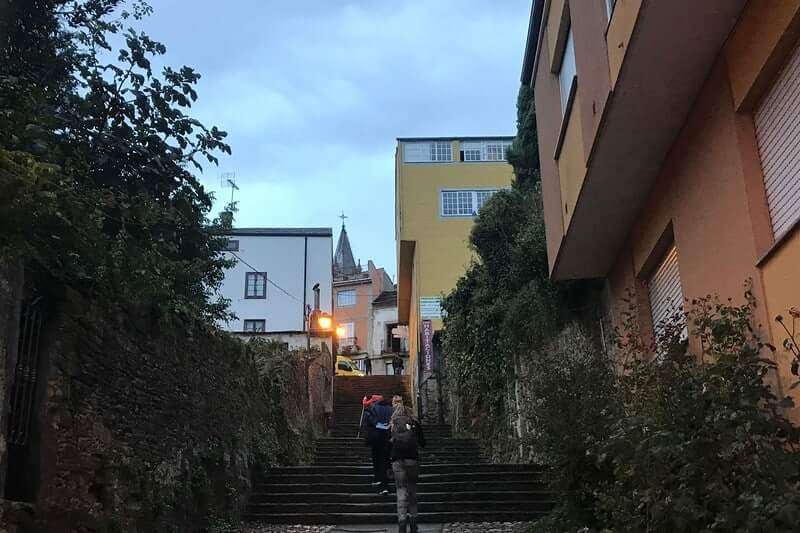 Despite it being a large town compared to the other places you'll pass when walking the Camino there's not a ton to do here, so plan to arrive late afternoon.
There's a shop conveniently located at the start of the stairs where you'll start your Camino. You can purchase last-minute gear and your Pilgrim Passport (€2) here. Dinner is on your own but you'll find lots of places to eat along Rúa Maior (Calle Mayor).
Day 2: Walk from Sarria to Portomarin
Camino Walking Profile: (23 km, ~ 450 m elevation gain)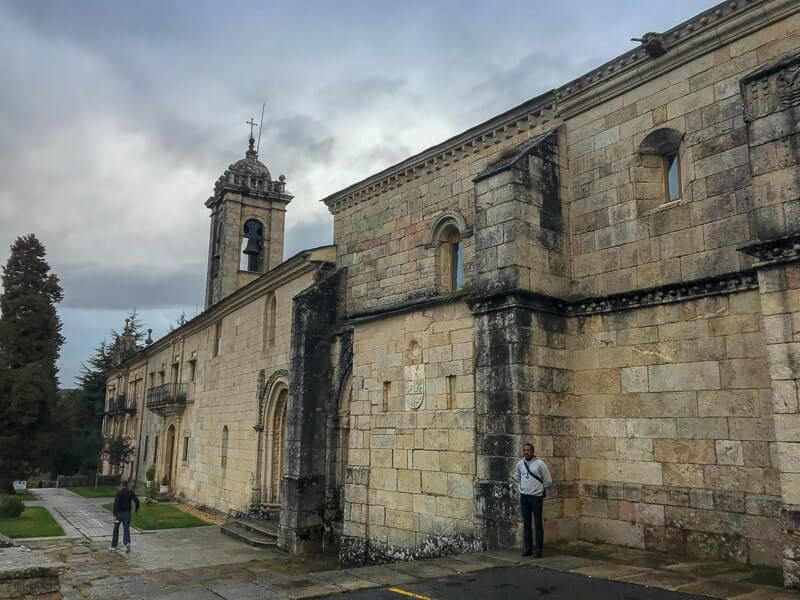 On this part of the Camino, you'll walk through pretty villages and hamlets passing numerous churches and monasteries along the way. You'll walk on quiet country roads and under oak trees.
There are lots of places along the way to stop for refreshments or a bite to eat.
My three highlights of the walk from Sarria to Portomarin:
Actually starting to walk the Camino – something I've thought about doing for a long time.


Seeing and feeling the excitement of the other pilgrims. Some have been Camino Frances (French Way) since the beginning, but many others started in Sarria as I did.


Entering Portomarin on the dramatic Romanesque bridge with other pilgrims. That was cool in itself. But what I loved was seeing the remains (only visible when the water levels of the dam are low) of the ancient buildings along the Miño River.

It gives it an eery ghost town feeling. The buildings that you see used to be Portomarin but when the river was dammed in the 1960s the entire town was moved. The important buildings were moved – stone by stone.
Walking the Camino Reality Check
The scenery along the way was nice, but not amazing. Everyone I know who has walked the Camino de Santiago, even the last 100 km as I'm doing, has raved about it.
Am I missing something? I know that some people do it to find answers to questions that perplex them. I do hiking trips for that reason too, but what makes the Camino de Santiago so special?

Most pilgrims that I've observed are not even stopping in the churches that line the way. It's not a judgement but if a pilgrim was doing the Camino for religious regions I'd totally get it.
But from my observations that doesn't seem to be the case. In any case, when I get back to my hotel that night, I immediately download and start reading Paulo Coelho's The Pilgrimage.

I wish I'd started reading it before my journey. If anyone can help me find meaning, it's the wise Coelho. If you're planning on walking the Camino, I highly recommend reading this book before you start. It may give new meaning to your pilgrimage.
Check out my route from Sarria to Portomarin in the video:
Day 3: Walk from Portonmarin to Palas de Reis
Camino Walking Profile: 25 km, 520 m of elevation gain

You'll spend most of the day walking along roads, some of which frankly are uninspiring. Fortunately, the scenery improves as the day moves on and gives way to forests and rolling hills.


My highlights of the walk from Portomarin to Palas de Reis:
Meeting a fellow from Valencia and having a conversation about Kundalini yoga and energy. It's a rather deep talk for someone that you've just met which made for a very interesting conversation. It turns out you can expect a lot of those type of conversations when you walk the Camino, which I welcomed.


Taking a second cappuccino break. I realized that I'd invented my own self-imposed rule of just one stop during the walk. I also came to the conclusion that it was rather stupid and I loved taking breaks whenever I felt like it.


Noticing that my senses seem to be improving. I'm observing more. I.e. peeling bark from the trees. My sense of smell also seems more intense.


The deep clouds in the forest from a viewpoint (see above). WOW!
Walking the Camino Reality Check
After leaving Portomarin, which I liked as did I like the walk in the forest, I was disappointed to see that much of the time I was walking the Camino I was walking along a road. What? My doubts about the Camino resurfaced. Although admittedly they weren't very hidden.


Fortunately, the scenery did improve as the day went on. I get that many pilgrims do the journey to find themselves. But can't they do it somewhere more scenic, like the stunning Coastal Hike in Costa Brava, Spain?


Still, I did have a couple of insights (see above). Maybe the Camino is starting to work its magic? Time will tell. In the meantime, I continue reading The Pilgrimage.
Check Out the Camino Route from Portomarin to Palas de Reis in the video:
Day 4: Walking from Palas de Reis to Arzua
Camino Walking Profile: 29 km,(but turned out to be 31 km), 493 m of elevation gain

This is the most scenic day of walking the Camino so far and as it turns out the entire trip. You'll walk through medieval villages, numerous churches that are centuries old. Be sure to try the local specialty, fried octopus – pulpo in Spanish. Trust me you'll want to try it. It's SO good.


My highlights of the walk from Palas de Reis to Arzua:
Starting the day with a gorgeous sky. Sunrises are always one of my favourite times of day, although I'm not usually up early enough to see them. The good thing is that the sun doesn't rise until quite late in northern Spain in October. This photo was taken at ~ 9:00 am. It's moments like this that everything feels right in the world.


Walking through the medieval villages, especially Furelos. It makes you feel like you've been transported back centuries.


I finally had a breakthrough. I didn't walk the Camino with a particular problem or issue I was trying to solve, but right as I was walking through the middle of a field, I came up with a subject for a book that I'm SO excited to write.

I've wanted to write a book for a while but have struggled with what I'd write about. Seemingly, out of nowhere, I came up with it. I still have to flush out a lot of details, but I'm super excited and can't wait to get started.


My senses continue to develop. In addition to my heightened sense of smell, I also start to notice the crunch sound my boots make with every step they take over the stones.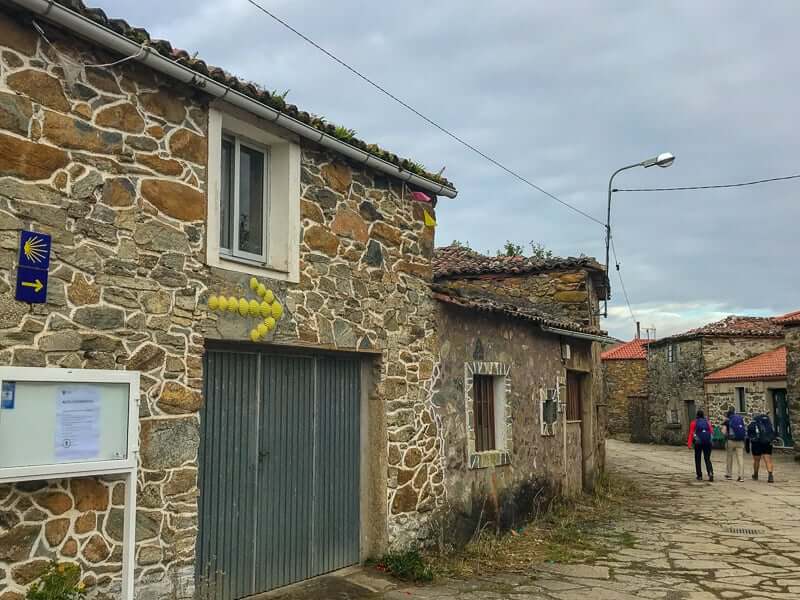 Walking the Camino Reality Check
While I loved walking the first part of the Camino today, both from a scenic point and a getting into the groove point. But unfortunately, halfway through the day, I started to develop Plantar Fasciitis.

It became increasingly painful as the day went on. I was shocked as this is the third long-distance hike I've done since May (The Jordan Trail and the Path of Gods in Italy), and I hike every weekend.


The last few hours were pure agony. I couldn't wait to be done even though the day started off beautifully. Plus, 31 km is a very long day of walking – even when you're feeling good.


I arrived at my hotel and slept soundly for an hour and then tried to work the kinks out of my feet. Inadvertently, I found a solution for dealing with Plantar Fasciitis.
It doesn't have to wreck the rest of your hike. Does that count as a Camino insight? I'm counting it as one. But just to be on the safe side, I continue reading The Pilgrimage.
Check out the Camino route from Palas de Reis to Arzua in the video:
Day 5: Walking from Arzua to Amenal
Camino Walking Profile: 23 km, 360 m of elevation gain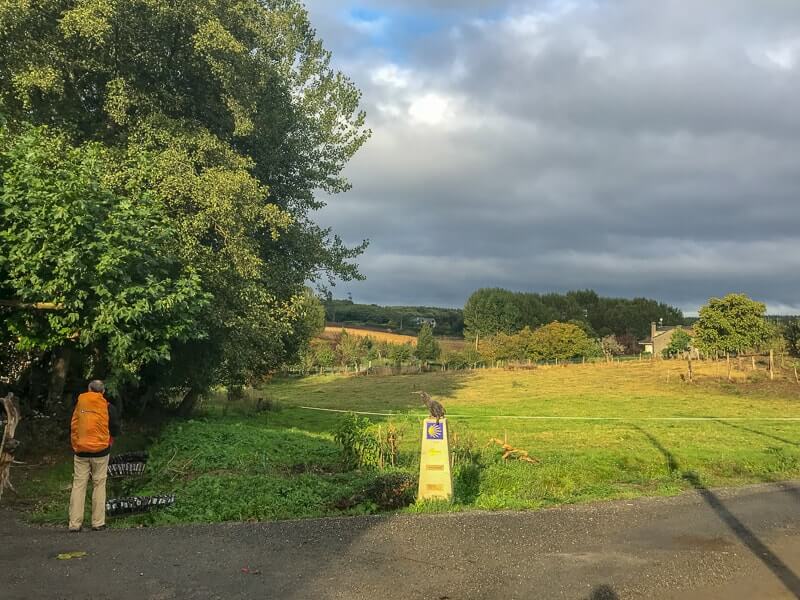 Today's Camino walk takes you through woodland, a eucalyptus forest and small villages. You'll walk through the hamlet of A Rúa, one of the quietest points before reaching Santiago.


My highlights of the walk from Arzua to Amenal:
The morning light. I had promised myself to start walking earlier today to enjoy the most of the morning light but due to treating my Plantar Fasciitis started a bit later. But still, I was rewarded with magical morning light for the first half-hour.


I LOVED hiking through the eucalyptus forest. It's my first time doing so and it's the most fragrant forest I've ever been in. It smells like a combination of mint and honey. It's my idea of heaven. I was grateful for my now heightened sense of smell to really savour it. I slowed my pace to prolong my time there. If you haven't had the pleasure of hiking in a eucalyptus forest, put it on your bucket list – pronto!


I started talking with an American lady from California. Within minutes we entered into a deep conversation about the best way to deal with life's disappointments. She said that her motivation for walking the Camino was to find peace and that she'd found it.

So much so that she said she sometimes spontaneously found herself bursting into tears of happiness. Her openness touched me. And I loved hearing the effect that walking the last 100 km of the Camino was having on her.


Despite being in pain, today seemed to flow. I focused less on time and more on my surroundings. I noticed the light breeze that hit the right side of my cheek intermittently.
Walking the Camino Reality Check
I loved walking in the morning light and all the forests but especially the eucalyptus forest. However, while parts of the trail were nice they were just nice. Maybe my expectations are too high, but I want more than nice from a walk.


Still, I do feel I am benefitting from walking the Camino. Tomorrow is the last day. I'll arrive in Santiago. I'm curious to see if I feel any different or have any epiphanies.
Check out the Camino Route from Arzua to Amenal in the video:
Day 6: Walking from Amenal to Santiago
Camino Walking Profile: 17 km, 268 m of elevation gain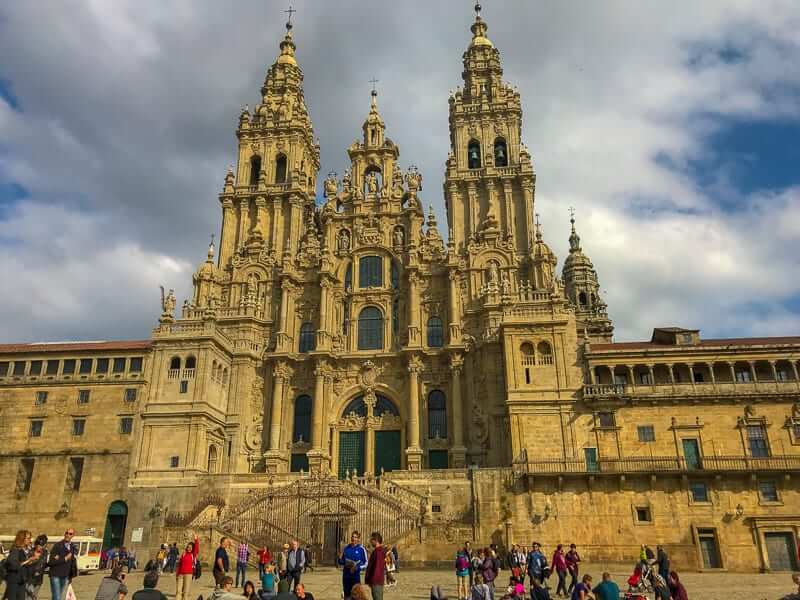 Today is an exciting day – it's the last day! You'll pass by Lavacolla, where traditionally pilgrims washed in the river before reaching Santiago de Compostela. Then you'll walk on roads and forests until you reach Monte do Gozo "Mount of Joy" in English.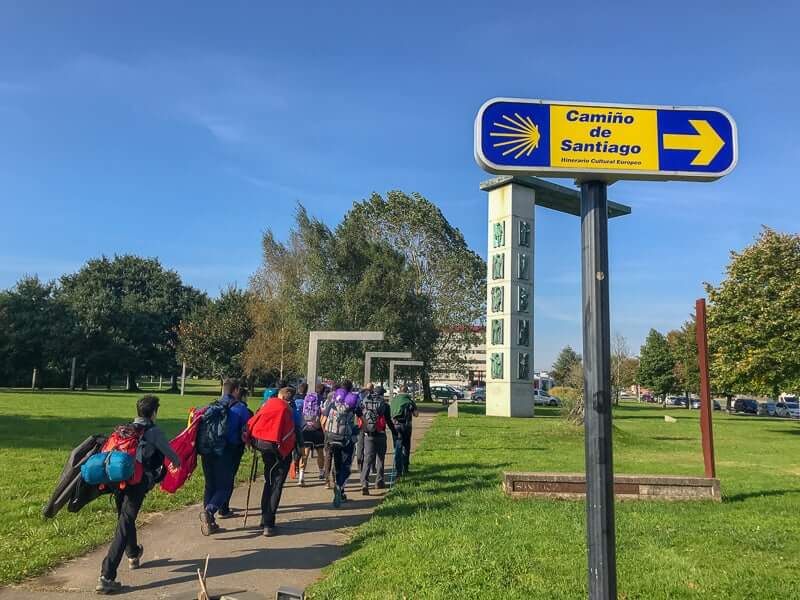 At 368m it's where you'll get your first glimpse of the Cathedral of Santiago. It's an easy day, leaving you lots of time to explore this gorgeous city which is a UNESCO World Heritage Site.


My highlights of the walk from to Amenal to Santiago:
I felt joyful the entire hike and strong and hiked like I was on fire. I feel the effects of walking the Camino.


Monte do Gozo offers beautiful views of Santiago. I tried to imagine how many pilgrims have felt the same sense of awe, especially the ones that walked the entire route.


After arriving in Santiago, I sat in front of the cathedral, taking time to reflect on my journey.
Walking the Camino Reality Check
Today was the least scenic of all the days of walking the Camino. While there were some nice spots, for parts of it you're walking by a major highway. The noise is an assault on the senses after so much quiet on the trail. You also walk near the airport.
Check out the Camino Route from to Amenal to Santiago in the video:
What I Liked About Walking the Camino de Santiago: The Last 100 km
I'm a big fan of long-distance hikes as a way of re-discovering yourself. They're a great way of taking the quiet time you need to listen to what you already know. But what we too often drown out with distractions in our daily lives.

My takeaways from walking the Camino de Santiago were a reminder to focus on being present and enjoying the moment – even when it's mundane. It's easier said than done. But I'm working on it.
I'm also learning to rely more on my own internal strength and less on my surroundings. For example, not letting a less scenic part of the trail influence my mood. These are takeaways that will serve me well in all areas of my life. I let other people influence my mood too easily. I truly believe that hiking trips can change your life.

And I did get the idea for my book. I don't think that would have happened had I not walked the Camino. My life at home is busy. And I think I needed to be fully present for the idea to come to me.

I also got an idea for a book that I'm buzzing with excitement to write. I've wanted to write a book for a while but have struggled with the right topic. I finally got it on the Camino.

I was also very happy that I booked my self-guided walking tour of the Camino de Santiago with Camino Ways.

By not having to focus on the logistics, like finding a decent hotel to stay in, or to worry that I was missing a historical church (they provided me with tips of the highlights in my travel document), I had more time to reflect and to let my mind wander.

You can see more about what it's like to do a tour with Camino Ways by reading my review here. Spoiler Alert: I'd highly recommend doing your Camino tour with them.


What I Didn't Like About Walking the Last 100 km of the Camino de Santiago

Having said that, I was disappointed with the scenery on the Camino. It was nice in places, but I never felt it was stunning. It was also not so nice in places – just walking along a road or beside a busy highway in others.
The villages were nice, but in all honesty, Spain has tons of more stunning medieval villages. Some on other Caminos (which I've done parts of), like cycling in Asturias.



Obviously, history and religious meaning play a big role for some people walking the Camino. But interestingly enough, none of the other pilgrims I spoke with were doing it specifically for religious reasons. Although there was often a spiritual element to their reason for doing it.

When speaking with other pilgrims, everyone I spoke with said that they got what they wanted from it. Most agreed that while it was nice, it wasn't amazing scenery. But they also said that the scenery wasn't their main reason for doing it.

The lady I previously mentioned from California was walking the last 100 km of the Camino to find peace after several big losses in her life in the past year. She said she'd found it already on day 3. That's powerful stuff!


A Canadian lady I met was doing the whole Camino to figure out the next steps in her life. Her youngest daughter had just headed off to university. She said that walking the Camino had given her reflections she likely wouldn't have gotten had she not done it.
Practical Info for Once You Finish the 100 km and Arrive in Santiago de Compostela
There are Pilgrim's masses held two times a day, at 12:00 pm and 19:30. You don't need to rush to be there for the noon one.


There's also a Pilgrim's reflection available at the Pilgrims Office Mon-Sat at 10:00 and 14:30 pm.


The botafumeiro – a 53kg incense vessel that's swung through the width of the Cathedral on a rope to cleanse the Pilgrims is an incredible site to see. However, as of writing, there is no regular schedule for it. Check with the Tourist office for current information. Assuming that you've been getting your Pilgrim's Passport stamped along the way, once you're in Santiago you can get your Compostela certificate from the Pilgrims Office. It's located at Rúa Carretas, 33. But expect huge lines. When I arrived there were at least 200 pilgrims in line ahead of me. I ended up not getting it choosing to spend my time exploring Santiago instead.


I'd highly recommend doing a tour of the Santiago de Compostela Cathedral and Museum. There's so much history and the views from the rooftop are incredible which you can only see if you do a tour. You miss so much if you just do it on your own. I did it with a guide on my first visit and was so glad that I did.


If you have more time, consider a day tour to Cape Finisterre & Costa da Morte to explore the rugged Atlantic Coast. They're worlds away from Santiago even though they're not that far. The tour conveniently departs from Santiago.


If you have a car or know a local that does also visit Beach of the Cathedrals. It's one of the best beaches in the world. You'll need a reservation to get in as it's very popular but SO worth it. I loved it.
In the end, I arrived in Santiago de Compostela feeling totally at peace. And perhaps that's one of the greatest gifts a pilgrim could ever receive from walking the last 100 km of the Camino de Santiago.
Note: Thank you to CaminoWays.com for making my trip possible. As always, all opinions are my own. If you use my booking code "monkeyscamino", you'll receive €20 off your own Camino the last 100km and I'll receive a commission at no extra cost to you. You can read my review of Camino Ways here.
This post was written in Oct 2018, but updated and republished in oct 2020.