The Beach of the Cathedrals (Catedrais Beach) is not only one of the best beaches in all of Spain but in the world! No wonder that it's been designated as a national monument.
This incredible beach on Spain's northern coast in Galicia near Ribadeo, often appears on the Best Beaches in the World lists. CNN, Bored Panda and the Huffington Post, to name just a few!
It's also known as the Beach of the Holy Waters (Praia de Augas Santas) and is unlike any other than I visited in Basque Country, Cantabria or Asturias in northern Spain. Its huge eroded rock formations, dramatic arches, and hidden caves set it apart from other beaches!
How did Beach of the Cathedrals Get its Name?
It's named after the giant rock formations that resemble the flying buttresses found in cathedrals. On a windy day, you can hear the wind whistling between the huge stones which resemble organ music playing in a church. Nature's organ music can best be heard at low tide.
Related Reading: Rafting the Noguera Pallaresa in Catalonia
What Makes Beach of the Cathedrals so Special?
It is a spectacular example of the raw power of nature. Natural arches, some as high as 30 meters in low tide, and cave systems have all been formed as the Cantabrian Sea and the wind has carved away the softer parts of the rock. It's a constantly changing landscape.
Perhaps just as importantly, is how you feel at the Beach of the Cathedrals. Normally when I step onto the hot sand, I think awww, this is relaxing, let the vacation begin.
This time, as I stepped onto the sand at Catedrais Beach, I didn't get that feeling. Instead, I felt that I was part of something bigger. Perhaps the universe was letting me in on one of its many secrets.
Despite that I'm not religious, I found it a very spiritual experience. Perhaps enhanced by the fact that I was there in the early morning before all the crowds appeared. It was a peaceful and meditative experience, unlike one that I've ever had at any other beach.
Related Reading: What It's Really Like to Do a Via Ferrata in Spain.
When to Visit Beach of the Cathedrals:
You'll definitely want to go at low tide. That's the only time when you can see some of the natural arches and realize how giant they are before the high tide dwarfs them. It's also the only time you can visit many of the cave systems.
I went at high tide and while it was still spectacular, I regretted not planning my visit around the low tide. The tide tables change throughout the year. You can find out here when it's low tide in Ribadeo.
A word of warning, if you're exploring and the tide starts to come in, get out. It's a flat beach and the tide is known for coming in quickly. You don't want to put yourself in a dangerous situation.
If possible, try to plan your visit around the low tide at sunset. I've read reviews on Trip Advisor that mention it's spectacular and I can imagine it would be. It's also often less busy in the evening than it is in the morning at low tide.
If you're not able to visit during low tide, then try to go off hours to avoid the crowds. While it may be too cool to go for a dip, it's a great time to explore. I was there at 9:00 a.m. and our group had the entire place to ourselves.
You can see one of my photos taken at high tide below, compared to a photo taken at low tide.
Related Reading: Best Wine Tours in Europe
Travel Tips for Getting the Most From Your Visit to Catedrais Beach
As you can imagine, the 1328-meter long world-famous white sand beach gets busy, really busy. So busy in fact that from July – September and over Easter week, visitors need a ticket to visit the beach.
Each day 4812 beachgoers are permitted to enter the beach. Tickets are available online up to two weeks in advance. There is no fee, but if you're going during peak season, you'll definitely need one. You can get your ticket here.
The tickets help preserve this Natural Monument by limiting the number of people. Plan your visit in advance to make sure that you get the opportunity to visit one of the most beautiful beaches in the world!
If you aren't able to get a ticket in advance, you can still visit the grassy picnic area above the beach which offers a gorgeous view over Catedrais Beach. It's definitely a consolation prize, but not nearly as good as being on the beach itself.
Related Reading: Coastal Hike: Costa Brava, Spain to France
How to Get to Beach of the Cathedrals:
It's just under a 20-minute drive from Ribadeo. If you are coming by car the GPS coordinates are Latitude: 43º 33' 14'' N Longitude: 7º 9' 26'' W. It's also possible to arrive by bus or train or take a taxi.
Where Else to Explore in Galicia
You'll want to check out Santiago de Compostela, the capital of Galicia. It's located ~160 km southwest from the Beach of the Cathedrals. I loved walking through the medieval Old Town.
Of course, no visit to Santiago is complete without a visit to the Cathedral de Santiago de Compostela. It's the finish point of the St. James Way, also known as the Camino de Santiago (of which I walked the last 100 km). It's also the burial site of the apostle St. James. I especially loved the views from the rooftop, available only by tour and highly recommend the Museum and Cathedral tour.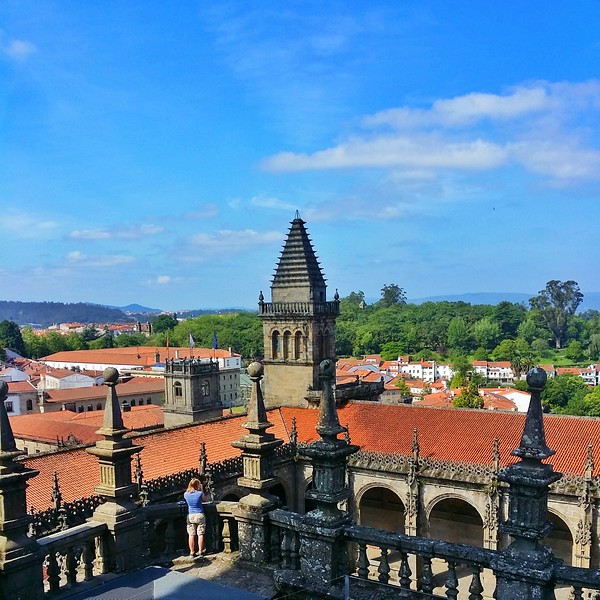 What to Eat in Galicia
Try Caldo Gallego. It's a white bean soup that is a staple in Galician cuisine. Check out my friend Lauren's recipe for a vegetarian version of the soup. Be sure to check out my friend Emily's Food Guide to Galicia.
Disclosure: Many thanks to the Galician Tourism Board, the Spain Tourism Board for the UK and The Travel Mob for making my visit possible. As always, all opinions expressed are my own.