What to do in Zermatt, even if you don't ski. While it's best known for the Matterhorn and for being the highest mountain resort in Europe, there's so much more to see and do.
"What to do in Zermatt?" may be a valid question for non-skiers, but I assure you there are plenty of things to do in Zermatt. I've visited Zermatt several times over the years. Each time I'm amazed by how beautiful the town is. It truly has something special that makes it worth visiting.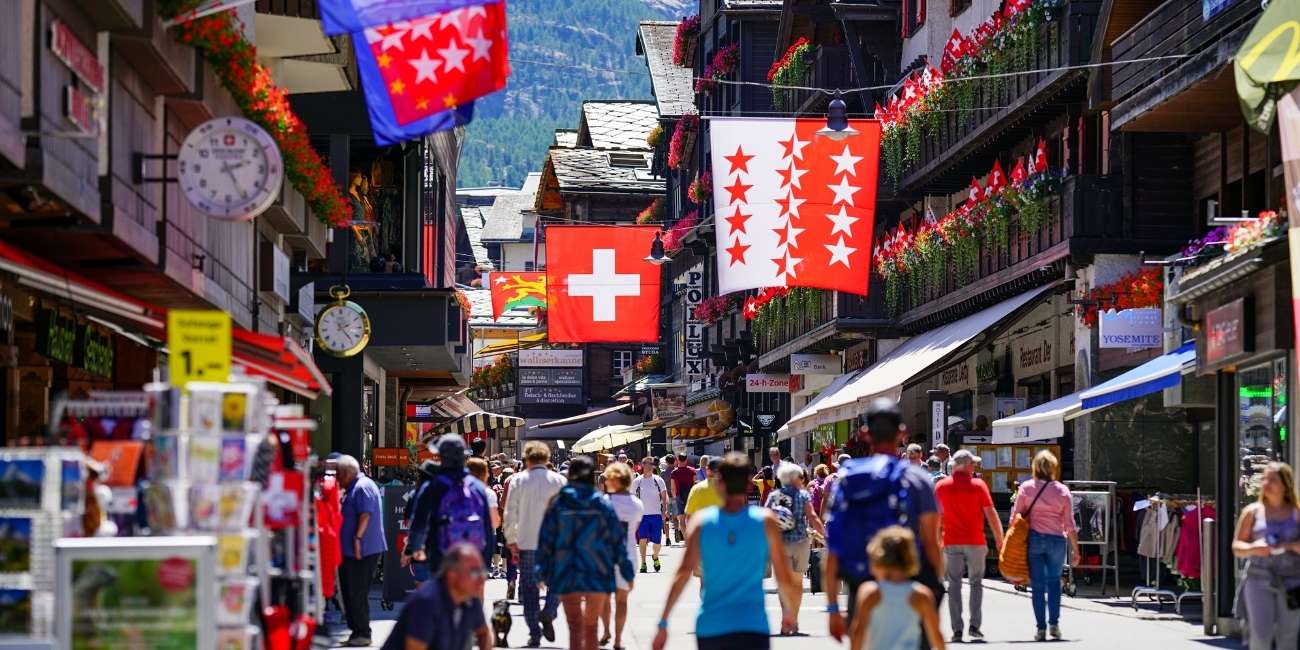 Things to do in Zermatt in Summer
Zermatt is one of the most popular destinations in Switzerland. There are plenty of things to do in Zermatt during the summer season. Even though the town has only 2000 residents, it attracts millions of tourists each year.
Stroll through the town of Zermatt
Zermatt is a gorgeous Swiss village. Bahnhofstrase is the town's main central street and one of the world's most expensive and exclusive shopping streets. During the summer months, visitors flock to the area to enjoy the alpine views and cool weather.
There are several museums and I recommend visiting the Museum of Art and Archaeology. Here, you can learn about local history and culture, and view artworks dating back thousands of years. There are even interactive displays here! The galleries are also worth visiting while you're in Zermatt.
For shopping enthusiasts, there are several boutiques to explore. Some of the shops offer unique items, while others sell souvenirs and clothing. If you'd rather spend your time outdoors, there are numerous hiking trails to follow. Many of the hikes lead to panoramic viewpoints overlooking the surrounding iconic mountains.
Take a Cable Car Ride
This is a car-free town but does have cable cars. Climb aboard the cable car at the base of Mount Titlis and take a scenic tour through this beautiful Swiss village. The views are breathtaking, especially when you're riding above the clouds.
There are four types of cable car rides in Zermatt. Each has a slightly different route.
The Schwarzsee Express takes passengers from the village center to the Schwarzsee lake.
The Täschbahn takes passengers from the village to the Täsch mountain.
The Riffelberg Express takes passengers from the Riffelberg to the village.
The Gornergrat Bahn takes passengers from Mt. Gornergrat to the village.
Spend two hours with a professional guide and visit gorgeous places in Zermatt. Get insider stories about the Matterhorn and the facts and legends behind it. It's like taking a time machine to discover the mystery of 1865. It's the perfect activity to see Zermatt for more than just a vacation spot.
Visit the Matterhorn Glacier Paradise
Matterhorn Glacier Paradise is located near Zermatt. This place is famous for its glacier adventure tours. You can enjoy exciting activities such as hiking, climbing, skiing, snowboarding, and ice skating.
There are three main ways to visit the park: hiking, cable car, and gondola. Hiking is the most popular option because it allows visitors to experience nature firsthand. Cable cars offer the fastest access to the glacier, but they're not recommended for beginners due to the steepness of the trail. Gondola rides are slower than either the cable car or hiking, but they allow visitors to reach the glacier safely.
Hiking in Zermatt
Hiking is another thing that you should include in your itinerary. There are several trails in Zermatt. Some of these trails are suitable for beginners while others are challenging.
Hike the Haute Route
Known as one of the most famous hikes in Europe, the Haute Route starts from Chamonix, France. You'll hike past Mont Blanc and make your way toward the Matterhorn in Zermatt.
This gorgeous yet challenging trek has you crossing mountain passes at altitudes of nearly 3000m and crossing near the bottom of glaciers. You'll be in awe of the ever-changing scenery that includes everything from high mountain passes, green alpine pastures with happy cows, forests and quaint alpine villages.
Our 6-day self-guided Best of the Haute Route is the best day to do it in our humble opinion.
Hike the 5 Lakes Trail
If you're looking for adventure, a great option is to hike the five lakes trail in Zermatt. It is such a beautiful I recommend this to everyone looking for panoramic mountain views.
The trail takes hikers through some of the most beautiful scenery Switzerland has to offer. It passes by 5 gorgeous mountain lakes namely: Stellisee, Grindjisee, Grünsee, Moosjisee, and Leisee. Three of the lakes even have reflections of the Matterhorn and the majority of the trail offers unobstructed views of Switzerland's most recognizable snow-capped peaks.
The beautiful hike starts at the base of the Matterhorn mountain range and ends at Lake Lucerne. Along the way, hikers pass through forests, meadows, and alpine pastures. Hikers are rewarded with beautiful views of the Alps and the Matterhorn.
The hike is challenging, but not too strenuous. Most people complete the hike in four hours. However, there are many variations to the route, including shorter hikes and longer hikes.
Hike the Matterhorn Glacier Trail
The Matterhorn Glacier Trail is a popular hike in Zermatt, Switzerland. The trail starts at the base of the mountain and climbs through meadows and forests to the top of the glacier.
At the top of the glacier, hikers can view the picture-perfect view of Matterhorn peak. Hikers can also visit the glacier museum and learn about glaciers before they go on the hike.
If you're planning a trip to the beautiful Zermatt village, this hike is definitely worth checking out!
Related Reading: The Top 5 Free Things to See in Schaffhausen, Switzerland
Try Swiss Wine & Champagne
Zermatt is also known for its wine and champagne vineyards, and many tourists visit the region each summer to taste these delicious wines.
There are several wineries in the area, including Domaine de la Romanée Conti, Chateau d'Yquem, and others. These wineries produce some of the world's most expensive champagnes and wines.
If you're looking for a unique vacation experience, consider visiting Zermatt during the fall when the grapes are ready to harvest. During this season, the local farmers pick the grapes and crush them into juice. This process takes place outdoors, where the sun shines down upon the vines and creates perfect conditions for making great wine.
When you visit Zermatt during the grape harvest season, you'll be able to sample the fresh fruit straight from the source. And because the weather is warm and sunny, you won't need to worry about bringing along any winter clothing.
Things to do in Zermatt in Winter
During the winter months, there are many things to do in Zermatt including skiing, snowboarding, ice skating, sledding, cross-country skiing, hiking, horse riding, and sleigh rides.
Toboggan down the Matterhorn
There's nothing quite like tobogganing down the slopes of Zermatt. Whether you're skiing or snowboarding, you'll love the thrill of sliding down the mountain on a sled pulled by a pair of horses. And while you might think that you'd need skis or snowboards to enjoy this activity, you can still toboggan just fine without either piece of equipment. All you really need is a sled and a few friends.
While tobogganing is fun for everyone, it can be especially enjoyable for kids. There's no reason that children shouldn't experience this thrilling sport, too. Just make sure that you supervise young riders closely to avoid injuries.
Related Reading: The Haute Route: Hiking From Chamonix To Zermatt
Ski Down the Matterhorn
Zermatt has two ski resorts: Täsch and Riffelalp. Both offer excellent downhill skiing and boarding. They are located within 15 minutes drive of each other.
Täsch offers a wide range of slopes for beginners, intermediates, and experts. It also features a nursery school, a restaurant, and an outdoor swimming pool. Riffelalp is smaller than Täsch, but it does feature a chairlift. It is ideal for families and children. Both resorts offer lessons for adults and kids.
Book a private Zerrmat ski lesson online to save valuable holiday minutes. Get the most out of the slopes with a private lesson. This tour offers a smaller, more focused course that allows you to learn from a teacher who focuses solely on you. Lessons are suitable for all levels, so no matter what your experience, you'll get plenty of attention.
Go Ice Skating in Zermatt
Ice skating is one of the most popular winter sports in Zermatt. Many locals go ice skating every week. There are several places to skate in town. One of the largest is the ice skating rink in the center of Zermatt. It's open daily from November until March. Skate rentals are available.
Visit the Christmas Markets in Zermatt
Every December, Zermatt hosts its famous Christmas markets. This is a wonderful opportunity to see traditional Swiss Christmas decorations and gifts.
The markets are held in various locations in town. Some of these include the train station, the old part of the city, and the main square.
Snowshoe in the Alps
There are many ways to explore the mountains of Zermatt during winter. One of them is snowshoeing. Snowshoes allow you to walk easily over deep powdery snow.
Snowshoeing in winter gives you an unforgettable experience. You'll discover hidden villages or sunny terraces with epic mountain views above Zermatt, Täsch, and Randa. Check out our recommended snowshoes here.
Ice Climb Frozen Waterfalls
If you're looking for a unique experience, try ice climbing. Ice climbers climb frozen waterfalls and cliffs made of ice. This sport requires special equipment and training, but it's worth it because the views are breathtaking.
Vertical ice, muscle strength, and six small steel points that prevent slipping. It couldn't be any crazier. The icy rock walls and frozen waterfalls not only look impressive. But they also awaken the urge to scale them from all positions with pick axes and special crampon shoes.
This adventure requires a certain skill level, but if you're new to it you can book an iceclimbing class. It's hard work, but incredibly rewarding. I've only do it once but was surprised at the strength required to go 20 meters.
Warm up in a Hot Tub in Zermatt
There is honestly nothing better than warming up in a hot tub after an exhausting adventure-filled day out in this Alpine village.
Zermatt is famous for its winter sports, including skiing, snowboarding, ice climbing, sledding, and tobogganing. But there are many things to do in Zermattert during winter besides ski.
One of the most popular activities is to warm up in the hot tubs at the top of the Matterhorn Glacier Paradise Hotel. The hotel offers two heated outdoor pools, each with a private sauna, steam room, and Jacuzzi.
Things to do in Zermatt All Year Round
Visit Glacier Park
Contrary to popular belief that Glacier Park is closed during winter, it is actually open all year round! It is a huge park located in the middle of Zermatt. This place is famous for its glaciers. You can hike among these ice formations, go sledding, or simply relax and admire nature.
Have an unforgettable experience paragliding down in front of the Matterhorn. Exciting, I know! You get to enjoy a spectacular view of all the surrounding mountains and some wildlife if the weather cooperates.
Pamper yourself at a Spa in Zermatt
The town offers some of the most luxurious spas in Europe. Spa treatments include everything from massages to facials to manicures. And many hotels offer complimentary access to these services.
If you're looking for a relaxing vacation, consider booking a stay at one of the boutique hotels in Zermatt. These small luxury hotels are perfect for couples who want to pamper themselves after a day of mountain excursions.
Enjoy the insider information straight from experienced local mountain guides as you discover a quintessential Switzerland landscape on a full-day tour to Zermatt & Gornergrat from Geneva. Learn more about the region's cultural heritage from your local guides as you visit the Alpine village of Zermatt. You then ride to Gornergrat for a panoramic view of the Monte Rosa massif, Gorner glacier, and iconic Matterhorn mountain. Return train transfer including the Gornergrat is also provided on this tour.
Indulge in local Swiss wines at this wine tasting in Valais. Here you are guided in both English and French. This tour showcases how the Swiss turn their grape into a delectable bottle of wine. You also get to taste the best wine and cheese pairings. Trust me, you won't regret going on this tour.
Related Reading: The Best Accommodations in Zermatt
Get to know Swiss Culture
If you're looking for some culture, head over to the Palazzo della Ragione (Town Hall) where you can watch traditional Swiss folk dancing performances. Or take a ride on a cable car to the top of Mount Titlis, the highest peak in Europe.
And if you'd rather stay indoors, there are numerous indoor attractions to explore, including the Museum of Surgical Instruments, the Museum of Alpine Life, and the Museum of Natural History.
Take the Cog Railway up to Gornergrat at 3,100 m of elevation
Europe's highest open-air cog train takes passengers directly from Zermatt to the top of the Gornergraten Mountain 365 days a year. The ride takes 33 minutes and requires a vertical climb of 1,469 m. The line runs for 9.4 kilometres over dramatic viaducts, through art galleries and tunnels, across forested hillsides and rocky valleys, and past rugged cliffs and lake shores.
Indulge in Swiss Cuisine
Zermatt is famous for its chocolate shops, where you can find everything from dark chocolate truffles to milk chocolate bars. The town is also known for its restaurants serving traditional Swiss dishes. Swiss cuisine is famous for its fondue, raclette, and cheese.
I recommend After Seven and Du Pont. After Seven is probably the only Michelin-starred restaurant in the world where you can also catch a movie while enjoying your dinner.
While Du Pont is this affordable, cozy restaurant is one of Zermatt's oldest businesses and has certainly perfected its selection of no-frills, authentic comfort food over the years. 
Related Reading: 16 Best Things to Do in Chamonix
Where to Stay in Zermatt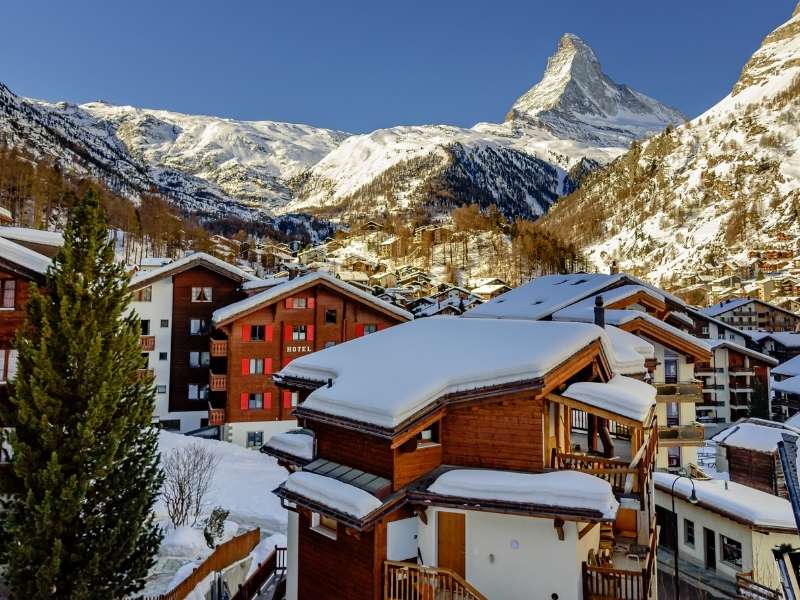 If you're looking for a unique place to stay in Zermatt, consider staying at a boutique hotel with stunning views of the Matterhorn. These hotels offer luxury accommodations and personalized services, spas, and even cinema lounges, making them ideal places to relax after skiing or hiking.
For more information, check out our top recommendations of where to stay in Zermatt.
Where is Zermatt?
Zermatt is a small village located in Switzerland at the base of Mount Matterhorn. It's known worldwide for its ski resorts, including Verbier, St Moritz, and Davos. But there's another reason to visit Zermatt.
Weather in Zermatt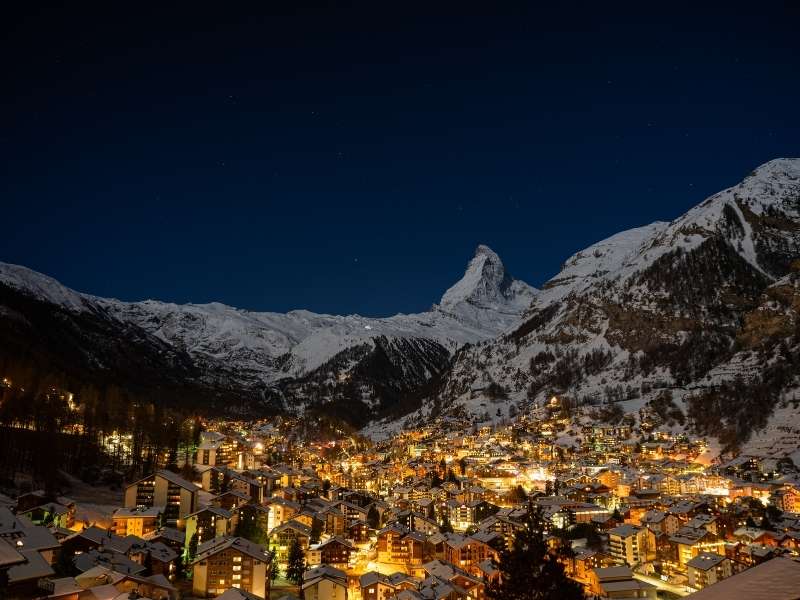 Zermatt sits at 10,000 feet above sea level, making it one of the highest towns in Europe. The charming village itself is surrounded by mountains, including Matterhorn, Monte Rosa, and Weissmies.
Many tourists who visit Zermatt come during the winter months for skiing. You can expect temperatures to drop down to -7C at night and to be slightly above 0C during the day.
In summer, temperatures can reach the low 20C during the day but drop down to 9C during the night, so you'll definitely want to bring a sweater with you
If you're visiting Zermatt in spring or autumn, expect rainy days and cool nights.
You don't need to wonder what to do in Zermatt since it offers a variety of fun activities and sights to experience. I'm sure you'll love exploring Zermatt during the summer or wintertime.