There are plenty of things to do in Innsbruck for adventurers, history buffs and anyone looking to have fun in all seasons. It's the perfect destination.
Where is Innsbruck?
Innsbruck is an Austrian town located ~150km south of Munich. It wasn't really far for us to travel to, around 90 minutes by car. So we decided to spend a weekend here. Plus, I'd heard rave reviews from a ton of travel bloggers who had been there for a conference about all the things to do in Innsbruck.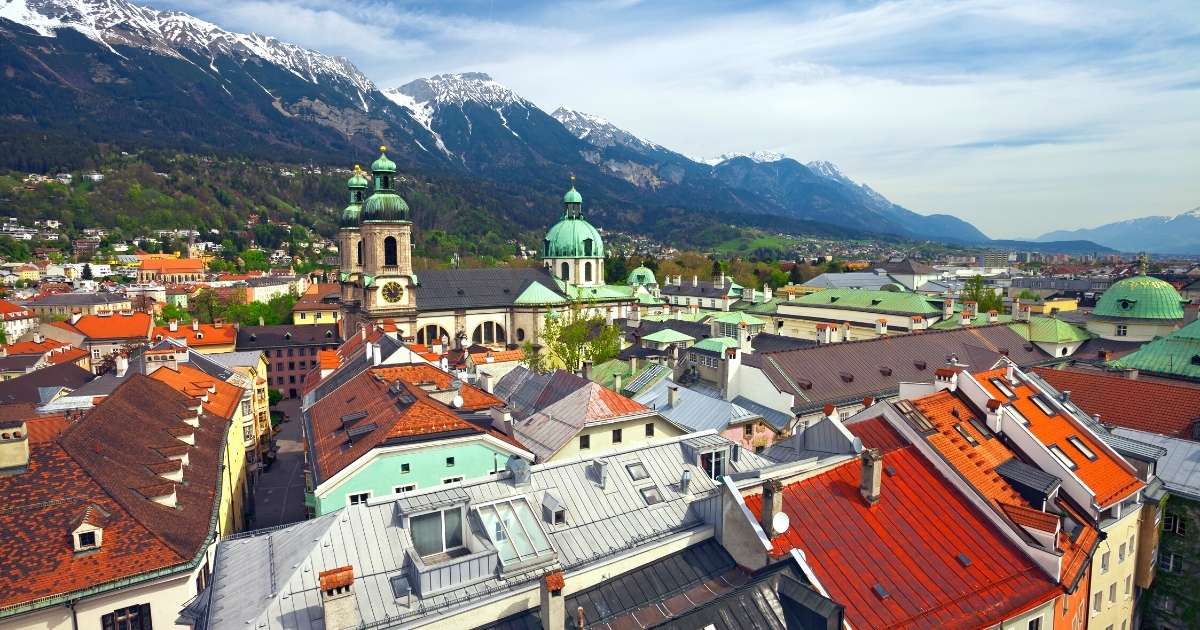 Innsbruck is situated between high mountain ranges, which is perhaps why it's been the host to the Winter Olympics a whopping three times. I didn't realize that besides skiing, and a really romantic setting, Innsbruck had so many other things to do.
Related Reading: Wilder Kaiser What to See and Do in Summer and Why You'll Love It
The Best Things To Do In Innsbruck
Although I wasn't feeling my best on this trip (I was recovering from whooping cough), I had the opportunity to find some great places that will make you want to not only visit but will have you coming back for more.
Swarovski Kristallwelten (Crystal World)
To be honest, it was a lot different from what I was expecting. Clearly, I had not done my research as I was expecting to see huge crystal displays everywhere. In reality, it was a versatile artistic interpretation of the material crystal. I.e. very artsy.
It may not have been what I expected but nonetheless it was a great place to visit.
And if you love artistic interpretation and want to explore something different and unique then you should definitely visit. Get tickets plus a transfer to the Swarovski Crystal World here.
The Alt Stadt (Old Town)
The pedestrian-only zone is lined with historic buildings, some of them dating back to the late 1500s. What European city is complete without a historic quarter and I'll be honest this was probably a favorite for me.
Enjoy some shopping, an Austrian cup of coffee (which is delicious by the way), or just take a stroll around taking in the sites and the people as I did.
Don't forget to take a walk down Maria-Theresien Strasse. The street is the most popular in Innsbruck and when you visit you will know exactly why.
Recommended Reading: Tour du Mont Blanc: The Best Way to Plan Your Epic Trek!
The atmosphere is just amazing and I wish I would have had more time to enjoy it. Take a walking tour through the city and discover all the best parts of Innsbruck.
Related Reading: Grossarl: The Ultimate Destination for Active Relaxation in the Austrian Alps
The Golden Roof (Goldenes Dachl)
The Golden Roof is Innsbruck's most famous symbol. It was completed in 1500 in honor of Emperor Maximillian I marriage to his second wife.
The roof was built with a total of 2657 fire-gilded copper tiles. It is a pretty sight. But there is something about it that many people miss.
The balcony murals don't only depict Maximillian's second wife Bianca Maria Sforza but also his first wife. In order to keep his allies, he had the artists depict him in the center with each of his wives at his sides.
Ambras Castle
If you love castles as much as I do then this is one of the things to do in Innsbruck. The castle sits on one of the hills overlooking Innsbruck.
It had a very different look compared to some of the other castles I have visited in Europe. The walls are a startling white and it doesn't have that fortress feel to it.
That's probably because the castle was recently remodeled with the last of the renovation finished in 1981.
The original castle was built during the 16th Century though and was once occupied with royalty.
It was also once famous for its art and book collection, some of which were even taken to safety by Napolean after his battle against the Tyrolean forces.
Now though many visitors come to see the Spanish hall. The hall is lined with 27 full-length portraits of the Tyrol rulers.
It really is a sight not to be missed. Get tickets for Ambras Castle here (bring your own guide, entrance included for guide)
The Imperial Palace (Hofburg)
The Imperial Palace of Innsbruck is one of three of the most significant cultural buildings in Austria. It was once a Hapsburg Palace just as Shonnbrunn and the Imperial Palace in Vienna.
You can visit Maria Theresa's rooms and Empress Elizabeth's rooms in the palace. There is even a furniture museum and an art gallery that you can tour.
The palace has been renovated and changed many times over the years by different monarchs including Maria Theresa.
Bergisel Ski Jump
The Bergisel Ski Jump is one of the most popular places to see in Innsbruck. Besides being the home of an amazing ski jump, there are several restaurants and a viewing deck where you can take in some amazing panoramic views of Innsbruck and the surrounding mountains.
It really is worth a visit. Pre-purchase your entrance tickets here.
Related Reading: Schruns, Austria: A Snowshoer and Winter Hiker's Paradise
The Hungerburg Funicular
If your looking to take in more views of Innsbruck then this is one of the things to do. The station is one of Zaha Hadid's designs and is sleek, shiny and modern. It really is spectacular to look at.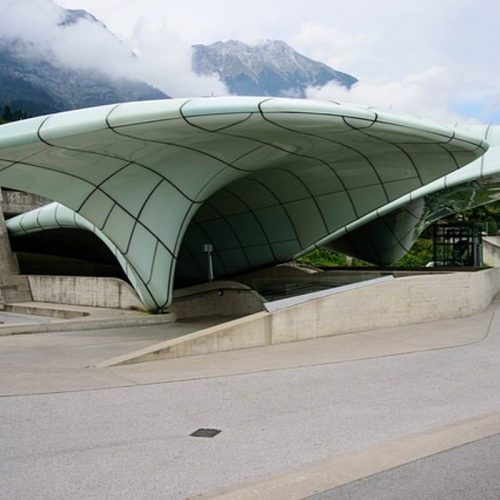 The funicular has several stops and ends in Hungerburg in the Nordketter Mountains. The trip offers you some great views and when you get to Hungerburg you can hang out on the viewing decks.
Be sure to find out at the information desk about the different tickets offered to make sure you get the best option.
The Hofkirche
The church was built in 1553 as a memorial to Maximillian I whose cenotaph (tomb) is the centrepiece of the church.
It is most popular for the sculptures that surround the cenotaph which include real and mythological kings such as King Arthur. The church has unique red marble pillars throughout that add to the overall splendour.
Hiking in Innsbruck
As you have probably already guessed my favorite things to look for in any place I visit are hiking opportunities. In that way, Innsbruck is a gold mine.
There is a wide variety of trails to choose from all varying in their difficulty. You can choose to use the funicular or cable cars to get to the higher altitude hikes or if you're looking to challenge yourself then walk up.
Innsbruck offers great hiking opportunities in summer and winter and many of the trails are super versatile. Hikes vary in difficulty from family-friendly to advanced which will take you an entire day.
Whichever you choose I can guarantee you'll be back in Innsbruck before long looking for your next hiking adventure.
Biking in Innsbruck
Innsbruck is a popular destination for cycling as well. Just as with the hiking trails you will find a large selection of bike trails available ranging from family-friendly to advanced.
Innsbruck is also home to a championship cycling course which you can try out if you're up for it. Bike hire is available throughout Innsbruck and there are some great tours you can take as well.
Related Reading: Danube Cycling Route: What You Need to Know
Snowshoeing
In winter I love going snowshoeing. Unfortunately in Europe, it is not so as popular as other winter activities. So I get really excited when I find really good snowshoeing.
There are over 100 snowshoe trails in Innsbruck. Bursting with excitement is an understatement. This is high on my list of things to do in Innsbruck.
Although it wasn't the right time for snowshoeing when I visited, I can guarantee that I will be back as this is one of the things I have to do in Innsbruck.
Related Reading: Wilder Kaiser: Your Guide to Skiing and Other Winter Activities
Visit A Käserei
Nothing is better than indulging local cuisine on your travels. We visited a Käserei on our trip to Innsbruck. For those of you who don't speak German, a Käserei is a cheese shop.
I know this is an acquired taste, but if like me you love cheese, this is one of the things you will want to do in Innsbruck.
Enjoy an Innsbruck food tour that will introduce you to authentic Tyrolean cuisine. The tour is available in German & English and provisions can be made for vegetarians and vegans.
Related Reading: How to Explore the Medieval Treasures of Carinthia, Austria
Accommodation in Innsbruck
4-Star Hotels
We stayed at the Romantik Hotel Schwarzer Adler (Black Eagle) when we visited for the weekend. The hotel is cozy and traditional and you can enjoy a stylish spa area during your stay. The location is central and great for exploring the city.
The Austria Trend Hotel Congress Innsbruck is located within walking distance from the old town. It is close to the Hungerburg Funicular station. The hotel has more modern decor and offers a beautiful garden terrace with a seating area. The hotel offers shuttle services to the start of major hiking trails.
3-Star Hotels
Hotel Zach is located on a quiet street and within walking distance of the old town. The hotel is newly renovated and offers a fitness center. Enjoy a fresh buffet breakfast and comfortable rooms.
The ibis Innsbruck is modern and comfortable. Enjoy snacks and drinks in the lounge around the clock. It is perfectly located to explore the old town and the Hungerburgerbahn is located just 1.3km away.
Tours Innsbruck
With so many things to do in Innsbruck, there are some great tours available.
Get yourself a city card and get access to the cable cars and travel free on most public transport. You will also get one-time free admission into museums and landmarks.
Try out paragliding in Innsbruck. This is perfect for the adventure seeker and allows you to take in the best views in Innsbruck. It includes transfers from your hotel and back.
If you want to enjoy the magnificent views of Innsbruck and don't have the time then take the cable car right to the top.
You can't leave Innsbruck without enjoying Tyrolean Evenings Family Gundolf's performance. Enjoy a performance of folk-music shoe-slapping and a choice of drinks or a 3-course meal.
Innsbruck is the ideal getaway whether you're looking for romance, relaxation or adventure, you will find it here.