You can't go to Spain and not eat a Spanish Omelette (Tortilla Española)!
This simple dish is one of the most popular in all of Spain and also one of my personal favourites. Next to Jamón (ham) of course. Nothing compares to Spanish Jamón. Well except for the cheese – that's a close second. But I digress… I had the opportunity to try a Spanish omellete, Catalan style.
Spanish Omelettes
Spanish omelettes can be found on the tapas menu, served as an appetizer, or as a light dinner. Every time I stay at my friend Isabel's house in Barcelona, she prepares this tasty dish – Catalan style. You may be wondering what the difference is between Tortilla Española Catalan style and Madrid style.
Related Reading: Catalonia Spain: Why You Need To Experience Adventure Here
The Catalan Difference
It all comes down to the onions. The dish is prepared with onions in Catalan style and only with potatoes in Madrid style. I definitely prefer the Catalan style. After all, I attended a Calcotada (traditional green onion eating event)! And I do the know the secret to a Perfect Paella – learned from another Catalan chef! Catalans definitely know what they're talking about when it comes to food!
There are lots of different variations of a Spanish Omelette and I had the pleasure of making one myself under the skilled guidance of Chef Rais at bcnKITCHEN, which offers market visits and either Spanish cooking or Spanish tapas workshops in English (more options are available in Spanish).
Here is Rais' Spanish Omelette Recipe:
Prep Time: 10 minutes Cook Time: 25 minutes Total Time: 35 minutes
Servings: 8-10 servings as an appetizer. Serves 5-6 as a main course.
Ingredients:
• 6-7 medium potatoes, peeled,
• 2 whole yellow onions (we used a sweeter Catalan variety),
• 5-6 large eggs
Related Reading: Best Wine Tours in Europe
Preparation:
Peel the potatoes and cut them in half lengthwise. Then, with the flat side on the cutting surface, cut again half lengthwise. Join the two halves and slice finely the potato. Make sure to separate the pieces that stick together. It is not necessary to slice the potatoes paper-thin, and it is best not to use a food processor. If you slice them a bit thick, it will simply take a bit longer for them to cook.
Peel and chop the onion into halves and slice them finely (Julienne cut).
Deep-fry the potatoes into preheated frying oil (medium heat), until they are soft and golden. If the oil is too hot, the potatoes will brown rapidly on the outside, but still, be raw on the inside. You'll they're done if you can poke a piece of potato with a spatula and it easily breaks in two. Drain the oil excess, putting a bowl below to get the oil and be able to reuse it when frying again.
In a large pan, carmelize the onion in around 2 Tbsp oil. Remember not to add salt until the onion starts to caramelize, otherwise, it would let all the water from the onions out.
Break the eggs and whisk them. Add in onions and potatoes, mix with a wooden spoon or spatula and add a pinch of salt to the mixture.
Take a round, non-stick pan. Coat it with oil (just a stream) and heat on medium-high heat, so the tortilla doesn't burn before being done.
Stir in a portion of the tortilla mixture and spread out evenly. Allow the egg to cook (you can crumble in the beginning so all the egg gets cooked), and when you see that the omelette it's set in the edges and in the bottom, take the frying pan over the sink, and place a large plate (larger than the pan!), upside down over the pan.
With your stronger arm (depending, right-handed or left-handed) take the pan, quickly turn it over and hold the plate so the omelette falls onto it safely. Go back again to the stove and carefully slide the omelette from the dish to the pan, cooking the other side of the tortilla. Use the spatula to shape the sides of the omelette in round shape. Let it cook for 3-4 minutes.
Carefully slide the omelette onto the serving plate. To serve as the main course, slice it into 6-8 pieces like a pie. Serve sliced French bread on the side (remember to make pa amb tomàquet if you find any really ripe tomatoes!), simply rubbing the bread slices with tomato and coating them with extra virgin olive oil.
If you are serving our tortilla as an appetizer, slice a baguette into pieces about 1⁄2 inch thick. (rub them for pa amb tomàquet if you want), cut the tortilla into 1.5" squares and place a piece on top of each slice of bread.
Related Reading: Self-Guided Coastal Hiking from Costa Brava, Spain to France.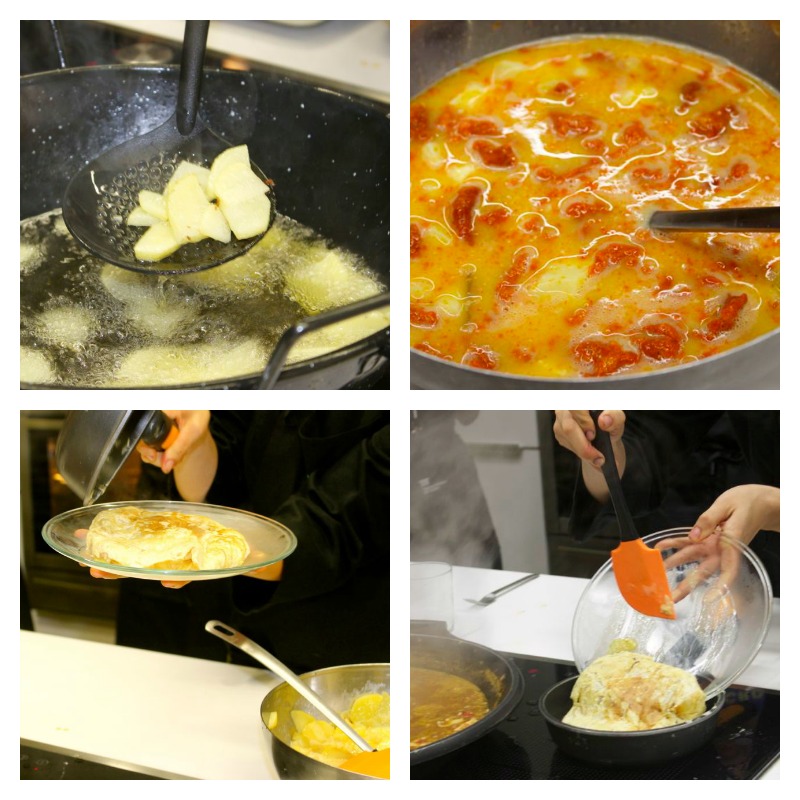 Chef Rais' Tip! The recipe above is for the Catalan way, but you can try the Madrid way (only potatoes). If you're feeling innovative, you can add in cream cheese, grated cheese, chorizo, sobrassada (the paprika and pork sausage with a creamy texture) diced olives, fresh herbs (parsley, oregano or basil work really well!), and even spices (try curry if you're feeling extra brave)
Can't get enough of Catalan cuisine? Then find out How to Eat Like a Local in Barcelona, or go fancy schmancy at Les Magnoles, where I enjoyed a 17 course (yes you read that right) meal, or check out my friend Tony's Ten Ways to Experience Catalan Cuisine.
Book your own Market Visit and Spanish Cooking Workshop in Barcelona at bcnKITCHEN. It's a 4-hour workshop, and you'll learn how to make a four-course Catalan meal. Cost is €65 per person including lunch.
I loved the Catalan style Omelette and all the other delicious treats I tried in Catalonia. What is your favourite omelette variation?

Thank you to Catalonia Tourism for making my visit possible. As always, all opinions expressed are my own.