"Note: This post may contain affiliate links in which I make a commission at no extra cost to you. It keeps this site ad free."
While there is a good hiking network in Meteora, that takes you through the same paths monks have used for centuries, the one one to Holy Spirit (The Rock of Aghio Rnevma) was my favourite hike in Meteora. Here's why:
From the very start, you get views of the natural other-worldly sandstone pillars, with the six remaining monasteries perched precariously on top! You can learn more about the Meteora monasteries here.
After a few minutes of trekking, you get to one of my favourite parts of the hike – where there's a rope to hang on to. It's not scary, and requires no technical ability, just a good grip, and an encouraging guide if you're afraid!
Recommended Reading: Hiking in Greece: The Top 7 Places
Along the way, it's worth stopping to enjoy the flora and fauna. Despite being October, these flowers were still in full bloom! Somehow, I think the monks that choose such an isolated life would have done the same thing! Hmmm, maybe I should consider a career change? 😉
After a relatively short ascent, you get views over Meteora, which means suspended in space. I couldn't think of a more fitting name for this UNESCO World Heritage Site.
Each one has its own name, and our guide Kostas told us some of them. There's Spindle, a small rock between two larger ones, and my personal favourite, Devil's Tower. The names served much as street names do today, making life easier for the locals. Meet me under the Devil's Tower? You know that must be one popular rock! That's one of the reasons I recommend exploring Meteora with a guide – they have so many stories and are proud of their region and happy to share them with you!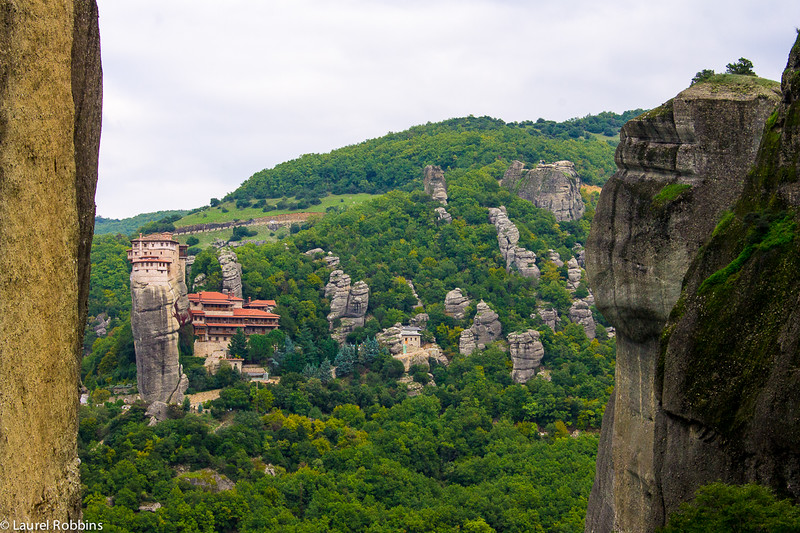 Next up, comes the first surprise. A small chapel built right into the rock and filled with religious artefacts.
Outside again, and to the breath-taking views over one of the most unique landscapes I've ever seen:

A quick scramble up a short section of rock is where things start to get really interesting. Back in the 10th century, a tiny monastery was erected here. Now, all that remains is a wooden cross and a bell. But that hasn't stopped villagers from honouring this sacred spot.
Every year, teenagers from the village will go to the Holy Spirit plateau to to camp out the night before. The next day, the rest of the village joins them for a religious ceremony.


Then, a few brave villagers, free climb to the Small Holy Spirit to change the scarf! I'm pretty adventurous, but can with 100% certainty say that I think they're nuts! Seriously, would you free-climb this?
After hanging out on the plateau, it's time to scramble the last few steps to reach the highest point of the Holy Spirit: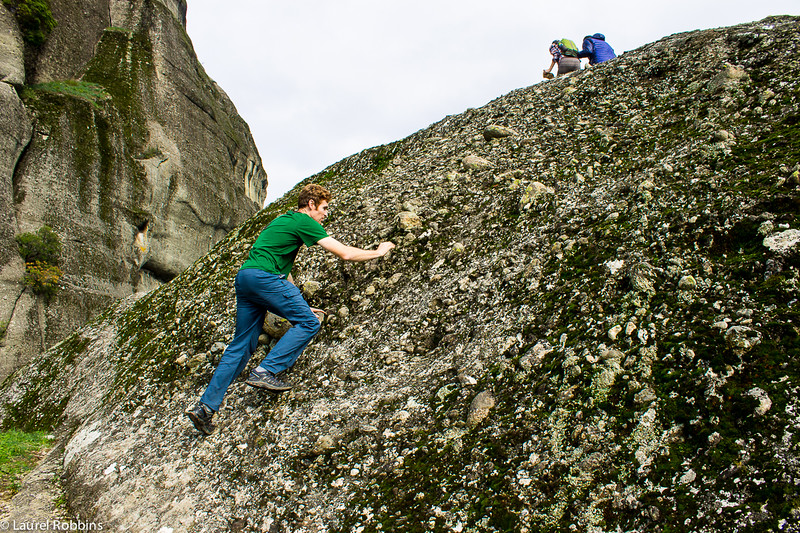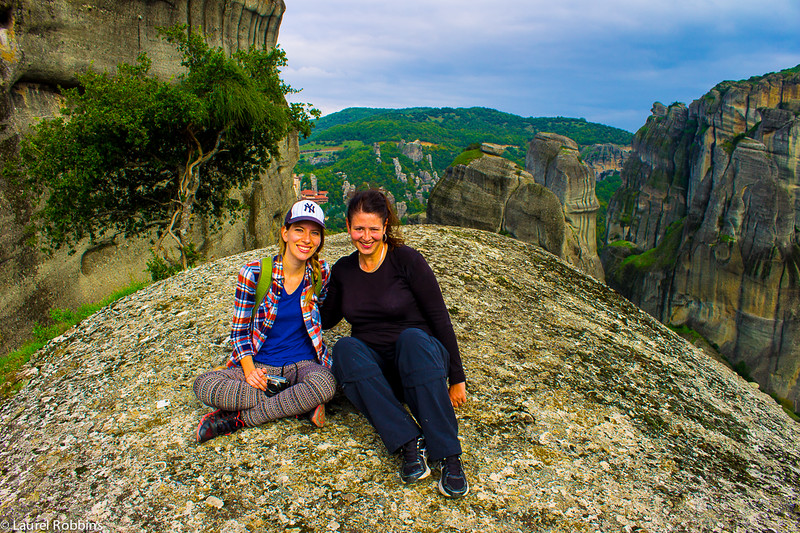 Besides the incredible views over the unique formations, the other highlight of the hike was on the return way – visiting the monk jail! It consisted of 14 different levels so that each monk was isolated! And what exactly lands you in monk jail? While it's not exactly clear explained our guide Kostas, one thing for sure was disobedience. This was especially true if a younger monk disobeyed an older one. Somehow, this explanation left me disappointed.
Recommended Reading: Greek Cyclades Islands of Tinos and Naxos Hiking Tour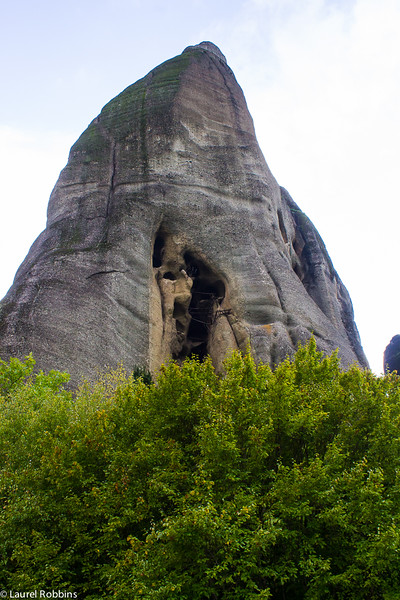 Weren't the monks capable of seedier crimes? Another story, where a group of monks kidnapped a girl and held her captive definitely alleged so!
While each monk was isolated, they would be able to hear each other. Do you think they repented for their sins and remained silent? Somehow, I have a feeling that monk jail would have been more like a party, where they didn't have to obey all the strict rules of monastic life!
Meteora is one of the most unique places I've ever been.
The combination of unique rock formations, and monasteries has earned it a prominent, and deserved UNESCO site for both nature and art. It's one of only a few sites in the world that qualify for more than one category. You'll definitely want 2-3 days to explore this mystical part of Greece! Besides, where else are you going to see a monk jail?

Know Before You Go to Meteora:
Hiking the Holy Spirit in Meteora, Greece:
You'll have to go with a guide, as there are no signs, or trail markers – in Greek or any other language. While I would normally see that as a disadvantage, trust me in Meteora you're going to want to go with a guide. A passionate guide like Kostas, helps you re-live the tales told of the monks who have walked these ancient trails since the 15th century, so that you really get an understanding for what you're experiencing. I can't recommend our guide Kostas from Visit Meteora enough! It's a relatively easy hike, but there are a few places where some scrambling (where you'll have to use your hands) are involved.
How long do you need to explore Meteora, Greece?
While many tour groups just stop for a few hours to visit the monasteries, as I did on my first visit, en route to Epirus, another hiker's paradise, this is a HUGE mistake. You'll be among crowds and won't get to experience the isolation that the monks so badly sought! The quietness is where you really get to experience how mystical Meteora really is!
I spent 3 days exploring it on my second visit and got SO much more out of it. While the monasteries are the main attraction of Meteora, the storytelling and hundreds of years traditions that locals still carry on is what really fascinated me. I loved the combination of hiking, storytelling and just being still – Meteora is a very contemplative place. While I hiked for 2 of my 3 days, there are also 650 bolted climbing routes, so there's lots to do for adventurers for a few days!
Where to Stay in Meteora?
I stayed at the Divani Meteora Hotel, a contemporary luxury hotel with views of Meteora, located in Kalamabaka! I especially loved the lobby. There were so many cozy sections, including one with a fireplace. I spent a lot of time hanging out there.
How to get to Meteora from Athens?
Meteora is ~4 hour drive from Athens. If you book a multi-day tour Visit Meteora can pick you up in Athens. Alternatively, you can either drive or take a train. However you get there, you'll want to check out these Greek quotes for a road trip through Greece.