This post may include affiliate links, including Amazon Associate links. I may earn money if you click on one at no extra cost to you.
Be honest, have you ever heard of the Kobarid Historical Trail in Slovenia? It was the best tour I have ever done.
If you have, I'm guessing that you're either 1) a history buff or 2) interested in military affairs. Am I right? For those of you who are into neither, like me, Kobarid became famous in 1917 for the Battle of Kobarid or the Battle of Caporetto in Italian.
The History of Kobarid
It's where the Italian army retreated against the Austro-Hungarian and German armies. The battles are documented by Ernest Hemingway in his novel A Farewell to Arms.
A good place to start is the Kobarid Museum, which documents the 12 battles fought in the Soča front and the 300,000 lives lost. I was on Hedonistic 's Slovenia and Friuli Tour and was fortunate enough to have the owner/guide Jackie who is a walking encyclopedia, lead us on this historic hiking trail.
A short climb leads to The Italian Charnel House built on Gradič Hill around the already existing Church of St. Anthony. There are over 7000 Italian soldiers buried at the Church. You can see the names on many graves. The ones without names are unidentified.
Related Reading: Hiking Mt. Matajur: Slovenia to Italy
Off The Beaten Path
Traveling to places that are not popular is important to me. I like discovering the so-called undiscovered places. The places that only locals or someone has done extensive research knows. In Slovenia, this meant stopping at the historic medieval village of Skopja Loka for lunch and a stroll through town, followed by a quick photo stop at Bled.
We stayed at the much quieter, but still beautiful Lake Bohinj – a place I had never heard about before but was still located in Triglav National Park, Slovenia's only national park. Despite visiting off-the-beaten-path places on our tour, it started in Ljubljana and ended in Venice.
Jackie and Mick, the owners recognize that people may still want to explore these popular destinations, and can do so on their own time.
Long Before Kobarid
Climbing a bit higher still through a gradual forest path, until you arrive at Tonocov Grad Hill, you go back further in time. Much further back. Like all the way back to the 5th century where you encounter these Roman ruins.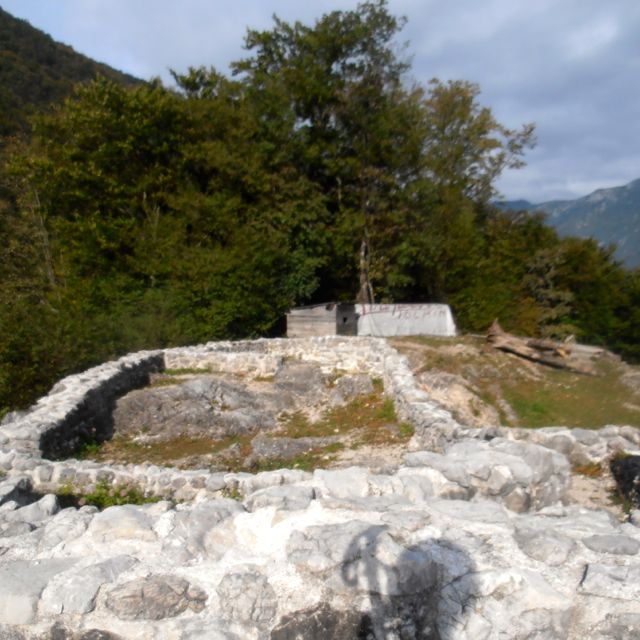 This also makes a great rest stop to enjoy the views, or to read a couple of chapters out of Ernest Hemmingway's A Farewell to Arms as Jackie did to us during our lunch break.
The Best of The Kobarid Trail
The hike wasn't all about hiking. We had a lot of opportunities to take in the views and learn everything we can about the history of the paths.
The time travel journey continues, going downhill this time and back to WWI. Here trekkers make their way down from Tonocov Grad Hill by going through a series of bunkers and forts used by the Italians during WWI.
I was really surprised at what an extensive network it is and how long it was. It gives you a glimpse of the intensity of battles fought here.
Related Reading: Fall Hiking in Triglav National Park Slovenia: A Photojourney
The Franja Partisan Hospital
The secret World War II hospital is located near Cerkno in western Slovenia. The hospital was established during the German occupation. Luckily it remained undiscovered until the end of the war. The Slovene partisans chose the location well, knowing that the rugged terrain of the Pasica Gorge and the surrounding trees would hide it well. In addition to this, the building was camouflaged. And you could only enter from a hidden entrance. You could only reach the facility on foot and it was not easy to find.
The 578 soldiers that were treated at the hospital also never knew the location. They would be blindfolded and then carried through the river in order to ensure that the tracks would be covered. As I made my way to the hospital on the path I watched the river white water and wondered just how much strength a person would have to need to carry a soldier through that water.
The original building no longer stands due to a flood. It has been reconstructed. I took a self-guided tour. One sign tells the tale of how a soldier had to perform emergency surgery on himself. The hospital was on lockdown. The doctors could not get to the patient and had to instruct him through a pipe. If that doesn't sound horrific, he did it without pain meds.
The Soča River
The historical hiking trail continues over the Soča River on a footbridge in the exact same location as the footbridge used by the Italians during WWI.
Although I can't imagine how gloomy and depressing it would have been to fight here, I can imagine that the Soča River would have been a place of reflection and contemplation.
It's one of the most beautiful rivers I have ever seen anywhere. Jackie explained to us that the river gets its awe-inspiring color from the light sand-covered bottom which reflects the light.
Related Reading: Best Hikes in Europe: Your Ultimate Guide to Where and When to Go
From the Soča River, a well-marked hiking path takes you to Veliki Kozjak. It is considered to be one of Slovenia's most beautiful waterfalls. It's a slippery path in some places.
There's even a cable to hold on to during the final few steps. But just go slow and you will be rewarded. The waterfall is hidden in a large open karst cave-like area.
The effect of the dark rock contrasting against the blue-green pool is truly stunning. My reaction was WOW! The photo doesn't do it justice.
Related Reading: How a Hiking Trip Can Change Your Life And Why You Should Do One
After hiking the 5km historical trail you will likely have worked up an appetite. But you're in luck. Not only is Kobarid rich in history, but it's also known as the Food Capital of Slovenia! These are a few of the highlights of just one of our meals:
Enjoy The Best Of Kobarid's Food & Wine
Food and wine are a BIG part of Hedonistic Hiking's tours. Especially locally sourced food. Dina, who was in charge of the tour I was on, would often buy cheese from the local village that we were in and serve it for lunch. The cheese I ate on this trip was incredible!
I'm still thinking about it. We only drank regional wine. I had no idea that Slovene wine was so tasty. Probably because only a small portion of it is exported. The rest the Slovene's keep for themselves. Believe me, I totally get it. Although they could export a wee bit to Munich, just for me, couldn't they? While all the food we ate was local, we ate in a variety of settings.
Everything from picnics prepared by Dina herself, to Gostilnas – typical Slovene restaurants, to trattorias in Italy to lunch in a local's house to multi-course gourmet meals. Naturally, each course is served with a matching wine! They also aim to break stereotypes. Although Italy is known for its pizza and pasta – at least to tourists, we did not eat either while in Italy. Dina's goal was to show us that Italian cuisine goes way beyond pizza and pasta.
Hedonistic Hiking Review
Normally I am not a fan of organized group tours. And 9 days, would it be too much? Fortunately, it wasn't. It was just right. In fact, it was the best tour that I've ever done!
They took us to so many places that I had never heard of before such as the medieval village of Skopje Loka and Lake Bohinj. Beautiful places that I would never have dreamt of visiting on my own. Jacki and Mick, the owners recognize that people may still want to explore popular destinations, which you can still do on your own time. They're also easy to travel to/from, each equipped with an airport, and numerous buses and trains – something the smaller places wouldn't be.
Hedonistic Hiking trips are planned in such a way to recognize that while people do want to hike, they don't only want to hike on their vacation. Some days are long but there is always a variety in them. On our tour, we hiked through gorges, a WWI trench, rural countryside, discovered a hidden waterfall, did a cross-border trail which started in Slovenia and ended in Italy and vineyards – with wine tastings along the way.
On many of the walks, there was also a shorter option or a van that could pick you up. In addition to hiking, there are other activities artfully woven in. My favorite was the Franja Partisan Hospital. It was a secret WWII hospital, hidden in a gorge in German-occupied territory operated by the Slovene Partisans. On our last day, we didn't hike at all. It was reserved for sight-seeing in the UNESCO World Heritage Italian town of Aquileia and Grado. We also had free time each day to explore on our own.
Know Before You Hike the Kobarid Historical Trail
The hiking trail is 5km long and takes about 3 hours.
You can do it on your own, but I highly recommend doing it with Hedonistic Hiking as part of the Slovenia and Friuli tour. Check out my review here.
It's relatively easy hiking with a few hills, but nothing too steep.
Visit the museum in Kobarid first to give yourself some background. You will get more out of the hike that way.
Stop by the tourist office for a route map.
You'll also want to spend some time in Triglav National Park. Take a look at the link and you'll see why.
I don't usually do hiking tours but the Kobarid trail hike was the best tour experience I have ever had.
Thank you to Hedonistic Hiking for introducing me to historical hiking. As always all opinions expressed are my own.