SELF-GUIDED HIKING TOUR IN CROATIA OVERVIEW
Hike along the Dalmatian Coast in Croatia on our 8-day self-guided hiking tour from Split to Dubrovnik. You'll visit some of Croatia's most historic city centers, including Split and Dubrovnik, plus destinations such as Hvar and Korcula and the lesser-known areas of Supetar, Vela Luka and Pomena (Mjet), where you'll also hike to a national park.

This Croatia walking holiday is a unique way to experience the community, camaraderie and excellent cuisine while hiking with stunning sea views through olive groves and vineyards and Meditteranean forests and other magnificent landscapes.

We'll provide transportation and guidance along the way, provide GPS for your hikes and multiple options for hikes on several days of your tour so that you immerse yourself in Croatia at your own pace.

This is a great walking tour in Croatia for travellers who want a mix of hiking, sightseeing, and time to enjoy the local culinary wonders that Croatia has to offer.
HIGHLIGHTS OF YOUR SELF-GUIDED HIKING TOUR IN CROATIA: FROM SPLIT TO DUBROVNIK
✔ Hike through lesser-known villages and towns as you discover the beautiful Dalmatian coast.
✔ Explore historic places, including the 3000-year-old village of Skrip (on selected hikes).
✔ Enjoy stops at beautiful sandy beaches and take a dip in the clear blue Adriatic sea.
✔ Visit Mljet National Park, the largest protected marine area in the Adriatic.
✔ Discover Kočje, where you will hike through a labyrinth of uniquely shaped dolomite rocks overgrown with ivy.
8-DAY SELF-GUIDED HIKING IN CROATIA ITINERARY

Day 1: Split
Day 2: Split to Supetar
Day 3: Split – Hvar
Day 4: Hvar – Vela Luka
Day 5: Vela Luka
Day 6: Vela Luka – Korcula
Day 7: Korcula – Pomena (Mljet)
Day 8: Pomena (Mljet) – Dubrovnik
Day 1: Arrive and Hike Up to Marjan Hill in Split
Your tour starts in Split. This stunning 1700-year-old city is home to unique historical monuments, including Diocletian's Palace, a UNESCO World Heritage Site.
You'll enjoy your first day with an easy exploration hike to Marjan Hill which offers the best view of Split. The views far surpass the 5 km and 200-meter climb. It's loved by locals and visitors alike. The shade of the black pine trees and surrounding Mediterranean plants make it a perfect spot for a picnic. Be sure to reward your efforts by checking out the beaches, some of the finest in all of Croatia.
If you arrive early enough we'll greet you at your hotel for a friendly in-person briefing. We'll also give you your roadbook, vouchers and tickets. If you arrive late, we'll leave this at the reception of your hotel.
Accommodation: 3 or 4-star hotel in Split (depending on which option you choose)
Hiking Distance: 5.1Km or 6.6Km
Ascent: Between 200m and 250m
Hiking Time: Between 1 and 2.5 hours
Extras: airport pick up and transfer to your hotel
Extra hotel night in Split so that you can further explore the city
Day 2: Take the Ferry from Split to Supetar on Brac Island
You'll be picked up and driven to the ferry after breakfast, where you can enjoy the sea views on the 50-minute journey to Supetar on the island of Brač.

Supetar is the largest town on the island, with just 3200 inhabitants. Itt will take you back to Roman times. You'll find yourself surrounded by "villae rustice" and remains of a mosaic located next to the parish church dating from the 6th century.

Another highlight is the Church of St. Mary of the Annunciation from the 18th century with a beautiful bell tower and a museum. You'll love exploring the cobble-stoned streets and romantic squares "pjacete."

Supetar is one of the most popular places on the island and offers numerous restaurants and traditional taverns for you to enjoy local Mediterranean cuisine.
You'll have a choice of 3 different hiking routes, so you can choose an easy, moderate or challenging one.
Hiking Distance: 4.7Km 16.9Km
Ascent: Between 50m and 540m
Hiking Time: Between 1 and 5 hours
Moderate Route: Hike from Supetar to Skrip. From Skrip, take a taxi back to Supetar. (Estimated extra cost €13-€15)
Challenging Route: Round hike from Supetar.
When finished exploring Brac, you'll take the return ferry to Split in the late afternoon, where you'll spend the night.
Day 3: Split- Hvar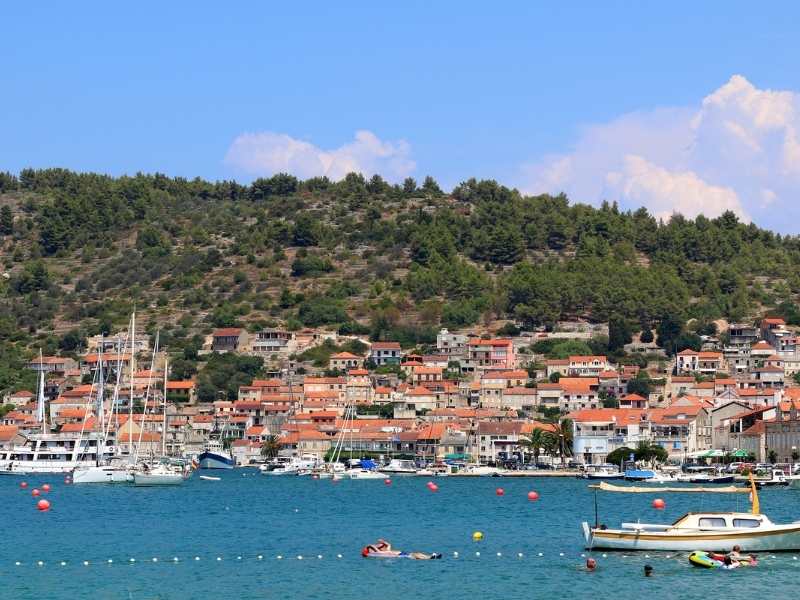 From Split, you'll take a morning ferry ride to Hvar island.
The port and resort town of Hvar (population 4251) gained glory and power during the Middle Ages as a significant port within the Venetian Naval Empire.
Today it's one of the most popular destinations in the Dalmatian Riviera. It's often described as a fairytale island, it's renowned for its unique fusion of luxurious Mediterranean nature, rich cultural and historical heritage, Venetian architecture, and mild climate.
You'll have a choice of three different hiking routes, each starting from the central square of Hvar Town.
Hiking Distance: 10.9 km or 19.2 km
Ascent: Between 295m and 680m
Hiking Time: Between 2 and 6 hours
Moderate Hike: Round hike from Hvar town.
Challenging Hike: Hike from Hvar town to Stari Grad. Transfer back by bus (estimated cost €4) or by taxi (estimated cost €40).
You'll spend the night in Hvar.
Day 4: Hvar- Vela Luka
You'll enjoy a leisurely morning in Hvar. Choose to relax at the beach or enjoy wandering through the narrow streets, exploring its shops, galleries, bars, and restaurants.

Want something more active? Do one of the other hikes mentioned in your Road Book, or join our sea kayaking tour to the Pakleni Islands.

In the afternoon, you'll meet your driver, and they'll escort you to the pier. From there, you'll take a passenger ferry from Hvar to Vela Luka on Korcula (~1-hour journey). Once you arrive in Velka Luka, your driver will meet you and take you to your accommodation.

Vela Luka is a port town (population 4137) n the western side of the island of Korčula. It has a natural harbour and is surrounded by hills dotted with olive trees.

Sun-seekers will love Vela Luka for its 2500-hour annual average of sunshine.
Day 5: Vela Luka
You'll have a choice of 3 different hiking routes, the perfect way to explore Vela Luka. We recommend packing a picnic lunch that includes some of Korčula's famous olives.
Hiking Distance: 4.6Km or 16.5Km
Ascent: Between 170m and 630m
Hiking Time: Between 1 and 8 hours
Moderate Hike: Round hike from Vela Luka.
Challenging Hike: Round hike from Vela Luka.
Day 6:

Vela Luka- Korcula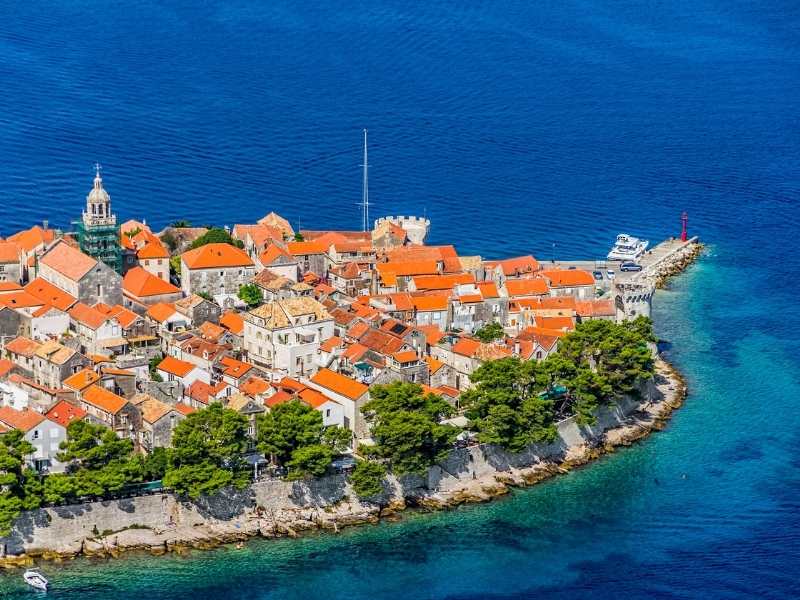 You'll meet your driver for a 30-minute transfer from Vela Luka to the town of Korcula (pronounced "kor-chula").
Korcula Town is the main town on the island, with a population of about 3000 inhabitants. The main feature is Korčula Old Town. Here you'll find a medieval walled city with towers. It's positioned on an oval-shaped swelling of land pointing deep into Pelješac Channel. It was ingeniously designed with grooved narrow streets that branch off from the main street, resembling a fishbone that reduced the impact of the wind and sun, providing shelter for its inhabitants.

You'll do a moderate hike in Korcula starting from the city center.
Hiking Distance: 10.8Km
Ascent: 330m
Hiking Time: Between 3 and 5 hours
Moderate hike from Korcula town. You can shorten the hike to spend more time at Kocje or in Korcula town if you start or end your route from Zinovo Prvo Selo village. You can use a taxi to reach it (estimated cost €20).
Day 7:

Korcula- Pomena (Mljet)
Your driver will pick you up from your hotel and transfer you to the ferry. Here you'll board a passenger ferry from Korcula to Pomena, on Mljet island for a ~30-min trip.
The island of Mljet is Croatia's greenest island covered in Mediterranean vegetation and forest. It's also one of Croatia's most beautiful islands. There's also a national park (one of eight in Croatia) on the western part of the island.
You'll also find olive groves and vineyards on this gorgeous green island. Be prepared for an incredible fusion of silence, scents, tasty sensations.
You'll explore Mljet with a moderate hike route that starts from Pomena and leads you to the national park to two salted lakes – Veliko and Malo Jezero, which are favourite swimming spots. You'll also find an old Benedictine monastery on St Mary's Island in the middle of Veliko Jezero Lake.
Hiking Distance: 14.7Km
Ascent: 550m
Hiking Time: Between 4 and 5 hours
Challenging hike that starts and ends in Pomena village.
Day 8:

Korcula- Pomena (Mljet)- Dubrovnik
Today you'll board on a passenger ferry from Pomena to Dubrovnik which is ~ 1.5-hour journey.
Your tour ends when you arrive in Dubrovnik since our clients have different plans from staying and exploring for a few more days or flying the same day.
We're happy to assist you with booking additional services in Dubrovnik, such as accommodation, transfer from the ferry port, or to the airport, or a tour of the city, or you are free to book independently.
GETTING TO CROATIA
Your tour starts in Split and finishes in Dubrovnik, so you can fly to either airport of your choice.

You can get between Split and Dubrovnik by bus (4:15), ferry (4:20 in high season, not available in low season or by plane (55 minutes).

Note: Please do not book your flights or make other travel arrangements until you receive an email from us notifying you that all your accommodation has been confirmed. This normally takes 5 business days or less.
PRICING AND INCLUSIONS

Price: Starting from €1483 per person for 2023

| 3-STAR ACCOMMODATION | APR | MAY | JUNE | JULY | AUG | SEPT | OCT |
| --- | --- | --- | --- | --- | --- | --- | --- |
| Price Per Person (min 2 people) | €1483 | €1692 | €1884 | €1962 | €1962 | €1776 | €1513 |
| Single supplement when travelling with others | €1955 | €2164 | €2356 | €2434 | €2434 | €2248 | €1985 |
| Solo Travellers | €2222 | €2524 | €2627 | €3051 | €3051 | €2710 | €2264 |
| 4-STAR ACCOMMODATION | APR | MAY | JUNE | JULY | AUG | SEPT | OCT |
| --- | --- | --- | --- | --- | --- | --- | --- |
| Price Per Person (min 2 people) | €1799 | €1972 | €2222 | €2258 | €2274 | €2095 | €1766 |
| Single supplement when travelling with others | €2291 | €2464 | €2714 | €2750 | €2766 | €2587 | €2258 |
| Solo Travellers | €2785 | €3044 | €3419 | €3645 | €3671 | €3242 | €2736 |
WHAT'S INCLUDED
7 nights of accommodation in your choice of 3 or 4-star accommodation
7 breakfasts
luggage transfer
welcome briefing
GPS tracks (for you to upload to your phone) and a detailed Road Book with instructions
ferry tickets
all ground transportation mentioned in the itinerary

ground

transportation to starting points of easy routes in Road Book

24/7 emergency hotline
WHAT'S NOT INCLUDED
Travel insurance that covers you for this tour and includes pandemic, emergency evacuation and hospital care in the unlikely incident that you get injured. HeyMondo insurance covers this, which is why we recommend it. Plus, you'll get a 5% discount for being a Monkeys and Mountains reader.
meals not noted in the itinerary
optional tours/services
personal expenses
travel insurance
flights
accommodation in Dubrovnik on the last day
OPTIONAL EXTRAS
ground transportation to the challenging hikes listed in the Road Book

entrance fees to sights and Mljet National Park

extra night in a hotel in Split to give you more time to explore

hotel in Dubrovnik on the last day
kayaking tour
additional excursions
BOOK YOUR SELF-GUIDED HIKING IN CROATIA TOUR NOW
Thank you for your interest in booking this tour. You've made a good choice. Our Croatia Hiking Tour is absolutely stunning, and you can reward yourselves after hiking with a dip in the sea and enjoy the pristine beaches.
Book Your Croatia Hiking Tour With Us & You'll Get…
✅ Great value for money
✅ Freedom to hike on your own schedule with the people you choose
✅ To avoid the hassles of booking accommodations that have to be booked by phone or email (there's no central booking system to check availability)
✅ Alternative routes(when available) to make your hike easier when your legs have had enough
✅ Our insider knowledge to reserve the best accommodations based on what's important to you (i.e. location, comfort, etc)
✅ Tours that are designed by hikers for hikers. We combine our knowledge and experience with our local partners to provide you with an amazing hiking tour.
PHOTOS OF HIKING IN CROATIA