Vibrant and beautiful, Indian decor is just what you need to enliven your home. Just a touch of India can make all the difference, or go all out and feel like you're actually in India.
The home of one of the most vibrant cultures in the world, India is the perfect place to find decor inspiration for your home. And since travelling to India is not always possible, why not bring it into your space?

With so many different colours and patterns. Indian decor is exactly what you've been looking for to pep up your home. Additionally, they are not only perfect for your home but are also stunning gift ideas.
Indian Bedroom Decor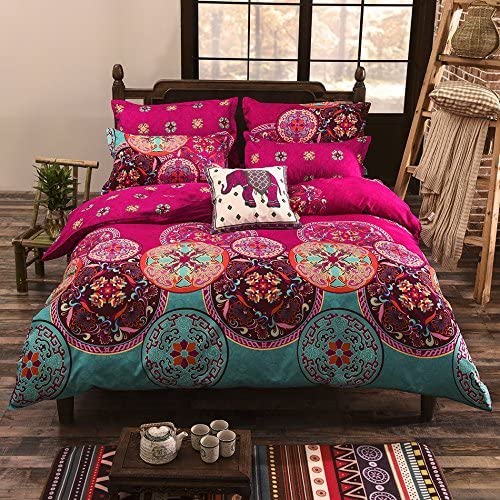 Bring a touch of India into your bedroom with this Indian inspired bedding. The vibrant colours and wonderful prints will also make any space stand out. The duvet set is made out of lightweight microfiber and is easy to wash and take care of. It is a great way to incorporate Indian décor into your home.
Throw blankets can make all the difference in your home. This Indian inspired decor piece is the perfect item to brighten up your home. Add it to your bedspread for a hint of colour or throw it over your sofa for added style. This throw is 100% cotton and machine washable. It would even make a great gift.
Recommended Reading: The 33 Best Travel-Inspired Decor Ideas
Vibrant colours and patterns are the order of the day in India. And what better way to bring India into your home than with a stunning duvet set. This Indian decor is perfect for your bedroom and will brighten up any space.
If you love vibrant colours and all things Indian, then these inspiring curtains are the perfect addition to your favourite space. These curtains are a great way to add Indian-inspired decor and will give your home an exotic flair. They come in a standard size and are sheer, making them perfect even if you are using them as a room divider.
Indian Cushions
This handcrafted floor pillow is the perfect way to bring a touch of India into your home. With a great design and hand-painted details, it is a great addition to your home décor. It will fit into any space including your lounge, bedroom or meditation space. You can even use it for outdoor picnics for an exotic feel.
Add a comfortable floor pillow to almost any space. This Indian décor piece can be a great addition to your lounge, bedroom, meditation space or even your reading nook. Comfortable and vibrant, it will bring a touch of India into your favourite space.
Related Reading: Are You a Responsible Tourist?
Already have a floor pillow but want to add something special to it? This is the perfect cover to enhance your Indian inspired decor. With its great colours and pattern, it is a great addition to your Indian decor.
This post has been updated and republished.